Apple hosted its annual Worldwide Developers Conference (WWDC 2023) on June 6, conducting the event online and unveiling exciting product releases. Among the highlights of WWDC 2023 were the introduction of the new 15-inch MacBook Air, Mac Studio, Mac Pro, and significant updates to iOS 17, iPadOS 17, and WatchOS. Let's take a glimpse of what has been revealed on WWDC 2023!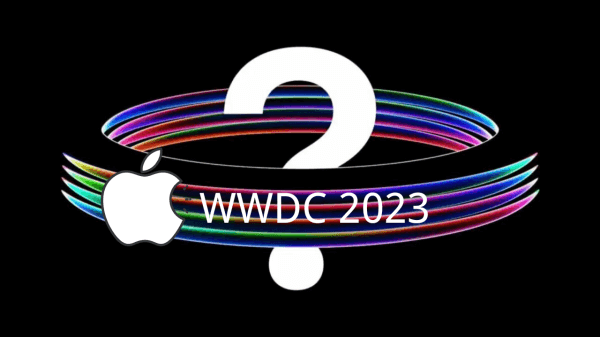 Apple Vision Pro
WWDC 2023 introduces Apple Vision Pro, a revolutionary spatial computer that will transform the way we play, work, and communicate. This groundbreaking innovative augmented reality device brings the world into the realm of "spatial computing," allowing for a more immersive and interactive experience.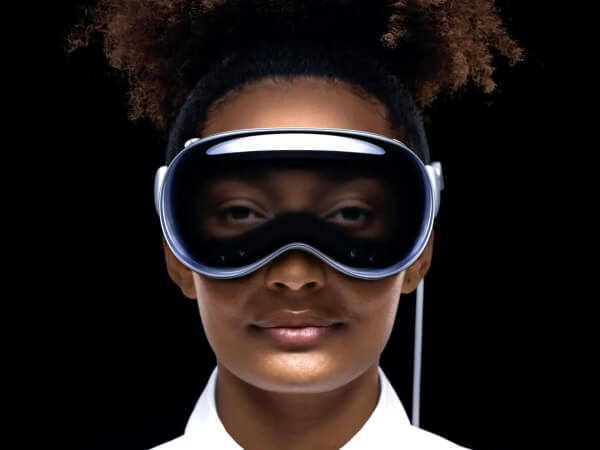 Key Features of Apple Vision Pro:
Finger-based Control: Operate the headset using finger gestures, similar to the Man of Steel operating his screen. This design choice prevents users from being confined to a limited screen space and enables a more intuitive interaction.
Enhanced FaceTime Experience: FaceTime will resemble face-to-face conversations, bringing a more personal touch to virtual communication. Additionally, you can enjoy movies and games in a more immersive manner, creating a personalized cinema experience.
Content Collaboration: Apple Vision Pro integrates its own streaming platform and announces a collaboration with Disney. Users can enjoy a closer experience with various IPs, including future Marvel content, offering a wide range of entertainment options.
VisionOS: Equipped with macOS, iOS, and iPadOS-based space operating system "visionOS," Apple Vision Pro eliminates the need for a separate controller. It can be operated using hands, voice commands through Siri, and even eye movements, ushering in a revolutionary era of space computing.
Affordable Pricing: Apple Vision Pro starts at $3,499, making it accessible to a broader audience. It is expected to be available in the United States early next year.
What's More about Vision Pro:
Multiple sensors detect eye and hand positions for intuitive control.
App selection with eye-tracking technology for a seamless experience.
Adjustable app size and positioning, with realistic shadows between virtual furniture.
Environmental detection displays relevant information when someone approaches.
Seamless synchronization with iPhone, iPad, and Mac through iCloud.
Ability to extract 3D objects from apps and convert them into models.
Dual modes for AR and VR experiences, easily switchable using a dedicated knob.
Direct projection of Mac screen onto the glasses for a unified experience.
Automatic ambient light adjustment when viewing photos and videos, enhancing visual quality.
Panoramic photo viewing for an immersive "being there" sensation.
Creation of a large-scale indoor theater screen, bringing cinematic experiences to your home.
15-inch MacBook Air
The new 15-inch MacBook Air features a stunning 15.3-inch Liquid Retina display, the powerful M2 chip, up to 18 hours of battery life, and a 6-speaker audio system. This is the largest MacBook Air ever released by Apple and boasts up to 50% more power, thanks to the M2 processor. The starting price for the 15-inch MacBook Air is $1,299, and it will be available for purchase in the US next week.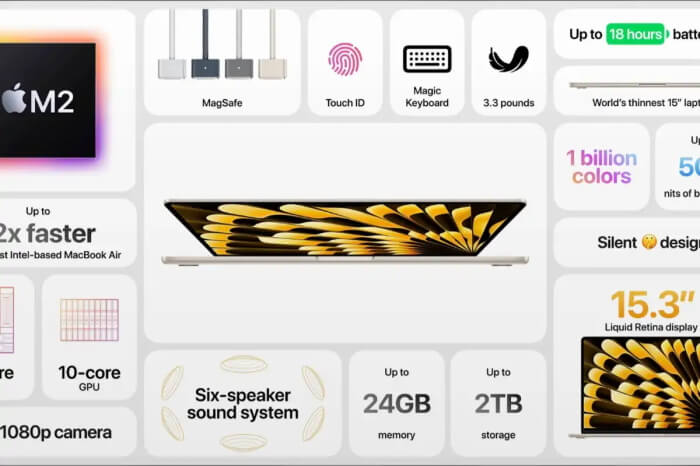 Mac Studio
Mac Studio comes in two variations, the M2 Max and the new M2 Ultra, both offering remarkable performance enhancements and improved connectivity within a sleek and compact design. It surpasses the most powerful Intel 27-inch iMac by six times and is three times faster than the previous-generation Mac Studio with M1 Ultra.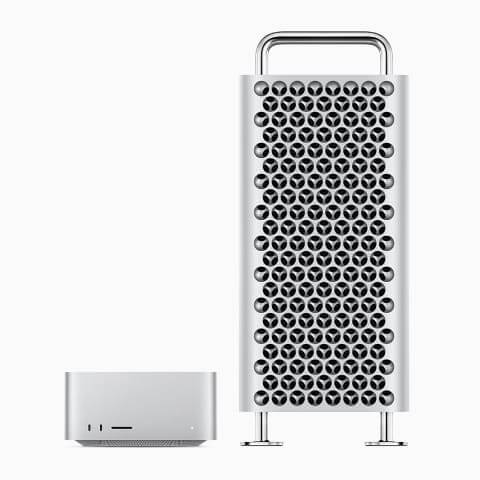 Equipped with up to 192GB of unified memory, the M2 Ultra-equipped Mac Studio outperforms even the most advanced workstation graphics cards, allowing users to handle heavy workloads with ease. The M2 Ultra supports up to six external Pro Display XDRs and is priced at $1,999  and $3,999 respectively.
Mac Pro
With up to 192GB of unified memory, the new Mac Pro represents the successful culmination of Apple's transition to their own chips. Together with Apple's other professional systems, it forms the most powerful and functional Pro lineup ever offered by Apple. The new Mac Pro starts at $6,999 and will be available for purchase next week.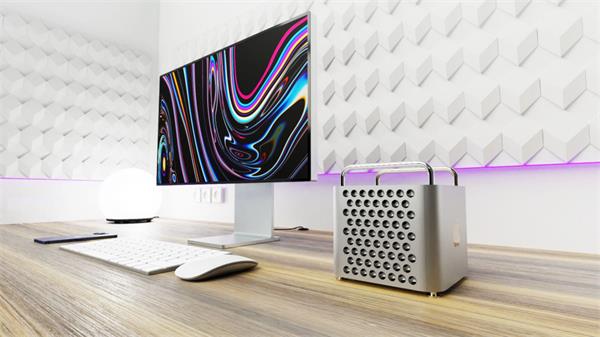 iOS 17
The highly anticipated iOS 17 takes the spotlight at WWDC. The iOS 17 Beta version will be available next month, much to the delight of Apple fans. iOS 17 introduces updates to Siri, AirDrop, FaceTime, Contacts, and other features. Additionally, it brings new functionalities like Live Voice, Name Drop, and Standby Mode.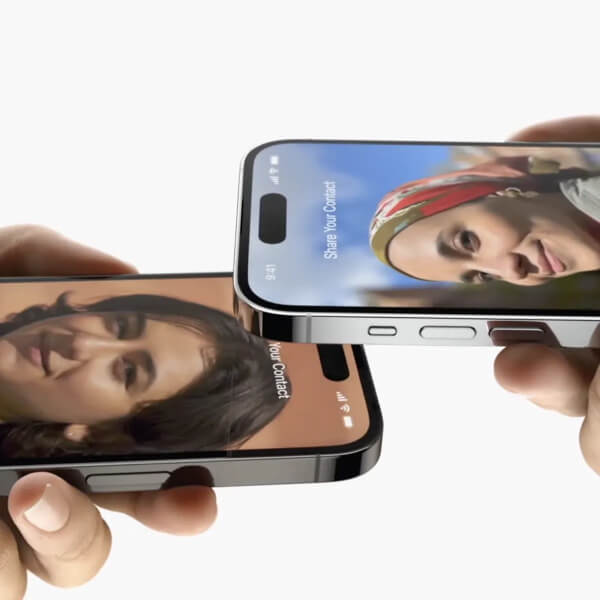 Key features of iOS 17:
Contact Poster: Customize your caller ID screen.

Live Voicemail: Convert voicemail to text and decide whether to answer the call.

FaceTime: Send messages and record videos when the other party doesn't answer.

iMessage: Easily navigate back to unread messages, convert voice messages to text, and use the Check In function to inform others of your safe return home.

AirDrop: Use the new NameDrop feature to exchange phone numbers or emails with nearby devices, including Apple Watch.

StandBy: The lock screen displays additional content horizontally, such as time, date, temperature, alarms, and various styles, even serving as an electronic photo frame.

Siri: No more "Hey Siri" now. You can give your commands by just saying "Siri."
Here is a screenshot of iOS 17 supported devices: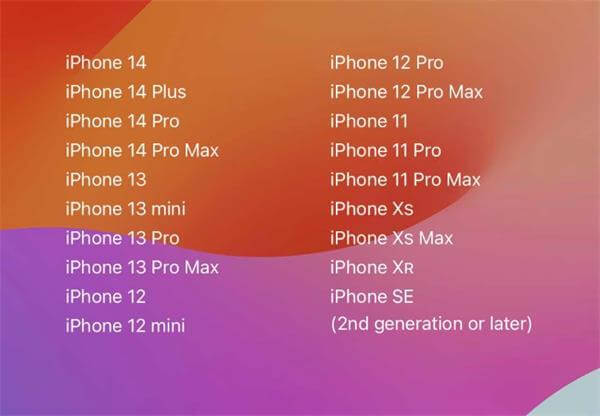 iPadOS 17
iPadOS 17 introduces interactive widgets and a customizable lock screen. It also incorporates features from iOS, including Live Activity, Health App, and PDF integration in Notes, bringing more versatility and functionality to iPad users.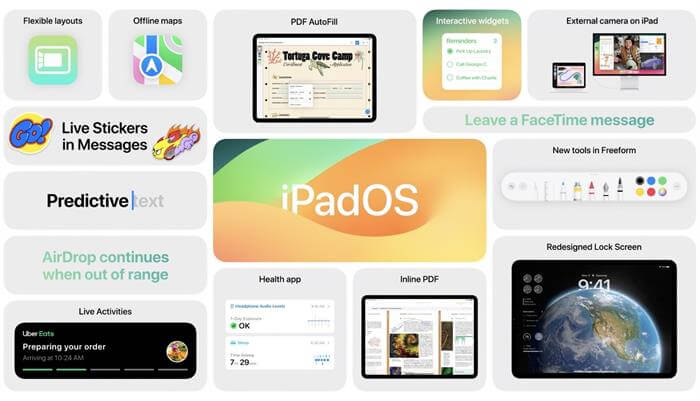 MacOS
MacOS now allows users to customize the screen, automatically hiding widgets in the background to avoid disruption while working, maintaining visibility without distractions.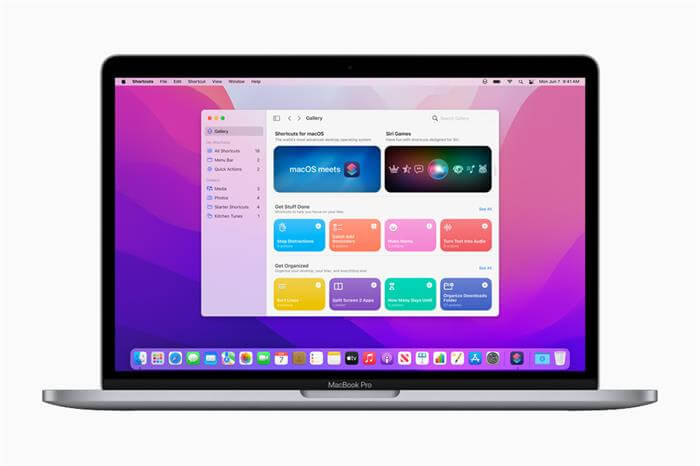 AppleTVOS
In the future, Apple TV will have the capability to directly receive iPhone calls and FaceTime calls. AirPlay will also introduce AirPlay in hotels, expanding its connectivity options.
WatchOS
WatchOS presents redesigned watch faces that dynamically change based on weather and time of day. Among the new faces is a Snoopy design that interacts with users based on the current conditions.
Data Lost after iOS update? Check out WooTechy iSeeker!
100.000+
Downloads
Effortlessly retrieve a wide range of lost data, such as videos, photos, contacts, notes, WhatsApp, etc with our powerful data recovery tool.

Experience peace of mind with the ability to preview files before performing the recovery, allowing you to selectively restore only what you need.

Compatible with nearly all iOS devices and versions, including the latest iOS 16, ensuring broad accessibility for users.

Try it out risk-free with our free trial option before making a purchase decision.

Achieve remarkable success rates when recovering lost data, particularly when it comes to retrieving vanished notes. You'll be pleasantly surprised by the extent of note recovery.

Recovery process is highly secure, ensuring the confidentiality of your personal information.
Conclusion
Apple's WWDC2023 was a highly anticipated event that delivered exciting announcements and product releases. It demonstrated Apple's dedication to innovation, pushing boundaries across their product range and providing users with groundbreaking technologies and features.
The market's response to WWDC 2023 was a mixed one for Apple shares. Initially, there was a positive surge of over 2.2%, reaching a new record high of $184.95. However, later in the day, there was a downturn of over 1.6%, resulting in a new daily low of $178.03. This fluctuation indicates that the market's overall satisfaction with WWDC 2023 was not entirely consistent.
Are you satisfied with this WWDC 2023?