WhatsApp is arguably one of the most popular messaging apps out there. It is loved for its ease of use, cross-platform compatibility, end-to-end encryption, and many other convenient features.
What makes WhatsApp even more appealing is its call feature, which lets you stay connected to your loved ones all over the world without worrying about paying high calling fees. The call feature also tracks your WhatsApp call history, which can be very useful in many situations.
But what if you accidentally delete those call logs or history and later realise that you need them? Well, if that's the case, then you've come to the right place. As in this guide, we will show you how to retrieve deleted WhatsApp calls on iPhone and Android with some of the best methods available.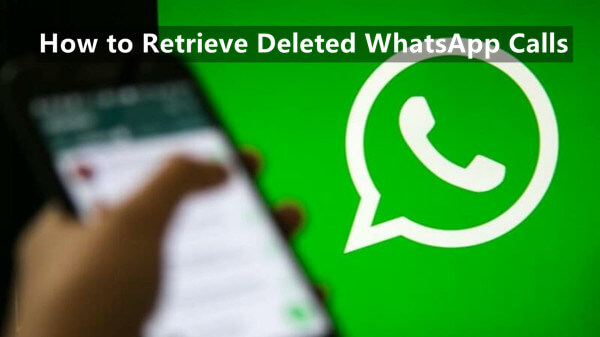 Method 1. Retrieve Deleted WhatsApp Calls from Chat Backup (iPhone & Android)
Your WhatsApp chat and call history can be backed up to Apple iCloud or Google Drive, which makes it easy to retrieve your deleted call history by restoring the backup on your device in case you lose any important data or delete it accidentally.
Steps To Retrieve Deleted WhatsApp Calls from Chat Backup On iPhone
Note
Before moving forward to restore your deleted WhatsApp calls history from iCloud backup, make sure you're signed in to the iCloud account with the same Apple ID you used to back up WhatsApp. Second, iCloud Drive must be turned on and you must have backed up your WhatsApp chats.
To check if your chats are being backed up, go to Settings and then tap Chats. After that, select the Chat Backup and you'll see a note to let you know that your chats are being backed up.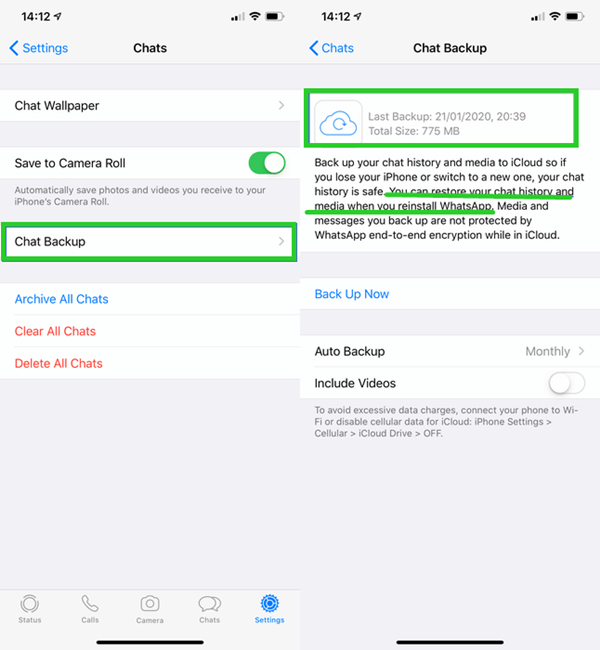 Once you are certain that your chats are backed up, uninstall WhatsApp from your phone and then re-download it from the App Store.
Next, log in to your account using the same account you use to back up WhatsApp. Then WhatsApp will detect your previous backup and prompt you to restore your chats and call history.
Note
To restore your backup, you'll need to use the same phone number and Google account that was associated with the backup when it was created.
First, uninstall the WhatsApp app from your Android phone and then reinstall it again from the Google Play store.
Now, when you open the app again, you will be prompted for phone number verification using the 6-digit codes sent to your number. Just enter it.
After this, you'll be prompted to restore your chats backup from Google Drive. Click the Restore button that appears for this.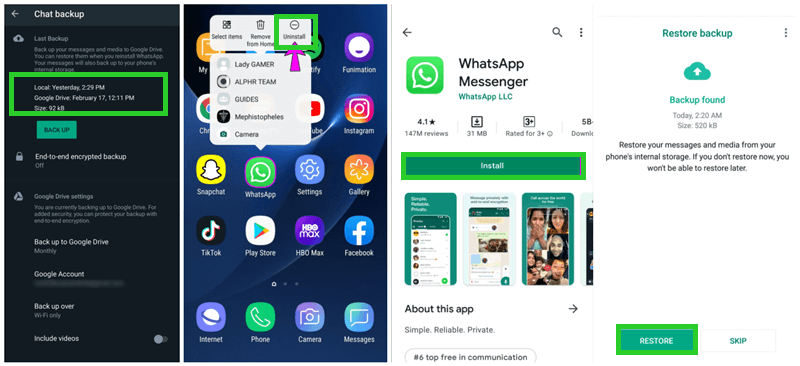 Method 2. Retrieve Deleted WhatsApp Calls from Local Backup (Android)
Another handy method for Android users is that you can retrieve deleted WhatsApp calls from the local backup stored on your SD card or phone memory.
WhatsApp automatically saves your call log data and other information to a folder on your phone every day at 2:00 AM. This means you can restore chat history and media from your local backup without using Google Drive.
Although this method is a little more complicated than the last one, but if you're up for it, here's what you need to do to recover deleted WhatsApp calls:
On your Android phone, go to the File Manager, and look for the WhatsApp folder. Open it and scroll down to find a folder named Databases.
Here you'll see a list of previous backup files in the "msgstore-YYYY-MM-DD.1.db.crypt12" format. Please select the one you wish to restore and rename it to "msgstore.db.crypt12" by removing the date.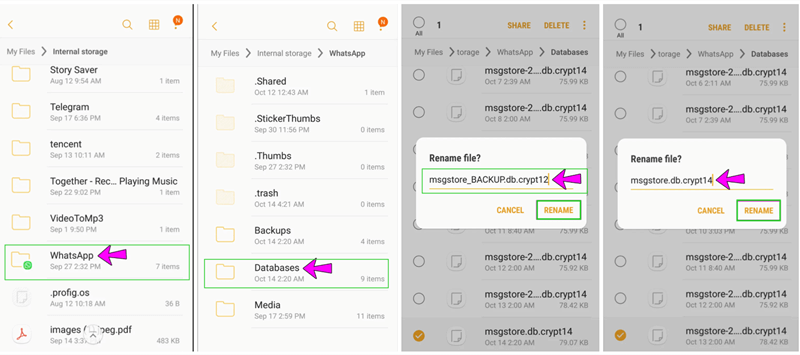 Uninstall WhatsApp from your phone and download it again from Google Play. Then set up your account with the same phone number you used before. WhatsApp will detect your backup file and tap the Restore button to restore your chats.
Method 3. Retrieve Deleted WhatsApp Calls From iCloud/iTunes Backup (iPhone)
Apart from restoring the deleted WhatsApp calls history from the chat backup that we covered above, you can also retrieve deleted WhatsApp calls from the iCloud/iTunes backup, but only if you created a backup before the calls were deleted.
When you restore an iCloud or iTunes backup to your device, you will erase all existing settings and data and replace them with the backup file's data. If your most recent data wasn't backed up, it will be lost. Furthermore, you can't preview the backup file before restoring data, so there's no way to know if your call history is included in the backup or not. You can avoid all of these situations by skipping this method and moving on to Method 4.
Steps To Retrieve Deleted WhatsApp Calls from iCloud Backup
On your iPhone, go to Settings > General and then scroll down to the very bottom. After selecting Reset, hit Erase All Content and Settings.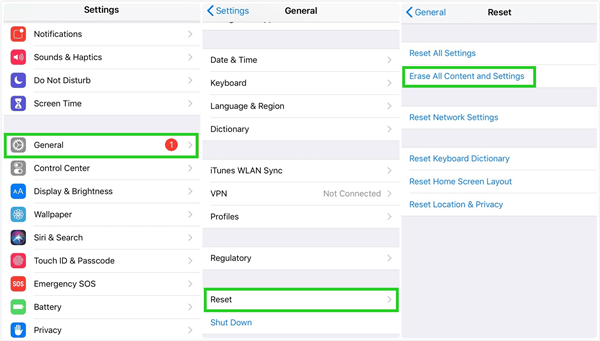 Now you will be prompted to set up your device from the beginning. After you follow the instructions on the screen, you will see the Apps & Data page. Tap on the Restore from iCloud Backup option.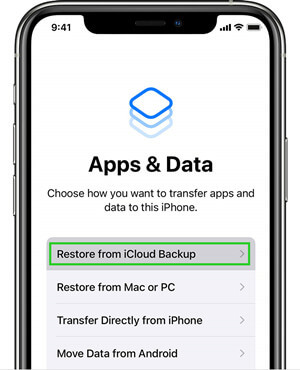 Log in to your iCloud account, and all previously saved backups will appear by date and time. Tap on the relevant one, and your phone will be restored with that backup
Steps To Retrieve Deleted WhatsApp Calls from iTunes Backup
Plug your iPhone into the computer that you used to back up your device, and then download and install the latest version of iTunes.
On the top left corner of the iTunes program, you will find the device icon. Click it and navigate to the Summary tab.
Now, click the Restore Backup button below the Backups section. A new window will pop up. You will see a list of all your backups in that window, with their size and date. From here, select and restore the backup file you want.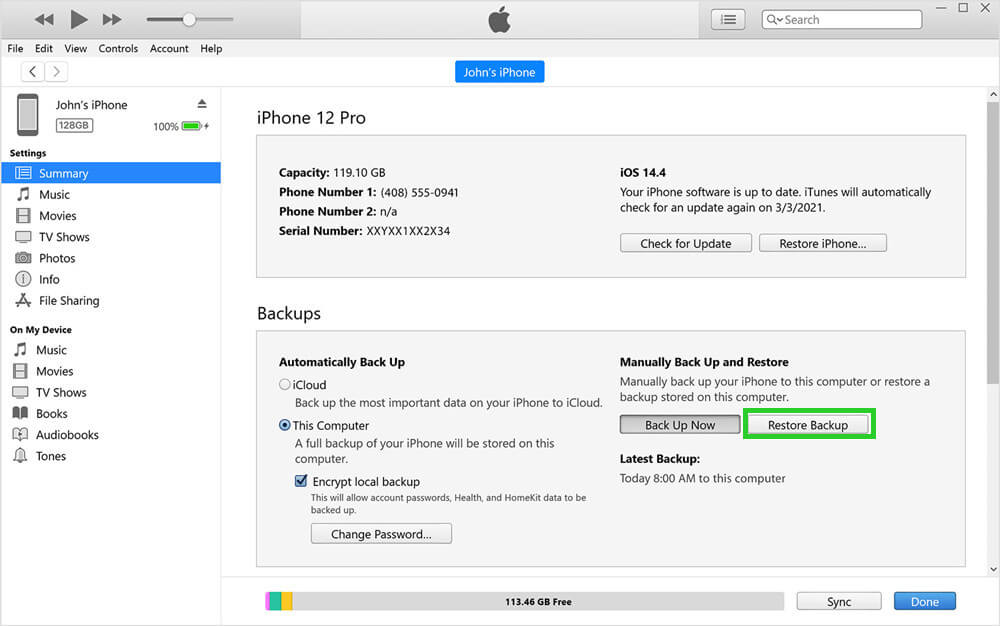 Method 4. Retrieve Deleted WhatsApp Calls Without Backup (iPhone)
So far, we've looked at three different methods to retrieve deleted WhatsApp calls, all of which require a backup file. However, if you didn't create a backup before the calls were deleted, don't worry, there's still hope.
In this method, we will be using a powerful data recovery tool called WooTechy iSeeker to retrieve your lost WhatsApp calls without any backup file or having to uninstall your WhatsApp.
iSeeker is an extremely effective tool, which is ideal for recovering deleted WhatsApp calls on iPhone, including the ability to preview and select files before recovery.
In addition, it is extremely easy to use and can be completed in just a few clicks. Most importantly, it offers a 100% success rate for recovering deleted WhatsApp calls, making it the best possible option for anyone who needs to recover their data.
What Makes iSeeker Stand Out
100.000+
Downloads
It provides a high data recovery rate and can bring back over 18 types of data you want to restore.

It recovers data directly from the iOS devices without the need for a backup file.

It offers an intuitive user interface with a simple click-based recovery process.

It allows you to preview and select recoverable data before you restore them.

It is compatible with almost all series of iPhone, iPad and iPod, and also compatible with almost all iOS versions, including iOS 16.
Here is a simple three-step guide for restoring deleted WhatsApp calls on iPhone with iSeeker:
Step 1. To get started, download and install the iSeeker program to your computer (Mac or PC). From the left panel, choose Recover from iOS Device and attach your device to your system. When iSeeker detects your device, click Next.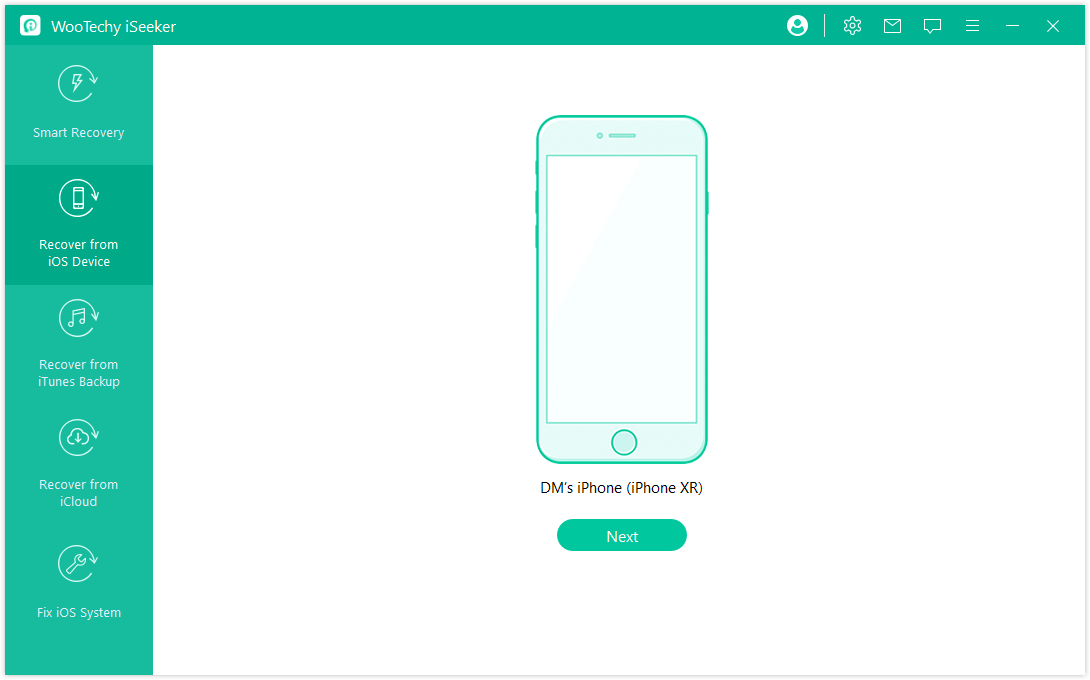 Step 2. Select the WhatsApp option under Third-Party IM Apps and click on Scan to start the process.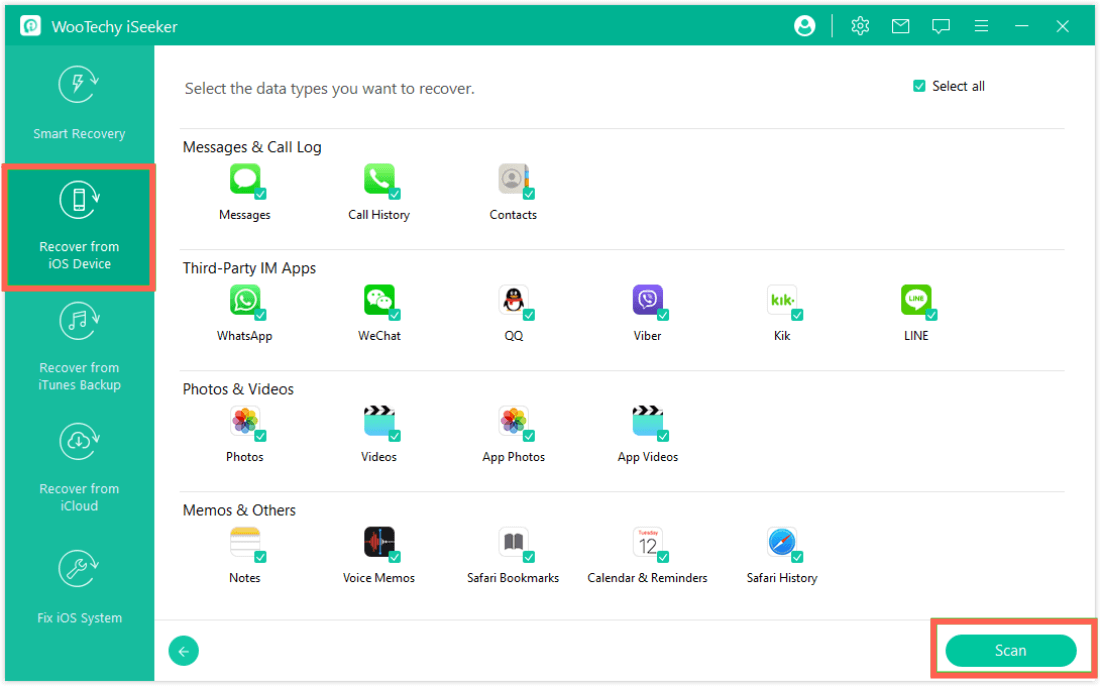 Step 3. Finally, preview all found data and select the ones you want to recover and click Recover to save them on your computer.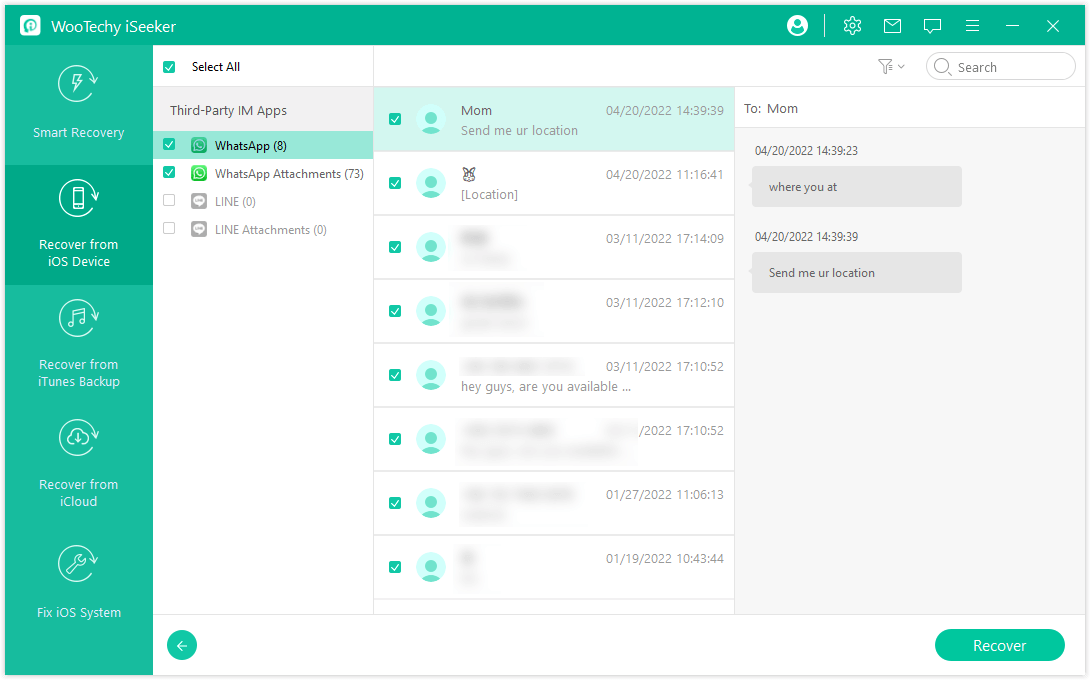 Conclusion
We've offered 4 detailed and easy-to-follow methods to help you retrieve deleted WhatsApp calls on both iPhone and Android. We hope that one of these methods was able to help you successfully recover your lost data.
We would recommend using WooTechy iSeeker as it's the most reliable and user-friendly option. Not only does it recover deleted WhatsApp calls without backup, but it also provides many other features and facilities that are essential for data recovery. With iSeeker, you can also restore WhatsApp chat history and WhatsApp photos on iPhone. So why wait? Download it today and get started on recovering your lost data!