WhatsApp is one of the most used social applications on iPhone. It holds images and videos of our friends, families, along with other useless stuff like random screenshots sent by your friends or a picture you sent to your friend during shopping. And it happens most of the time that while deleting the excess and unnecessary images, you also delete some of the precious pictures.
Getting them back is the trickiest part because no one tells you exactly how to recover the deleted WhatsApp photos or videos. Whether you have a backup or not, it is a straightforward process requiring just a few simple steps. Hence, do not worry if you accidentally deleted your favorite photos and videos from your iPhone. Here are the 6 simple methods you can try to recover deleted photos and videos from WhatsApp on iPhone.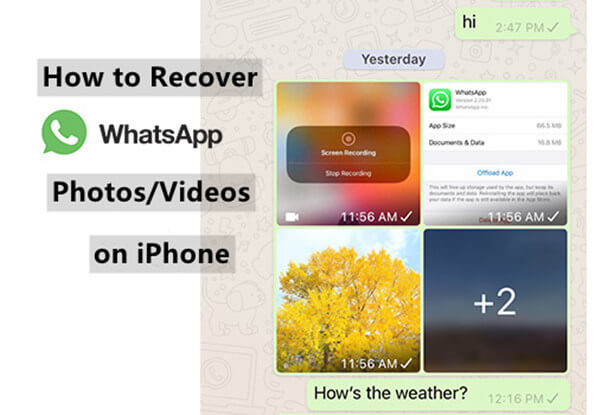 Method 1. Recover Deleted Photos/Videos WhatsApp from Local Albums
We all know that the WhatsApp application can automatically download chat media by default. Therefore, if you accidentally deleted some of the videos and photos from WhatsApp on your iPhone, we recommend going and checking in the WhatsApp Album in the Photos app on your iPhone. Most of the time, if you delete the photos from chat, it is still there in the WhatsApp album of Photos.
Here is how to retrieve deleted photos and videos from WhatsApp on iPhone via the local albums in the Photos app:
Tap on the Photos app on the home screen of your iPhone.
Tap on the Album option given at the bottom of the screen.
Find the WhatsApp album and tap on it. It will open up, showing you images you sent and received on WhatsApp. Check for the photos or videos you accidentally deleted in chats.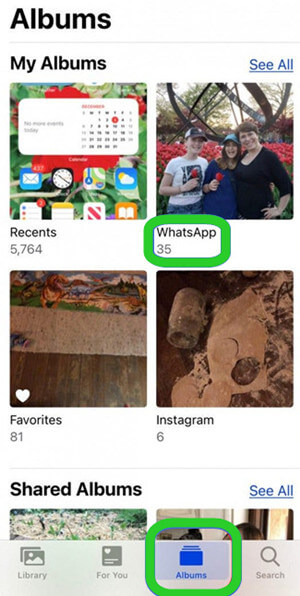 If you can't find the deleted photos or videos in the WhatsApp album, then you could head to the Recently Deleted album. There is a possibility that you have deleted them from the WhatsApp album.
Whenever you delete a photo from your iPhone, it goes into the recently deleted folder, where it stays for up to 30 days and is then deleted permanently. So, if you accidentally delete photos and videos from WhatsApp on iPhone, recover them from the Recently Deleted Folder by following these steps:
Open the Photos app. Tap on the Album option given at the bottom of the screen.
Scroll down and you will see Recently Deleted under the Utilities section. Tap on it. You will see all the media you deleted for the last 30-days.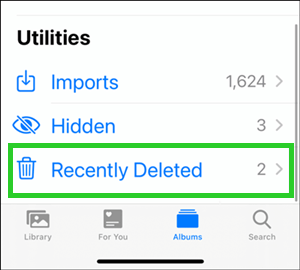 Check for the images you want to recover. Select them one by one. Tap on the Recover option given at the bottom right corner of the screen.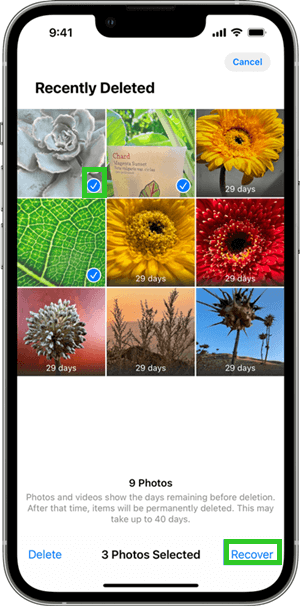 Method 2. Recover Deleted WhatsApp Photos/Videos by Asking the Other Person for Images
If you deleted just a few photos from WhatsApp on iPhone. You can just ask the person you were chatting with to send you the photos or videos again. It would be easy for those who do not want to get in the fuss of recovering. If you have lots of photos or videos to recover, then this method is not so convenient.
But if the other person no longer has those photos saved in their device. Then you are left with no option except recover them. If the above methods of recovering deleted photos from WhatsApp on iPhone did not work for you, keep reading our other ways to recover your WhatsApp media.
Method 3. Recover Deleted Photos/Videos from WhatsApp Backup
WhatsApp backup system is the first backup you should go for. If you have automatically or manually set up WhatsApp backup, it will back up all your data, including chats, photos, videos, and messages, every day. Therefore, if you happened to delete the photos and videos from any chats, simply backup your WhatsApp by navigating the following route:
Go to WhatsApp Settings > Chats > Chat Backup to check the date and time of your last backup.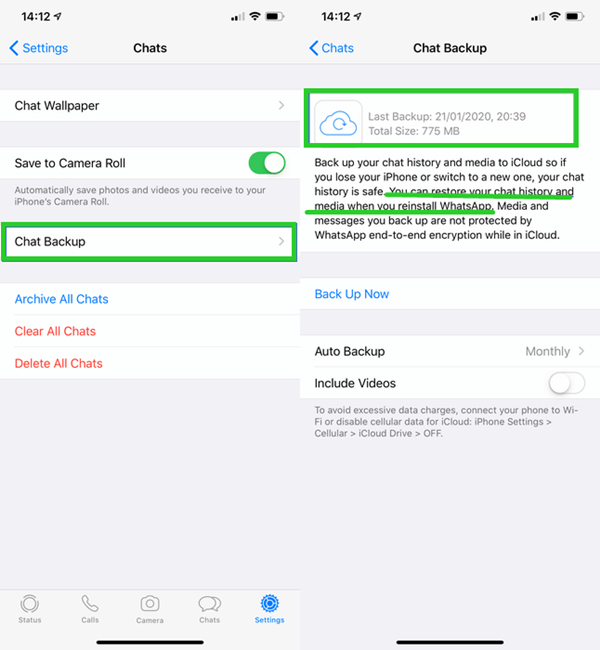 Then uninstall WhatsApp from your iPhone, then reinstall it from App Store. Then you will be informed to restore the chat media and chat history from the backup.
After the restoring process is complete, all your chats and photos/videos you deleted will be recovered.
Method 4. Recover Deleted WhatsApp Photos/Videos from iCloud Backup
Recovering deleted photos via iCloud backup is the most standard method used by almost everyone out there. If you deleted any photo, video, document, or other important things, you could quickly recover it from iCloud backup. But the condition here is that you already have an iCloud backup on your iPhone.
An important thing to note here is that this method will erase all data on iPhone. Therefore, the data not included in the iCloud backup might get lost.
Now follow the steps below to recover your photos and videos from WhatsApp on iPhone:
Open the Settings app on your iPhone. Then, tap on General and tap Select. Next, tap Erase All Content and Settings.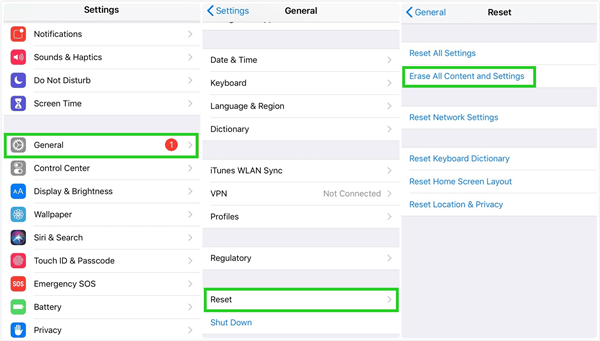 It will take you to the set-up screen where you set up your new device. Follow all the onscreen instructions and tap on the Restore from iCloud Backup.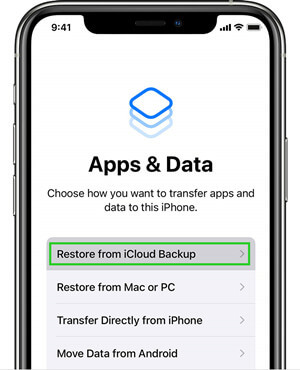 Choose the most relevant backup to your deleted WhatsApp photos and videos and keep your device connected to Wi-Fi.
Method 5. Recover Deleted WhatsApp Photos/Videos from iTunes Backup
This is another general practice to retrieve deleted photos from WhatsApp on iPhone. But it works only if you have your iPhone backed with iTunes before deleting the WhatsApp Photos and Videos. Moreover, the backup you will restore from iTunes will overwrite the existing content on iPhone. Therefore, to avoid unexpected data loss, you should back up important data on iPhone elsewhere first.
Follow these steps to recover deleted WhatsApp photos and videos from iTunes backup:
Connect your iPhone to your laptop and launch the iTunes app. Connect your mobile with your laptop using a USB cable and select your device. iTunes will automatically detect your iPhone.
Click on your device name. Click Summary and then select the Restore from Backup option on the screen.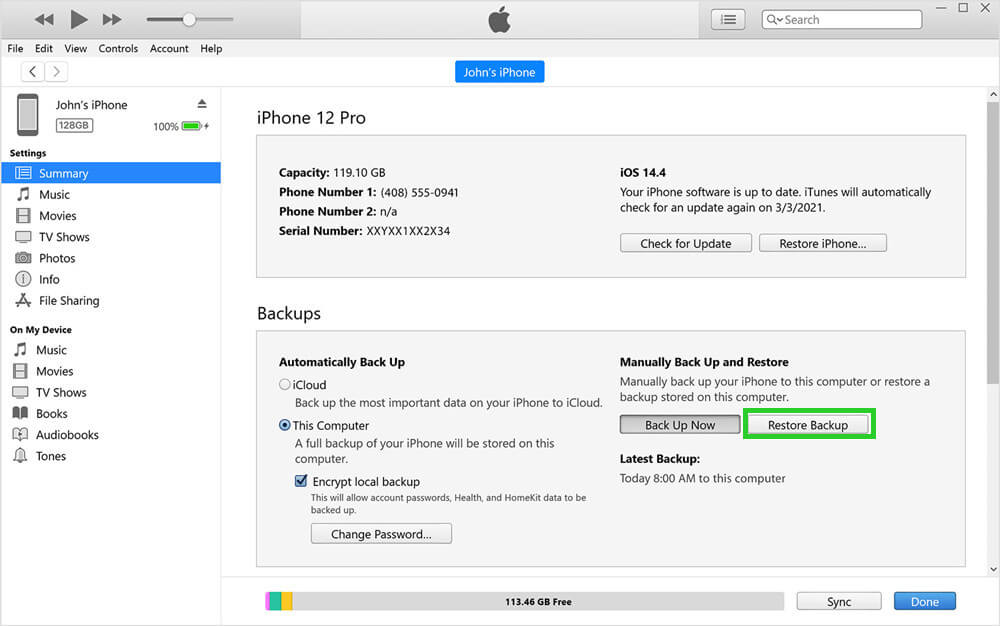 Now select the relevant backup that contains your deleted photos and that you want to restore. Then click Restore.
Method 6. Recover Deleted WhatsApp Photos and Videos without Backup
If you failed with the above methods to recover deleted photos from WhatsApp on iPhone or you are certain that you do not have any backup, then this is another method you can try. With this method, there is no need for backup, and instead, you will use third-party software, WooTechy iSeeker, to recover deleted photos or deleted videos from WhatsApp on iPhone.
iSeeker is the most powerful data recovery tool which can help you easily recover your deleted photos or videos from WhatsApp on iPhone even if you don't have any backup. What's more, other than social app data like WhatsApp chats or Snapchat data, it can recover more than 18 kinds of data on iOS devices, which photos, videos, contacts, text messages on iPhone/iPad are all included. And it's also quite user-friendly. Everyone can use the tool without any difficulty.
What Makes iSeeker Stand Out
100.000+
Downloads
Supports almost all iOS devices and iOS versions, in which iOS 16 is included.

Allows you to preview data before starting recovery.

Enables you to select the certain files you need to restore rather than restore all the data.

Recovers data with only 3 simple steps.

Provides a free trial before purchasing.
Here are the steps to recover deleted WhatsApp photos and videos on iPhone without backup:
Step 1 Download and launch iSeeker on your laptop or computer. Click on the Recover from iOS Device option. Then connect your iPhone to the computer. After your iPhone is recognized by iSeeker. Click Next.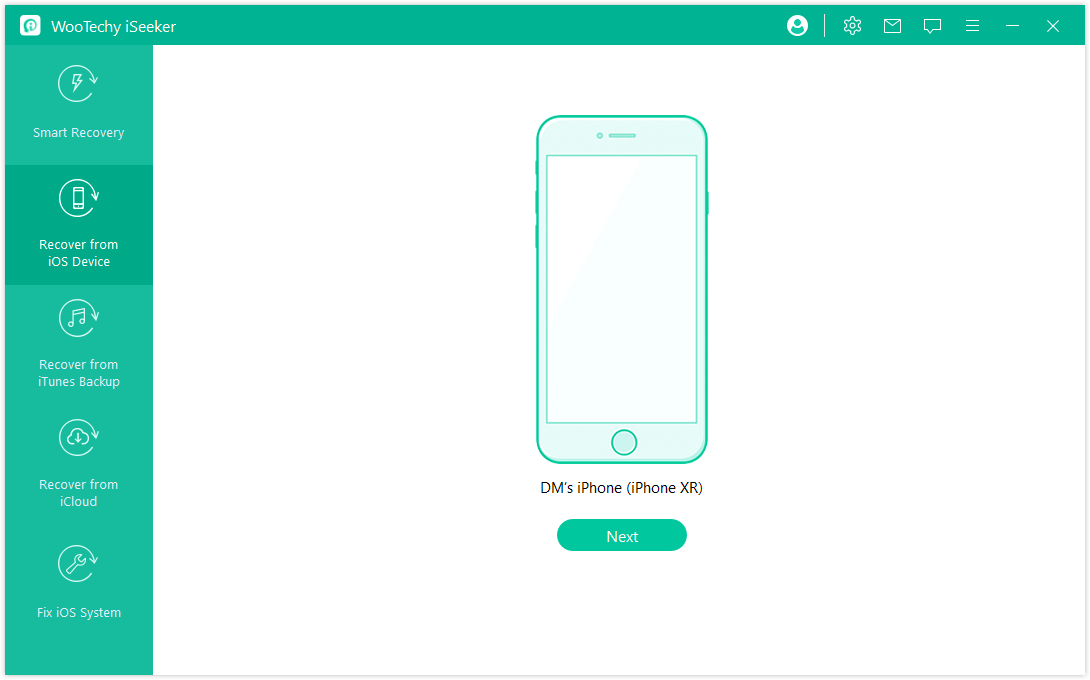 Step 2 All the data types will appear on the screen. Choose WhatsApp here. Then click Scan.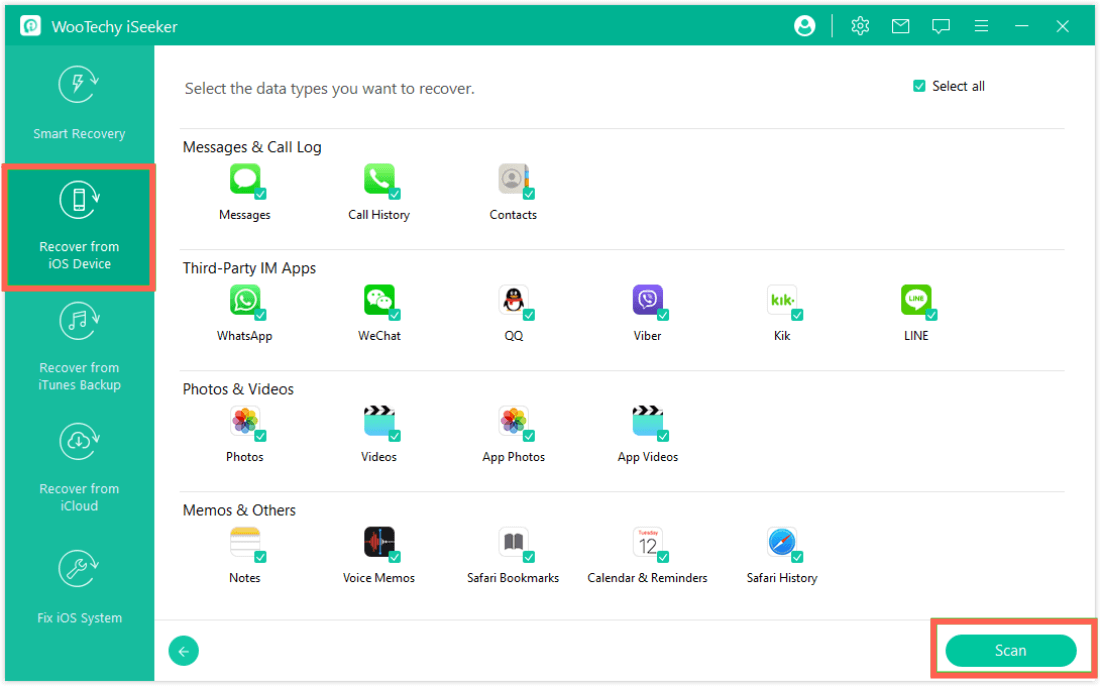 Step 3 After the scanning process, all the WhatsApp photos and videos will appear on your screen. Select the images you want to recover from your WhatsApp and click Restore.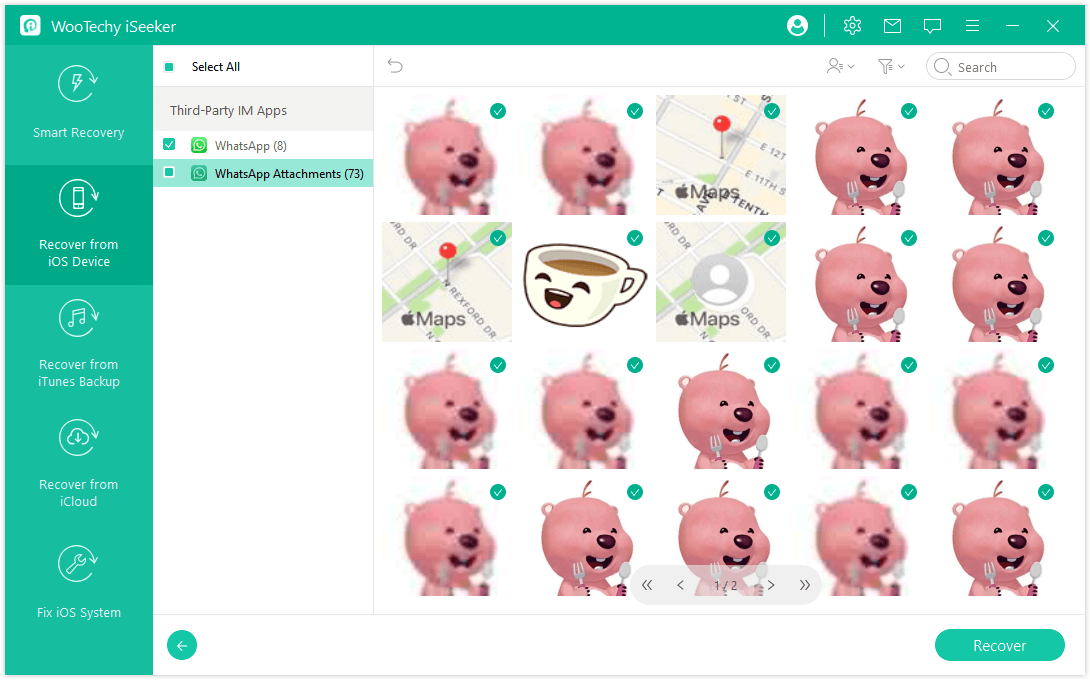 Conclusion
6 useful methods to recover photos/videos from WhatsApp are introduced in this article. We hope you find this article is helpful and you have recovered all your WhatsApp photos and videos on iPhone by following the steps mentioned above.
Among all the 6 methods, using WooTechy iSeeker to recover deleted WhatsApp photos and videos without backup is the easiest and quickest one. It doesn't include an overall backup of your data which sometimes brings back all the unnecessary stuff. You can just select the few photos you want to recover using iSeeker. Just download and enjoy your data now.