Whether you run a business or have loved ones living far away, calling them with your cellphone is the easiest way to stay in touch. In the past, people had to write down others' phone numbers and look them up when needed, while Contacts on our smartphones nowadays make the process easier.
Have your found your iPhone contacts suddenly disappeared one day? Do you have any clue on how to get those precious details back? If not, then you'll sadly be in deep water. To save yourself from this situation, this article will tell you how this mishap happened and how to find your disappeared iPhone contacts.
Part 1. Why Have My Contacts Disappeared from My iPhone?
Several possible causes result in unexpected iPhone contacts disappearing. Here are some common issues listed for your convenience.
iOS Upgrade -When you update your iOS version, it might not be fully compatible with your iPhone. Therefore, some issues like contacts disappeared might occur.
Jailbreak Failure -Jailbreak removes software restrictions imposed by the manufacturer and allows root access within the operating system, but if it fails, it may cause your iPhone to run improperly. Thus, your contacts might disappear from your iPhone.
Unexpected Deletion -You might have accidentally pressed the wrong button and lost your contacts.
System Crash -When the system is erring, your iPhone will suddenly endure system crash, then your data, including contacts, may disappear.
Now you know the main causes behind your sudden contact loss. The question arises: can you do something to fix iPhone contacts missing issue?
Part 2. How to Find My Missing Contacts on My iPhone?
No matter how you lost your contacts, don't lose hope. Recovering missing contacts is not an impossible mission. Gather your wits and keep following the suggestions given below to find your disappeared contacts:
Turn off and on iCloud for Contacts
If you have enabled iCloud Contacts on your iPhone, then all contacts you saved on your iPhone will be stored on iCloud. And you could turn off the iCloud Contacts and then turn it on again to resync your contacts to your device, which might help you get back the disappeared contacts.
Simply follow these steps to find your missing contacts on iPhone:
Step 1 Tap on Settings > your profile > iCloud and switch the Contacts toggle off.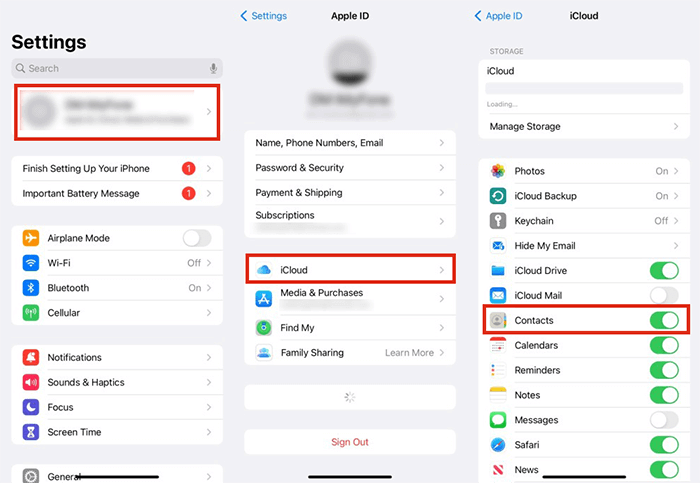 Step 2 You'll get two options. Either keep or delete the synchronized contacts. Select Delete from iPhone. Don't worry! Your contacts will not get deleted from the iCloud.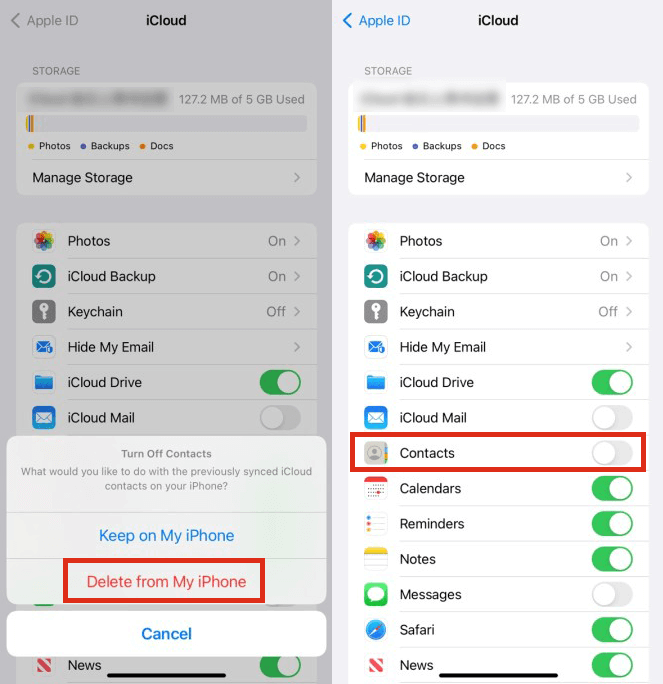 Step 3 Switch the toggle to green (on). After that, check whether the iPhone contacts that disappeared are back or not. If not, your contacts might not have been synced with iCloud successfully.
Change Group Settings
If you set up the contacts group settings incorrectly, then some contacts might not be presented on your iPhone. So, some contacts might disappear from iPhone.
To change group settings and get back your missing contacts, follow the steps below:
Step 1 Tap on the Phone icon > Contacts > Groups.
Step 2 Select All on My iPhone.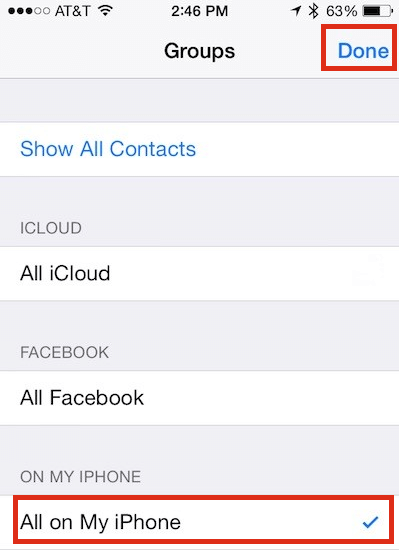 Step 3 Click on Done present in the upper right corner.
After this, you'll hopefully see the disappeared contacts on your iPhone. If this solution isn't feasible, just continue with other methods.
Reset Network Settings
Improper network settings can also cause iPhone contacts to disappear, you could reset the network settings to try to get back the missing contacts to your iPhone. But you need to keep in mind that resetting the network will cause the deletion of network-related data, such as saved Wi-Fi passwords.
To proceed to find disappeared contacts:
Step 1 Go to Settings. Tap on General > select the Reset option by scrolling down to the bottom.
Step 2 Now select Reset Network Settings.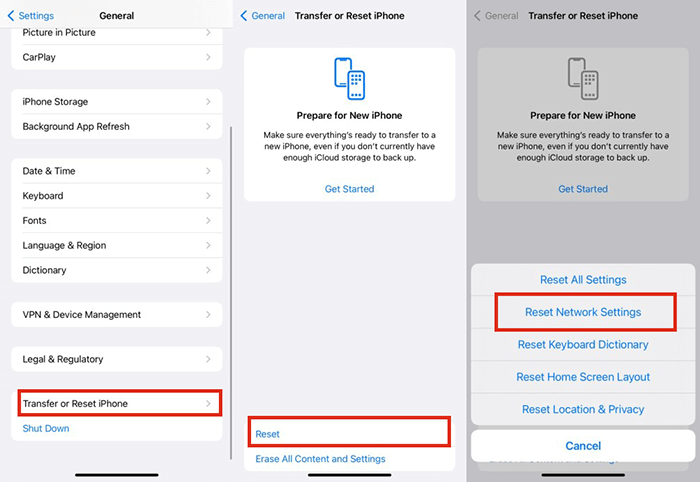 That's it. Rush to your address book to see if your missing contacts are back or not. If this doesn't work out, you can also get help through iCloud.
Log Out and in Your iCloud
It is also possible that the iCloud Contacts goes wrong when syncing and makes your contacts disappear from your iPhone. You could try to sign out and then sign into the iCloud account to get back the missing contacts. For doing that, you need to:
Step 1 Tap Settings > your profile picture.
Step 2 Head downwards and select Sign Out.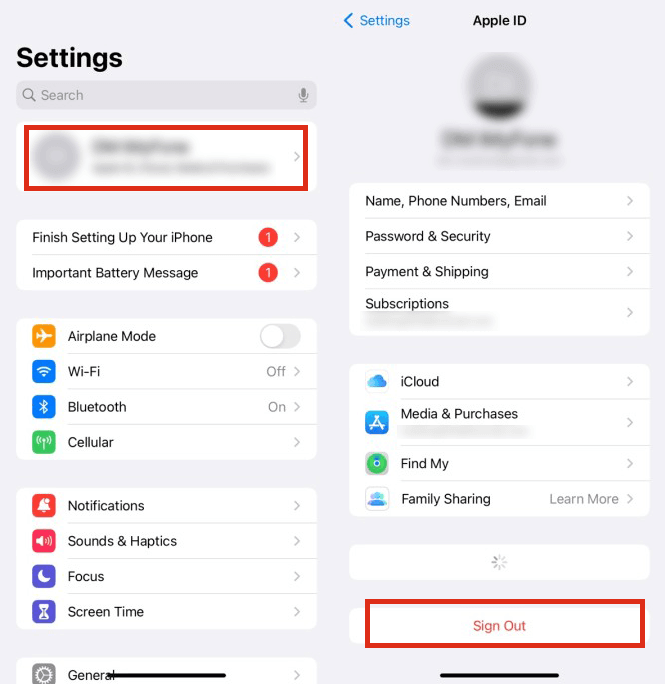 Step 3 Sign in to your iPhone and check if your contacts have been restored.
Check Default Account Settings
If you choose iCloud or Gmail or any other account as your default account, then the contacts might not be presented on your iPhone, either. And it can also be the cause for your contacts missing from your iPhone.
For changing the default account settings and find your disappeared contacts, follow these steps:
Step 1 Tap on Settings and scroll down to Contacts.
Step 2 Select Default Account and make sure On My Phone is selected.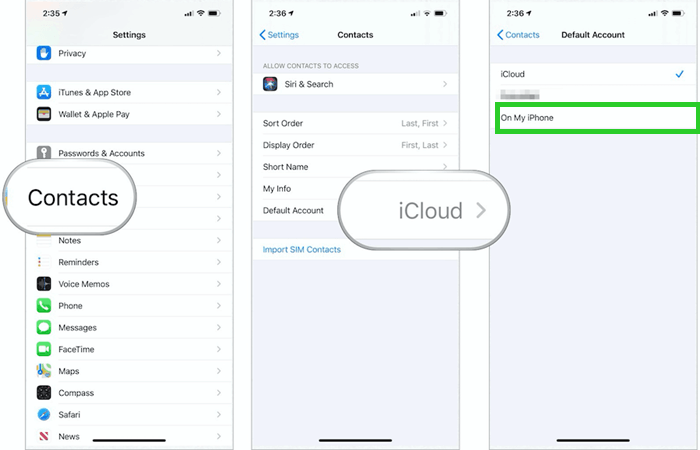 Part 3. How to Recover Disappeared iPhone Contacts
Retrieving lost data can be possible through iCloud and iTunes. You can initiate a backup plan through any of them. Here's how:
Find and Restore Disappeared Contacts from iCloud
The iCloud backup feature can make your data recovery rapid and efficient. If you have backed up your iPhone data before your contacts disappeared, then it's the easiest way to restore the missing contacts. The only downside of recovering from iCloud backup is that you can't preview contacts before restoring them, and you have to erase all your contents and settings before recovering. This will ensure you restore your iPhone to the prior state if something goes downhill.
Follow these steps to restore missing contacts from iCloud backup:
Step 1 Go to Settings > General. Select Reset > Erase All Contacts and Settings.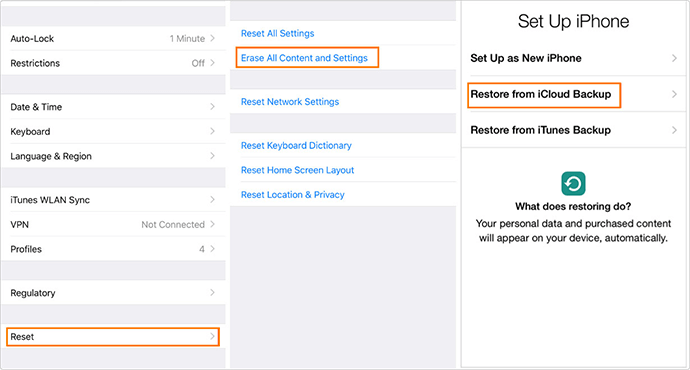 Step 2 Now you'll automatically see the setup screen. After Setup, you will be asked if you want to restore data. Choose Restore from iCloud Backup.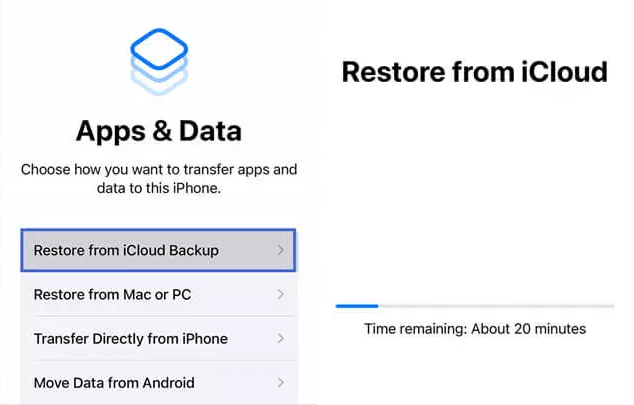 Step 3 Choose the backup that was made before losing contacts. Now, wait for the restoration to be complete. Go to look for those missing contacts once you're done.
Find and Restore Disappeared Contacts via iTunes
If you have made a backup with iTunes, then you can recover your iPhone contacts through iTunes as well. But you can't preview the data in the backup, either. And the restored backup will replace all existing data. So you are recommended to make a full copy of your iPhone data before beginning.
Follow the steps to restore missing contacts from iTunes backup:
Step 1 Open the latest version of iTunes on your computer. Connect your iPhone to your computer.
Step 2 Click Restore Backup from the Summary page.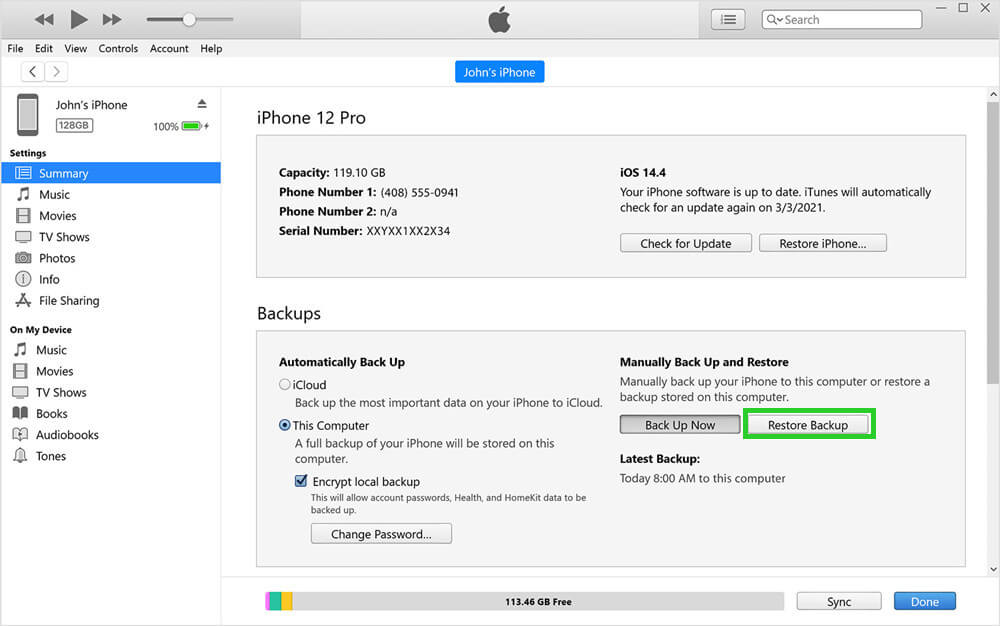 Step 3 Choose a backup from the list and click Restore to begin the restoring process. After the restoration is finished, check your iPhone for missing contacts
Note
Ensure your iPhone is plugged inside the computer during the whole process.
The retrieval time depends upon the amount of data that needs to be restored. The only drawback of using iTunes backup is all the information and settings on your iPhone will get removed.
Now, what if you have no backup? Neither your iCloud nor iTunes have synced with your data. You don't need to say goodbye to your important contacts. Here's an amazing tool at your service.
View and Recover Missing Contacts on iPhone Without Backup
Not having a backup is a common issue among various iPhone users. Sometimes, even if you have a backup, you're scared of your data getting overwritten by backups.
If you're in the same boat, WooTechy iSeeker is here to help you! It is a professional iPhone data recovery tool that supports 18+ different common data types no matter whether you have a backup or not. This can be a great option if your iPhone contacts disappeared. Its strong scan ability can deeply scan your device for lost data. And when it finds your contacts, you could preview the contacts. And this tool is also quite easy to use.
Advantages of WooTechy iSeeker
100.000+
Downloads
Supports 18+ common data types such as contacts, text messages, notes, photos, WhatsApp messages, etc.

Can be used for a wide range of iOS devices including iPhone 14 and be compatible with the latest iOS 16.

Recover disappeared data efficiently and effortlessly with a few clicks.

100% guarantees your data privacy and will not trace your data after recovery process completes.
Just download and launch Wootechy iSeeker tool on your computer.
Step 1 Connect your iPhone with the PC through a cable. Now tap Recover from iOS Device as you want to restore contacts from your iPhone directly. Click the Next button after connection establishment.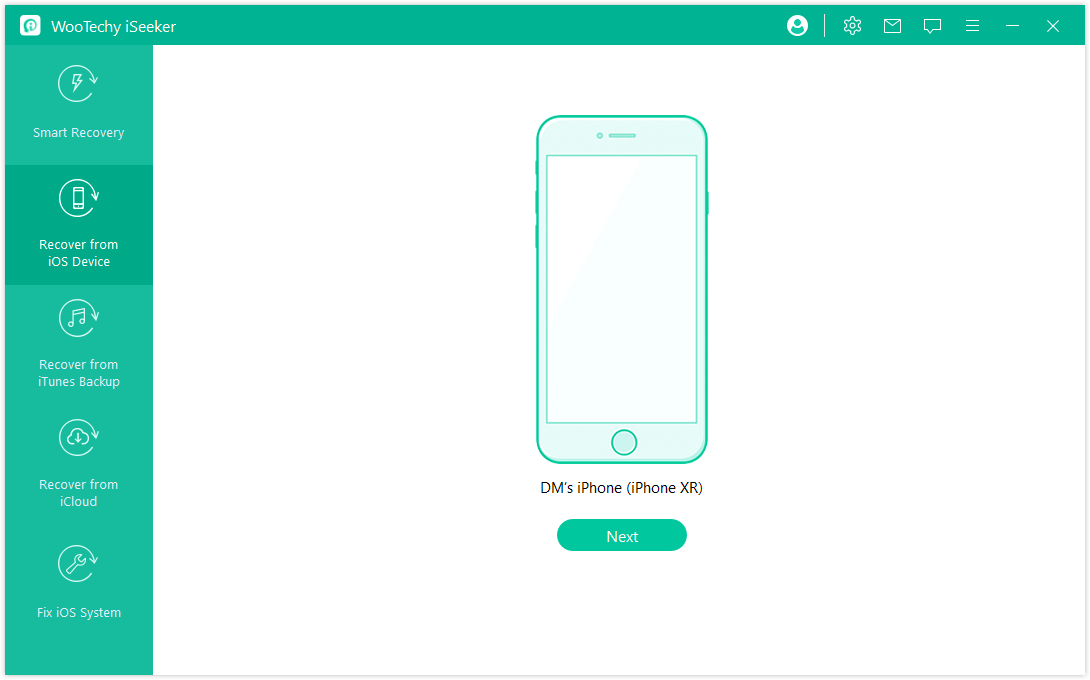 Step 2 Select Contacts here as you want to recover them. Tap on the Scan button in the right bottom corner. It might take a few minutes.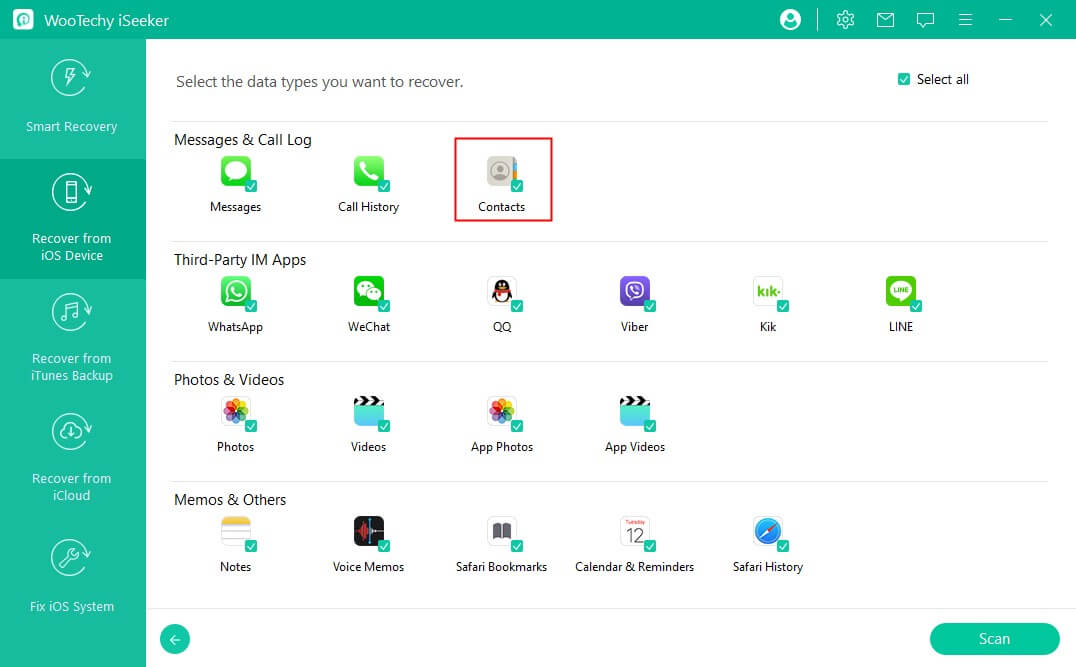 Step 3 After the process is completed, select your desired contacts and other data to Recover.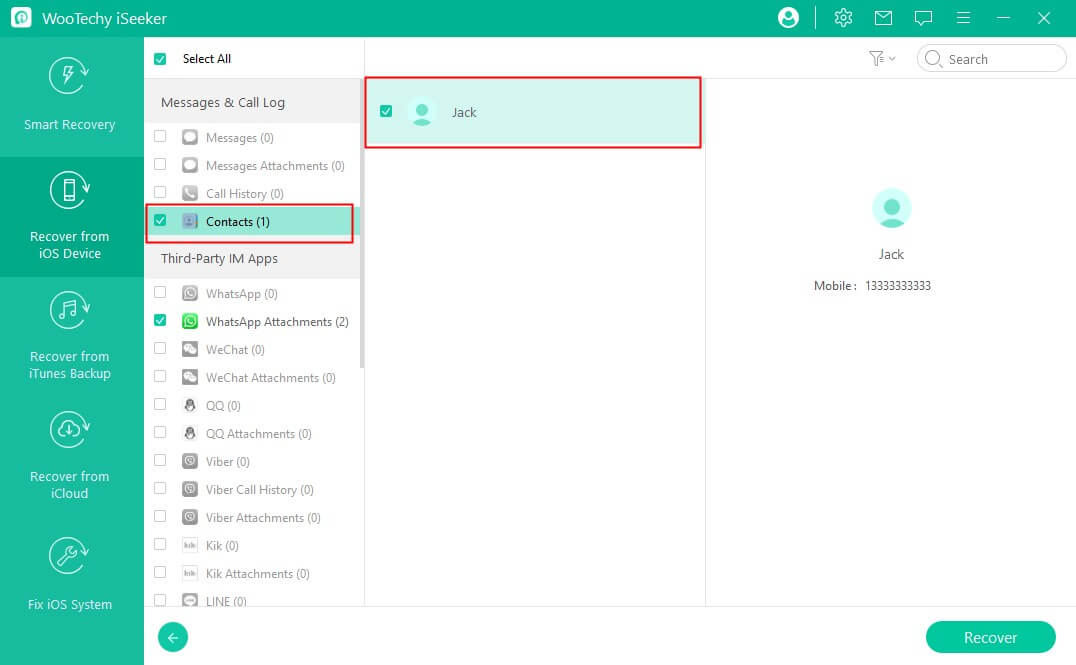 During the recovery process, WooTechy iSeeker guarantees your data privacy and security. All you need to do is to follow the guide on the screen and click several times. With its user-friendly interface, everyone can make it whether you are professional or not.
Part 4. FAQs About Contacts
Does iPhone have a limit on contacts?
There is no measured limit as the contacts are stored in the form of kilobytes.
Why is someone else's contact on my iPhone?
That usually happens when someone else is also using your iCloud account, you can change the password of your iCloud on Apple.
Final Words
Contacts disappearing from iPhone is annoying, but we have listed eight methods to fix this issue. Even without backup, we still have WooTechy iSeeker iPhone data recovery tool to make your data recovery effortless. Its Smart Recovery Mode will leave you stunned, and its advanced recovery technology help minimizes your data loss. So, what are you waiting for? Just have a free trial and get your disappeared data back, not only contacts.