In recent years, Discord has become one of the most popular instant messaging apps, where you can communicate with your friends and other users online. You can do a video or audio call, share files, or delete messages.
You might want to delete something that you have sent. Similarly, the other user might delete their previous messages. If this happens, there is no official way how to see deleted messages on Discord.
Nevertheless, there are some ways with which you can learn how to see deleted Discord messages. In this article, we will go through the most effective ways to achieve this so that you always know how to check deleted messages on Discord.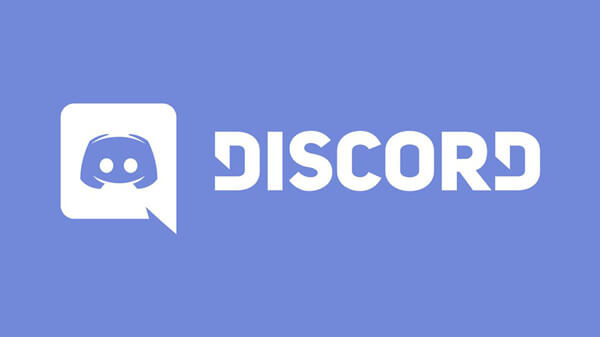 Part 1. See Deleted Messages on Discord with Better Discord
If you want to learn how to view deleted messages on Discord, then you will need to get a trusted app to complete the task. Better Discord is a project aiming to enhance your experience with the app. One of its features is to restore the deleted message on the app. To complete this process to recover deleted Discord messages in Better Discord, you will need to follow these steps:
Get the app from its official website. Download the plugin Message Logger V2 and install it. Open the Discord app and add your new plugin. You can do that by going to Discord settings. From the list, find the Better Discord section and click the Plugins option.

Click the Open Plugins Folder button and drop Message Logger V2 on it. This will add the plugin to your Discord. Browse the list of all your plugins and enable your new one. When you do that, you will see a Missing Libraries popup window.

At the same time, enable the Xenolib and ZeresPluginLibrary plugins.
Then, you simply need to right-click on the server and open the message logger. The deleted messages will appear under the Deleted tab.
Part 2. See Deleted Messages on Discord with YAGPDB Bot
Another easy way with which you can check and recover deleted Discord messages is to use the YAGPDB Bot. This bot is free for everyone but it can only be used by users that have admin rights. Moreover, it will only recover the last 10 deleted messages for free and you will have to pay to view more.
The steps to recover your deleted messages on Discord using the YAGPDB Bot are the following:
Go to the YAGPDB Bot's website and click the Add to Server button.
Select the server with the deleted messages and click the Authorize button.
Launch Discord and go to the server with the bot. Enter the command –ud –a to view the most recent deleted messages.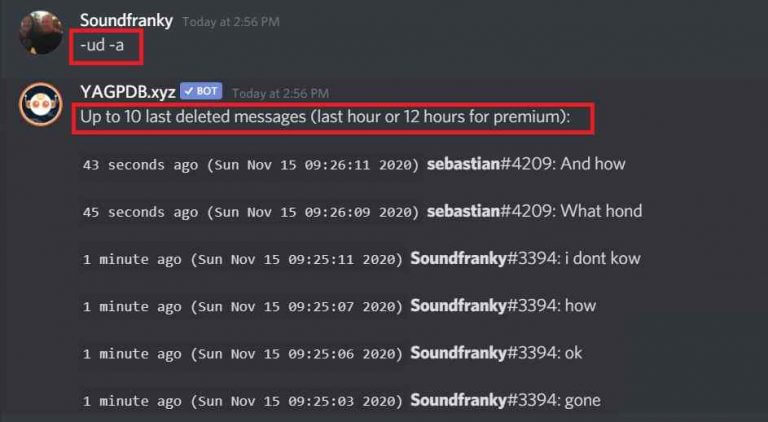 Part 3. See Deleted Messages on Discord Mobile with WooTechy iSeeker
Another amazing app that can help you learn how to see deleted messages on Discord mobile is WooTechy iSeeker. This specialized tool is the most reliable data recovery app on the Internet, giving you the option to restore around 18 different file types from your mobile phone. Therefore, it can retrieve the deleted messages on your Discord in no time.
The greatest thing about this application is that it works very intuitively. This means that even beginners can complete the process just by following the on-screen instructions.  WooTechy iSeeker is an amazing tool that provides you with previews of your files before you download them. Selective downloading is exceptionally great when you have limited free storage space available on your device.
Other Key Features of WooTechy iSeeker
100.000+
Downloads
It can recover more than 18 types of lost data, including photos, videos, messages, WhatsApp data and so on.

It recovers data directly from iOS devices without the need for a backup file.

It enables you to get back lost data with only 3 simple steps.

It allows you to preview and select recoverable files before you restore them.

It provides a free trial for users, with which you can scan and preview all the data.
Follow the below steps to see and recover deleted messages on Discord mobile with WooTechy iSeeker:
Step 1. Get the WooTechy iSeeker installer and launch the app on your computer. From the home screen, click the Recover from iOS Device option. Connect your mobile phone to your PC via a USB cable. Once detected, click the Next button.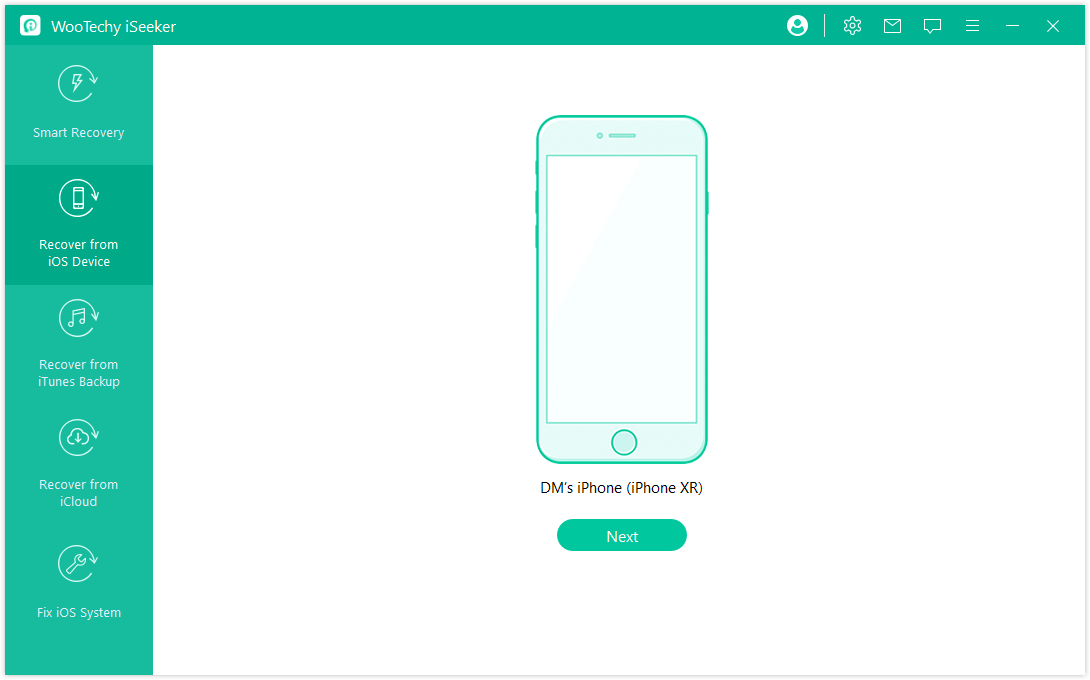 Step 2. Then, the tool will ask you to select the file types you want to retrieve. In this case, you must select the messages. Click Scan and wait for iSeeker to scan your device.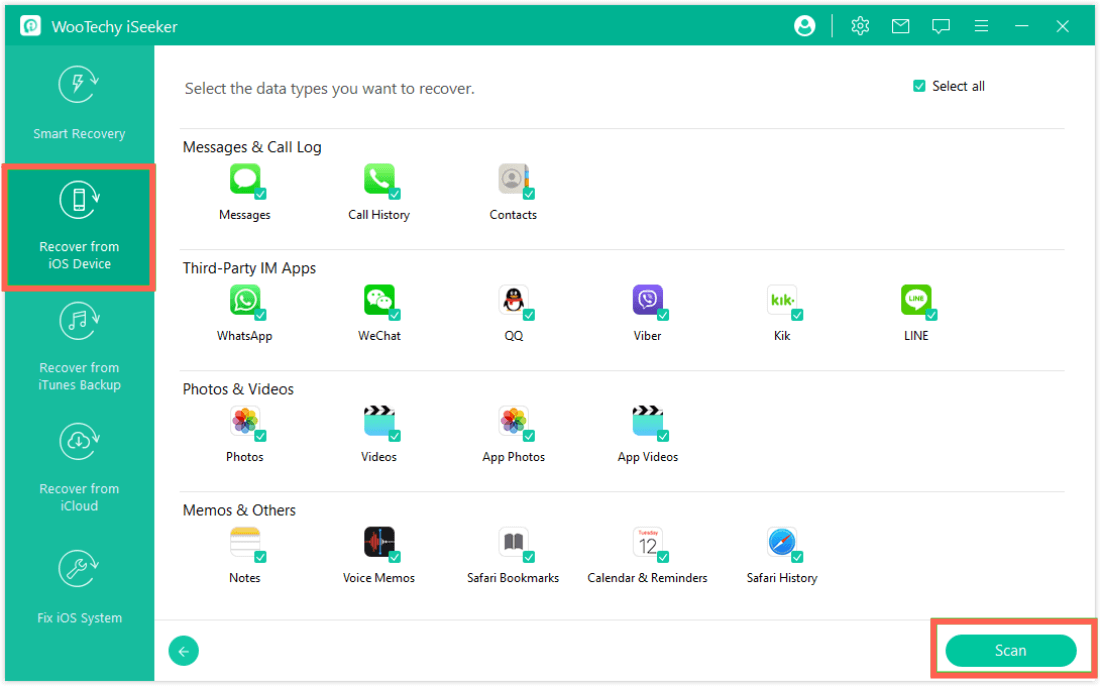 Step 3. After this process has been completed, you will get a list of the files that can be restored. Browse the available previews to choose which ones you wish to get back. If you have chosen multiple file formats, you will see them in categories. When you are ready, click the Recover button. The files will appear on the folder you have selected.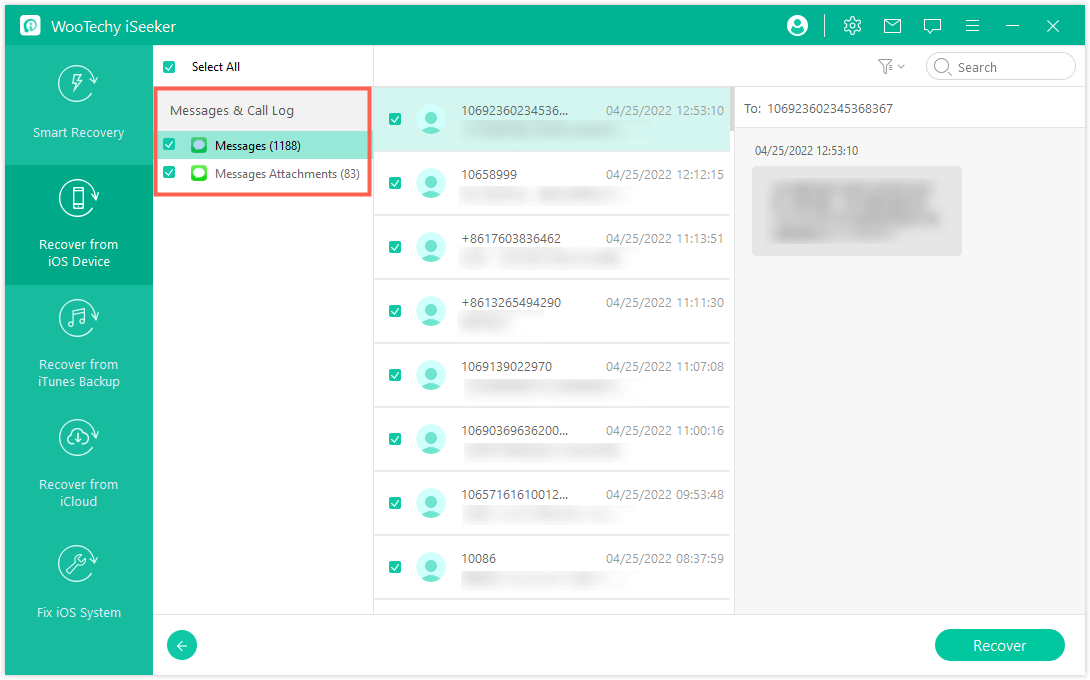 The above process scans your device for the deleted messages. In addition to this, WooTechy iSeeker also allows you to selectively retrieve data from your iTunes backup. If you have backed up your Discord messages on iTunes, then you can use iSeeker to preview and selectively extract the messages from iTunes backup. This is how to check deleted messages on Discord from your iTunes backup:
Step 1. Open iSeeker and select the Recover from iTunes Backup option from the home screen. Select the appropriate backup and click the Next button to move to the next step.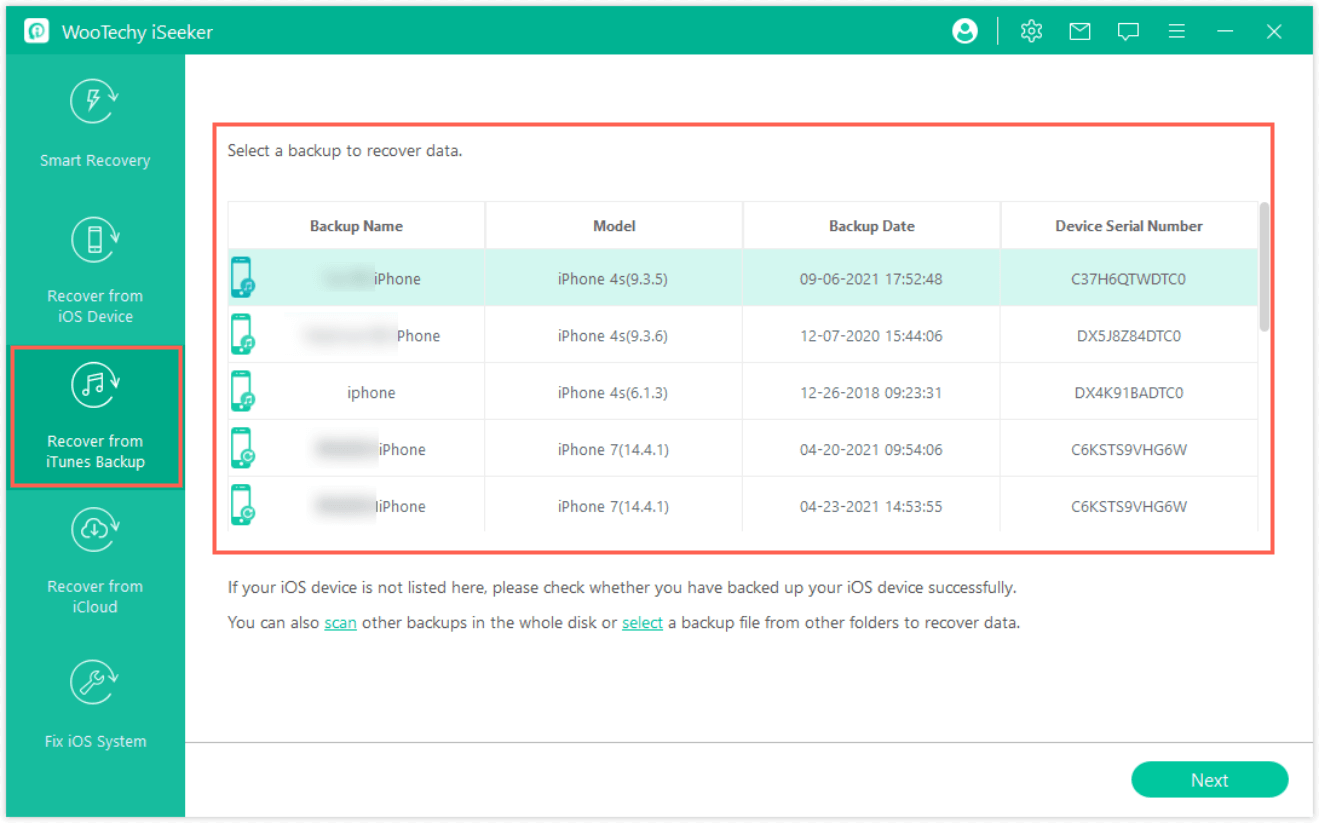 Step 2. Then, choose the file formats that you need so that the app scans the backup for them and click Scan.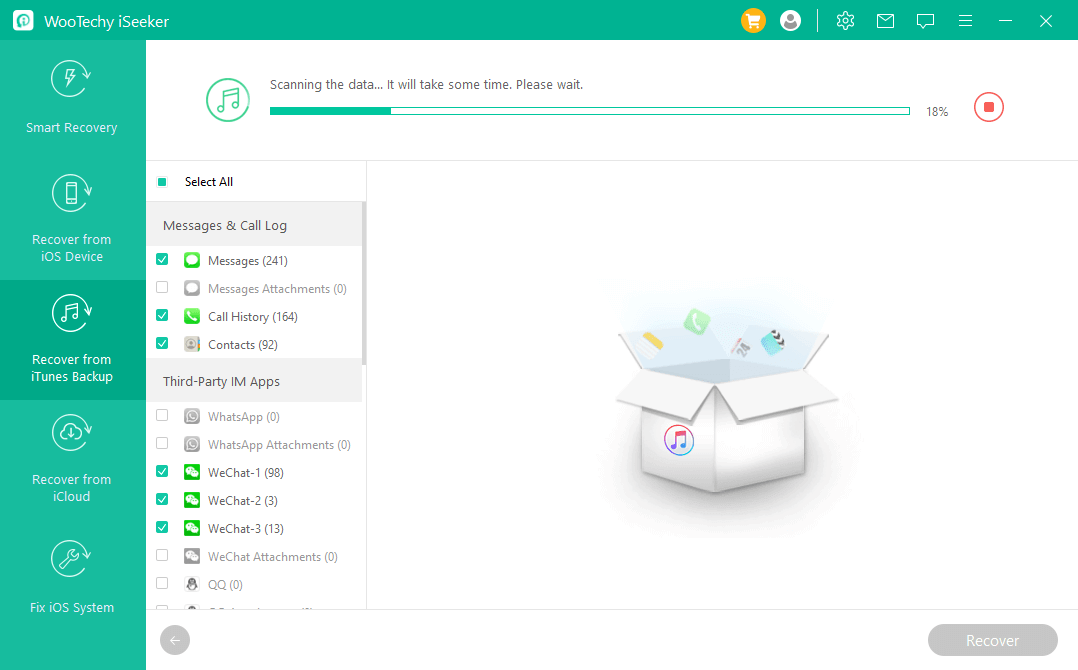 Step 3. After a few seconds, WooTechy iSeeker will bring you a list of every file on the backup. Preview and choose which ones you want to retrieve and click the Recover button.
Part 4: Hot FAQs on Discord Messages
1. Does Discord Save Chat History?
Discord saves both server and private chat history. By doing this, each user can access the chat logs on any device. However, if the original message gets deleted, the user can no longer view it.
2. How Do I Find Discord Message History?
To view your Discord message history, you will have to use a third-party plugin. The steps to do that are the following:
Launch Google Chrome on your computer and open Discord. Get the Violentmonkey extension for Chrome.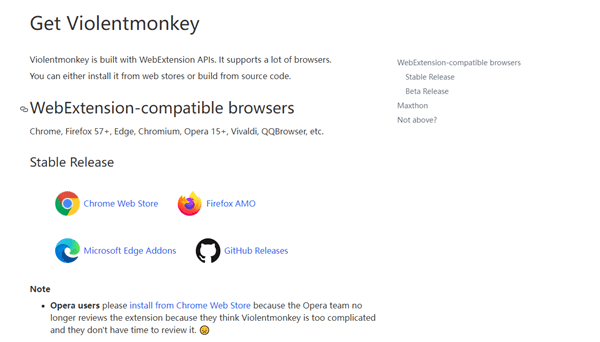 When the extension appears on your browser, right-click on it and select the This can read and change site data and When you click the extension options.
Then, go to the Discord Message Tracker website and download it. Click the Confirm installation button that the extension will show you.
Refresh the Discord tab on your browser and click the DHT button that you will see at the top right corner of the window.
This will bring a new banner, where you will have the option to start tracking your messages. The chat log can be downloaded. You can view it by uploading it to https://dht.chylex.com/build/viewer.html
Conclusion
In this article, we have introduced various ways to see and recover deleted messages on Discord. You could choose any one of them as you like. And if you want to recover deleted messages on Discord mobile or any other data on iOS devices, then WooTechy iSeeker is the perfect choice for you. It provides a free trial to all users. Don't hesitate, just download and try it right now!