iMessage is a messaging function that is pre-installed on all iPhone models. It allows you to communicate with other Apple users over Wi-Fi or cellular-data networks without SMS fees.
In case you make a lot of conversations or delete these conversations by accident, you may have trouble checking or browsing through your entire iMessage history to find a particular message you need.
In this article, we will introduce how to see iMessage history on iPhone. Here's a glance at the comparison among the methods. Continue reading to find the way that meets your demand.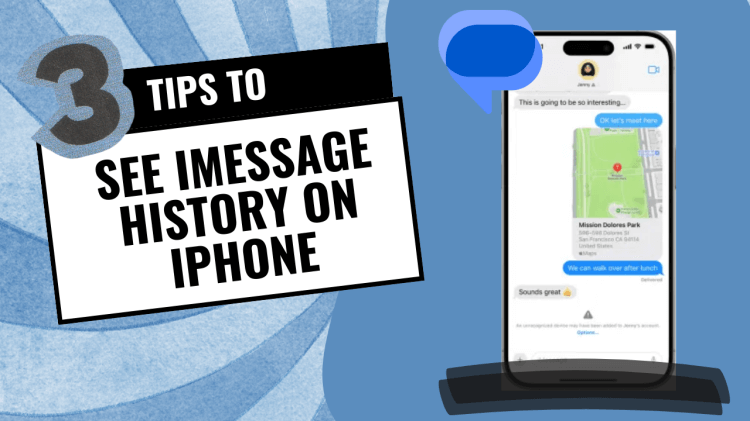 Part 1. Does Apple Keep iMessage History?
Apple has claimed that it won't store any iMessage on its server. And Apple only retains limited information about iMessage. However, on your own device, you could choose how long to keep the iMessages in the settings. You could choose to let your iPhone keep the iMessages for 30 days, for 1 year or forever. Here are the steps to check and change the setting:
Open Settings and tap Messages.
Scroll down to find Keep Messages and choose Forever.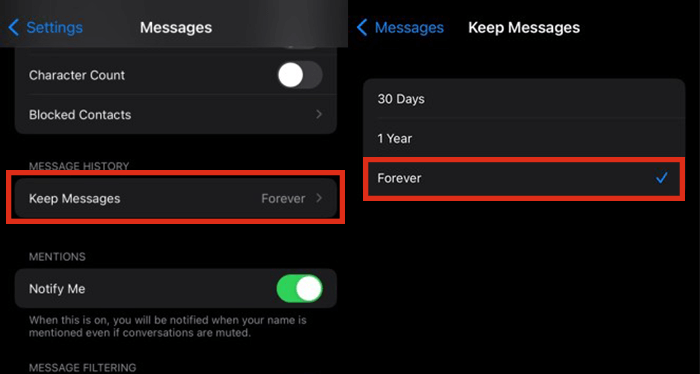 If you choose to keep the messages forever, the messages will only be deleted when you remove them manually. And if you choose the other two options, the iMessages will disappear after that period.
Part 2. How Do I See My iMessage History on iPhone?
If you choose to keep all the iMessages on your iPhone, then the easiest way is to scroll down to find the specific iMessage. However, that can be time-consuming. There is another easy way to help you find old iMessages easily. You could use the search bar - just type a keyword in the search bar, all the messages that contain the keyword will be displayed. No more scrolling down manually. Check the following steps below to see your iMessage history on iPhone:
Step 1 Tap Messages and choose All Messages.
Step 2 There's a hidden search bar on the top of the message list, swipe down to find it.
Step 3 Type what you're looking for into the Search Bar. You can look for a message using a keyword or the intended recipient with whom you were chatting. Look through the search results to check if the message you're looking for is there.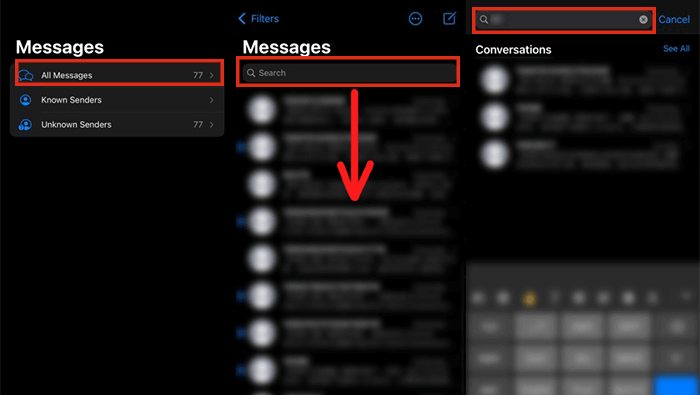 Step 4 Tap the chat to open it if you find the one you are looking for. If you do a keyword search and then tap a particular message in the search results, your chat will jump to the section where that message appears, and you can see your iMessage history.
However, knowing how to search iMessage on iPhone isn't enough if iMessage history is auto-deleted by iPhone, then you have to recover it in other ways.
Part 3. How Can I See Deleted iMessage History?
1

View and Recover iMessage History Without Backup

"Can you recover deleted text messages on iPhone?"
Yes, you can. If you want to get full iMessage history, not only the old ones, but also the deleted ones, then Wootechy iSeeker is a good choice for this task. As a data recovery tool, iSeeker allows you to easily see and recover deleted iMessage history directly from your iPhone. And it works well on almost all iPhone, iPad, iPod Touch models. Moreover, a free trial is available to help you see if your deleted data can be retrieved. Its operation is also relatively easy for all users, even if you don't have much tech knowledge. You just need to follow the on-screen guide and all your data will be brought back.
Advantages of WooTechy iSeeker
100.000+
Downloads
Recovers 18+ different types of data, including iMessage history, call history, WhatsApp messages, photos, etc.

Allows you to preview the data before pressing recover, and also allows selective recovery.

Be compatible with almost all iOS versions up to iOS 16/17.

Provides a free trial to all users, in which free scan and preview are included.

No need for iTunes or iCloud, simple with a few clicks, then your iMessage history is back.
Here are the 3 simple steps to see iMessage history and get iMessages back with iSeeker:
Step 1 Install iSeeker on your computer and choose Recover from iOS Device. Attach your iOS device to your computer. Once your device has been discovered, click Next to continue.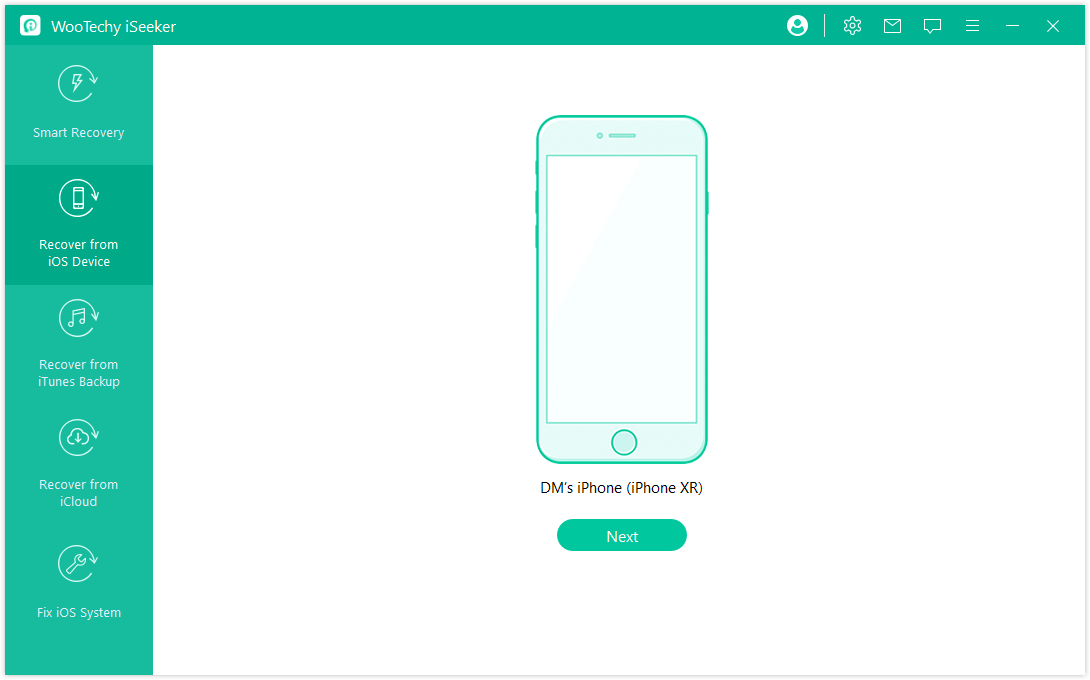 Step 2
After selecting
Messages
and other data you want to recover, click the
Scan
button. It will do a full check on your phone to seek for missing iMessage history.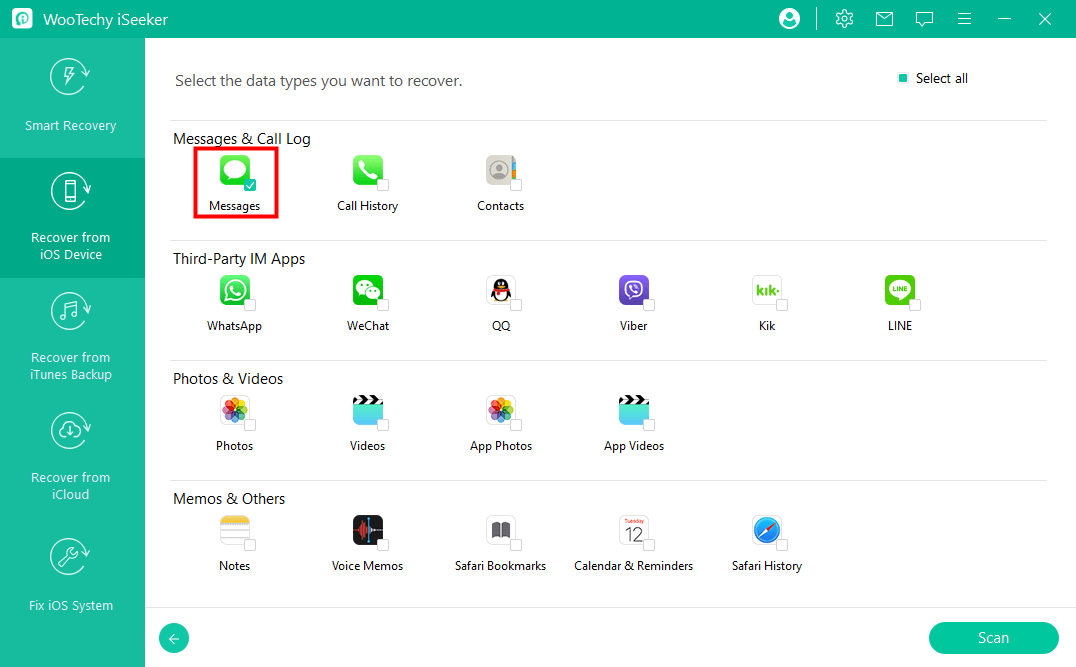 Step 3
Once the scan process is finished, all recovered files will be neatly organized by data categories. You can view the deleted iMessage history. Select all of the messages and other data you want, click
Recover
in the bottom right corner. This process will take some time.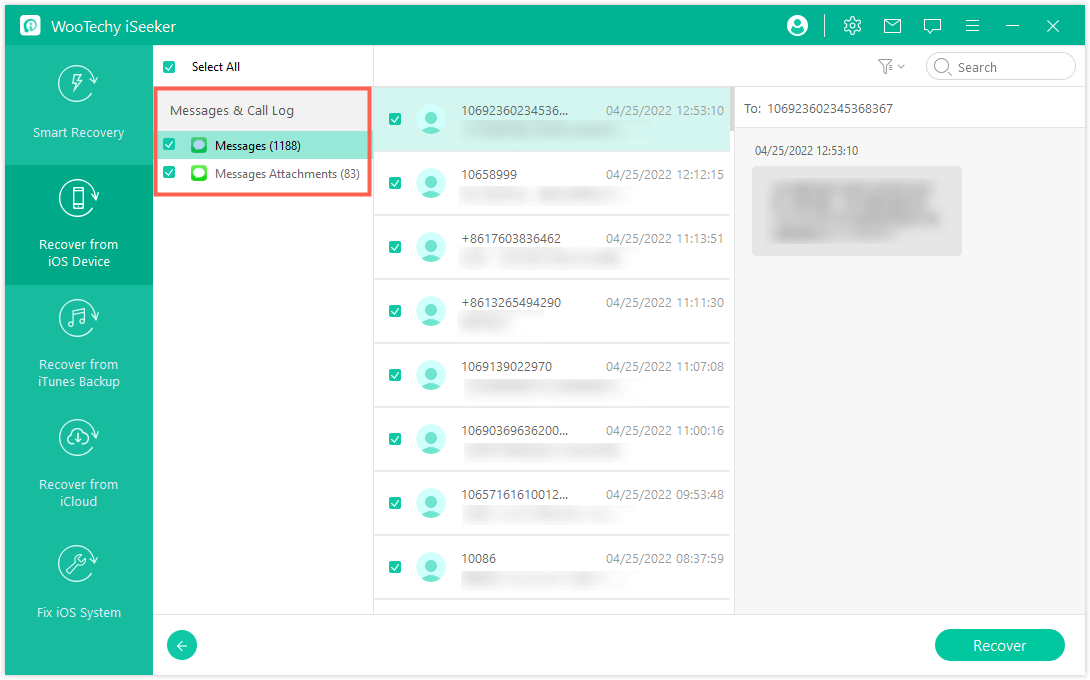 2

View iMessage History with Backup

If you have made backup of your iPhone data, then the most straightforward way is to restore and view the iMessages history from the previous backup.

View iMessage from iCloud Backup

You can restore deleted iMessage history and view it if you've already backed up it to iCloud. To complete the recovery process, you must first erase all data on the device. You'd better back up your current data before recovering from iCloud, or it will be overwritten. To get started, follow these steps:

Step 1 Go to Settings and then General, then select Reset and Erase All Content and Settings.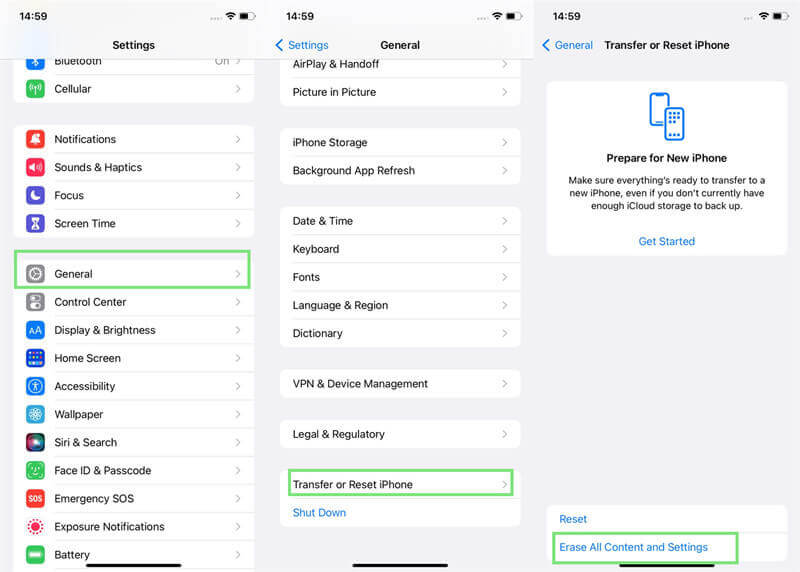 Step 2 After you've completed the setup steps, go to the Apps & Data page and choose Restore from iCloud Backup.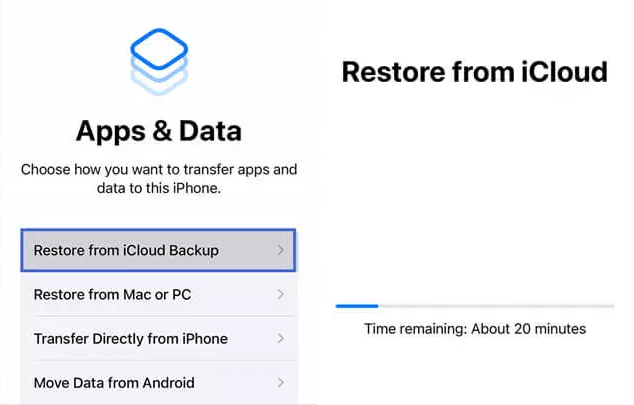 Step 3 Sign in to iCloud to retrieve the device. Select a backup that contains your deleted iMessage history after logging in and restore.
After then, your deleted iMessage history will be restored and you can search your desired iMessage.
View iMessage from iTunes Backup
You may have backed up your data including iMessage history on your computer via iTunes for the limitation on free iCloud storage. If so, you can restore the device and retrieve your erased iMessage history from iTunes backup, and check it after the process completes. Just like when restoring from iCloud, your contents and settings will be replaced. Follow the steps below to restore and view iMessage history on iPhone.
Step 1 Connect your iPhone to your computer using a USB cable. After that, launch iTunes. If you're using macOS Catalina 10.15 on a Mac, open Finder.
Step 2 Select the iPhone icon, then choose Summary in the left sidebar and click Restore Backup on the screen.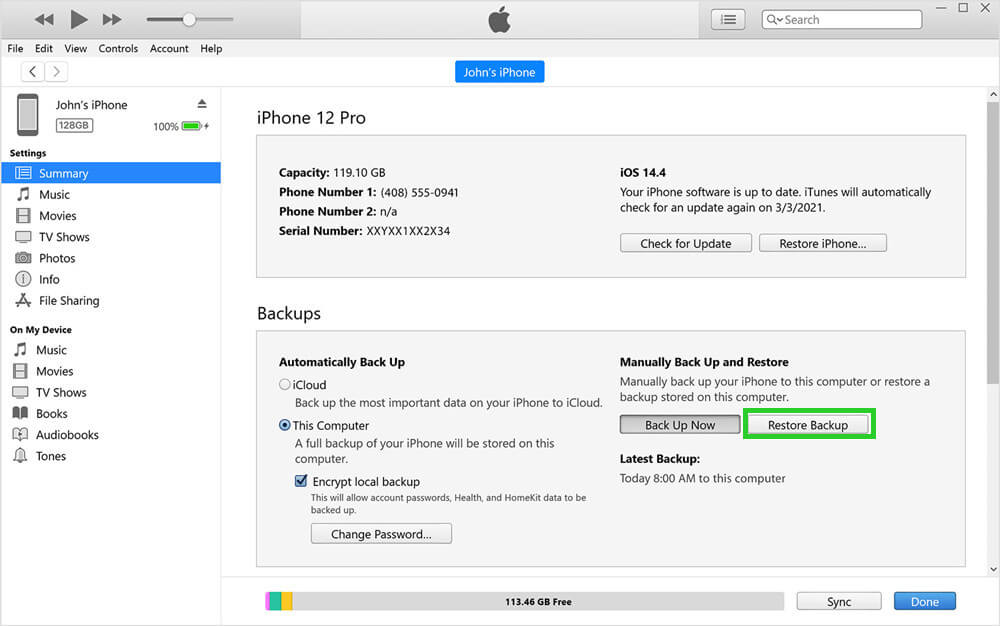 Step 3 Select the backup file that contains your deleted iMessage history. After that, click Restore and wait for it to complete.
Note
You cannot preview and choose which iMessage to retrieve from the iCloud and iTunes backup.
Conclusion
When you are stuck in seeing your important iMessage history, this article will save you. If you find the iMessage history has been deleted, WooTechy iSeeker is here to help you recover it whenever you want. For many iPhone owners, it's a tried-and-true approach. This software is trusted by users all around the world as a powerful tool for restoring and eliminating data loss. Get a free trial here to download and view your data.