For iOS users, when it comes to managing your data, there is no better way than using iCloud. Not only does it back up and store all of your important data, but it also allows the users to keep all of their Apple devices in sync as well. So, you can view them from any of your Apple devices at any time. This is especially helpful if you lose your phone or if your phone begins to malfunction.
However, if you're new to iCloud, viewing text messages/iMessages on iCloud might be a bit confusing. This is because they aren't stored in a format that can easily be accessed (meaning they're not readable or viewable).
In this article, we'll show you a few different methods to view text messages and iMessages on iCloud.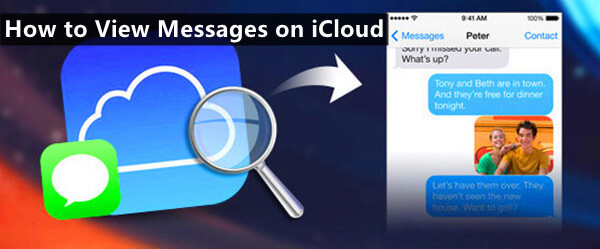 Part 1. How to View Text Messages/iMessages on iCloud from iPhone/iPad
If you have more than one Apple device and use the same iCloud account on all of them, then by enabling the Messages option in your iCloud settings, you will be able to view all of your text messages/iMessages from any of your devices.
Whenever you send or receive a text message or iMessage on one device, it will sync and appears on all your other devices that are signed in to your iCloud account and can be viewed at any time.
If you have not yet enabled Messages for iCloud on your iPhone or iPad, you can do so by following these steps:
Navigate to your Settings app and tap on your name (Apple ID) at the top.
Then, select iCloud from the list of options.
Now, scroll down and locate the Messages option. If it's not already enabled, tap on the toggle next to it to enable it.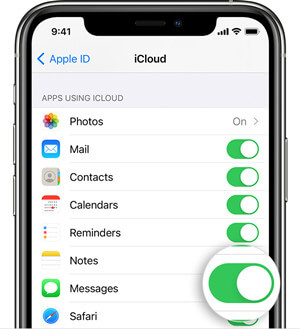 If you'd like to view previous messages backed up to iCloud on your iPhone or iPad that aren't present on other devices or haven't been synced, you can restore your iCloud backup to the device. This will put the backed-up messages on the device but will overwrite anything else that is already there. Remember to save your important files to avoid losing them in the restoring process.
Follow these steps to view text messages/iMessages on iCloud by restoring a backup:
First, go to your Settings app. Go to the General menu, then Transfer or Reset iPhone, and finally tap on the Erase All Content and Settings.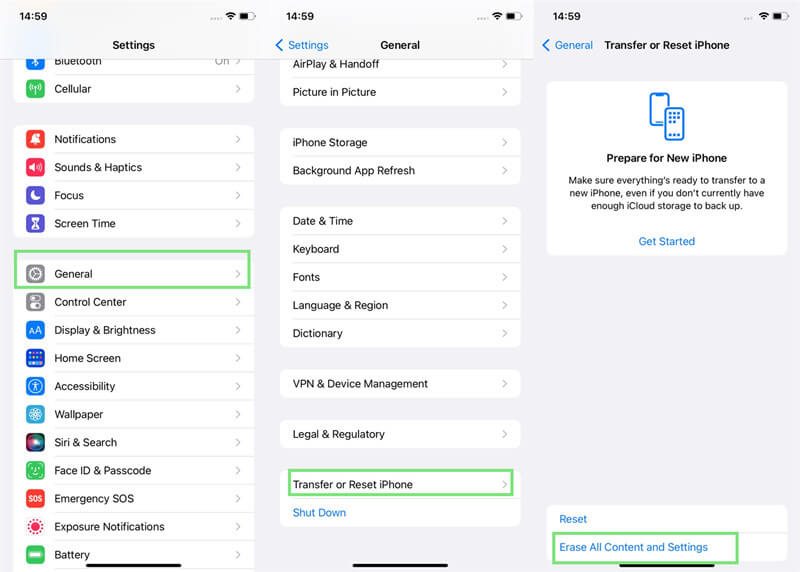 Once your device has been reset, follow the on-screen prompts to set it up again. During the process, you'll be given the option to Restore from iCloud Backup. Choose this option and select the backup you want to restore.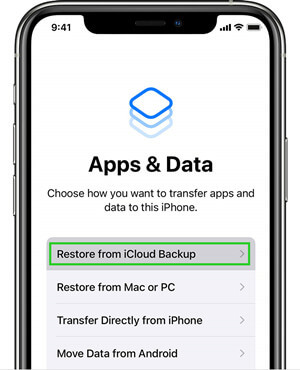 Part 2. How to View Text Messages/iMessages on iCloud from Mac
Just as you can view text or iMessages on your other Apple devices, you can also view them on your Mac computer. All you have to do is enable the iCloud for Messages on Mac, sign in with the same Apple ID, and then all of your messages will be synced and accessible.
However, this is only possible if your iPhone, iPad, or iPod touch is running iOS 11.4 and your Mac must be running macOS 10.13.5 or later. Furthermore, you'll only see messages that have been synced to iCloud but you won't see text messages in a backup of your device.
If you meet all the criteria above, here are a few simple steps on how to view text messages/iMessages on iCloud from Mac:
On your Mac computer, open the Messages app.
Then, go to Messages > Preferences > Accounts.
After that, select your iCloud account and then Enable Messages in iCloud option. From now on, all of your messages will be synced to iCloud and accessible on your Mac pretty easily.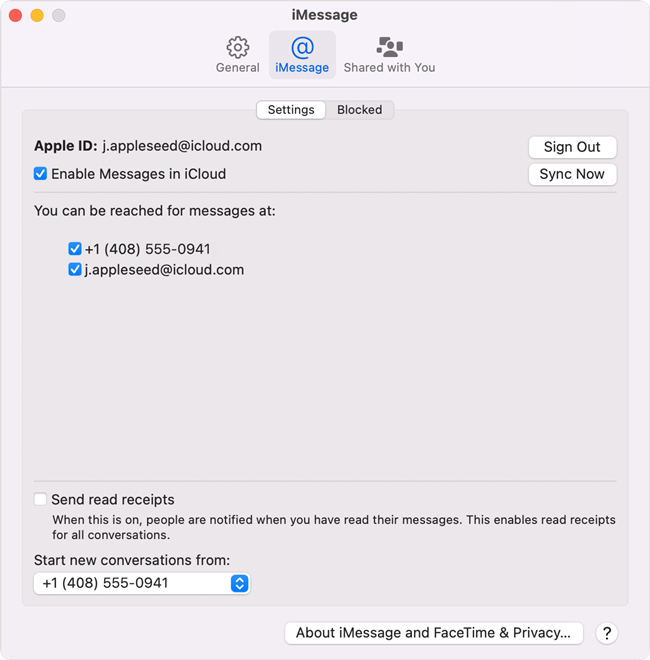 Part 3. How to View Text Messages/iMessages on iCloud Backup from PC
If you want to view text or iMessages on iCloud from your PC, then you'll need to use a different process than that of Mac computers, since there is no iCloud syncing app or Messages app available for Windows. And even on Mac, you can only view synced messages not backed-up messages.
There is a way that gives you chances to view messages from your iCloud backup without restoring to iPhone or iPad. By using a professional iPhone data recovery tool like WooTechy iSeeker, you can access and download your iCloud backup pretty easily. With this software, you can also preview and selectively export messages as well as other data from iCloud backup to your computer.
Other highlights of WooTechy iSeeker:
100.000+
Downloads
Offers three data recovery modes: Recover from iOS Device, iCloud, & iTunes.

Supports data recovery for 18+ data types with or without backup.

Allows you to preview and recover individual files from your backup.

Works flawlessly with all iOS devices and versions with no data loss.

Provides a free trial to everyone, with which you could scan and preview the data for free.
Here is a step-by-step guide on how to use WooTechy iSeeker to view text messages/iMessages on iCloud backup from a PC or Mac:
Step 1. Download and install the WooTechy iSeeker to your computer, then go to the program's left sidebar and select Recover from iCloud. After that, click on the iCloud Backup and then follow the instructions to set up your device for restoration from an iCloud backup.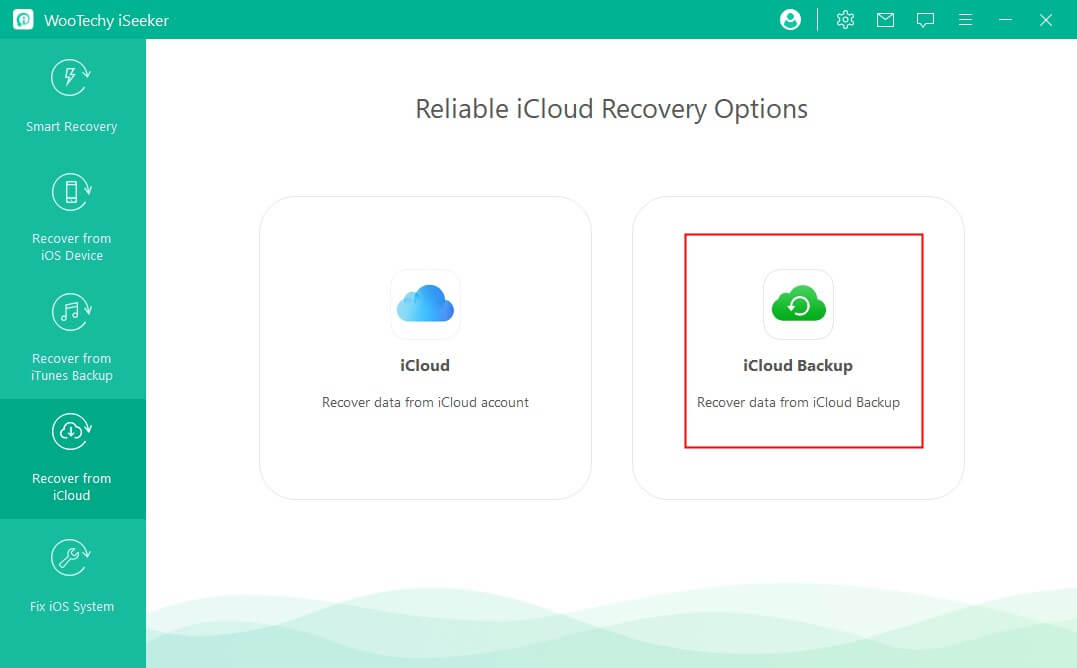 Step 2. When you reach the Apps & Data page, click on Restore from iCloud Backup. Then sign in with your Apple ID and choose a backup to restore.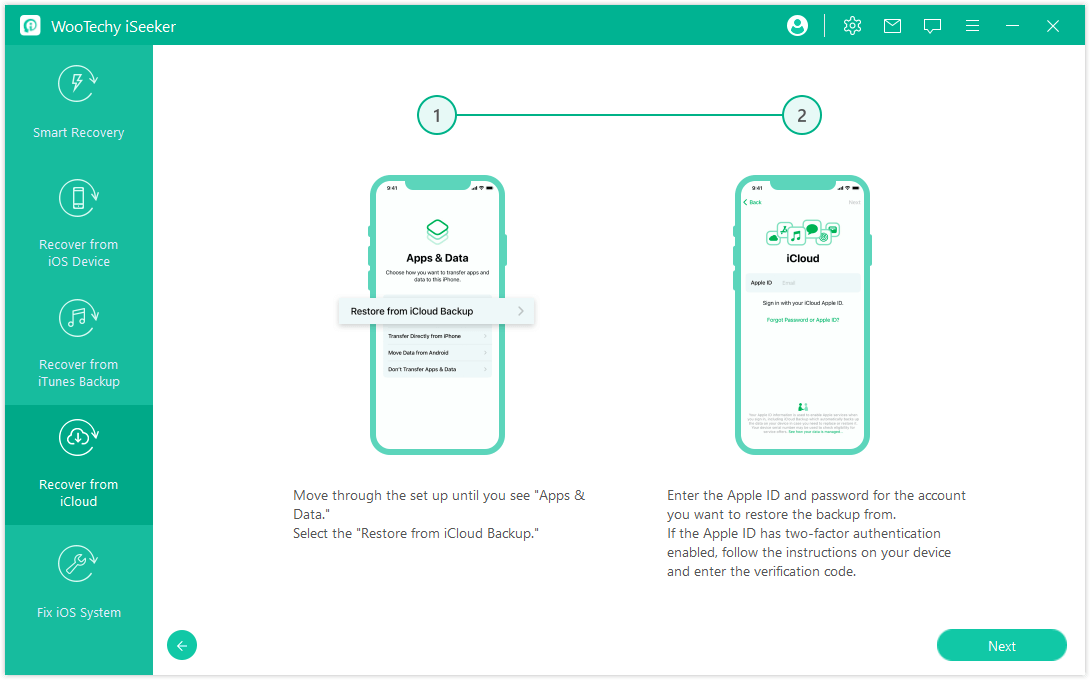 Step 3. From the data type list on the screen, choose Messages and click Scan. After the scanning is finished, choose the messages you want to view and then click Recover to download them to your computer.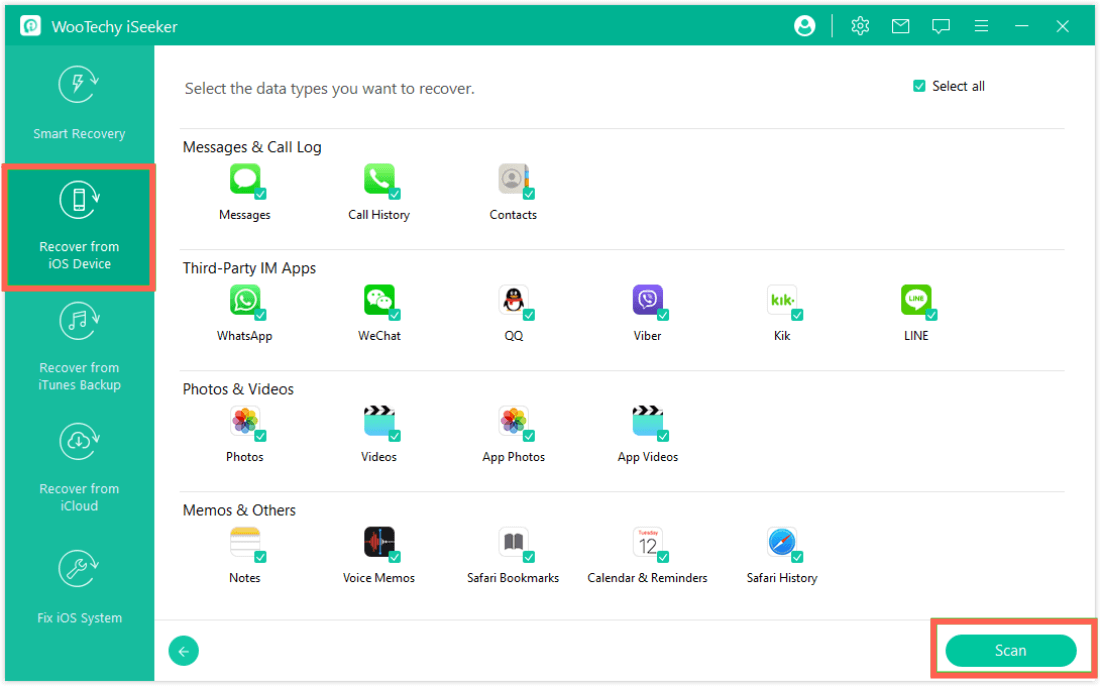 Bonus: How to Back Up Text Messages and iMessages to iCloud
As we have mentioned at the very beginning, iCloud is a great feature of Apple to help you store and sync data on your device. So, to avoid losing your important messages, making backup to iCloud regularly is essential. Here, we also give you the detailed guide to back up text messages and iMessages to iCloud.
On your iPhone, open the Settings app and tap on your name (Apple ID) at the top.
Go to iCloud, tap on the iCloud Backup option, and then tap on the Back Up Now button.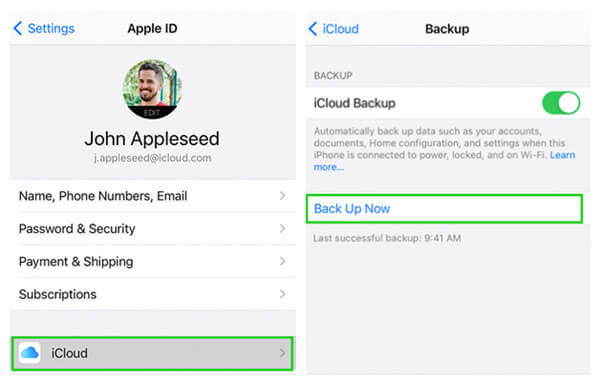 Conclusion
That's all for this guide on how to view text messages/iMessages on iCloud. We hope that you found it useful and that you were able to easily access and view your messages on iCloud, without too much stress.
However, we recommend using Wootechy iSeeker, which is the most efficient and simple way to view or selectively export messages from an iCloud backup. Even if you haven't enabled the syncing feature or have backed up your device with iCloud/iTunes, you can still use this tool to access and export your messages selectively. So go ahead and give it a try!