When I checked my iPhone 7 Plus that afternoon, I couldn't believe that all of the text messages on my phone had disappeared. Has anybody else struggled with this problem? Why did my messages get deleted on my iPhone itself and how can I get back these missing texts? Help me please.
Text messages may contain important information along with the conversations. The number, date, and time of the messages could also be handy. However, there are times when one can lose iPhone Messages without any warning or clue of why this happens and how to fix it.
If you're also experiencing the iPhone deleted all messages issue and are looking for ways to fix it, this is the post for you. In this article, we'll talk about what causes this issue, how to fix it, and also show you a step-by-step process for restoring lost text messages on your iPhone.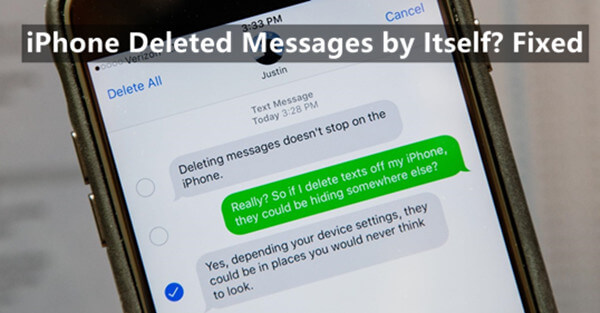 Part 1. Do iPhones Randomly Delete Messages?
If you find your iPhone randomly delete your messages, there must be something wrong with your iPhone. So, before getting into how to fix the issue, it's best to learn why the iPhone is deleting them first so you can prevent this from happening again in the future. There are many reasons that may cause iPhone deleting messages including:
Wrong settings of messages
iCloud syncing issues
Short of storage
iOS update
Jailbreak failure
Unexpected error
Part 2. How Do I Stop My iPhone from Automatically Deleting Messages?
Now that you've learned some of the reasons why your iPhone keeps deleting your messages by itself, read on for a few ways to stop it from doing so in the future.
1. Change Message Settings
In the message settings, if you choose a certain period to keep your messages on the iPhone, then your messages will delete automatically within the time frame you specified.
If you want to stop your iPhone from automatically deleting the messages, you can follow these steps to access the auto-delete feature on your iPhone's settings and change the preferences:
Tap the Settings icon on your iPhone home screen and scroll down to choose Messages.
Tap on the Keep Messages option. Then choose the Forever option from the list.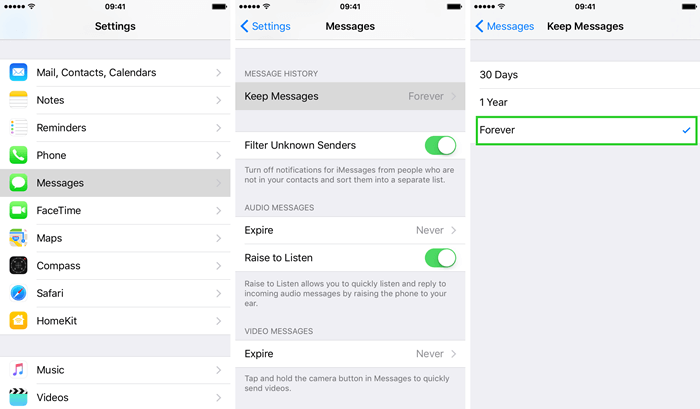 2. Turn Off iCloud Sync
If you have enabled the iCloud syncing of Messages on your iPhone and other Apple devices using the same Apple ID, then when you delete a message on one device, it will be deleted on other devices as well.
So, if you want to keep your Message chat history, you can disable the message sync option to stop your iPhone from automatically deleting messages. Here's how to do that:
On your iPhone open the Settings app and tap on your name.
Scroll down and select iCloud from the list.
Turn the toggle for Messages off.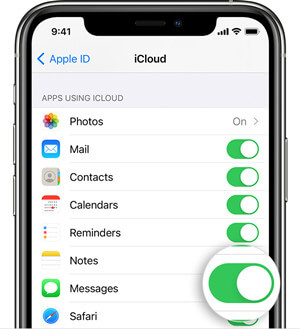 3. Free Up Storage Space
If you send lots of media-rich messages to your friends and family, they could eat up a lot of storage. When there isn't enough storage space on your iPhone, it will keep deleting some of your existing data such as text messages. To avoid this situation, you can delete some unnecessary files and also delete some unimportant messages.
To get a look at your current storage capacity, follow these steps:
In the Settings app on your iPhone, scroll down until you see General option, then tap it.
Tap iPhone Storage to see how much of your device's storage you're currently using and how much each app is taking up. From here you can take a look at the storage recommendations or remove some of your less-used items like videos and apps to free up room.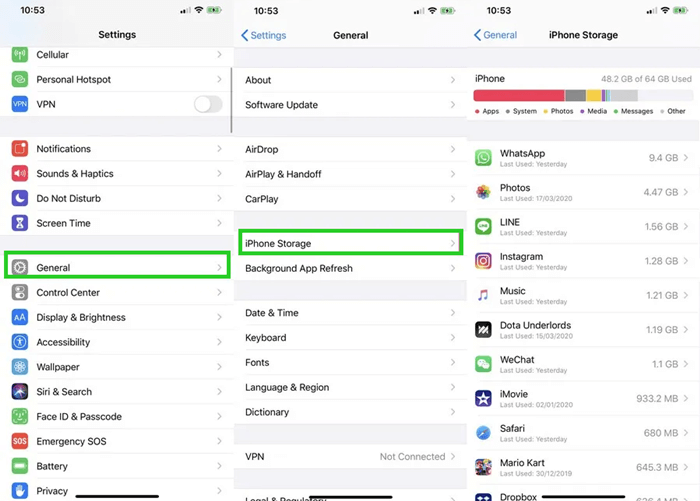 You might also want to delete some of the unnecessary but space-consuming messages on your phone manually to free up some storage space. To do that:
To delete some of the texts from your Messages app, simply hold your finger on a message bubble and then tap More.
Select the message bubbles you want to remove, and then tap Delete. To delete an entire conversation, first swipe left on the conversation in the Messages list, and then tap Delete.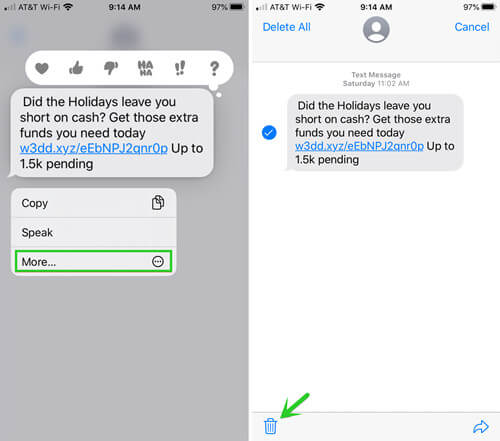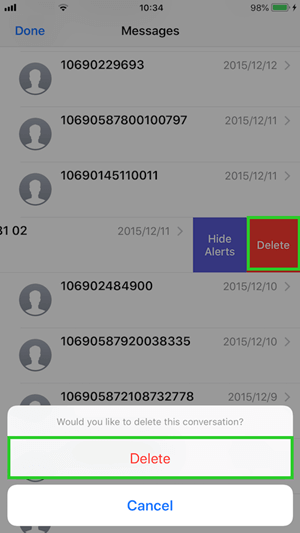 4. Force Restart iPhone
If your iPhone is not running properly, your messages might get deleted because of the malfunction. You can force restart the device to overcome the issue and make it return to normal condition.
Follow the steps to force restart your iPhone:
iPhone 8 or Newer: First, press and release the Volume Up button. Next, press and release the Volume Down button right after that. Afterward, hold down the Side button until you see an Apple logo on screen.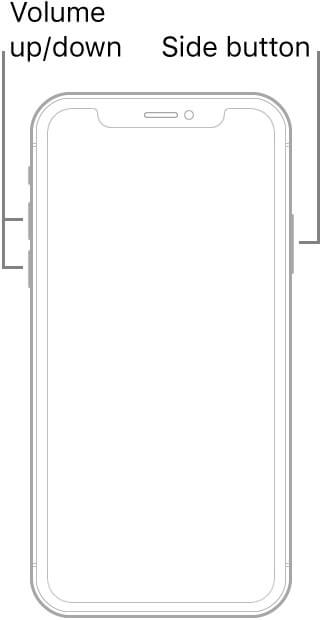 iPhone 7 or 7 Plus:  Press and hold down the Side button and the Volume Down button for about 5 seconds until you see the Apple logo. Then release them.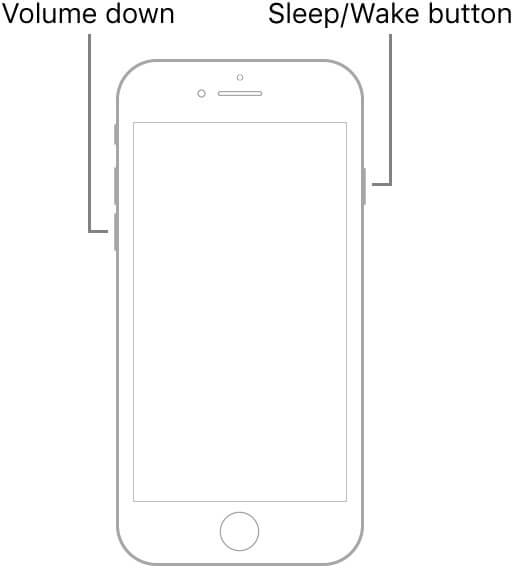 iPhone 6s and Older: Press and hold both the Home (circle) button and the Side (slider) button together. When the Apple logo appears, you can release the button.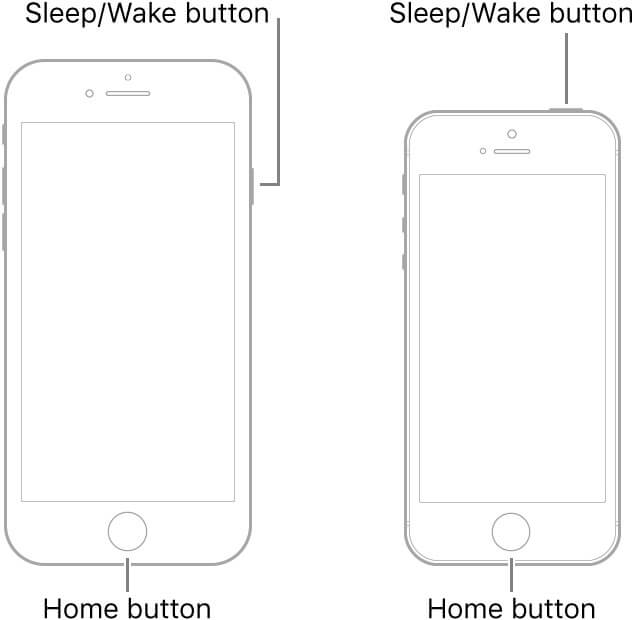 Part 3. How to Get Back the Deleted Messages on iPhone?
So far, you've read about several possible reasons why the iPhone is deleting messages without your knowledge, and how to fix those problems.
But wait! What about the messages that your iPhone has already deleted? Well, don't worry because next we are going to show you how to use two handy methods for recovering deleted text messages on your iPhone.
1. Get Back Deleted Messages Directly from Your iPhone
Backing up your device with iCloud or iTunes is one of the best ways to prevent data from being deleted. However, not everyone is accustomed to making backups always. If you are also one of those people who didn't back up their iPhone beforehand, then WooTechy iSeeker iPhone Data Recovery can be a good option to get back your deleted messages.
Whether your text messages disappeared from iPhone after update, due to low storage, or any other reason, you can use this tool to retrieve them. This program will scan your iPhone and find the deleted text messages for you. Therefore, it doesn't need any backup. In addition, it doesn't wipe out any of your existing iPhone data. What's more, it's quite easy to use. You don't need to be an expert to handle it.
What Makes WooTechy iSeeker the Best iOS Data Recovery Software
100.000+
Downloads
It has the highest data recovery rate and can recover over 18 types of data you want to restore.

It doesn't require any backup, thus won't erase your iOS device.

It supports all iOS devices and iOS versions, including iOS 16.

It provides free scan and preview to all users.
To recover your deleted messages with the help of iSeeker, you'll need to follow these steps:
Step 1. Download and install iSeeker on your PC or Mac, and connect your device to the computer. After that, click the Recover from iOS Device button and when your device is detected, click the Next button.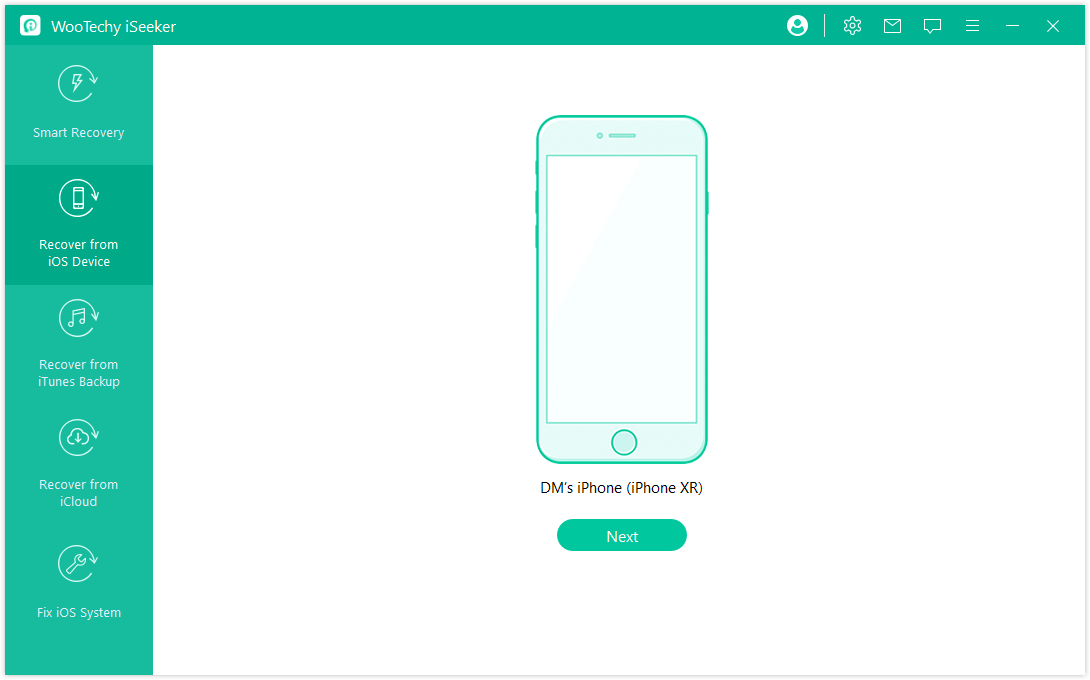 Step 2. Choose Messages from the available list of data types and click the Scan button to search your device for lost data.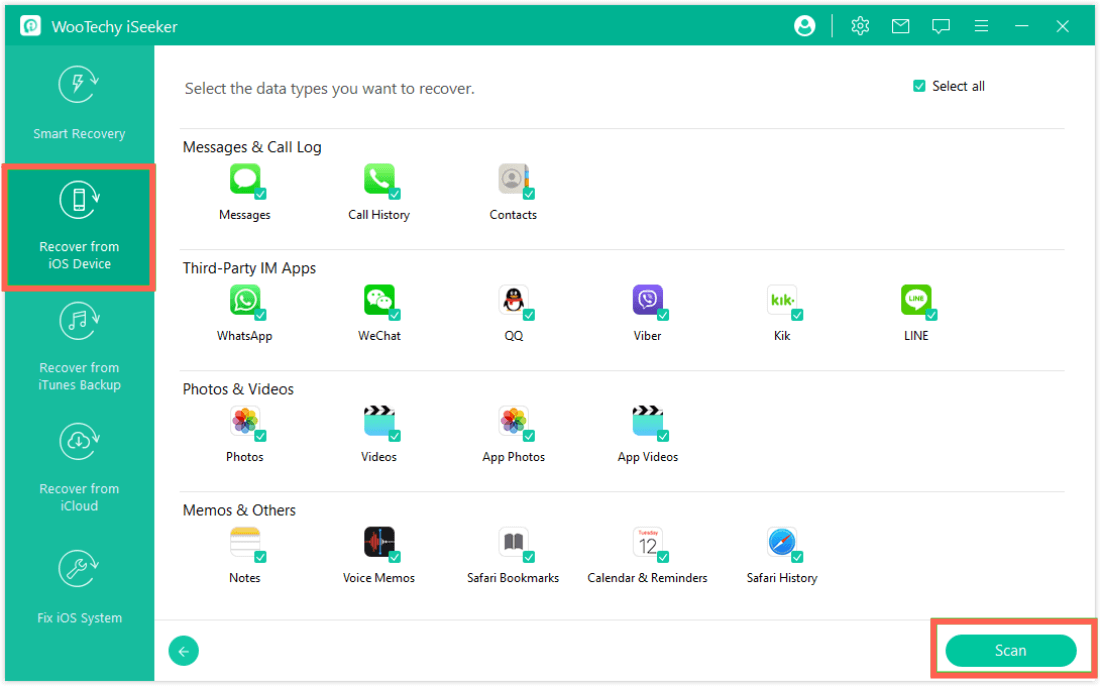 Step 3. After the scan is complete, preview your deleted messages and select the ones you need; then click the Recover button to retrieve those messages.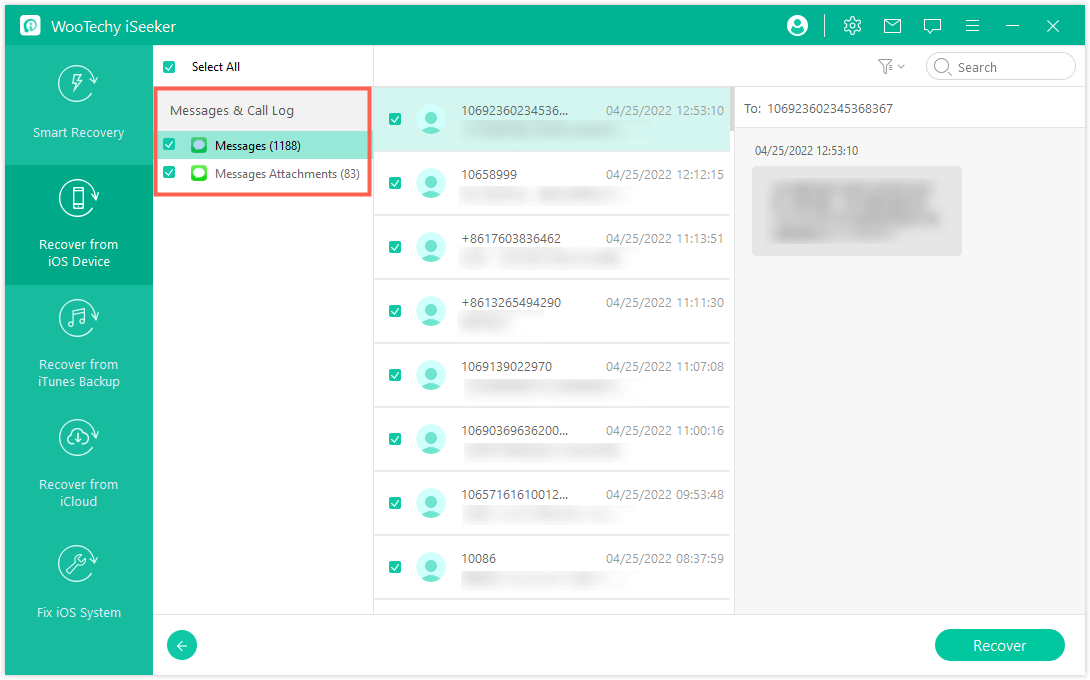 2. Get Back Deleted Messages from iPhone Backup
If you have previously backed up your text messages using iTunes or iCloud, you can use that backup to restore your deleted or lost content as well. However, the biggest drawback to this method is that it will replace your iPhone's existing data with backup data, and it is also not viewable.
Steps of restoring an iCloud backup:
In the iPhone's settings menu, scroll down to General and tap Reset. Now click on the Erase All Content and Settings button. If a dialog box pops up, choose Erase Now from the options.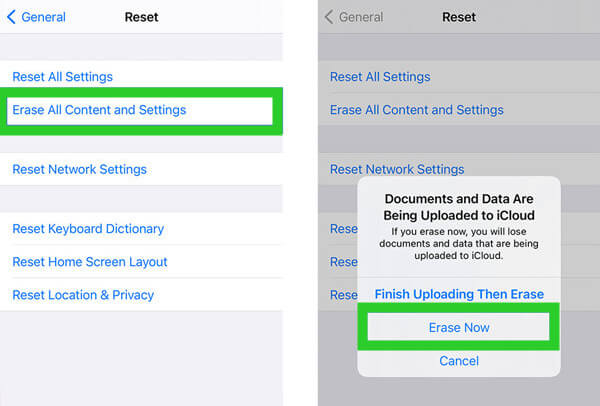 Set up your device. Tap Restore from iCloud Backup on the Apps & Data screen. Enter your Apple ID and select a backup to restore.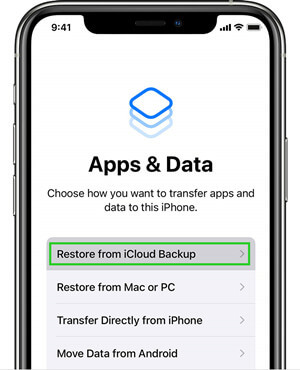 Steps of restoring an iTunes backup:
Plug your iPhone into the computer and launch the latest version of iTunes.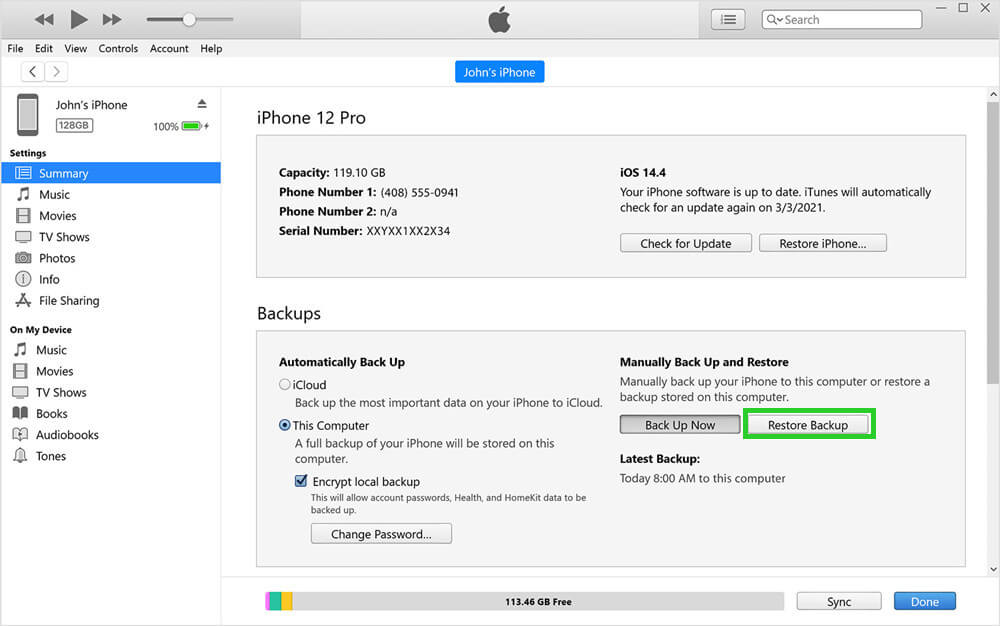 When you're on the iTunes screen, click your device icon and select Summary. Next, click Restore Backup in the right-side panel.
After that, a list of backups with the sizes and times they were created will appear in a new window. Select the most relevant backup from the list and click Restore.
Conclusion
Above we've presented you with some of the convenient solutions on how to deal with the situation when your iPhone removes messages by itself. And if you want to get back the deleted text messages, then you can use WooTechy iSeeker, the iOS data recovery software, to get them back.
This tool allows you to recover text messages and iMessages directly from your iPhone device without using iTunes or iCloud backups and allows you to select which messages to recover. So, don't wait! Try it now to get back your deleted files immediately before they're gone forever.