Is there an app like App Store++ (back in the days) that can downgrade App and compatible with iOS 13? In most cases, app developers typically release updates to their applications with the good intentions of making them better. However, that does not always happen.
Sometimes the new App comes with bugs and undesired features, making it necessary to revert to the older version. That is where Cydia downgrade apps come into play. You can use it to downgrade iOS apps seamlessly.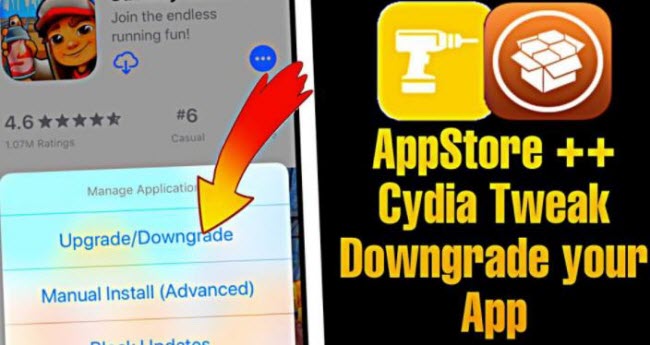 2 Popular Cydia Downgrade Apps
iOS users have two effective ways of downgrading apps. You can choose to use either AppStore++ Cydia Downgrade App or App Admin Cydia Downgrade. In any of these options, you will achieve the overall goal.
1

AppStore++ Cydia Downgrade App

AppStore Plus Plus gives you the ability to downgrade AppStore apps and games without incurring any technical glitches. It is your reliable rescue when struggling with bugs on the recently updated App. The Cydia Tweak on iDevices does not limit you regarding the App's version that you can go back to.

Requirements

The requirements for Cydia downgrade iOS are:
Cydia Store

Wi-Fi connection or cellular data

Jailbroken iOS versions

Jailbreak iDevices

Compatible iOS versions expounded on in the below section
These requirements may act as a significant hindrance to your efforts. Keep reading to learn more about installing it.
How to downgrade existing apps on iPhone
Do you think it's about time that you downgrade that annoying updated App on iOS? If so, follow these steps:
Step 1. Access AppStore on your iOS device.
Step 2. In the search bar, the application that you would like to revert to an older version.
Step 3. Select the desired App from the results returned.
Step 4. Press the Get or Cloud icon for a couple of seconds or about a minute.
Step 5. Choose the option "Manual Install Advanced" that would allow you to install an older version of the App. Selecting the option "Upgrade/Downgrade" enables you to get the latest app version.
Step 6. When you select "Manual Install Advanced," MixRank opens. The essence of this service is to track previous versions of your AppStore apps. Zoom in until you can click on the "Build Number" option of the App you would like to downgrade.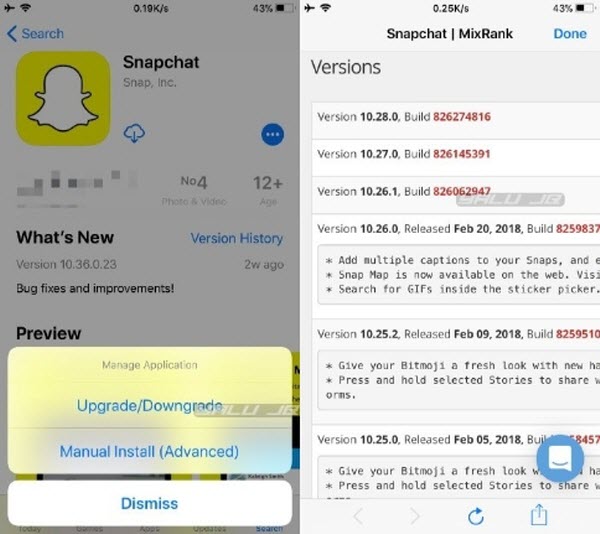 Step 7. After selecting the version you want, click the Done button on the top-right-hand corner.

A quick point to note about downgrade apps Cydia is that it is a safe process that does not harm your iOS device.
Supported iOS version
The following are the iOS versions supported by this Cydia downgrade iOS app: iOS 7.1.2 and later (up to iOS 14).
---
2

App Admin Cydia Downgrade App

When looking for the right solution to downgrade your iOS app, App Admin can help with that. It is one of the Cydia downgrade apps that has been proven to do effectively do what it claims to do. A part from the ability to downgrade or upgrade apps, it also has a mature database of up-to-date versions. Here is a look into the requirements and how you can downgrade iOS apps to older versions.

Requirements

The requirement to use App Admin is that it only works on compatible devices. You will find that majority of the iOS devices are supported.
How to downgrade iOS apps to older versions
Follow these steps to get started with downgrading iOS apps to older versions:
Step 1. Navigate to AppStore and search for your desired App.
Step 2. Once you get the App, long-press the Get or Cloud button.
Step 3. Two options will occur – (1) Continue or (2) Downgrade.
Step 4. Choose the Downgrade option to start going back to the desired app version.
Step 5. Choose from the list of Known Versions if you know the app version you want.
Step 6. The optional approach is to click the "+" icon to input the build number to begin downgrading. Click the OK button to approve.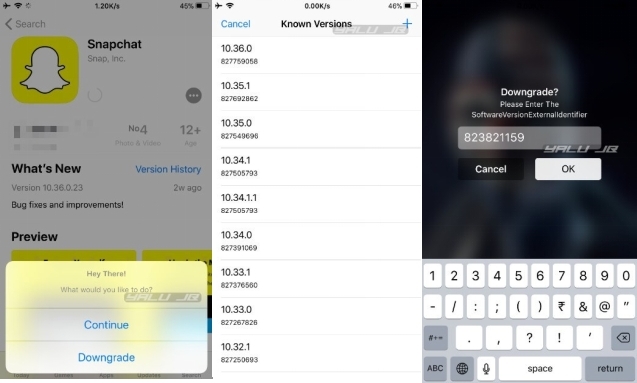 Step 7. Let AppStore look for the App and begin the installation.
If the App you want to downgrade using this Cydia downgrade iOS option is already installed, you would have to open AppStore and go to the Updates tab. Locate the App and long-press the Open button to display two options: (1) Block All Updates or (2) Downgrade.
Once you choose "Downgrade," proceed from Step 3 as guided above.

It is worth noting that if App Admin beta version does not work on your device, you can install the latest alpha version.
Supported iOS version
The supported iOS versions are iOS 11-11.3.1-11.4.
(iOS 15 Supported) How to Downgrade iOS without Cydia Downgrade App
When it comes to downgrading iOS, you are not bound to just using the Cydia downgrade iOS discussed above. Instead, you can opt for a more professional and efficient tool called WooTechy iMaster. As opposed to downgrade apps Cydia, WooTechy iMaster lets you downgrade without losing data. Keep reading to better understand this tool that is making waves amongst iOS lovers tired of frustrating bugs.
Powerful Features of WooTechy iMaster
Do not lose any data – Contrary to downgrade apps Cydia, WooTechy does not lose any data during the downgrade process.

Great Compatibility – Support the downgrade of all iOS versions, including the latest iOS 15.

Backup feature – You can explore the solution for backing up your iPhone or iPad data without your iOS version's limitation.

Readily available customer support – You do not have to worry about getting professional help because you can reach the help team 24/7.

Automated – Get rid of the manual process when performing iOS downgrade.
These features explain why you should consider WooTechy iMaster as opposed to the Cydia downgrade iOS apps.
This a video tutorial about downgrading iOS without jailbreak and data loss.
Here is also a detailed guide on how you can simply downgrade any iOS using WooTechy iMaster instead of the limitations of downgrade apps Cydia.
Step 1.Start WooTechy iMaster and keep your device connected
Start by downloading WooTechy iMaster on your PC, launching the software, and connecting the iOS device to it.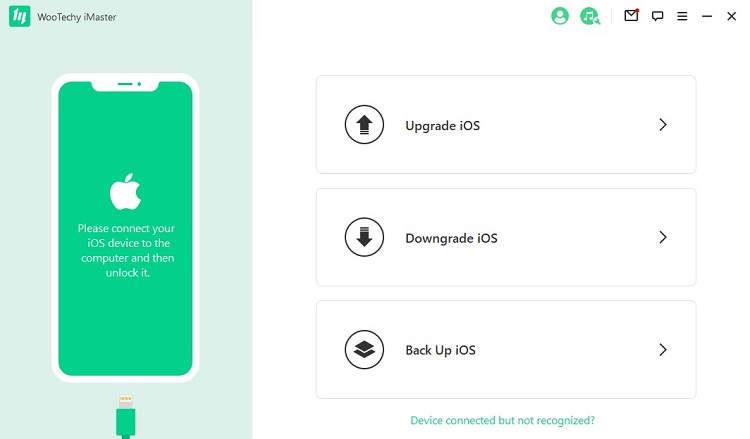 If the iOS device is not automatically detected, choose the "Device connected but not recognized?" option and follow on-screen guidance.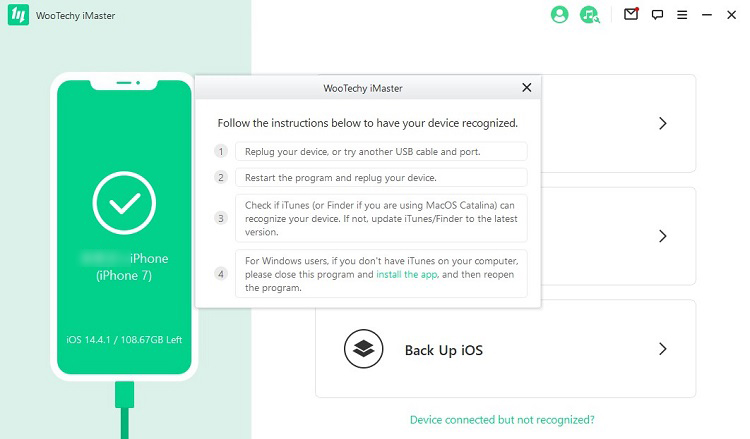 Step 2. iOS downgrade
After the connected device is recognized, choose the Downgrade iOS option to roll back your device without losing data.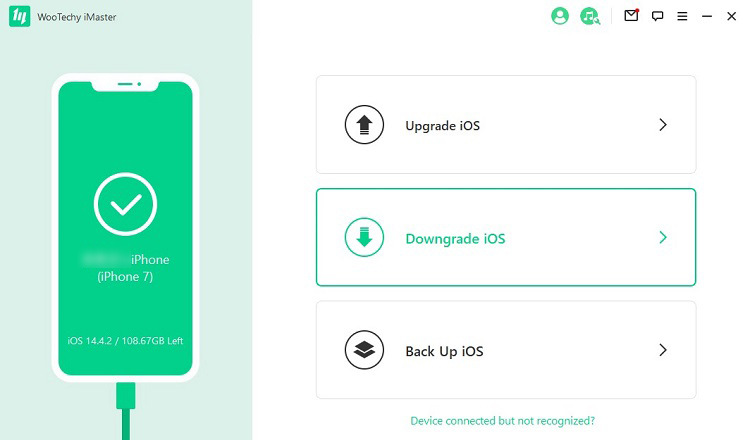 Step 3. Firmware download
Choose the desired firmware as prompted by the program. You can choose to download the firmware in the default location or a customized one. Click Next to proceed.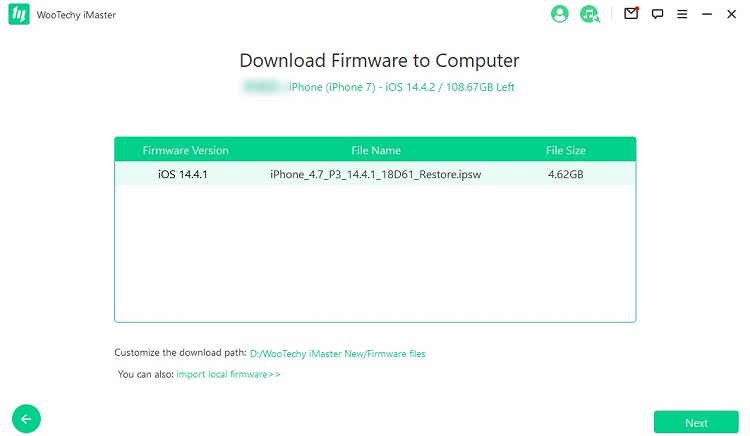 Step 4. iOS device downgrade
After the firmware is downloaded and verified, click on the Start button to begin downgrading your device.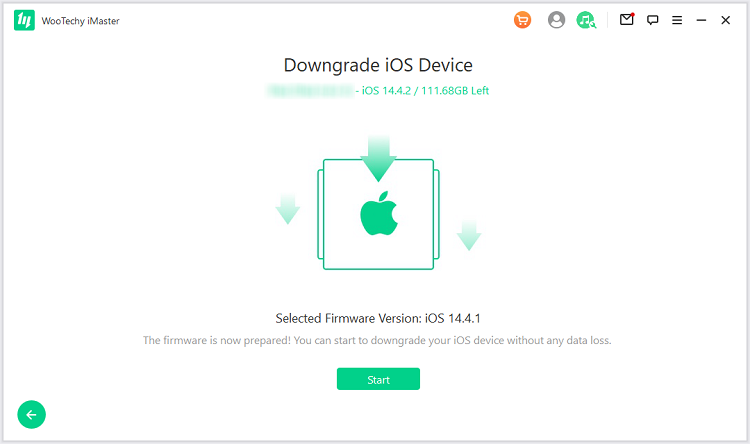 Do not use the computer during this process. When the process is completed, you will be prompted "Downgraded Successfully." Click on the Done button. Voila! You have successfully downgraded your iOS device to a preferred version.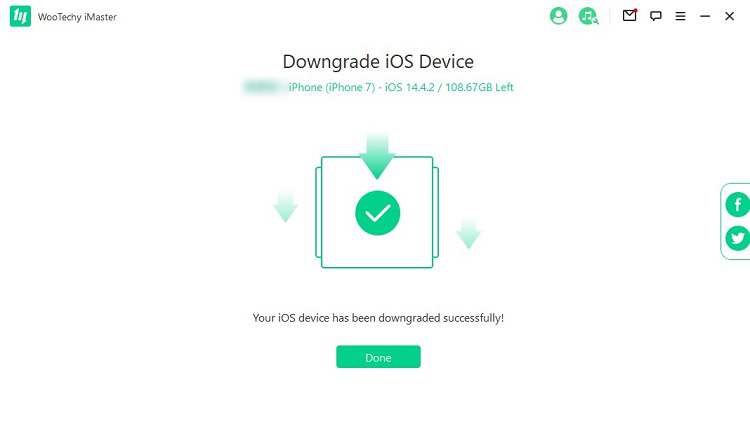 Supported iOS version
You can use WooTechy iMaster to downgrade to any iOS version, all the way to version 7.0 and later.
A Comparison Table to Downgrade iOS with/without Cydia Downgrade Apps
The following is a comparison between WooTechy iMaster and the two downgrade apps Cydia.
Conclusion
Downgrading your iOS to a stable version is the best thing to do when dealing with bug problems on your current update. As much as new updates claim to bring exciting features, they may have countless issues that make the iPhone or iPad unusable. Luckily, you have access to WooTechy iMaster and Cydia downgrade apps that help you revert to a stable version.
As far as the solution to use in the downgrading process is concerned, WooTechy iMaster stands out as the most suitable. It automates the downgrading process and ensures zero data loss at the end of the process. Besides, you have access to a 24/7 professional support team that would help you with any challenge. And it can downgrade even the latest iOS 15. Learn more about WooTechy iMaster.