User Problem
" A while ago I switched to Apple, yes iPhone 14 Pro. Recently after updating to iOS 16.2 my iPhone started to get messed up. Siri not working on iPhone, it just no longer recognizes commands in shortcuts. Worst of all, my iPhone battery draining fast and I have battery anxiety every day I go out. I'm fed up with it, I just want an iPhone with no iOS 16 issues. How do I fix these iOS 16.2 problems? "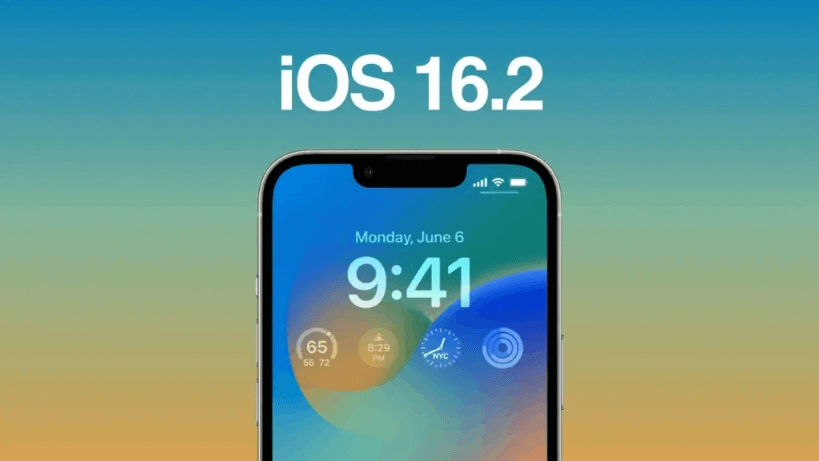 There's no denying that the iOS 16.2 update did cause problems for some iPhone users. Common ones include AirDrop not working, Face ID not working, FaceTime not working, personal hotspot not working, iPhone microphone/sound not working, and more. Some of the issues are new, while others are left over from older iOS versions.
If you too are experiencing iOS 16.2 problems, this super complete guide collects common problems with iOS 16 for you and lists solutions on how to fix iOS 16.2 update issues. There are also some useful tips that can help you solve the iOS 16 draining battery problem and improve your phone's performance. Keep reading!
Part 1: iOS 16.2 Problem Summary Collection
With each version of iOS comes the potential for problems and glitches. iOS 16.2 is no exception. While Apple has worked to fix many of these issues, some still remain. Here is list of some of the common problems that users have experienced with iOS 16.2:
WiFi Issues: iOS 16.2 has brought several WiFi connection issues. Some users have reported that their devices cannot connect to their WiFi or that the connection is unreliable.
Bluetooth Connection Errors: Several users have encountered issues with Bluetooth connections and devices, with reports of devices not connecting, frequently disconnecting, or having poor audio quality.
Battery Drain: Some Users have reported rapid battery drain after updating iOS 16.2.
Slower Performance: Many users have reported slower performance on their iOS 16.2 devices, especially when running multiple applications simultaneously.
Non-Responsive Touchscreen: Some users have reported that their touchscreen has become unresponsive since updating iOS 16.2.
App Crashes: Many apps have been crashing since the update to iOS 16.2. This is particularly true for apps that use a lot of memory or processing power.
Random Restarts: Some users have encountered random restarts of their devices since updating to iOS 16.2.
Install Errors: A few users have encountered install errors when attempting to install the update on their devices.
HDMI: iOS 16 or 16.2 breaks the HDMI functionality for most iPhone users.
Part 2: iOS 16.2 Common Problems and Solutions
Many Apple users have encountered some of the above mentioned problems in iOS 16.2 update to a greater or lesser extent. If you have updated your iPhone device to iOS 16.2 and also encountered some iOS 16.2 update issues, here are the corresponding solutions to common iOS 16.2 problems we have collected and organized, we believe it will be helpful to you.
iPhone Battery Drains Fast On iOS 16.2
iPhone battery draining fast on iOS 16.2 is a known issue. Most iOS users have encountered this problem with the iOS 16.2 update. The battery drain on iOS 16.2 has increased dramatically, even when the iPhone is idle.
To fix the iOS 16.2 battery drain issue, with battery usage increased, you want to check your battery settings for the battery's health:
1. Go to Settings > Battery > Battery Health & Charging and check that your maximum capacity is above 80%. 80% or lower and you will begin to see a difference in performance. Apple recommends that the battery be replaced at that level.
2. In this same setting, right below Peak Performance Capability, check whether there are any performance or battery messages display. They may require service.
3. If nothing shows there, go back one setting to Settings > Battery and scroll down to usage by app and tap "Show Activity". You will see your listed apps with the amount of battery usage while running in the background and on screen. Recommendations, check any apps that could be consuming more than necessary.
AirDrop Not Working On iOS 16.2
AirDrop is not functioning properly after the iOS 16.2 update for most users on their devices such like iPhone 13. Many rely on AirDrop to transfer critical documents and important notes, which is quite frustrating.
However, you can solve this problem by following some temporary solutions to fix the AirDrop not working issue.
1. Check your AirDrop settings.
2. Disable personal hotspot.
3. Check the device range.
4. Restart your iPhone device.
Cellular Data Not Working On iOS 16.2
One of the most common issues with iOS 16.2 is poor iPhone cellular data and signal reception, even cellular data not working, which can cause dropped calls or data connections, slow loading times for web pages.
To fix this issue, you should check to ensure that your cellular network is operating properly and that your network settings are up to date. If this doesn't work, you might need to reset your network settings or even try a factory reset of your device. If none of these solutions solves the issue, then it might be time to contact your carrier.
iPhone Not Connecting to WiFi On iOS 16.2
WiFi connection is a common issue for almost every iOS user, it also be seen on the iOS 16 update. If you are facing the disconnection of WiFi issues, then you can resolve them by following the 3 steps.
1. Try to Turn On/Off the WiFi Network.
2. Another way to fix the issue is to forget the WiFi network and reconnect it. To do this, tap on the "i" icon on the right side and then tap on "Forget This Network."
3. Reset WiFi network settings by going to Settings. Here tap on General > Transfer to Reset iPhone >Reset>Reset Network Settings.
AirPods Case Battery Problem on iOS 16.2
AirPods case shows 0% battery even after a full charge on iOS 16.2 update. But the battery percentage reading of the AirPods is unaffected.
However, you can fix this battery problem by unpairing the AirPods and again Re-pairing the AirPods to the iPhone device. It helps you to resolve the issue.
Besides, you can also try to recalibrate the battery by completely discharging the AirPods and Re-pairing them again to the iPhone device.
iPhone Widgets Problem On iOS 16.2
The blank iPhone widgets problem in iOS 16.2 is an issue where newly added widgets appear as blank boxes on the Home Screen.
This Issue is caused by a system bug, and it can be fixed by turning off the "Limit Ad Tracking" setting in the Privacy section of the Settings app. Some people have reported that restarting their device or resetting their Home Screen layout can help resolve this Issue.
iPhone Call Error Issue on iOS 16.2
Most iOS 16.2 users facing the call switch to the speaker and mute it without accepting it. iOS users reported this Issue on several platforms. You can solve this issue by following temporary solutions.
If you're having an issue with your iPhone automatically switching to the speaker and mute during a call, there are a few things you can do to fix the issue.
1. Firstly, check if the Mute button is enabled. If it is, turn it off and see if the Issue persists.
2. Now check if they Do Not Disturb mode is enabled. If it is, then disable it and see if the Issue persists.
3. Restart your iPhone.
Blank Wallpaper Issue On iOS 16.2
There are a few potential solutions that may help to fix the blank wallpaper on the home and lock screen issue on iOS 16.2.
1. Reset All Settings: One potential solution is to reset all settings on your iPhone. To do this, go to Settings > General > Reset and select "Reset All Settings". This will reset all settings, including your wallpaper, to their default values.
2. Disable Zoom: Another potential solution is to disable zoom on your iPhone. To do this, go to Settings > Accessibility > Zoom and turn off the toggle switch.
3. Reinstall the Wallpapers: If the Issue persists, try reinstalling the wallpapers. To do this, go to Settings > Wallpaper > Choose a New Wallpaper and select the wallpaper you want.
Spotify Offline on Apple CarPlay On iOS 16.2
Some Apple CarPlay users are experiencing Spotify app error issues where they receive notifications such as "Spotify is offline" when listening to music through Spotify. You can try the following solution to fix the Spotify offline issue on CarPlay.
1. Reinstall the Spotify app on your Apple CarPlay.
2. Update the Spotify app to the latest version from the App Store.
3. Restart your device.
Part 3: How to Downgrade iOS 16.2 to Earlier Version?
If your iPhone is not a great experience on the current iOS 16.2 with many of the problems mentioned above, then in order to improve its performance, you can move back to the previous iOS version. In other words - downgrade iOS.
But upgrading is easy, while downgrading is hard. Downgrading iOS often means data loss. What's more, Apple has stopped signing many older iOS versions, which means you'll have a hard time downgrading your iPhone to the version you want, or even the original version. Fortunately, you see it here! I recommend you one of the most professional and best iPhone downgrade tools I've found so far - WooTechy iMaster.
It can downgrade your iPhone to any iOS you want, which means you can downgrade iOS 16.2 to iOS 16, iOS 15 or even older versions. Moreover, this tool guarantees no data loss and no error codes, which is what you will often encounter if you downgrade your system on iTunes.
iMaster – The Best iOS Downgrade and Upgrade Tool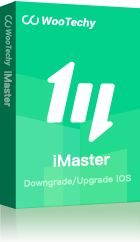 75.000.000+
Downloads
Update iPhone, iPad to the latest iOS version like iOS 16, iOS 17 for free

Downgrade iOS 16 or iOS 16 beta to iOS 15 or any supported iOS version without data loss

Back up your iPhone, iPad data to computer anytime with one click

Supports all iPhone and iPad models and all system versions

High success rate, easy and fast to use
How to Downgrade iOS 16.2 to iOS 15 Or Earlier Version by WooTechy iMaster?
Step 1:Download and install the WooTechy iMaster software on your computer and connect your iOS device with the appropriate cable. Choose Downgrade iOS.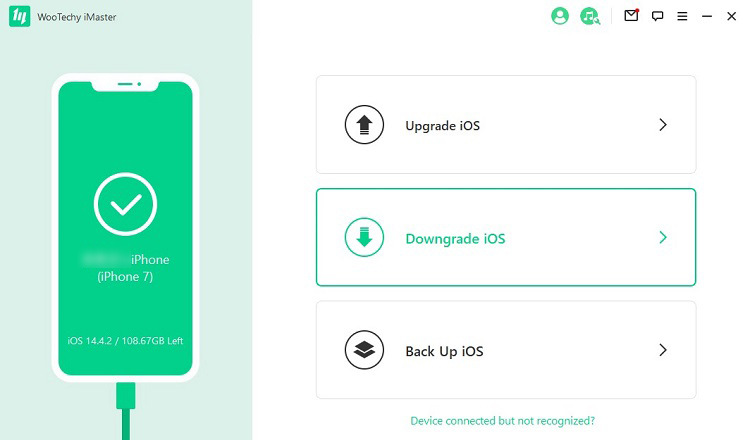 Step 2:Choose the firmware version you want to downgrade to and click the Next button. When the firmware is downloaded, wait until it's verified and extracted.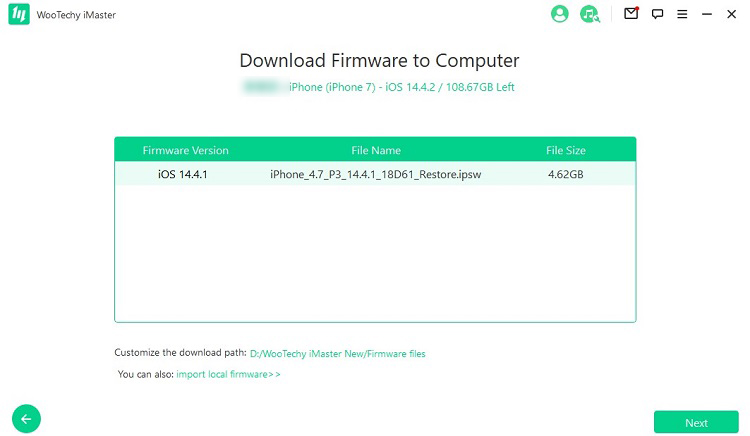 Step 3:Click Start and begin the downgrading process. Your iPhone will be downgraded soon, then click on Done to complete the procedure.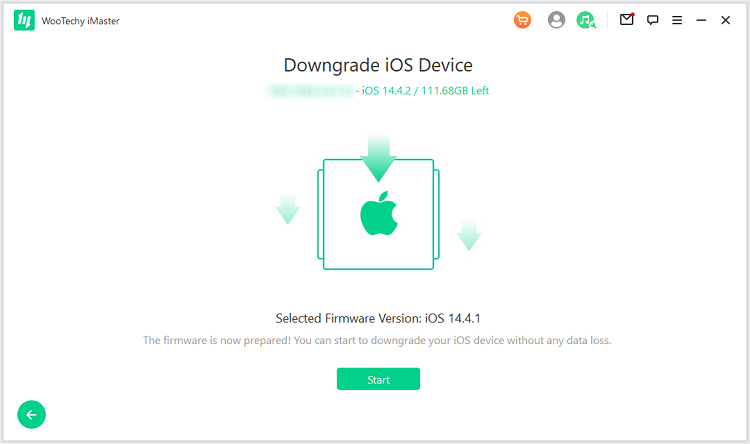 Part 4: FAQ about iOS 16.2
Q1: What are the new features in iOS 16.2?
The iOS 16.2 update introduces the following key features:
Freeform: A new app for creative collaboration with friends or colleagues on Mac, iPad and iPhone.
Apple Music Sing: Sing along with millions of your favorite songs in Apple Music.
iCloud Advanced Data Protection: Expands the iCloud data category to include iCloud Backup, Notes, and Photos. Protects your information even in the event of a cloud data breach.
Lock Screen: Allows you to hide wallpaper or notifications when Always On is enabled on iPhone 14 Pro and iPhone 14 Pro Max.
For more information on other new features and some bug fixes, please go to the Apple website for details.
Q2: What devices does iOS 16.2 support?
Here is the list of iOS 16.2 Supported Devices:
iPhone 14, iPhone 14 Plus, iPhone 14 Pro, iPhone 14 Pro Max
iPhone 13, iPhone 13 Mini, iPhone 13 Pro, iPhone 13 Pro Max
iPhone 12, iPhone 12 Mini, iPhone 12 Pro, iPhone 12 Pro Max
iPhone 11, iPhone 11 Pro, iPhone 11 Pro Max
iPhone SE 2021 (2nd generation), iPhone SE (3rd generation)
iPhone X, iPhone XR, iPhone XS, iPhone XS Max
iPhone 8, iPhone 8 Plus
Q3: How to download iOS 16 / iOS 16.2?
1. Get this update wirelessly in Settings > General > Software Update.
2. Click Download and Install and provide your iPhone's passcode.
3. Be patient while the update is being verified and installed on your device.
Although updating iOS via wireless is the official way to update iOS, there are always some iPhone users who encounter some limitations or errors when using this way to update to iOS 16. If you are also unable to download iOS 16 via wireless method, then you can also use this professional iOS upgrade & downgrade software - WooTechy iMaster to update iOS for free. Check the easy steps on How to Update to iOS 16 here!
Conclusion
If you deal with any iOS 16.2 update issues such as iPhone battery draining fast, AirDrop Not Working, etc., please read the solutions mentioned above in this guide, they will help you solve all iOS 16.2 problems you may encounter. If you experience system failures or errors after upgrading to iOS 16.2, you can also use WooTechy iMaster to downgrade iPhone to any iOS version without losing any data. This is a convenient way for many iPhone users to switch and experience Apple's different iOS systems.
[Highlights]: The highly anticipated iOS 17 will be available at the upcoming WWDC. Want to get a sneak peek at the new iOS 17 beta? Want to quickly downgrade from iOS 17 beta to the original iOS version? You can't miss this professional iPhone downgrade/upgrade tool WooTechy iMaster! Download and try it now!