Apple's 2023 WWDC will be held in June and is expected to release iOS 17, iPadOS 17, macOS 14, watchOS 10, and tvOS 14, the new generation of systems. Obviously, the major update of Apple iOS, iOS 17, will remain the biggest focus of this year's WWDC conference. The Apple iOS 17 rumors are also heating up. Here are the highlights of what we know so far about the upcoming iOS 17 release, including the iOS 17 release schedule, the new features that may be added to iOS 17, and the iPhone models supported by iOS 17. Keep reading!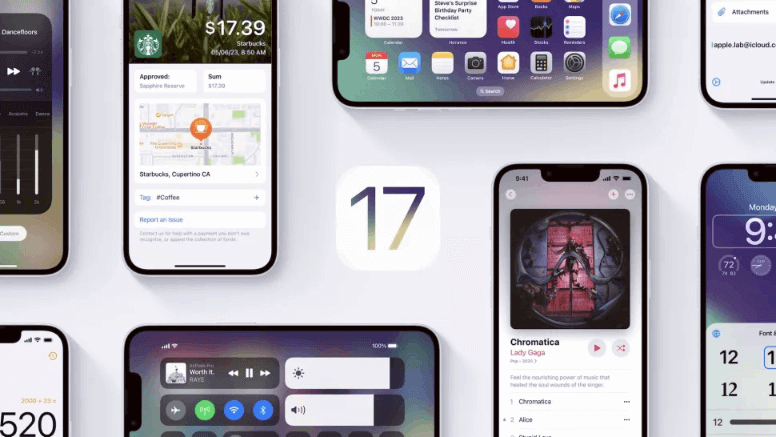 Part 1: iOS 17 Release Date
iOS 17 Release Date
There is nothing that concerns the most people in the cell phone community right now than - when is iOS 17 coming out?
Apple will hold its annual Worldwide Developers Conference on June 5, and iOS 17 will be debuted and demonstrated at WWDC 2023. It will almost certainly be released in the fall of 2023 along with iPhone 15, around mid-September. (The last time an iOS update was released outside of September was iOS 5 in October 2011).
The timing of new iOS releases has been fairly consistent over the years. 5 days between iPhone and iOS updates in 2022 and 6 days between them in 2021. Here is the timeline for Apple's iOS releases each year:
iOS 16: Monday, September 12, 2022
iOS 15: Monday, September 20, 2021
iOS 14: Wednesday, September 16, 2020
iOS 13: Thursday, September 19, 2019
iOS 12: Monday, September 17, 2018
iOS 17 Beta Release Date
If nothing else, the first iOS 17 developer beta should be released to members of the Apple Developer Program on the first day of WWDC 2023. Developers will be the first to see iOS 17 beta profile and new features in iOS 17 in June.
iOS 17 public beta will generally release to members of the Apple Beta Software Program about a month later. Public Beta testers may be able to experience iOS 17 in July of this year.
iOS 17 Release Schedule
Here is our estimated 2023 iOS 17 release schedule:
June 5, 2023: iOS 17 is announced at WWDC with the first developer beta release.
July 2023: Apple releases the first public beta of iOS 17.
June through September 2023: Apple releases a series of developer beta and public beta versions of iOS 17.
Mid-September 2023: iOS 17 released. iPhone 15 released.
Part 2: iOS 17 Features
According to the news of MacRumors, iOS 17 will bring 8 new features this time.
1. iMessage Contact Key Verification
iMessage Contact Key Verification allows users who face "extraordinary digital threats" such as journalists and government officials, to further verify that they are messaging only with whom they intend. In conversations between users who have enabled iMessage Contact Key Verification, users are alerted if a state-sponsored attacker or other malicious actor were ever to succeed breaching cloud servers and inserting their own device to eavesdrop on the conversation.
2. iOS 17 Control Center Feature
iOS 17 will feature a revamped Control Center. The source said iOS 17 Control Center will be more customizable, and the flashlight brightness slider might become freely adjustable up or down, whereas it is currently limited to four preset brightness levels.
3. Wallet App Revamp
iOS 17 will include improvements to the Wallet app, according to Bloomberg's Mark Gurman. The Wallet app will be redesigned with tabs and search functionality. A revamp for Wallet could make sense as new features continue to be added to the app, including Apple Pay Later and Apple Card Savings.
4. Next-Generation CarPlay
At WWDC 2022, Apple previewed the next generation of CarPlay, which will feature support for multiple displays, widgets, and integration with vehicle functions like the instrument cluster, climate controls, and FM radio. Apple said the first vehicles with support for the next-generation CarPlay experience would be announced in late 2023, with committed automakers including Audi, Ford, Honda, Jaguar, Land Rover, Mercedes-Benz, Porsche, Volvo, and others.
5. Journal App
Apple is developing a journaling app for the iPhone that would compete with the likes of Day One, according to The Wall Street Journal. It's unclear when the app will be released, but it could be introduced alongside iOS 17 if ready.
6. App Sideloading in EU
Bloomberg's Mark Gurman last year reported that Apple was preparing to allow app sideloading on the iPhone in order to comply with the European Union's Digital Markets Act. This would allow users to install apps outside of Apple's App Store, but the change is only expected to be made in European Union countries, at least initially.
7. Mood Tracking
iOS 17 will include new tools for tracking emotion and managing vision conditions in the Health app on the iPhone, according to Bloomberg's Mark Gurman. He also expects the Health app to launch on the iPad this year.
8. Unwanted Tracking Alerts Expansion
Apple and Google recently submitted a proposed industry specification to help combat the misuse of Bluetooth item trackers for unwanted tracking of individuals. Apple plans to expand AirTag-like unwanted tracking alerts to third-party item trackers in a future version of iOS.
Part 3: iOS 17 Supported Devices
iOS 17 will work on Apple's best current iPhones, including iPhone 14 and iPhone 14 Pro, as well as the upcoming iPhone 15.
Our guess is that the iPhone XS and higher will be able to run iOS 17.
The iPhone 8, iPhone 8 Plus, and iPhone X, which launched the same year, are all in critical condition. If Apple does drop support this year, it's expected to be for these 3 devices. So they may miss out on iOS 17.
And iPhone 7, the first-generation iPhone SE, or any earlier iPhone definitely won't be able to install iOS 17, because they're not even compatible with iOS 16.
iOS 17 Supported Devices List
iPhone 14 models: Absolutely compatible
iPhone 13 models: Absolutely compatible
iPhone 12 models: Absolutely compatible
iPhone 11: Absolutely compatible
iPhone XS, XS Max, XR: Possibly compatible
iPhone X: Possibly compatible
iPhone 8, iPhone 8 Plus: Possibly compatible
iPhone 7, iPhone SE (2016) and earlier models: Not compatible
Part 4: iOS 17 Upgrades and Downgrades
How to upgrade iOS 17?
iOS 17 will be released through Apple's usual software update channel. This means Once the iOS 17 release comes out, you can upgrade iOS 17 on your iPhone.
Step 1: Open the Settings app.
Step 2: Go to General > Software Update.
Step 3: Download and install iOS 17.
At WWDC on June 5, Apple will release the first iOS 17 developer beta. If you want to install the developer beta, you'll need to become a registered Apple Software Developer for $99 per year.
A better option for most people is to use the iOS 17 public beta. iOS 17 public beta is released a little later than the developer beta, but the benefit is that it's free. Install the public beta as follows:
Step 1: Make a backup of your iPhone.
Step 2: Go to Apple's public beta website, sign in to your Apple ID. Tap iOS, click on enroll your iOS device.
Step 3: Tap Download Profile. Click Allow to download the profile.
Step 4: Open Settings and tap Profile Downloaded at the top, then click Install.
Step 5: Your iPhone will prompt you to restart. After your device reboots, head to Software Update in Settings and Install the iOS 17 public beta.
How to downgrade iOS 17 to 16?
It is important to emphasize that iOS 17 Beta is not a finished version and may have some bugs and issues. This is the reason why iOS 17 Beta exists. Thus, after experiencing the new features of Apple's new iOS version on iOS 17 Beta, you can use WooTechy iMaster to downgrade your iPhone to the original version safely and quickly.
This is a professional iPhone downgrade tool that can upgrade and downgrade your iPhone to any supported iOS system. You can use it to move your iPhone back to the previous iOS version or downgrade to iOS 16, iOS 15 or other iOS versions. What's more, it guarantees no data loss and error codes after iPhone downgrade (which is often encountered if you downgrade iOS on iTunes).
As the most popular iOS downgrade software in recent years, WooTechy iMaster now has a huge number of users from different countries, and many Apple users are using this tool to experience and switch between different Apple iOS versions.
WooTechy iMaster – The Best iOS Downgrade/Upgrade Tool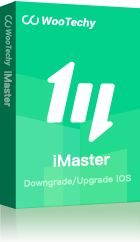 75.000.000+
Downloads
Update iPhone, iPad to the latest iOS version like iOS 16, iOS 17 for free

Downgrade iOS 16 or iOS 17 beta to any supported iOS version without data loss

Back up your iPhone, iPad data to computer anytime with one click

Supports all iPhone and iPad models and all system versions

High success rate, easy and fast to use
How to downgrade iOS 17 beta to iOS 16 via WooTechy iMaster?
Step 1:Download and install WooTechy iMaster on your computer. Launch it and connect your iOS device with USB cable. Choose Downgrade iOS.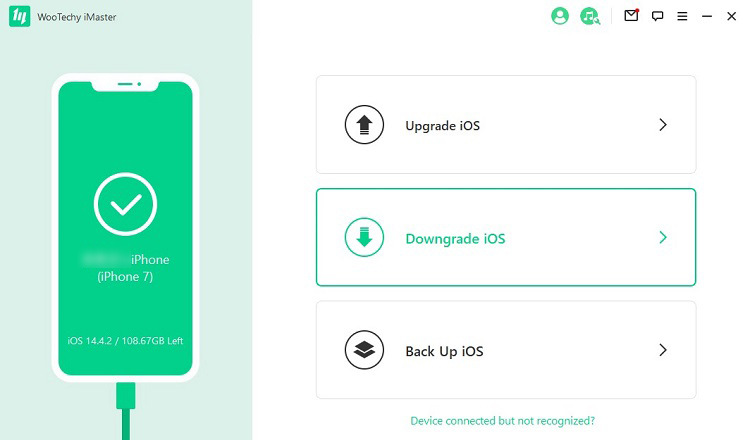 Step 2:Choose the firmware version you want to downgrade to and click Next. When the firmware is downloaded, wait until it's verified and extracted.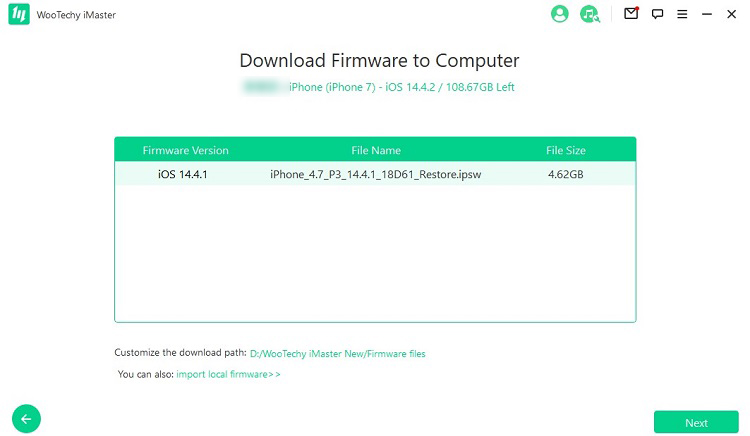 Step 3:Click Start and begin the downgrading process. Your iPhone will be downgraded soon, then click Done to complete the procedure.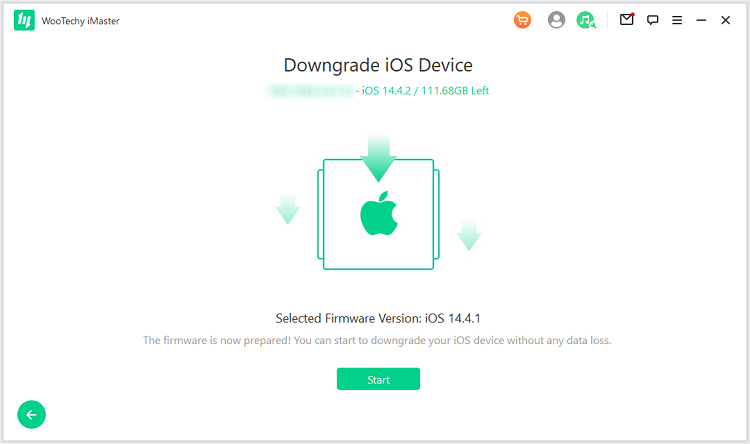 Conclusion
When will iOS 17 come out? What's new in iOS 17? What are the supported devices for iOS 17? How to upgrade/downgrade iOS 17? Now you have the answers to all these questions!
WWDC is coming in June and the much-anticipated iOS 17 will be available to everyone soon. Want to get a sneak peek at the new iOS 17? Want to quickly downgrade from iOS 17 beta to the original iOS version? You can't miss this professional iOS downgrade/upgrade tool - WooTechy iMaster! If you encounter system failure or error after upgrading to iOS 17, you can use this iOS downgrade software to downgrade iPhone to any iOS version without losing data. It has now also become one of the most popular tools for many Apple users to experience and switch between different Apple iOS versions. Download and try it now!