Have you forgotten your Android lock screen password? This happens very frequently. Losing access to your phone due to a forgotten password can be very frustrating. It is like losing the key to your home. You have to get in, but you can't afford to break the newly installed door. The good news is that you can easily unlock your phone with the right tools. You don't have to resort to a factory reset just yet. In this article, we have compiled the 7 most valuable Android lock screen removal tools to help you regain access to your phone.
Can You Unlock an Android Phone Without the Password?
Definitely YES! Passwords are security measures to protect your personal information from intruders, but they are not brick walls. Without a doubt, there are a lot of ways to unlock your Android phone without a password, but picking the most suitable one is a challenging decision. This article will review the various methods for unlocking an Android phone without a password. Keep reading.
Top 7 Android Lock Screen Removal Tools
1. Wootechy iDelock (Android)
Wootechy iDelock (Android) is one of the most effective desktop tools available for unlocking nearly any Android phone model. It is a hassle-free tool for unlocking various Android screen locks, including passwords, 4-digit/6-digit PINs, fingerprints, patterns, etc. What's more, this software is straightforward to use. Anyone with no technical skills can operate it.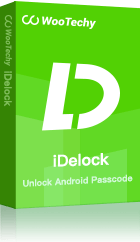 Key Features of WooTechy iDelock (Android)
You can even retain all files on Samsung devices after unlocking your phone.

Using iDelock, you can easily bypass the Google account verification page after a factory reset.

A high success rate makes this tool highly recommended by many Android users.

Regardless of the type of Android screen lock, this software can unlock it.

iDelock comes with a 30-day money back guarantee. Feel free to give it a try!

With iDelock, you can unlock your phone in just 3 steps.

Choose a mode

Download iDelock on your PC and choose the Remove without Data Loss mode.

Select Device Device Information

Confirm your device's brand, name and model on the screen. You can click Don't know the device OS version? to seek help if you do not know the version of your phone.

Start to unlock

Now connect your device to your PC. iDelock will provide you with step-by-step instructions to walk you through this process. Follow the instructions to unlock your device.

See? It success! The removal has been completed and you can now access your phone again.

2. iMyFone LockWiper (Android)

iMyFone LockWiper for Android is a safe, easy-to-use Android lock screen removal tool. It supports a wide variety of Android models and can be easily accessed. Also, it has a reliable and efficient customer support service.

Pros

It provides a free trial to users for testing device compatibility.

It supports almost all Android devices.

Cons

Currently available for Windows only.

It is not totally free to use. Access to the full version requires a cost.

The success rate is not as high as it claims to be.

3. Unlockunit

Unlockunit is a premium tool with a long history of helping people with cellphone unlocking services. It offers a fast, safe, and secure unlocking solution at an excellent price. This tool works with a digit code system accessible by dialing *#06# on any device.

Pros

Removing the screen lock is easy and takes only a few minutes.

Not only does it work with Android devices, but also Apple devices.

Cons

Poor review rate and security. There is a risk of leaking information.

The customer support service is not timely enough.

It's low cost-effective. When you want to unlock two phones at once, you need to pay twice.

4. FreeUnlocks

Just like the previous tool, FreeUnlocks works with a digit code system. To remove the screen lock, you need to provide the IMEI number of your phone. After paying for the unlocking service, you will receive an email with the unlocking code.

Pros

Compatible with most major handset brands.

The price of service is very affordable.

Cons

It has an occasional delay in delivery.

Your phone is at risk with a low security level.

The price is not transparent, and the price of each user may be different.

5. PassFab Android Unlocker

PassFab Android Unlocker is a popular unlocking tool with many years of technical experience in removing lock screens. It offers various relevant services in the technology industry, including password and FRP removal.

Pros

Available to unlock Android devices with broken or dead screens.

It works for both Windows and Mac.

Cons

The success rate of this tool is lower than expected.

6. iToolab UnlockGo (Android)

iToolab UnlockGo (Android) is an Android lock screen removal tool that can be used on many Android models. It enables you to bypass any account verification on your Android smartphone seamlessly.

Pros

Effectively bypasses various lock screens.

Cons

It has a slow response during the unlocking process.

The steps for removing the screen lock are complex to follow.

7. iSkysoft Toolbox

iSkysoft Toolbox is a software launched by Dr. Fone. It is an all-in-one mobile device solution for iOS and Android devices. One of its primary services is the Android screen unlock tool. It can remove four major screen lock types: PINs, patterns, fingerprints & passwords.

Pros

Easy to use, no required tech knowledge.

The software is equipped with many functions that can be used to solve a variety of issues.

Cons

Limited options for Android lock screen removal.

It doesn't work for the latest system versions.

Let's look at the comparison table and choose the one that suits you best:

Software
Pros
Cons
Price
Rating
WooTechy iDelock (Android)
Works with most of models
Easy to use
Unlocks all screen locks
Safe and reliable
High success rate
Only Samsung devices will not lose data
$35.95 Monthly plan
$69.95 Lifetime plan
4.8/5
LockWiper (Android)
Free trial
Available for Windows only
Unstable adaptability
$29.95 Monthly plan
$59.95 Lifetime plan
4.3/5
Unluckunit
Unlock fast
Poor security
Low cost-effective
$19 Each time
4.0/5
FreeUnlocks
Oneline service
Delay in delivery
High risk to your phone
Unsure
3.9/5
PassFab Android Unlocker
Works for Windows and Mac
Low success rate
$35.95 Monthly license
$49.95 Lifetime license
3.9/5
iToolab UnluckGo (Android)
User-friendly interface
Slow response
Complex to follow
$29.95 Monthly plan
$49.95 Lifetime plan
4.0/5
iSkysoft Toolbox
No tech knowledge required
Doesn't work for the latest versions
$39.95 Year plan
$49.95 Lifetime plan
4.2/5

Conclusion

With these top 7 Android lock screen removal tools, you no longer have to worry about being locked out of your phone. While most of these tools are effective, very few actually work with your device. Therefore, the preferred solution for most people is to use iDelock (Android) from Wootechy. Because it has a high success rate and is easy to unlock. With iDelock (Android), you don't need to have an appointment with the service center to unlock the phone. Click on the download button below and fix your screen lock issue now.