"How do I unlock my locked Android device without losing any data?" is a popular question posed on Quora. This is a typical scenario many smartphone users are prone to due to they forget their password. So this article will introduce 5 methods to remove screen lock without data loss. It allows users to bypass the lock screen in a few seconds by taking advantage of a hidden feature in Android. Keep reading.
How to Remove Screen Lock Without Data Loss
1

Remove Screen Lock Without Data Loss - The Most Efficient Way

When it comes to removing lock screen without losing data, Wootechy iDelock (Android) will be your go-to option. It is a robust desktop application that can unlock a variety of Android screen locks, including PINs, passwords, fingerprints, face ID and more. Furthermore, it works on over 6000 models of Android devices as well as a wide range of system versions. Now you may try it for free to determine whether your device is supported. More advanced functionality is available on the premium plans. Let's give it a try!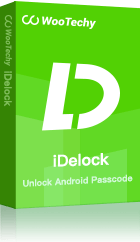 Features of WooTechy iDelock (Android)
Multi-functionality - You can unlock your Android phone with Wootechy iDelock (Android), or bypass Google account on it. It's a convenient app that can be used widely.

High success rate - Many users highly recommend this tool due to its high success rate. And it works with most brands/models of Android devices.

Easy to use - The program's interface is user-friendly. You can easily navigate through it even if you are not tech-savvy, or you have never used a similar program before.

Safe - With high security, you can use iDelock (Android) to remove screen lock without data loss or invading your privacy.

24/7 customer service - In case you are having trouble using the app, you may contact its customer service at any time. It is very helpful and efficient in guiding you through the process.

Steps to use iDelock (Android)

Download iDelock (Android) from the official website. Open it and choose Remove without Data Loss.

Then confirm your device's information. Afterward, the app will begin downloading the data package for your phone.

Once you have finished downloading the required data package, you need to connect your phone to the computer using a USB cable.

Now follow the instructions to put your device into Downloading Mode. Next, click Start to Unlock.

At this time, iDelock (Android) will initiate the unlocking procedure. Wait a few minutes for your password to be deleted and your phone to be unlocked.

2

Remove Screen Lock Without Data Loss via Forgot Pattern Option

Getting locked out of your phone is never fun, especially when faced with the prospect of potentially losing your data in a factory reset function. Happily, there is a function that will grant you access to your phone without compromising your data. Here comes Forgot Pattern, which is a common feature on many devices. You can use it to remove lock screen without losing data. Below are the steps to use it:

To remove screen lock without data loss, enter the wrong password five times until the Forgot Pattern appears on the Android screen.

Then enter your Google account details and sign in. After that, you'll be taken back to the home screen.

Note

This method of removing screen lock without data loss is only available on Android 4.4 or earlier versions.

3

Screen Unlock Without Data Loss via Find My Mobile

In case you have forgotten your device's passcode, you can attempt to unlock the device using the Find My Mobile method. If you have a Samsung account linked to the locked device, you can remotely unlock the device successfully without losing your data. To do this, use the steps outlined below:

On the Find My Mobile website, log in to the same Samsung account linked to your target device.

Choose your device from the options on the menu, then click on Unlock button.

After clicking Unlock again to confirm your choice. You will be asked to enter your Samsung account. Now your device will be remotely unlocked.

4

Use Emergency Call to Remove Screen Lock Without Data Loss

This is another simple way to remove lock screen without losing data. There is a security flaw in the Android lock screen that allows you to unlock your phone by exploiting the emergency call feature. However, this method is not always guaranteed to work on all models, but it is certainly worth a try.

Step 1 - Turn on the device lock screen by clicking the Emergency Call button. Type * or other special characters repeated several times.

Step 2 - Double-tap the characters you've typed to copy them. Repeat the process of copying and pasting the string into the lock screen until it is no longer highlighted.

Step 3 - Then open the device's camera and scroll down the notification panel. Tap the gear icon to open the device's settings.

Step 4 - Paste the string on the password prompt. Repeat this process until the pasting option disappears.

Step 5 - After a while, the device will crash. The camera will become inaccessible and the smartphone screen will unlock as a result. Now you can access your phone successfully.

5

Remove Lock Screen Without Losing Data via ADB

Using ADB is another way to remove screen lock without data loss. It is a little complex and difficult to finish the process. Below will show you how to unlock your mobile without losing data:

Before your Android device is locked, you must enable USB debugging and trust this computer.

To unlock your Android device and keep your data, you must download and install ADB on your PC. Then connect your locked device to your PC and open a command prompt.

Type adb shell rm/data/system/gesture.key and press Enter.

Now restart your Android device, you will be able to access it without a lock screen.

Conclusion

The lock screen feature on Android phones is one of the most secure yet underrated aspects of the operating system. It protects your personal information from prying eyes. But it will be an issue if you forgot your passcode. iDelock for Android is the most popular application for unlocking Android devices. Compared with other ways mentioned above in the article, it is uncomplicated with a high approval rate among users. With iDelock (Android) you can unlock any Android device. No need to be a denizen of the tech-savvy set to use this app. All you need is a compatible Android device and then you can unlock your phone with a single tap. iDelock (Android) is available now – download it for free below.