Mobile devices serve as a great means for the storage of digital information and other relevant data, and thus for privacy, it is essential that security features be instituted. Common security features of the device include the fingerprint Face ID and pattern lock, which happens to be the most popular. The pattern lock entails when a sequence is drawn across a grid to form a pattern which is the key to unlocking the device. You can also decide to create patterns with variations in complexity to maintain the data privacy on their device.
This article takes a look at all possible pattern lock combinations for Android and a solution even if you forgot the password. Keep reading and find the one you like.
Part 1. All Possible Pattern Lock Combinations
There is a vast array of pattern lock combinations that can be used for mobile devices, starting from the most basic patterns to patterns that follow complex sequences. The choice of pattern is often determined by how important the user regards privacy on their device. This section takes a look at the most common and complex pattern lock combinations.
Common Pattern Lock Combinations
The most common pattern locks are representations of alphabets, which stands for the initials if anything significant. Examples include Letter Z, S, M, L, and P patterns. Most of these patterns, which resemble alphabets are typically easy to use but may not be the safest option to use.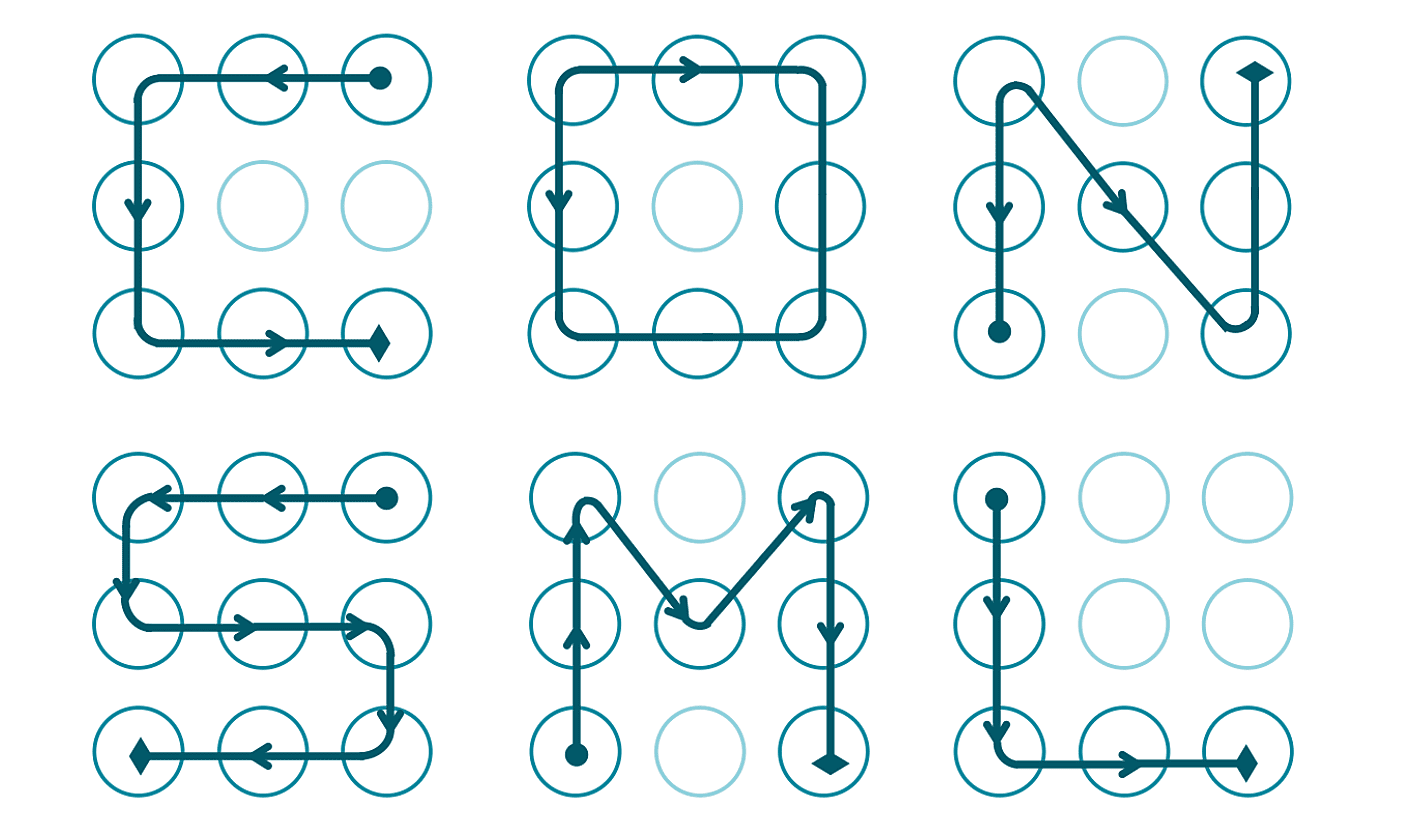 Complex Pattern Lock Combinations
Complex pattern combinations entail using multiple nodes in either a single or repeating sequence, with many over and under turns to create shapes that cannot be easily guessed.
Using a number guide, here are a few complex combination patterns you might want to try.
3>4>9>7> 6: This sequence gives you a pattern that resembles an hourglass with three layers.
5>2>7>6>1>8>3>4>9>2: A much more complicated sequence which revealed a complex pattern shaped like a star.
7>2>9>1>4>8>3>6>7: For an air jet pattern, use this sequence.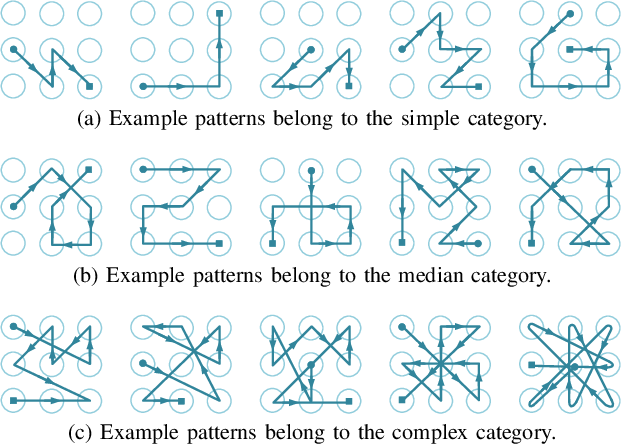 Part 2. How to Set Up a Secure Pattern Lock for Your Device
Experts advise that security patterns for devices shouldn't be one that could be easily figured out through guesses, as it makes you more liable to disruption of data privacy. To set up a more secure pattern lock, here are a few things to put in mind.
The longer the pattern you have, the less likely the chances of people guessing or predicting the pattern.
Using patterns like name initials that can be easily associated with you is not recommended.
If you want to use letters as patterns for simplicity, try making a few alterations, like starting the letters from the wrong direction. For instance, rather than starting the letter Z from left to right, you can attempt starting from right to left.
For basic complex patterns, try to use multiple crossovers that cannot be easily predicted.
Part 3. Quickly and Effectively Unlock Device if You Forgot Screen Pattern
If, by any chance, you forget your screen pattern lock and require a tool to remove this pattern effectively, then you need to use a third-party software that can be of help.
The WooTechy iDelock for Android is a first-class and professional unlocking software that is designed specifically to cater to the unlocking needs of various mobile devices. This tool can help unlock the screen pattern lock, PIN, face ID and touch ID in a few minutes; it can be used on various Android devices and all Android versions. In addition. WooTechy iDelock for Android has a modern user-interface that is easy to navigate, and thus no technical skill is required to use the software.
Key Features of iDelock (Android):
75.000.000+
Downloads
You can use iDelock (Android) to solve many lockout issues, such as forgetting passcode, getting into stolen Android phone, resetting Android phone when locked.

It supports Samsung FRP bypass as well as Xiaomi/Redmi FRP bypass without password.

It is always reliable due to its high success rate.

The intuitive interface makes it easy to unlock your device.

24 hour support is available. You deserve to have it.
Video Guide on Using iDelock Android
Here Is How to Unlock the Device if You Forgot the Screen Pattern
Launch WooTechy iDelock (Android), then select Remove Screen Lock on the interface.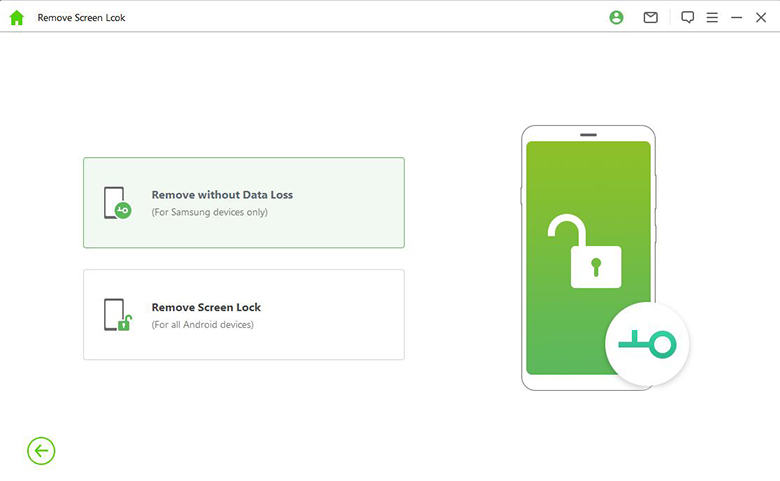 Verify your device information on the next screen. Correct the information manually if there are any errors. Then click Confirm to proceed.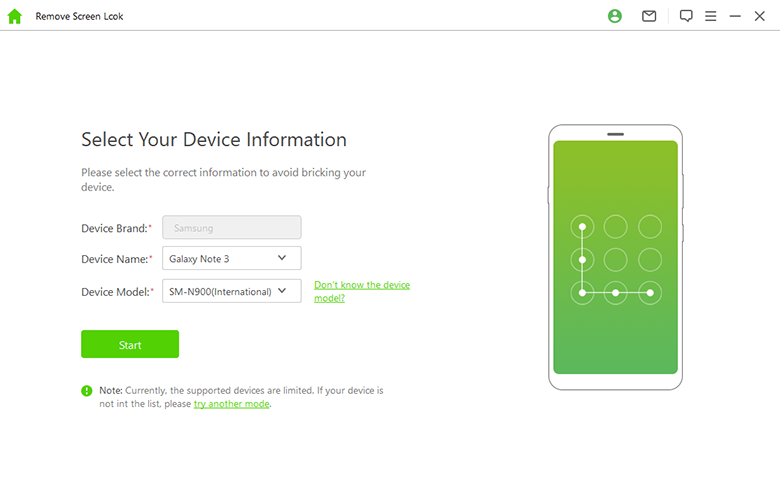 iDelock will provide the data package for your phone. Click on Download to continue.
When the package is ready, select Start to Unlock. Then, iDelock will begin the bypass, which only takes a few minutes. After that, you can set up your phone as new without the previous screen pattern.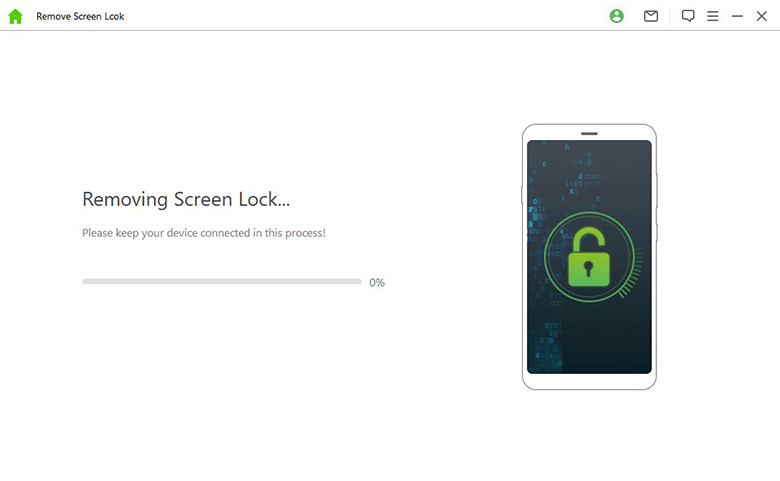 Conclusion
Screen pattern is a common and great feature to protect your device, which should be designed carefully. Here in this post, you can leran some basic knowledge on all possible pattern lock combinations. And if you forget the pattern of your phone unluckily, you can use the WooTechy iDelock for Android for Android to help you out. Just download and give it a try!