How to unlock a stolen Android phone? Nobody wants to be the person who buys a stolen phone. However, this can happen unintentionally when purchasing a used electronic device. Using a third-party resource can be difficult to track down a lost or stolen phone.
Sometimes, the phone's screen or Google Activation Lock prevents access. We now face the challenge of solving the problem of unlocking a lost or stolen Android phone.
Of course, we don't recommend anyone go out and purchase a stolen phone. However, the article is for the benefit of friends having trouble figuring out how to wipe the data from a lost or stolen Android device.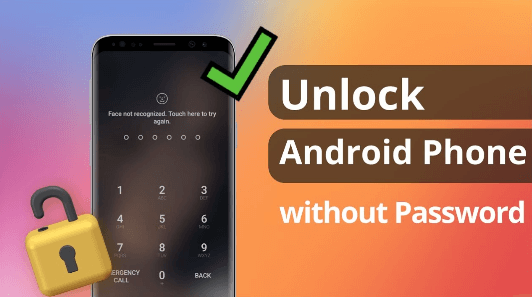 Part 1. Is It Possible to Unlock Stolen Android Phone?
Can a thief unlock my Android phone? Yes. But it's easier to say than to do. If your phone were stolen and restored from a factory reset, the thief would need access to your Google account to bypass the screen lock. If you don't know the password, that will not work.
If you've lost your Android phone and need to get into it, you'll need to know its unique IMEI number. The IMEI can be found on the back of the mobile phone's box or on the box itself, and it is a 15-digit number. Phones that have been misplaced or stolen might be located using this number.
 If the carrier has the device's IMEI number, it can unlock it. Regrettably, this is only possible if the phone has not been locked to a specific network provider.
Part 2. How to Factory Reset Stolen Android via Recovery Mode?
When we acquire a screen-locked stolen phone, we should first put it into recovery mode and perform a factory reset. This is because we are not the registered proprietor of the phone.
If the phone is running Android 4.4 or an earlier version, all required to reset a stolen Android device is to access the recovery mode and perform a factory reset. This is the procedure to access the recovery mode and perform a factory reset.
If phone is on, please turn it off.
The recovery mode combos should be pressed and held. Holding down the Power and Volume Down buttons together until the Android logo appears is how most Android phones are operated.
To get the Wipe data/factory reset option, use the Volume Down button to keep scrolling.
Selecting the reset option requires pressing the Power button.
Select Yes — delete all user data and then hit the Power button to remove all user data. Then, select Reboot system now.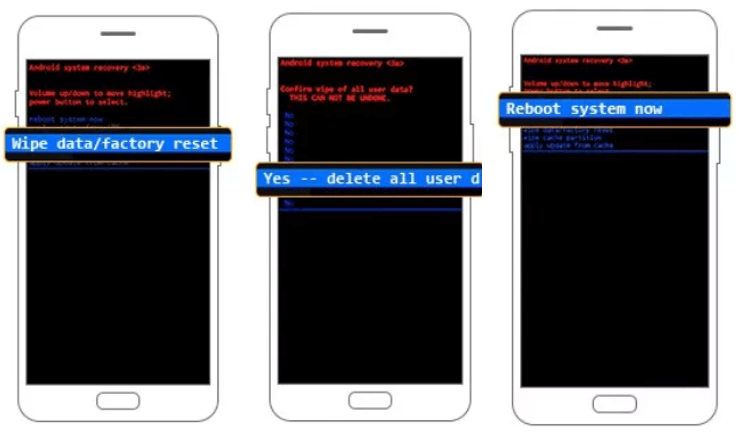 Recovery mode makes it easy to return your Android phone to factory settings. However, since Android Lollipop's inclusion of Factory Reset Protection (FRP), a complete factory reset through recovery mode doesn't function on Lollipop or higher versions.
If you purchase such a phone, the Google Account verification process will keep you from using it. But don't worry; we've got a way to get around it below.
Part 3. How to Unlock A Stolen Android Phone after Factory Reset?
Do you require a superior option to a stolen Android phone that does not cause any data loss? Then WooTechy iDelock (Android) tool is the most reliable choice for unlocking the Android devices.
This tool can unlock various Android locks, including passwords, patterns, custom PINs, and fingerprints, and it is compatible with more than 6000 different Android device types and all Android versions including Android 13.
Shining Features of iDelock (Android)
75.000.000+
Downloads
Can unlock all Android device like Samsung devices without erasing the storage.

While unlocking your device, iDelock guarantees that your data will remain safe and free of viruses.

Unlock the Android devices simply and easily without any savvy operations.

Support to return your purchase to iDelock for a full refund during the first 30 days for any reason.
How to Unlock A Stolen Android Locked Screen?
Step 1: Chose the standard mode
Choose the Remove Screen Lock > Remove without Data Loss option after downloading and starting iDelock (Android) on your computer. Connect your device to the PC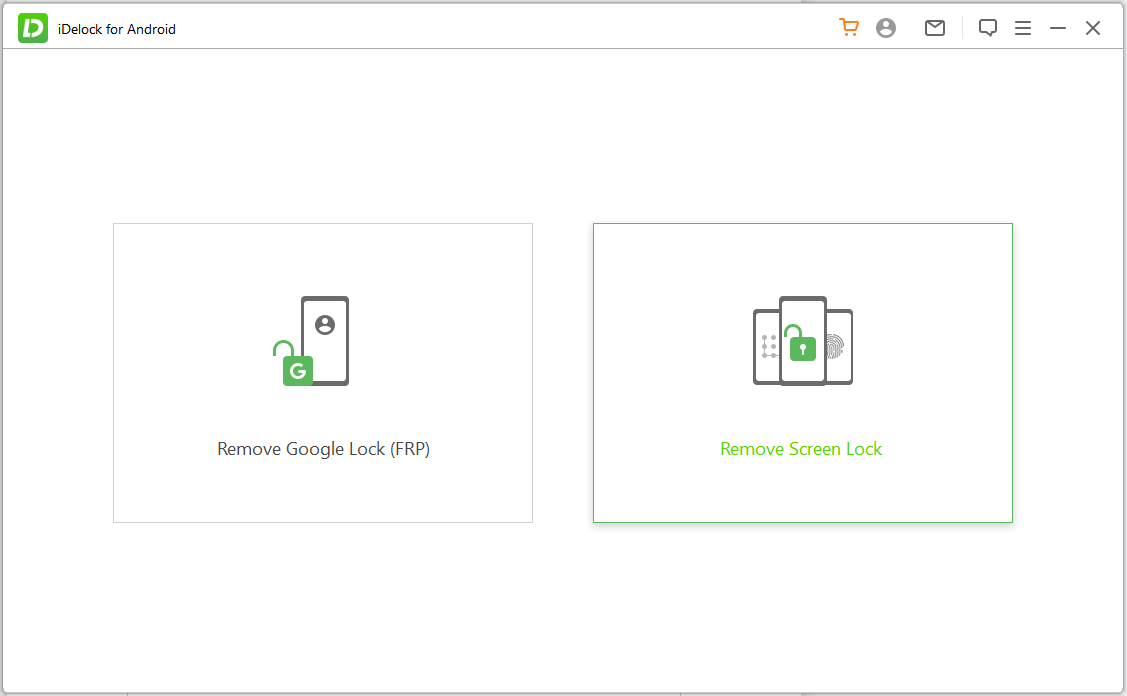 Step 2: System device option selection
Select the proper operating system, then click Start and selecy your device's brand and system version.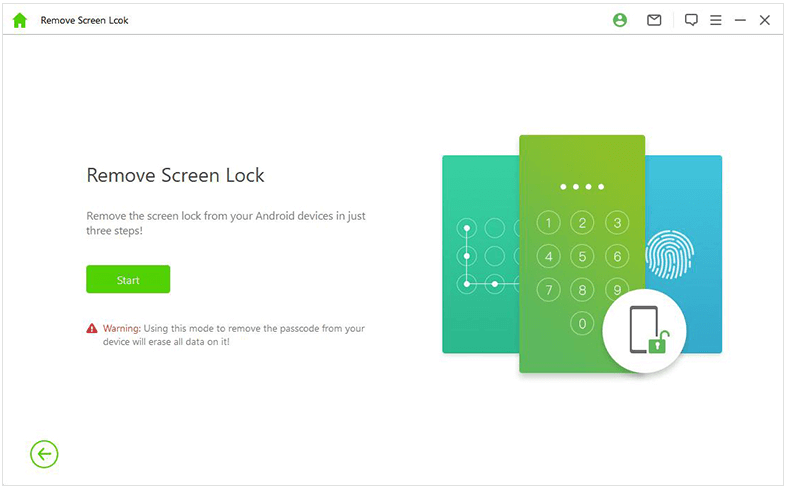 Note
For more details, pick the option
Don't know the device OS version?
if you are uncertain of the precise Android version currently installed.
Step 3: Remove Screen Lock
iDelock (Android) will download a data package for your Android device, then your device will be unlocked soon. Then you need to put your device into Downloading mode.
Step 4: Finish Unlocking Screen Lock
Wait for a while, you device will be unlock without password. Then you can set up a new password on your won.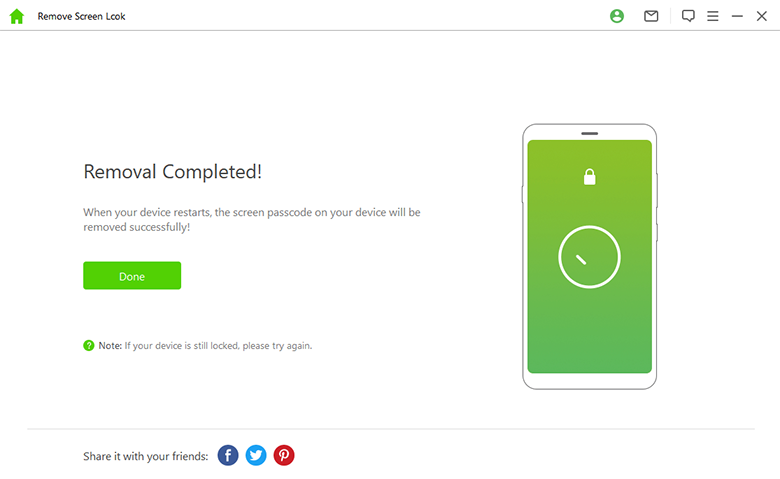 Part 4. How to Reset A Stolen Android Phone in Settings?
Note
If the stolen Android device aren't locked, you can reset the phone in settings.
If you purchased a used phone with no screen lock, you would not need to use the recovery mode to perform a factory reset on the device. To reset your phone, follow the instructions below.
You may access the Settings icon on your phone by going to the home screen.
Scroll down until you find the Backup & Reset option, then click on it.
Select Factory data reset from the menu, and then click Reset Device  to confirm.
At this point, all the data stored on your smartphone will be deleted, and you will be able to set up your phone.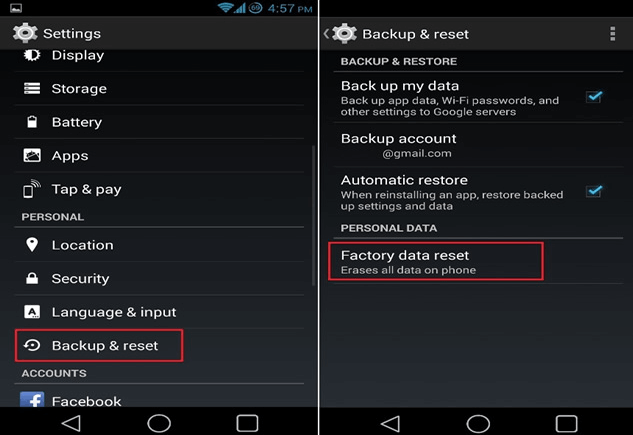 Conclusion
Do you need to learn how to unlock a stolen Android phone? WooTechy iDelock ( Android) can unlock stolen Android phones. Suppose you are having trouble with the Factory Reset Protection after the recovery mode.
In that case, the WooTechy iDelock (Android) app for FRP unlock might greatly assist in unlocking the FRP on your device quickly and easily. It is the most effective solution to any problems you may be having with your Android phone.