The fingerprint lock is a convenient screen lock that can open your phone with just a touch. Compared with other password locks, it is more time-saving to use fingerprint locks to unlock. However, if your fingerprint lock not working and you forgot your passwords, you may be locked out of your phone. It is a hassle for you. But don't worry, in this article, you will learn how to remove fingerprint lock on Samsung. Keep reading and you will get the answer.
How to Remove Fingerprint Lock on Samsung [Without Password]
1

Most Helpful Way to Remove Fingerprint Lock - Wootechy iDelock (Android)

If you want the easiest and most reliable way of unlocking your phone and removing the fingerprint lock, then the best method you can try is use Wootechy iDelock (Android). This third-party software is highly compatible with Samsung phones, and it is a universal unlocking tool. It means that not only fingerprints, but passcodes, PINs, and pattern locks can easily be removed with this app.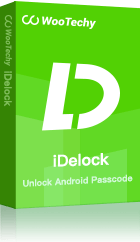 Features of WooTechy iDelock (Android)
High levels of protection and security offered to your device. It against threats and viruses.
It works on all types of Android screen locks, including fingerprints, face ID, PINs and passwords.
This tool has impressed the previous users. Its high success rate has earned it many positive reviews.
Compatible with more than 6000 different Android models and a wide range of system versions.
Provided 24/7 customer support, to ensure that all customers can enjoy fast and timely service.
Below is the simple unlocking process with iDelock (Android):
After downloading WooTechy iDelock (Android), launch the software on your PC. Out of the two available options, choose Remove without Data Loss.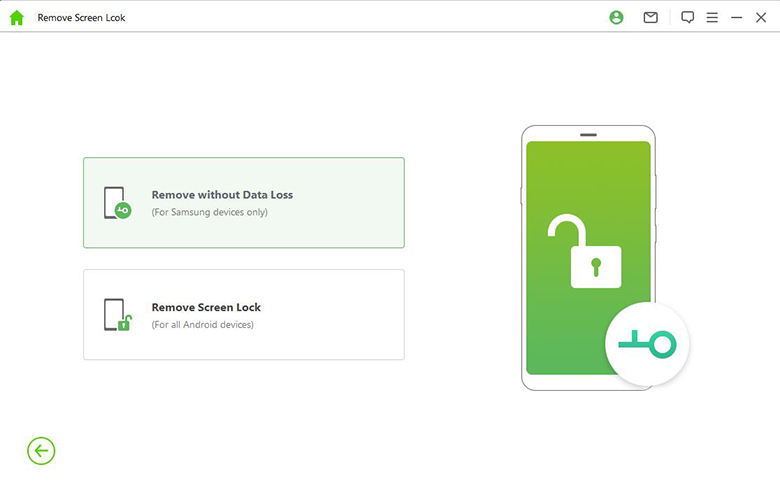 Next, confirm your device's information. Download the designated data package provided by the software for your device.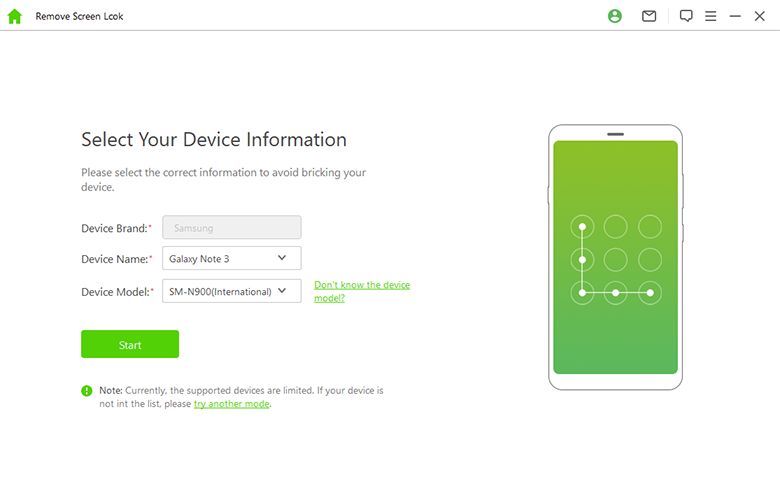 Afterward, using a USB cable connect your Samsung phone to the PC. Then follow the steps displayed on the screen to put your phone into Downloading Mode.  Click Start to Unlock.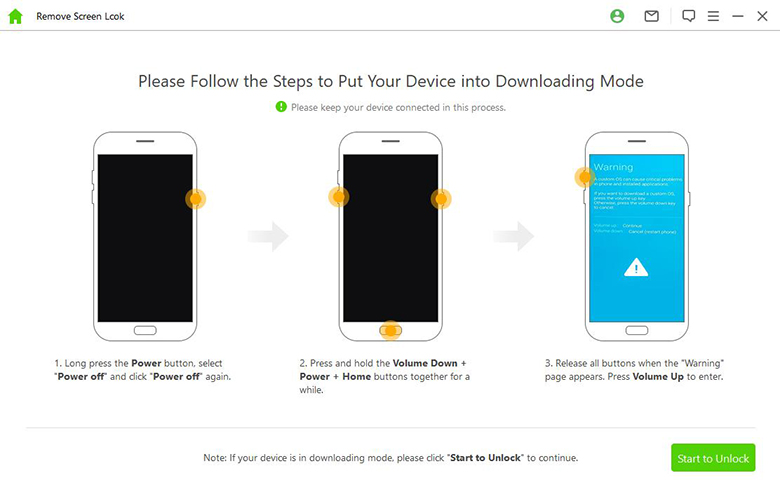 Wait for a few minutes, your phone will be fully unlocked. Now you can use your device again.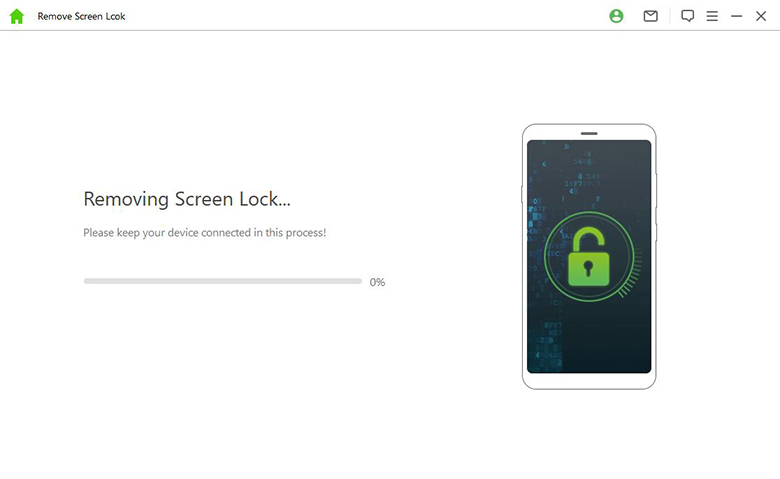 2

Use Find My Mobile to Remove Fingerprint Lock

If the fingerprint is not working on your phone and you don't want to use third-party software. Then using the Find My Mobile function on Samsung's official website might be a good option for you. To use this feature, follow the guide below: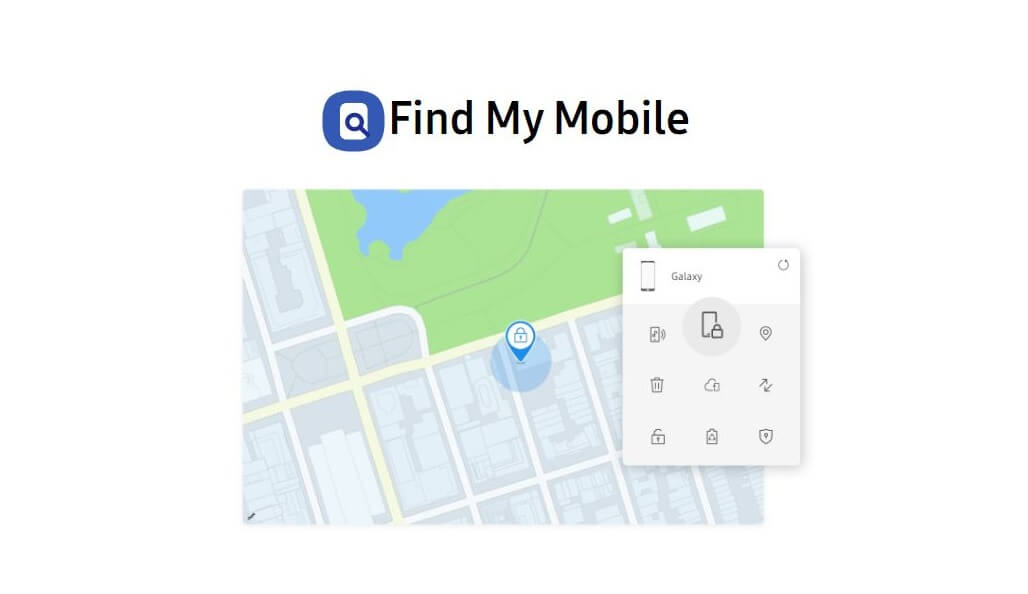 Visit Find My Mobile website, and use your Samsung account to sign in.
Choose the device you want to unlock, and click on the Unlock option.
Then click the Unlock again and enter your Samsung account. It will automatically unlock your phone.
Note
Make sure to not select the
Erase Data
option, or all of your data will be removed.
3

Bypass Fingerprint Lock with Forgot Pattern

Another great option for how to remove fingerprint lock on Samsung is to use the Forgot Pattern on your device. This method only works for Android 4.4 or earlier versions. If it is available to you, then you can follow the steps below to complete the process.

Enter wrong passwords several times, and tap on Forgot Pattern.

Now enter your Google account details to sign in. Then you'll be taken back to the home screen.

Finally, remove the fingerprint locks on the settings. And you can access your phone without passwords.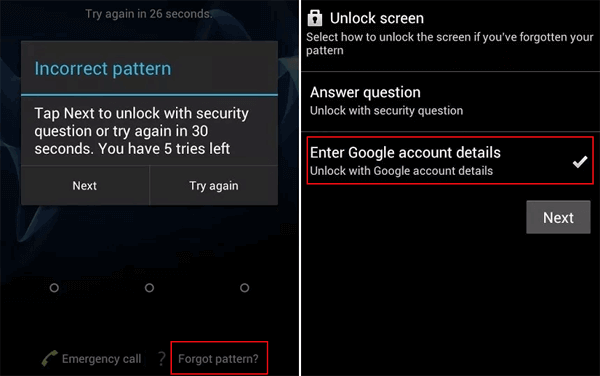 How to Remove Fingerprint Lock on Samsung [with Password]
If you can go into your phone without a problem, but just can't use your fingerprint lock. Then this problem becomes much easier to solve. You can enter your Samsung settings and use the steps below to remove the fingerprint lock.
Go to your phone Settings and select the option Biometrics and security > Fingerprints > Turn off Fingerprints.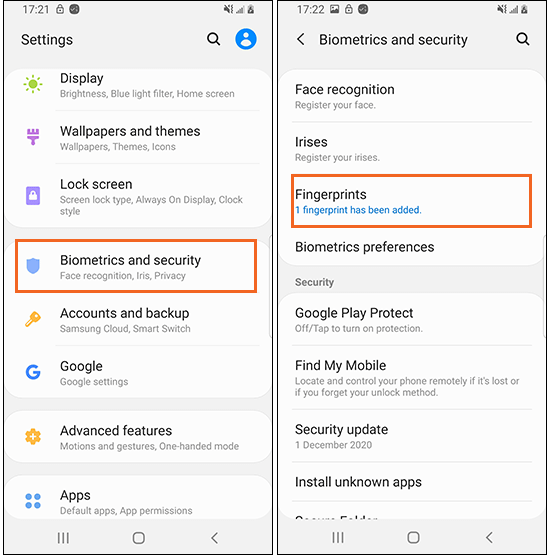 Now you will be asked to enter your passcode to confirm this action. Then you can delete your fingerprint lock successfully.
FAQs About Removing Fingerprint Lock Samsung
Q1. Why My Fingerprint Not Working?
There are many reasons to explain why your fingerprint lock not working. The first one is the fingerprint scanner surface is not clean. It cannot be recognized due to dust or garbage remaining on it. Likewise, if your fingerprints are dirty or sweaty, the fingerprint lock will not be recognized also. Moreover, the update of mobile phone software is also important, which will also affect the use of the fingerprint lock.
Q2. How to Fix Fingerprint Not Working?
In this article, we have already introduced many methods to solve this problem. You can try to use Find My Mobile, Forgot Pattern, or third-party software to fix fingerprint not working. also, before you try these methods, you can restart your device to reboot your touch ID and get it to recognize your fingerprint. If the problem is more extensive than that, then you might be required to contact Samsung customer support for more solutions.
Q3. Will Removing Fingerprint Lock on Samsung Without Password Delete My Data?
No. Most methods for removing fingerprint lock on Samsung do not require any data loss. However, if you choose to reset your phone to unlock your phone, then you will lose all of your data. If you are unable to access your Samsung account and your phone, then the best solution to bypass fingerprint on Samsung would be to use a professional unlocking tool like Wootechy iDelock (Android). You might give it a try.
Conclusion
Having your Samsung phone not recognize your fingerprint is one of the most annoying things that can happen. The good news is that there are many available methods will allow you to remove your fingerprint lock without losing any data. This article showed you how to remove fingerprint lock on Samsung. You can choose the most suitable one to try. And Wootechy iDelock (Android) is your best choice to bypass fingerprint lock if you forgot your Samsung account. It is very easy to use and allows you to quickly unlock your phone without losing data or information. So don't hesitate, let's download it.