In some situations, you might make adjustments to your phones that force a factory reset of the device. If you own a Samsung device, you might notice that an FRP lock has been used to lock your phone. If you forget your Google account information or don't have the necessary equipment, removing the FRP lock Samsung may prove to be a hassle. We will therefore discuss what this FRP lock on Samsung is and how to get around Google account verification. For more information, keep reading.
What Is FRP Lock on Samsung
A feature known as Factory Reset Protection (FRP) is available on Samsung smartphones running Android OS version 5.1 or higher. Its primary duty is to prevent unauthorized access to your device and information; this feature is enabled on your Samsung phone, and removing your account is the only way to get rid of it.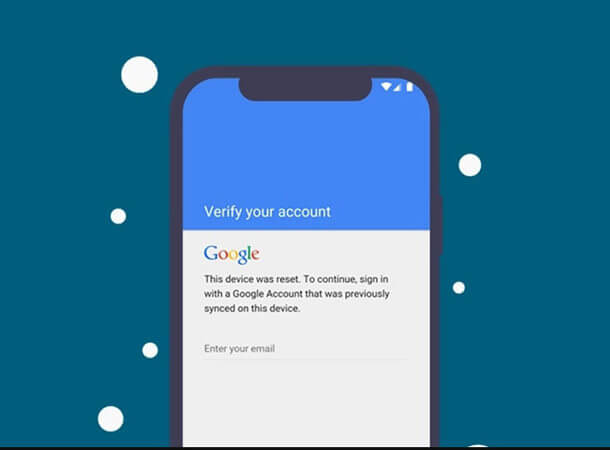 Why Would You Need to Remove FRP Lock on Samsung
A problem occurs if you wish to factory reset your device but can't remember the Google account login information linked to your Samsung phone. In that case, you'll need to bypass the Samsung FRP in order to continue using your phone.
When you sign up for an Android device using your Google account, this function is automatically enabled. So, you must remove FRP lock Samsung if you can't remember your Google account password. By reading the following lines, you can learn how to quickly and easily disengage the FRP lock on your Samsung device.
How to Achieve FRP Bypass on Samsung
Method 1. The Ideal Choice to Remove FRP Lock on Samsung - Wootechy iDelock (Android)
iDelock (Android) is an all-in-one phone unlocker with a very high success rate for removing Google FRP lock as well as many types of screen locks (PIN, pattern, password, fingerprint, and face ID). With iDelock, you can easily remove the FRP lock on your Samsung phones since its interfaces are easy to follow.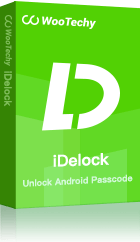 Highlights of Wootechy iDelock (Android)
Unlock a variety of Android locks, including FRP lock, fingerprints, face ID, 4-digit and 6-digit PINs, custom passwords, patterns, and more.

Available with more than 6000 different Android phones/tablets and a wide range of system versions.

This tool can disable FRP lock easily, the unlocking process is easy to understand and no hassle at all.

The unlocking procedure won't expose your data to hackers or introduce viruses, according to iDelock's promise.

It also provides a 24-hour customer support service to help users to resolve any issues.

Guide to Use Idelock (Android)

Download and Install the iDelock (Android) on your PC. Select the Remove Google Lock(FRP) option after starting the software.

Next, use a USB cable to link your device to your PC. Then choose the device and system details on the screen.

The data package required for FRP bypass will be immediately provided by the software. Download it. Check and extract the package once the download is completed.

The software will start to remove the FRP lock on your Android device in steps. Once the process is finished, you can successfully use your smartphone and create a new Google account.

Method 2. Use SD Card to Achieve FRP Bypass on Samsung

This approach is another effective way to remove the FRP lock on Samsung devices. It requires an SD card compatible with your smartphone to properly get around FRP on your device. Below are the steps to bypass FRP with an SD card:

Step 1: The SD card should be inserted into your device. Then download an application called SideSync on your PC.

Step 2: Connect your device to your PC with an original cable and then you will receive a notification. Click on the Galaxy Apps > Agree > Install.

Step 3: Afterward, open SideSync and click Settings in the top right corner of the page. Select Save received items in > SD card to save the required file to the SD card.

Step 4: Next, run a search for Google Account Manager after installing the APK file you obtained. Put your email and password in the corresponding fields.

Step 5: Now restart the device by pressing the Power button. You will receive a notification letting you know the account has been added will appear. Then the FRP lock on your Samsung device will be removed, and you'll be able to use your phone again.

Cons

This method involves many intricate steps that may be challenging to comprehend and carry out.

There is no formal assistance available to you.

It only works for Android 5.1 and below.

Method 3. Achieve FRP Bypass on Samsung via Odin

Odin is a piece of useful software designed to get beyond Samsung mobile phones' Factory Reset Protection (FRP). It is helpful for bypassing FRP as well as fixing issues with boot loop failures, system crashes, and other issues for owners of Samsung cell phones.

Note

Before beginning the process to remove FRP lock Samsung, you need a few prerequisites including Samsung firmware, the Odin flash tool, and USB drivers.

Install the Samsung USB driver, the FRP reset firmware file and the Odin flash tool on your computer.

Put your smartphone in download mode by turning off your phone. And then hold the power button while pressing the volume down button until the phone vibrates.

Next, launch the Odin tool on your computer. Attach your Samsung device to the computer using a USB cable.

The AP/CP/CSC options should be checked on the Odin interface. Select the firmware file that was downloaded by browsing the Windows.

After importing files and checking the download file boxes, you are now ready to go. Remember not to remove the USB cable from the computer during this process, it could damage your device.

Wait patiently for the process to finish. The Pass green block which indicates that the operation was successful, will be shown at the top of the tool interface.

Finally, the gadget will begin to operate normally and prompt you to manually set up the phone. Once everything is set up, you have access to the phone.

Cons

You may lose all your data and the memory of your phone.

Some functionality of your phone may be lost.

It might increase the possibility of bricking an Android device.

Conclusion

As it prevents anyone from deleting your phone's data if they steal it or locate it, FRP lock Samsung makes sure that your data is safely retained. It has been created to make it more difficult for someone else to use your phone if it is stolen. However, as indicated in the aforementioned article, there are situations when you may want to bypass the FRP on your phone. To achieve this, you must have effective techniques or tools. That is where iDelock (Android) comes in. It is reliable and does its job efficiently. If you are still worried, try the free download to experience it, which may clear your confusion.