Google provides many tools to help Android users manage their verification and access. When you own an Android device, managing your Google account becomes necessary. It also helps to keep you safe. One of the means to do this is by downloading the Google account manager APK. In this article, you'll learn everything there is to know about Google account manager APK and how to use it effectively.
What is Google Account Manager APK?
Google developed Google account manager as a utility application. This free tool built for mobile helps Android users effectively manage and monitor how they access and interact with the rest of the Google features on their devices. This tool allows you to manage and monitor more than one Google account. The app is built into most Android devices by default, but the google account manager APK can also be downloaded and installed if required. Here are some of the tool's best features: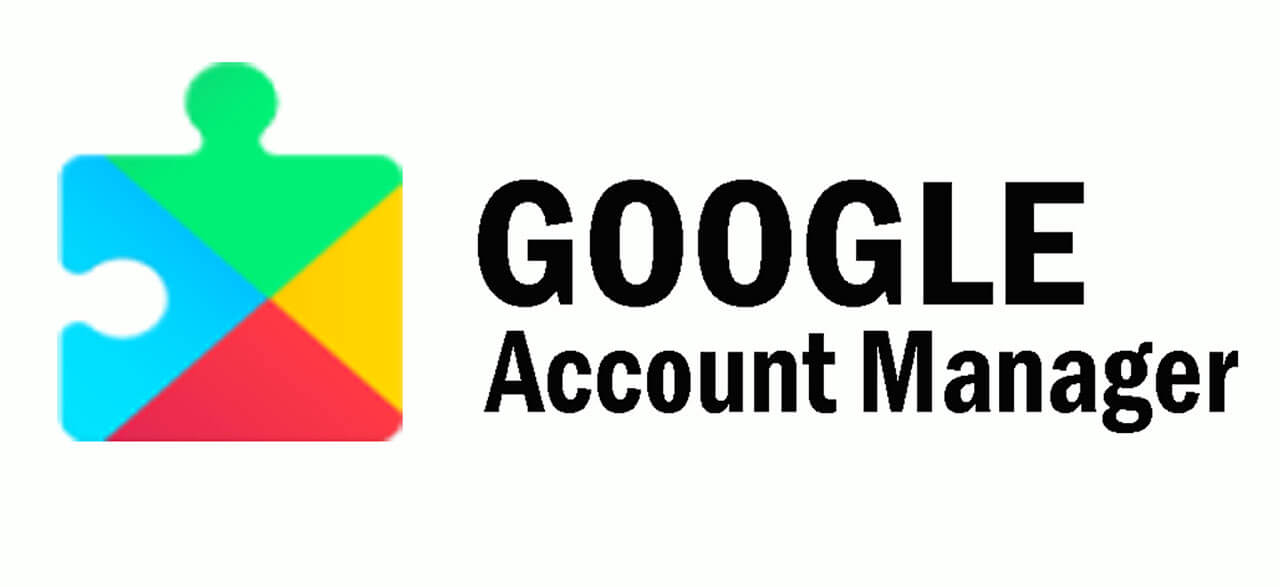 You can manage your payment and subscriptions from your Google account manager.

It helps you see the data and select what activities are saved on your device.

With this tool, you can sync your data from all apps automatically and customize sharing settings.

Helps organize your Google contacts in one place.
How Do I Bypass FRP with Google Manager?
Below are the steps to guide you using Google Manager to bypass FRP.
Step 1 First, download and install the Google Account Manager Apk application. The version you download will depend on the version of your Android OS. For example, if your device's operating system is Android 9, then Google Account Manager 9 is what you need to download.
Step 2 With the right Google account manager APK application downloaded to your device; next, you need to install the application. Then you download a Menu Button application and install it on your phone. Once this application is activated, a virtual menu button will appear on your phone.
Step 3 The next step is downloading and installing another APK application called Shortcut Maker Android. After installing this application, launch it on your device. Then search for Google Account Manager. There are different options available to you. Select the Email and password option.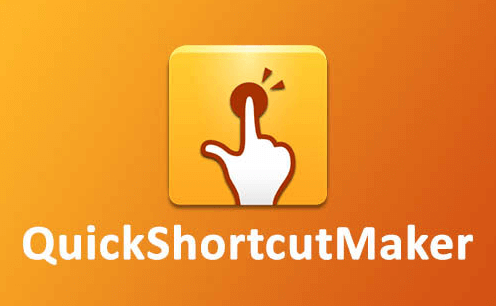 Step 4 Locate the three dots icon at the page's top right corner, and pick the browser login option. It'll take you to your phone's default browser and request you to enter your Google account and password. Log in to any of your Google accounts and turn off your phone.
Step 5 Turn your phone back on and turn on the WiFi. You'll be required to select some options similar to what you see when you buy a new phone. Choose the options you prefer and wait a while. Your phone has been successfully unlocked.
Pros and Cons of Google Account Manager APK FRP
Pros
The tool is perfect for helping Android users manage their access and verification to Google accounts.

The Google account manager APK lets you add as many Google accounts as possible and manage them from one place.

You can sync your data from all your Google apps into one place.
Cons
The app is usually not displayed on your app list, so that access can be complicated for new users.
Google Account Manager APK Unavailable? Try This!
If you've used the Google Account Manager APK application and still can't bypass FRP on your device, iDelock (Android) is a credible and reliable alternative for you. Wootechy created iDelock to help Android users deal with all sorts of lockout and FRP situations. Here are some highlights of the tool.
Highlights of iDelock (Android)
75.000.000+
Downloads
Compatibility with almost all Android devices, from Android 2.3 to Android 11.

With a user-friendly interface, you can use this program to unlock your phone easily.

Reliable, fast and safe. Up to 99.7% success rate.

You can use it to solve all kinds of locking issues on Android devices.
Guide to Use iDelock (Android)
Step 1 Choose Remove Google Lock (FRP)
Download iDelock (Android) on your PC and choose Remove Google Lock (FRP) on the screen.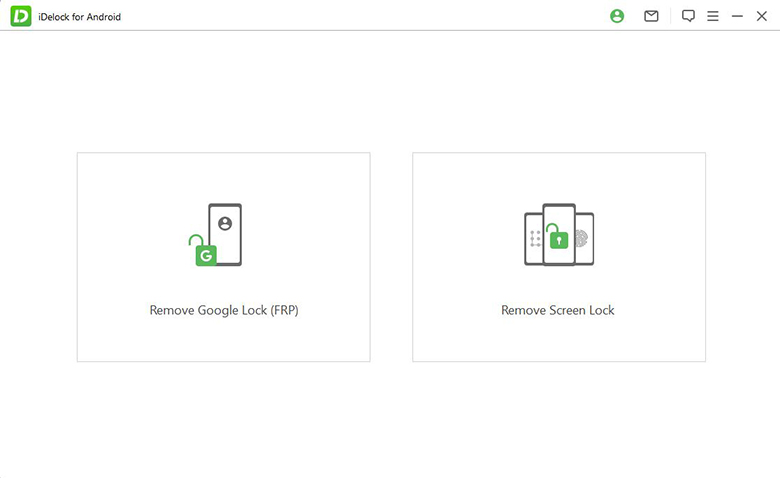 Step 2 Select Device System Version
Pick your system operation version and click Start. If you have no idea what your Android version is, click on Don't know the device OS? and you'll get help.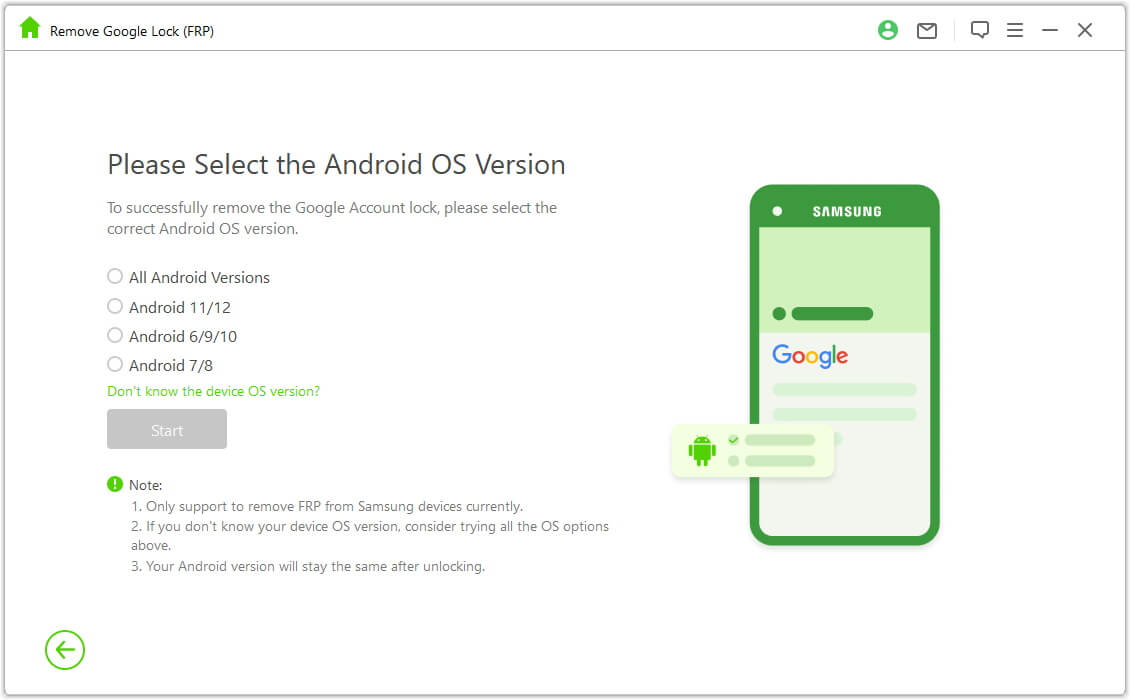 Step 3 Remove Google Lock
From the pop-up message, click on Confirm and connect your phone to the PC with a USB cable. Then download prepared package for your device.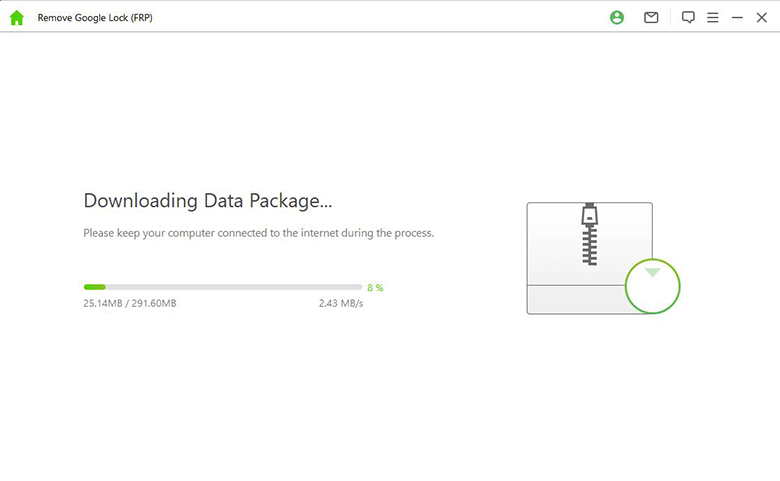 Step 4 Unlock And Setup Device
Now your phone is unlocked successfully. Sign in with a newly registered Google account and enjoy using your device.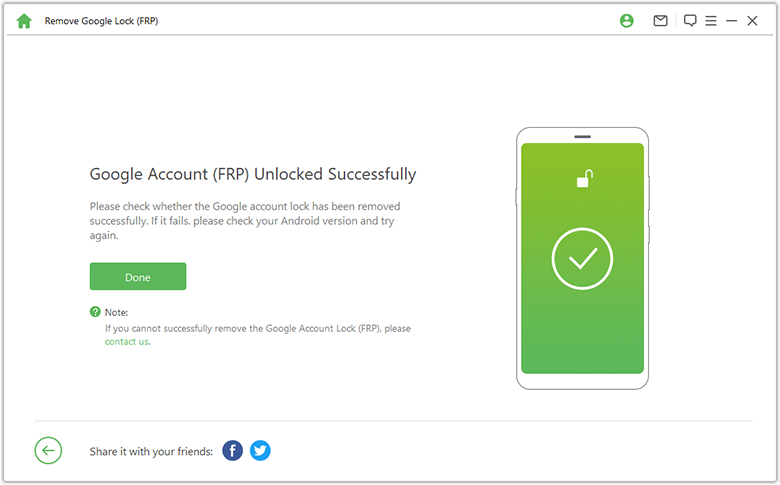 Comparison Table Between Google Account Manager APK and WooTechy iDelock (Android)
| Tools | Google Account Manager | Wootechy iDelock (Android) |
| --- | --- | --- |
| Compatibility | Works with all Android devices | Works with over 6000+ Android devices |
| Safety | High | High |
| Complexity | complicated for new users | easy to use |
| Success Rate | sometimes fail | 99.7% success rate |
| After Sales Service | no after-sales service | Available |
| Ratings | 4.5/5 | 4.8/5 |
FAQs About FRP and Google Account Manager APK
Q1. What is FRP bypass?
Factory Reset Protection or FRP is a security feature introduced by Google for Android devices with OS 5.0 and higher.
Q2. Can I bypass Google account verification after reset?
Yes, you can bypass Google account verification after reset if you use the right tool.
Q3. How do I get a Google account manager?
It's usually inbuilt in most Android devices, but if not, you can download an APK application for free.
Q4. What is the latest version of Google account manager APK?
Google Account Manager APK 11 is the latest version available.
Conclusion
Google Account Manager is an important Google feature that can help you maintain and monitor how your data from different Google apps are used and accessed. However, it's not always effective or consistent in bypassing FRP locks. That's why you should explore a proven alternative Google account manager APK. Head over to the Wootechy website to download iDelock (Android) to solve this problem once and for all.