Phones are vital for the daily living of the modern man. Smartphones and tablets have provided us with comfort and joy. Nevertheless, you may get into trouble if you accidentally damage your phone. Even worse, if you forget your password at this time, it will be more difficult. So how to unlock phone with broken screen? This article will help you to deal with this problem. Let's work you through the process.
[Most Useful Method] How to Unlock Phone with Broken Screen
Some tools exist to help turn around phones with broken screens. One such is iDelock (Android) from Wootechy. It is an all-in-one phone unlocker that helps you to remove Google FPR and various screen locks (PIN, pattern, password, face ID, fingerprint, etc). It is an application with an impressive success rate that makes it easy for you to access your essential files by simply bypassing the password.
What Makes iDelock (Android) Stand Out
75.000.000+
Downloads
Helps in the unlocking of Android broken screen remotely.

Unlock variety of Android locks without hassle.

Passwords can be removed from Samsung phones without affecting data.

It has a high compatibility and success rate up to 97%.

With a user-friendly interface, it's easy to follow the guide.
Let's walk you through the guide to using iDelock (Android) without data loss.
Step 1: Download and install WooTechy iDelock (Android)
First, download the WooTechy iDelock (Android) on your PC. After successfully downloading and installing, choose Remove without Data Loss on the main screen to get started.
Then choose the name of your device on the next screen. To execute the command, click Confirm on the pop-up window.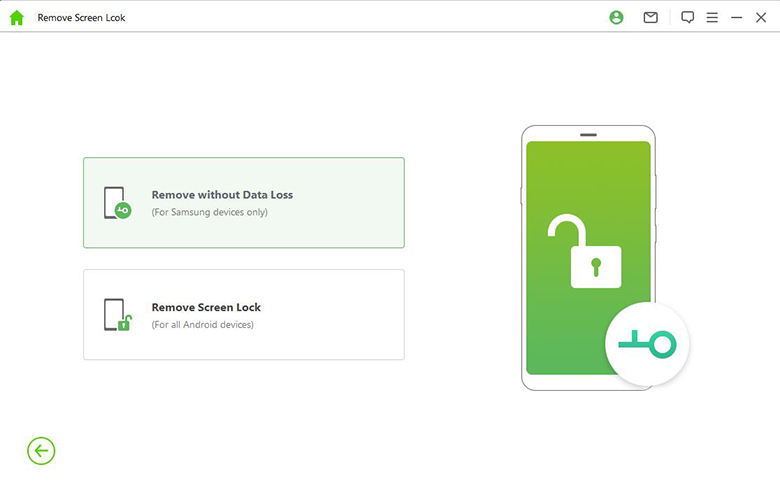 Step 2: Download and extract the firmware package
Next, iDelock will process and download the data package suited for your phone. Once the package is ready, proceed by clicking on Next.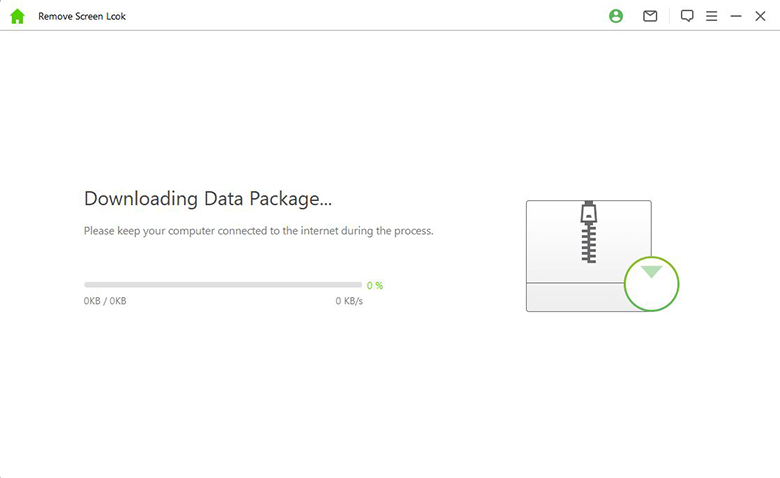 Step 3: Connect your device to your PC
Now connect the device to your PC via a USB cable. And put your device on downloading mode. Follow the steps in the picture to activate that. After that, click on the Start to Unlock button.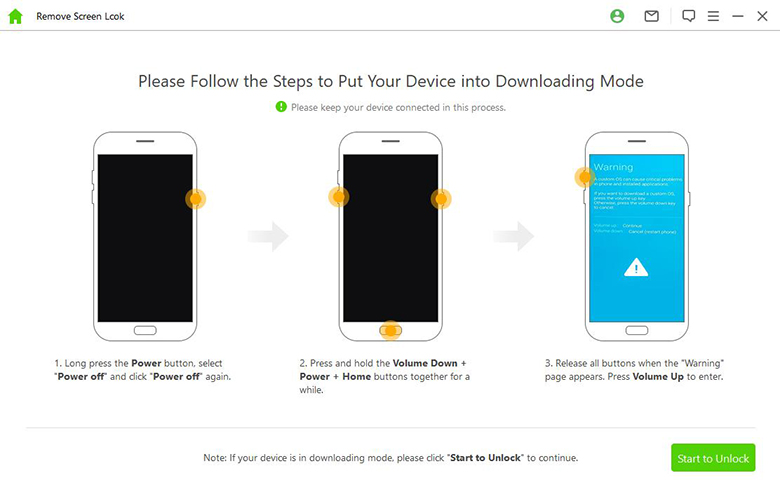 Step 4: Unlock your Android phone
Wait for iDelock to bypass the screen lock on your device for a few minutes.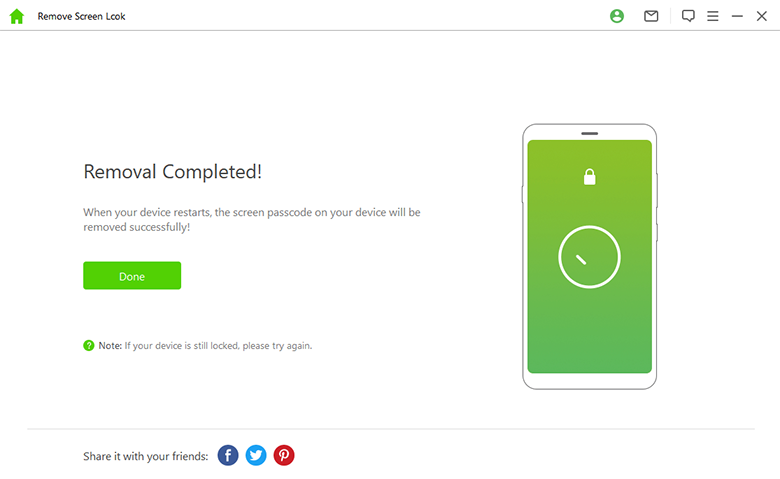 That's it! You successfully unlocked your Android phone with a cracked screen!
Unlock Broken Screen Android Phone via Android Device Manager (ADM)
ADM is a useful program that allows you to unlock your damaged screen using your Google Account. To unlock your phone with ADM, follow these steps:
Sign in with your Google credentials on the ADM.

Then select the Lock button on the interface for your cracked device.

Enter a temporary password, and tap the Lock button again.

Later, a confirmation message will be sent to certify the preceding steps. And you will be asked to type the password. Now simply provide the temporary password and the Android phone with broken screen will be unlocked.
Note
ADM must have been enabled on your phone before you can unlock it.
How to Unlock Phone with Broken Screen via OTG
This method involves using an OTG adapter, a USB mouse, and your damaged Android phone. It works with devices that have already enabled USB debugging. The following steps will help you solve the lock issue on your damaged screen:
Connect your OTG cable to your USB mouse and your broken device.

After that, your screen will present a cursor that enables you to navigate your phone through the mouse.

You can now unlock your Android phone with a broken screen.
Note
Ensure your device has enough battery life for this process and your phone supports OTG cable.
Unlock Android Phone Broken Screen Through Factory Reset
This method comes hand in hand with recovery mode. It helps you effectively restore your device to its original state.
Here are the steps:
Turn off your phone. Long press the volume down and power button together until the screen turns black.

Then press and hold the volume up and power button to put your device into recovery mode.

Now use the volume button to choose the option. Hit the power button to select Reboot system now. Wait for a while and your device will be unlocked.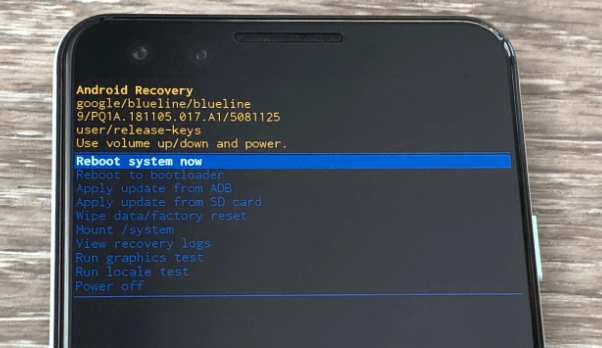 Note
You are sure to lose all of your data with this method.
Use Find My Mobile to Unlock Android Broken Screen (For Samsung only)
Find My Mobile is a program from the Samsung website. You can use it to unlock your Samsung phone with a broken screen. Below are the steps to do it:
Log in to your Samsung account through the Find My Mobile website. Choose your locked Samsung phone from the list.

Wait some time for your device to appear, then click the Unlock button.

Enter your Samsung account password again. That's it! Your screen has been unlocked successfully!
Note
This method only works when the Find My Mobile is activated beforehand.
Bottom Line
Many people struggle to figure out how to unlock a phone that has a broken screen. We believe that reading this post has been addressed. Each method has pros and cons. If you want an effective method to solve this problem, iDelock (Android) will be your ideal choice. It allows you to remotely unlock a Samsung phone without losing data. And it supports over 6000 Android devices. A time-limited free trial is available to test compatibility. Let's download it now!