Almost everyone uses biometrics to unlock their devices today, which is a major reason why people often forget the passwords of their smartphones. If you forget the password, you can be locked out of your device, and in that case, it will become necessary to unlock the Note 20 ultra to use it again. So, here you will learn the top 5 ways on how to unlock Samsung Note 20 without password if you forgot its pin.
Part 1. How to Unlock Samsung Note 20 Without Password via iDelock [No Data Loss]
Most users who are locked out of their smartphones want to unlock their phones without losing any data. iDelock for Android from WooTechy is designed to meet all such requirements. It is your one-stop solution to deal with all such locks and issues you face on an Android device.
iDelock not only helps you unlock your smartphone but also comes with many features while maintaining an easy user experience.
Features:
Compatibility with more than 6000 Android devices
Works with tablets
Works with several types of locks on Android
Google Authentication and FRP removal
No data loss whatsoever
Even with all these features, it is one of the easiest solutions. Once you install and run the tool on your PC, it will take only the 4 steps below to unlock your device and remove the previous passcode.
Step 1. You will go for Remove without Data Loss option on the main screen and click on Confirm on the next screen.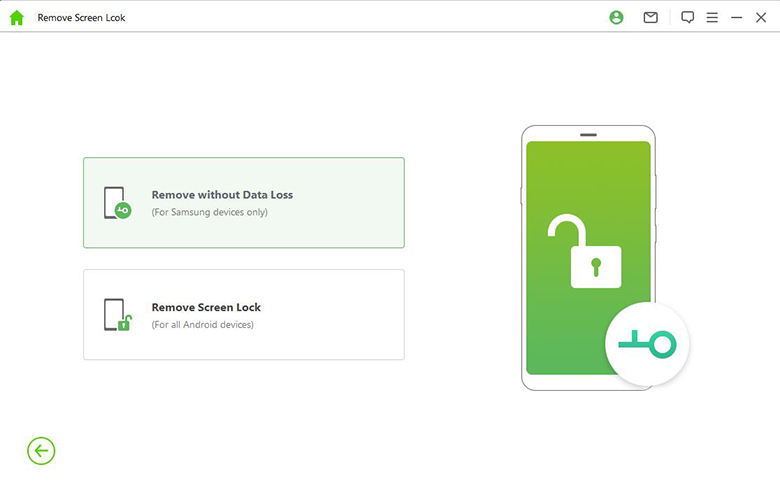 Step 2. Next, you will specify the details about your device, including the model number, to download its firmware.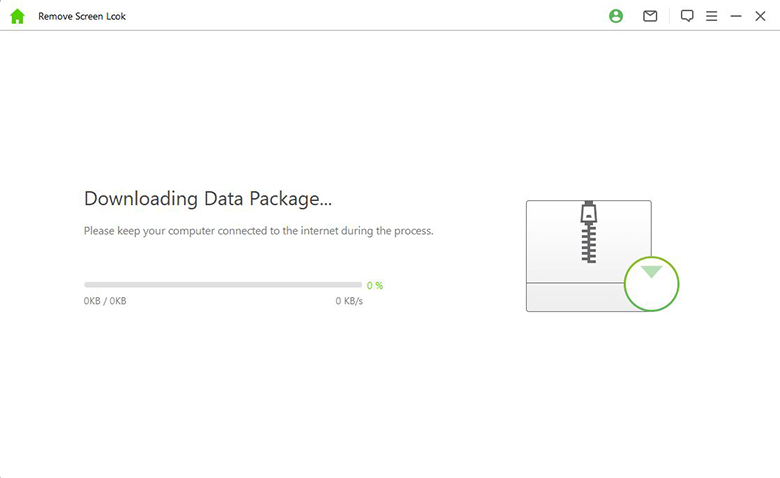 Step 3. Now with a USB data cable, connect your PC and phone and follow all the on-screen instructions.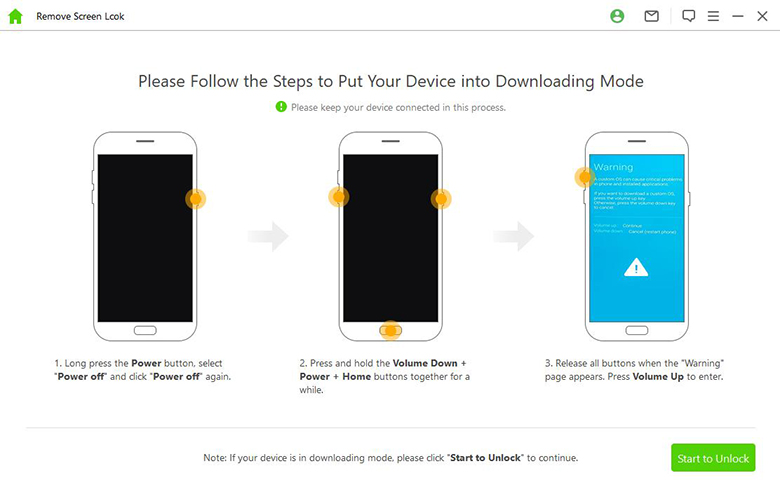 Step 4. Click on the Start to Unlock button and follow the on-screen steps.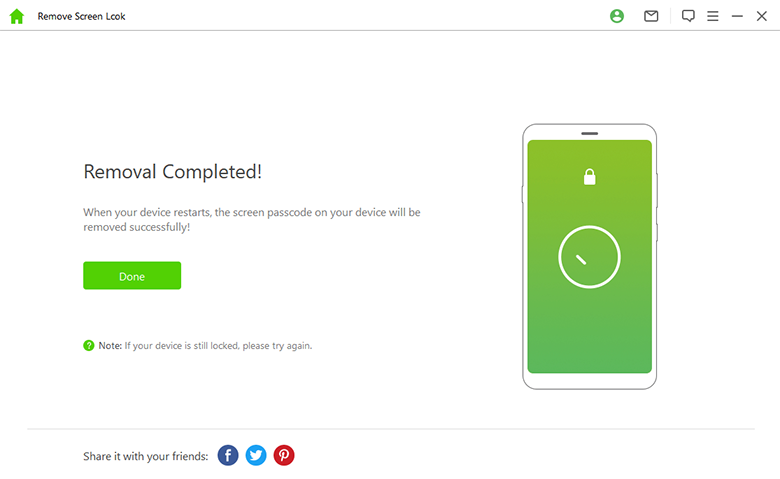 Now you only have to wait for the screen that indicates success, and your phone will be unlocked.
Part 2. Unlock Samsung Note 20 with Samsung Find My Mobile [Account Credentials Needed]
Find My Mobile is one of the best features that Apple introduced to increase the security of its devices. However, today other manufacturers also provide the same feature, and Samsung names it Find My Mobile, a service you can use to find lost phones, and it gives you the option to lock or even erase your device. The best part about this method is that it does not cause any data loss.
However, the catch here is that you must know the Find My Samsung account credentials. Additionally, your Note 20 must be connected to the internet for this method to work. Otherwise, this method will be useless for you. Say that you have the password for that account; here are the steps you would follow to unlock your device.
Step 1. Open the Find My Mobile website on another phone or computer.
Step 2. Log in with the Samsung account that you have used on your locked Note 20.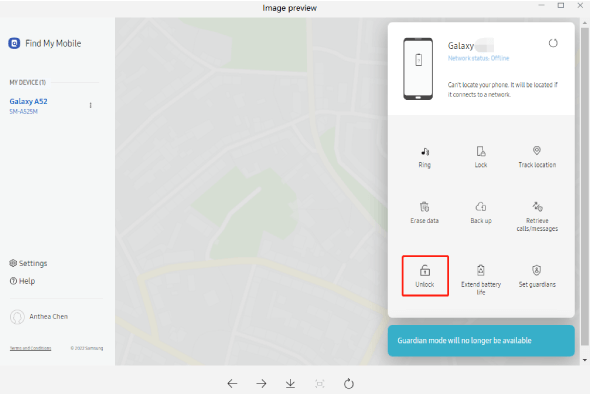 Step 3. Go to mobile options, and there will be an Unlock option. Click on it and authenticate.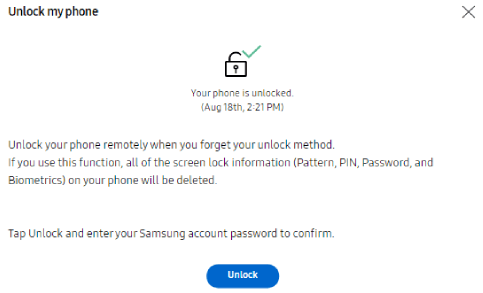 Now your device will be unlocked.
Part 3. Unlock Samsung Note 20 Ultra Using Google Find My Device [Erase Device]
Like Samsung and Apple, Google also provides its Find My service that can be used for several things, including unlocking your device. However, unlike the previous versions, it does not retain any data on your device, meaning that the device will activate as a new one, but you will unlock it at the cost of your data.
You may use it if you don't remember the Samsung account and password used on your Note 20 because the chances of you remembering the Google account details are much higher. Just remember that once you begin with the process, any effects will be permanent, and you cannot go back to retrieve any data. Here are the steps you will follow if you decide to go with this process.
Step 1. Open the Find My Device page on your phone or computer and log in using the same Google account you used on Note 20.
Step 2. Find Note 20 from the list of devices and click on it.
Step 3. Click on ERASE DEVICE and authenticate with credentials.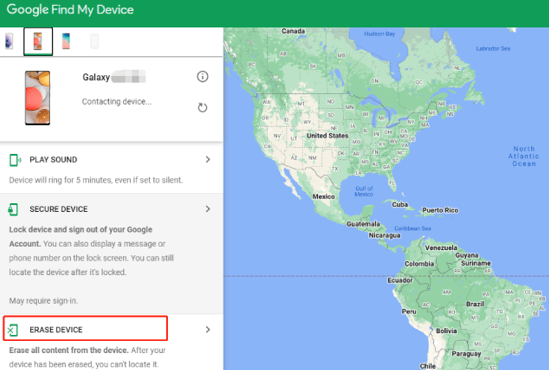 Once the reset completes, you will only need to restart your device, and you will be ready to go.
Part 4. Unlock Samsung Note 20 Without Password via Factory Data Reset
If you don't have any issues with losing your important data present on Note 20 and you don't have access to your Google account or Samsung account credentials, you can perform a factory data reset. Performing it from inside the device's settings may seem impossible because it will need the password for authentication.
However, the good part about Note 20 and all other android devices is that you can perform a hard reset without the settings application. The procedure might be a little complex if you are trying for the first time. Additionally, you must not make mistakes to ensure 100% success with this procedure. If you want to proceed with this solution, try the steps below.
Step 1. Shut down your Note 20 by holding the power button along with the volume down button.
Step 2. After it shuts down, you will hold the volume up with power button together. As the phone starts, you will see a different screen than a normal startup.
Step 3. As you go into recovery mode, go for the factory reset or wipe data option. Select factory reset and proceed.

Step 4. Reboot the system and let the device start normally.
If your device is protected with the Find My feature, you may need to insert the credentials to activate your device. Otherwise, it may become useless.
Part 5. Unlock Samsung Device Without Password with Google Smart Lock
Samsung devices are also compatible with the Google Smart Lock feature that allows you to unlock your devices when the following conditions are met:
Being at trusted places
Connecting with trusted networks
Connecting with trusted devices
Body detection
Enabling it is as simple as setting up any other type of screen lock, but you can do it when your device is unlocked. So, if you are locked out of your Note 20 and don't remember the password, this method will not be effective for you. So, if you are setting up your device and want to use this feature, here are the steps to follow:
Step 1. In Settings, go to the Lock screen settings and go for a Smart Lock.
Step 2. Authenticate with your lock screen password.
Step 3. Select any options that you want to enable for using the smart-lock feature.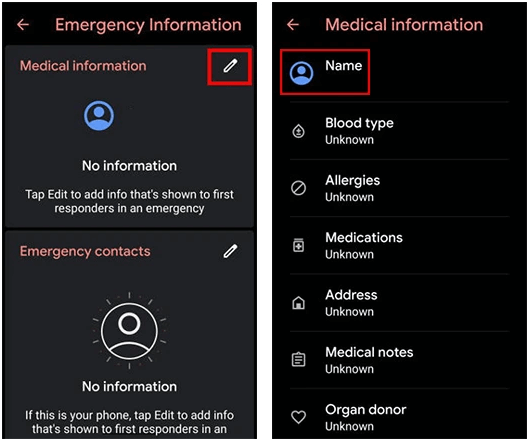 Step 4. Add any trusted devices or places.
Now, whenever those specific conditions are met, your device will be unlocked without you needing to remember the password.
Conclusion
With your Note 20 unlocked using any of these methods, you can easily set up a new password to continue using your device like before. However, every method's effectiveness will differ depending on your case, so always select the fix that brings the best experience and the least data-loss chances.