Trying to unprotect PDF but don't know how? Looking for an effective PDF breaker? How to unprotect a PDF quickly? You've come to the right place!
This latest 2023 Ultimate Guide will show you the 5 best methods and their step-by-step tutorials to help you unprotect PDF even without password! Whether you prefer to unlock PDF online or use software to remove password from PDF, there's an option for you!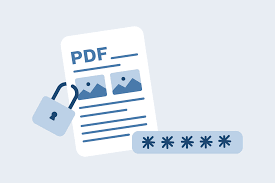 Top 5 Ways to Unprotect PDF:
Way 1: Unprotect PDF via Adobe Acrobat Pro
Using Adobe Acrobat Pro is the official way to unprotect PDFs.
Adobe Acrobat Pro has the ability to remove password protection from PDF files, it allows you to unprotect your PDF files after entering the correct password. But unlike the free Adobe Acrobat Reader PDF viewer that most people know, it is a paid program.
How to Unprotect a PDF via Adobe Acrobat Pro?
Step 1: Download and install Adobe Acrobat Pro. Open the PDF file with Adobe Acrobat Pro and enter the password when prompted.
Step 2: Navigate to the "File" menu and select "Document Properties" option.
Step 3: Click on the "Security" button. Now you can choose to remove password protection or change the permissions.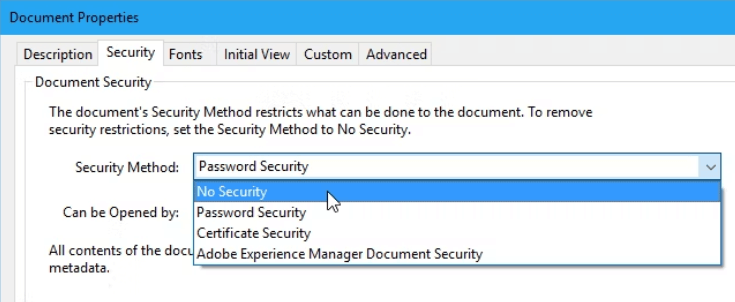 Pros
This is the official method, highly guarantees the security of the unlocked files.
Adobe offers users a one-week free trial (though the trial version has limitations on many important features).
Cons
It requires you to enter the correct password before you can unlock it, so the big problem is this - you have to know the password of the PDF file you want to unlock. If you don't know it, then this method is useless.
After the trial period, the cost may be a bit expensive for some users.
Way 2: Unprotect PDF by WooTechy iCrowbar
The easiest and most effective way to unprotect PDF is undoubtedly using the specialized PDF password recovery tool WooTechy iCrowbar.
As a widely recognized PDF unlocking software, WooTechy iCrowbar adopts advanced technology and cutting-edge algorithms to provide 4 powerful decoding modes to unprotect encrypted PDF files. Meanwhile, its interface and usage steps are very simple, allowing you to unlock PDF files effortlessly regardless of the length and complexity of the password.
How to Unprotect a PDF by WooTechy iCrowbar?
Step 1: Download and install WooTechy iCrowbar software on computer. Select the PDF option.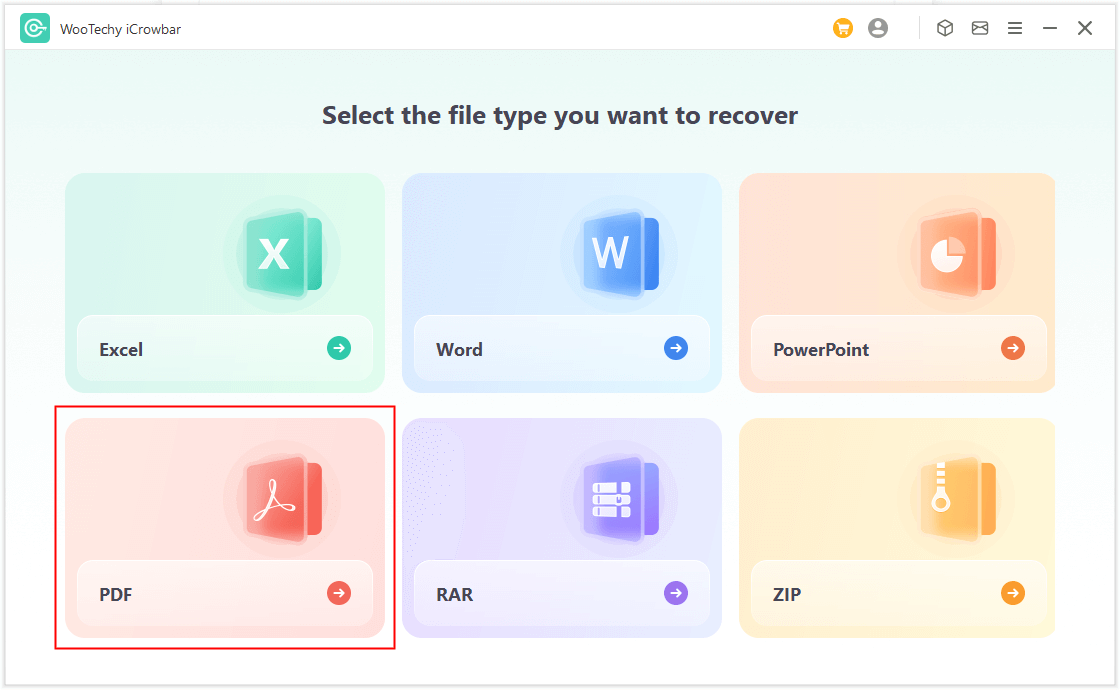 Step 2: Click on the Recover Passwords mode.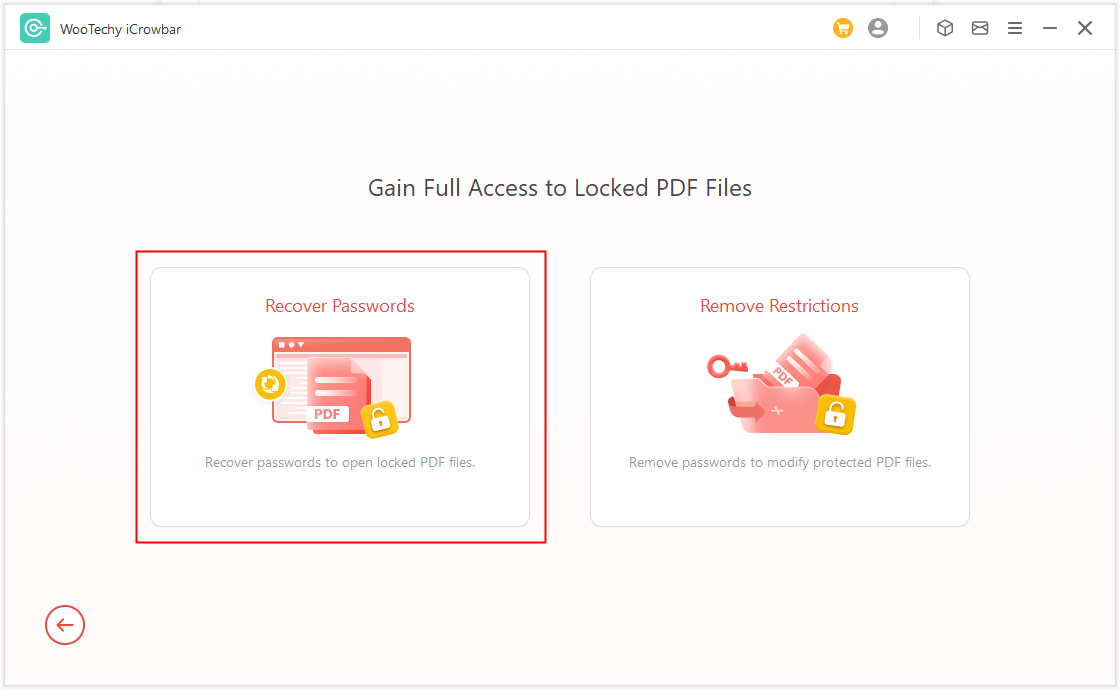 Step 3: Upload the PDF files that need to be unlocked, select an attack type and then click Recover to start the file password recovery.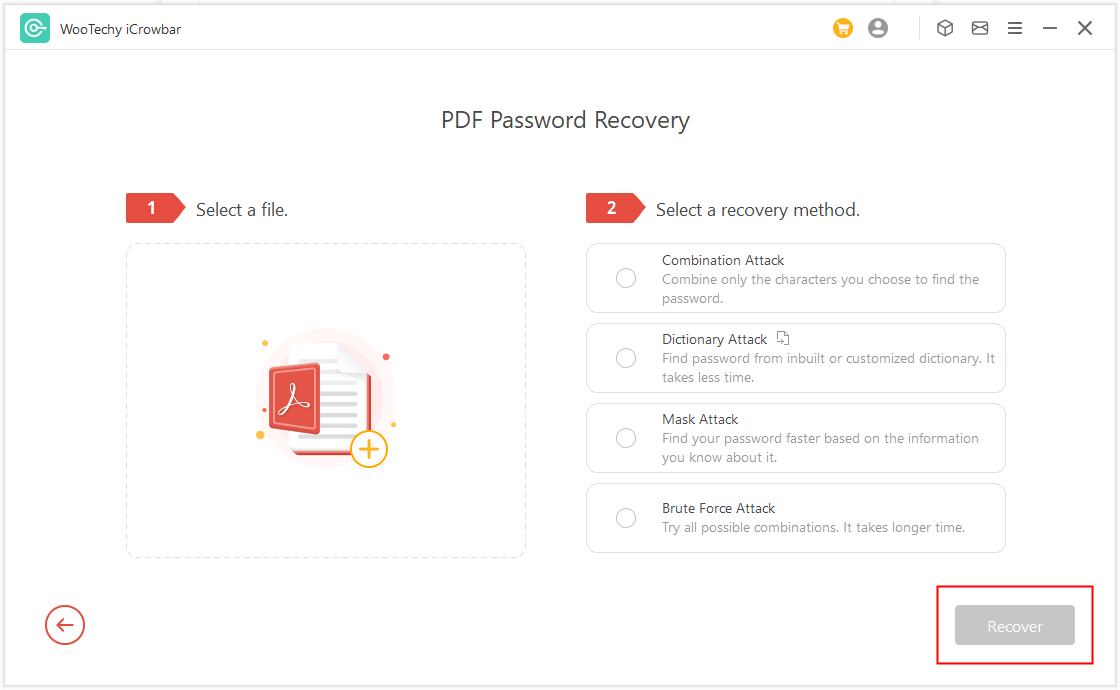 Step 4: After the password is recovered, it will be displayed on the interface. Click Copy to directly copy and paste the password to access the PDF file.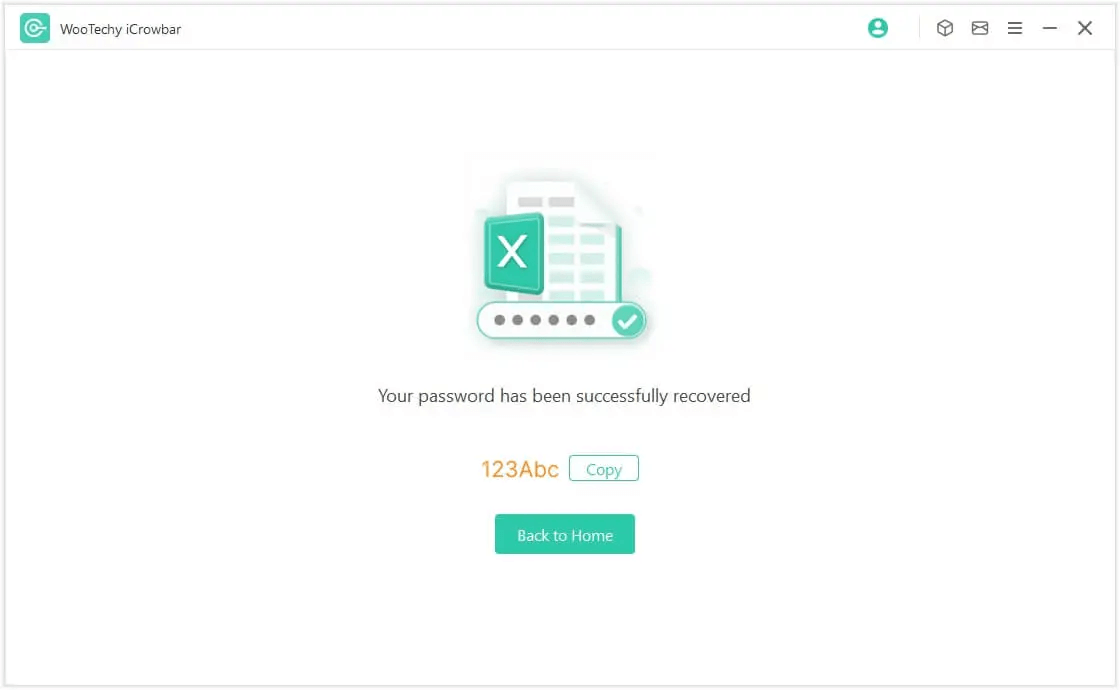 Pros
Prices are relatively affordable, starting as low as $19.99 a month.
Recover passwords not only for PDF, but also for Excel, Word, PowerPoint, RAR, ZIP with up to 95% success rate.
Remove editing and formatting restrictions on PDF/Excel/Word/PowerPoint files so you can edit, copy and print.
Easy to use, quickly unlock PDF files in a few simple steps.
Cons
Software needs to be downloaded on your computer (though standalone desktop software does help with file unlocking security).
Way 3: Unprotect PDF using PDFelement
PDFelement is a powerful PDF editing tool that provides comprehensive PDF features, including PDF unlocking function.
This software has an intuitive interface that allows you to unprotect PDFs with just one click. It makes the process of removing password protection from PDF very easy and you can quickly unlock passwords in PDF files.
How to Unprotect a PDF using PDFelement?
Step 1: Download and install the software. Launch it and import the encrypted PDF files.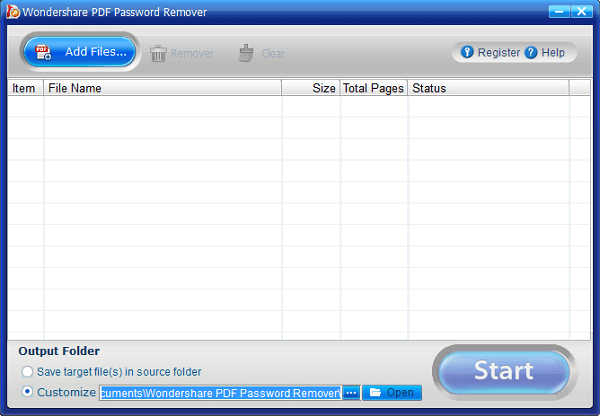 Step 2: Click the "Start" button to remove the PDF Password.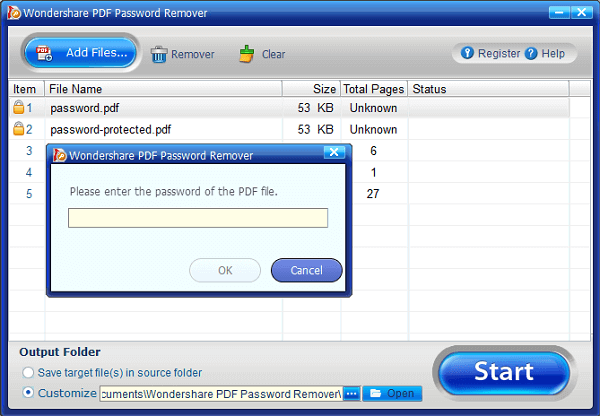 Pros
It has a wide range of comprehensive features such as PDF editing in addition to unlocking PDFs.
Allows for one-time fee purchase rather than subscription-based pricing.
Available for both Windows and macOS.
Cons
The starting price of the paid version may be relatively expensive, starting at $29.95 for personal version and $59.95 for business version.
It can be slightly complicated and overwhelming for some new users.
Only works for certain types of password protection.
Way 4: Unprotect PDF with Google Drive
Yes, using Google Drive can also help you remove passwords from PDF files.
If the PDF file you want to unlock is not protected by a strong password, then you can use Google Drive to unlock it. Here is a step-by-step guide:
How to Unprotect a PDF with Google Drive?
Step 1: Click "Upload files" to upload the password-protected PDF file to your Google Drive account.
Step 2: Right-click on the PDF file and select "Open With" > "Google Docs" option to open it with Google Docs.
Step 3: Click on "File" > "Download" > "PDF Document (.PDF)" button to resave the PDF file on your computer. The newly saved PDF file will no longer be password protected.
Pros
This method is free and costs nothing extra.
There is no need to download third-party software.
There is no limit to the number of unlocked PDF files.
Cons
The formatting or layout of the unlocked PDF file may be changed, resulting in the loss of some data or content.
If the PDF file is protected by a strong password, then this method may not always work.
Way 5: Unprotect PDF Online
Unprotecting PDF through online unlocking tool is also a good choice. There are quite a few websites that provide online services to unlock password-protected PDF files, some popular ones are Smallpdf, Soda PDF, iLovePDF, PDFCandy, PDF2Go. Their steps are basically the same, you just need to upload the PDF files to be unlocked, these online services will automatically do the rest of the work for you.
Here we take Smallpdf as an example, which is an easy-to-use online platform that provides a range of PDF tools, including a password removal tool that can unlock PDFs by removing password restrictions with ease.
How to Unprotect a PDF Online?
Step 1: Open your web browser and go to the Smallpdf website.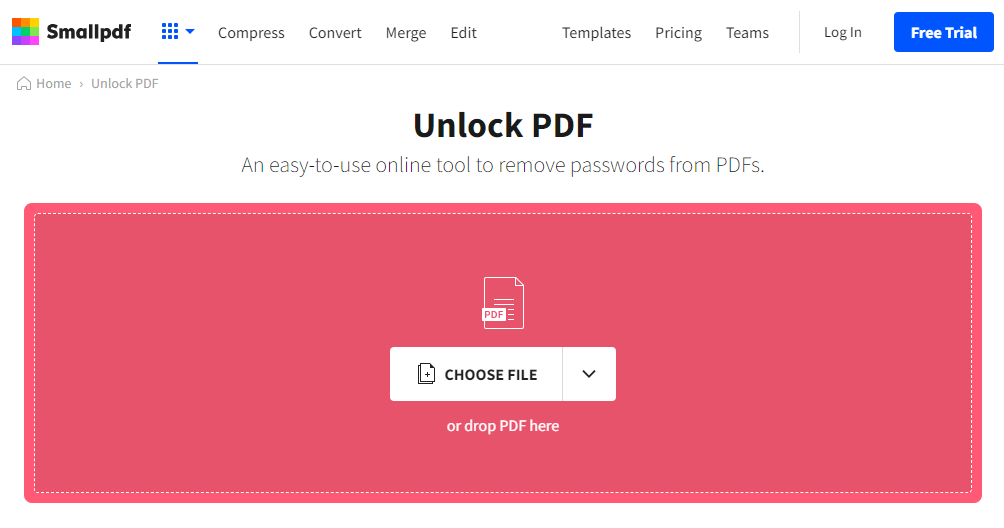 Step 2: Upload the password-protected PDF file.
Step 3: Click the "Unlock PDF" button. Wait for the unlocking process to complete.
Step 4: Click the "Download" button to save the unlocked PDF file on your computer.
Pros
Online tool, no need to download additional software.
Besides PDF unlocking, it also provides diverse PDF editing capabilities such like OCR for PDF convert.
The user interface is intuitive and friendly, easy to use.
Cons
Online unlocking services may pose you some security risks especially when uploading any sensitive or confidential PDF files.
The free version has limitations on file sizes and number of tasks per day. Some advanced features like unlimited tasks, larger file sizes and faster processing are exclusive to the paid version.
It may be time-consuming for large PDFs or multiple PDFs.
Conclusion
Well, these are the 5 best ways to unprotect PDF! Now the only thing you need to do is to choose the most suitable one for you to unlock PDF files! If you still need to unlock Excel, Word, PowerPoint, RAR or ZIP, don't forget this awesome file password unlocker - WooTechy iCrowbar!
It can not only quickly unlock files without password, but can also remove editing restrictions on files easily. Ang it is now also a must-have software for many office workers! If you want to unlock PDF without any hassle, then don't hesitate to try WooTechy iCrowbar!
WooTechy iCrowbar – Best Tool to Unprotect PDF
8,000,000+
Downloads
Unlock Passwords: Quickly recover password and unlock various file types, including PDF, Excel, Word, PowerPoint, RAR, ZIP, etc.

Remove Restrictions: 1-click to remove editing and formatting restrictions on Excel, Word, PowerPoint, PDF so you can modify, copy and print

4 Attack Modes: Provide 4 powerful password attack modes with the highest decoding success rate in its class

10 Times Faster: Use advanced algorithm and GPU acceleration, decoding speed is 10 times faster than similar products

Easy To Use: Unlock files in just a few simple steps, no expertise required, friendly to non-technical people