If you're reading this, you must have forgotten the password to your encrypted ZIP file and you are looking for an effective way to crack ZIP file password. You have come to the right place! We have tested the popular ZIP file password cracking tools on the market and after comparing them, we have selected 3 of the best and fastest ZIP password cracker in 2023, and we believe every reader will be able to bypass ZIP file password and access encrypted ZIP files without password.
How to Crack ZIP File Password? [Top 3 Best Methods]:
Method 1: Crack ZIP Password with iCrowbar
It can be said that iCrowbar is the most popular and effective ZIP password cracker on the market today. No matter what type of ZIP file it is, it can easily crack the password in minutes, which has been highly evaluated by many users.
4 attack modes: Offers 4 advanced and powerful attack modes, with the highest success rate of cracking passwords almost in its class.
10 times faster: With advanced algorithms and GPU and CPU acceleration, the decoding speed is the fastest in its class.
Easy to use: Just a few simple steps, friendly to non-technical people.
Support cracking passwords of multiple file types: In addition to decoding ZIP and RAR, it also supports bypassing passwords of Excel, Word, PowerPoint and PDF without losing data.
Support removing restrictions of office files: You can also remove editing restrictions and formatting restrictions of Excel, Word, PowerPoint, PDF files with one click.
Steps to Crack Password Protected ZIP File with iCrowbar:
Step 1: Download and install iCrowbar software on your computer.
Step 2: Launch the software and select the "ZIP" option.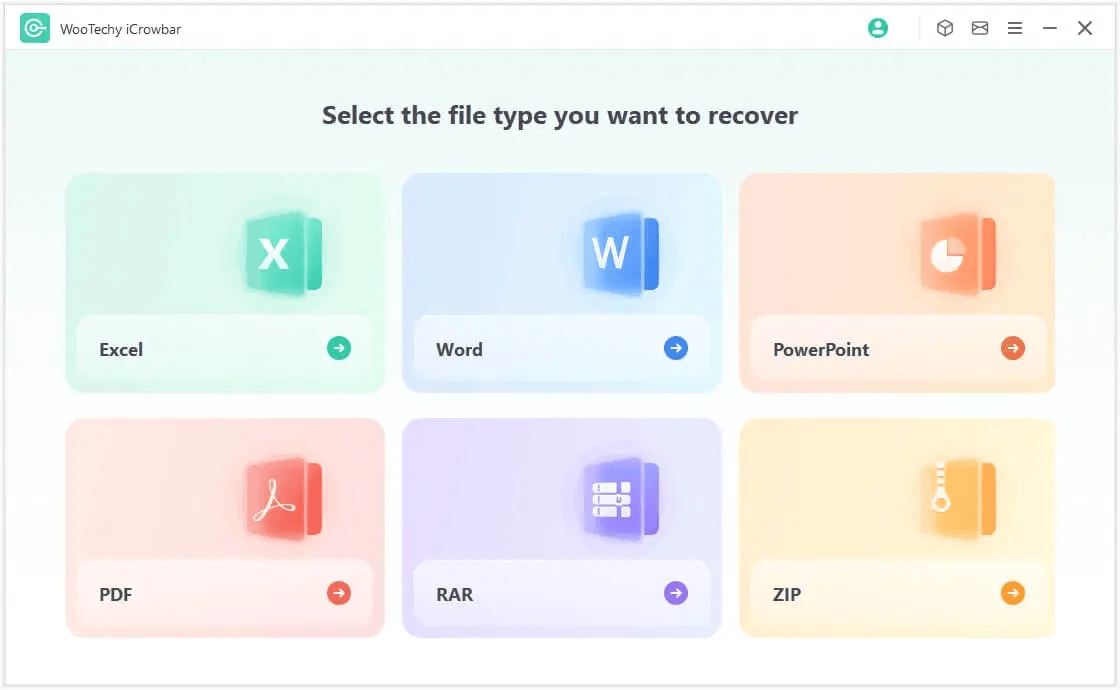 Step 3: Select the "Recover Password" mode.
Step 4: Click "Add" to import the password-protected ZIP file into the software.
Step 5: Choose an attack type according to your situation. (PS: There are 4 attack modes to choose from. If you are not sure which mode to choose, you can read the introduction at the official website.)
Step 6: Click "Recover" to start the password recovery. After recovering, the password will be displayed on the interface. Now you can copy the password to open your ZIP file.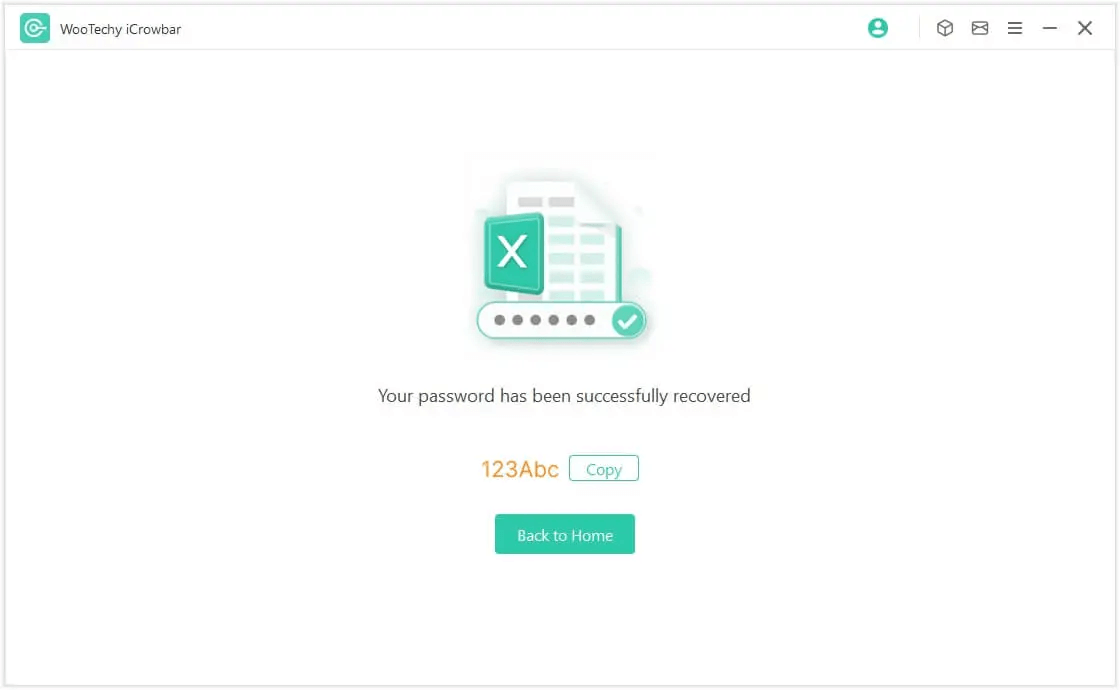 Tips
iCrowbar is not only able to crack passwords for ZIP files, but also supports other common file types such as Word, Excel, PowerPoint, PDF, RAR. And the steps to remove passwords for all these files are the same.
Key Features of iCrowbar
5,000,000+
Downloads
Recover passwords of Excel, Word, PowerPiont, PDF, RAR, ZIP, etc. and open with 100% success.

Remove restrictions of documents without losing data.

Recover Passwords with 4 Attack Modes and 10X faster speed.
Method 2: Bypass ZIP Password with CMD
If you want to unlock ZIP file free, and you are also an expert in computer technology, then you can bypass password for ZIP files with CMD.
Steps to Bypass Password Protected ZIP File with CMD:
Step 1: Download the John the Ripper CMD line tool on your computer. Unzip your ZIP file and save it in a folder named "John".
Step 2: Open the folder you just saved, "John", and click on the "Run" folder. Create a new folder in the "Run" folder and name it "crack". Copy the password protection file you want to crack and paste it into the new "crack" folder.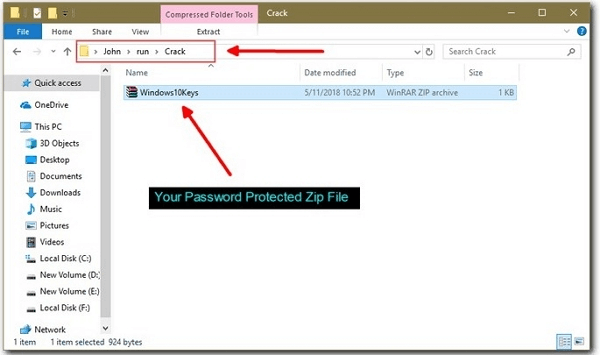 Step 3: Close the open folder and open a command prompt on your computer screen. Type the command "cd desktop/john/run" in the command prompt and click "Enter".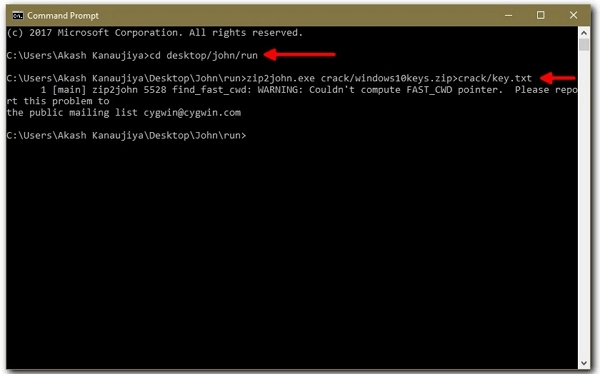 Step 4: At the command prompt type "ZIP2john.execrack/YourFileName.ZIP>crack/Key.txt" and click "Enter" to create a ZIP file password hash that will be used to crack the ZIP file password. Remember to replace the phrase "yourfilename" in the command with the actual name of the file you want to crack.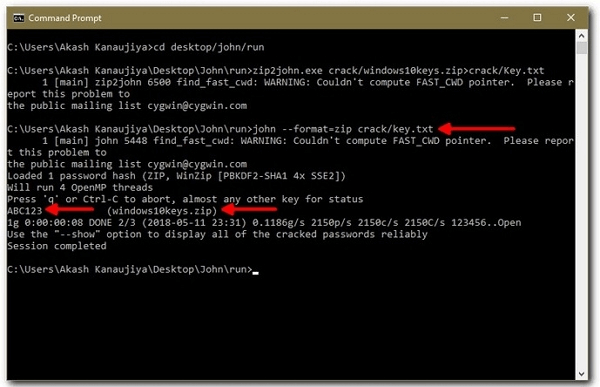 Step 5: Using the password hash file, crack the ZIP file password by entering the command "john-format=ZIP crack/key.txt" and clicking "Enter". password will be cracked and you can now open the ZIP file with the password.
Note
Although it is possible to crack ZIP file password for free via CMD, this method may be a little bit complicated and difficult for non-technical people.
Method 3: Decrypt ZIP Password Online
If you prefer to decrypt ZIP files online instead of using software, there are quite a few online free tools available on the market for decoding ZIP files, some of the more popular ones are LostMyPass, Online Hash Crack. You just need to upload the encrypted ZIP files and these online decryption tools will do the rest of the work for you. But note that the free version only supports unlocking small RAR files.
Steps to Decrypt Password Protected ZIP File Online:
Step 1: Go to the LostMyPass official website.
Step 2: Select "ZIP" from the "File Types" drop-down menu.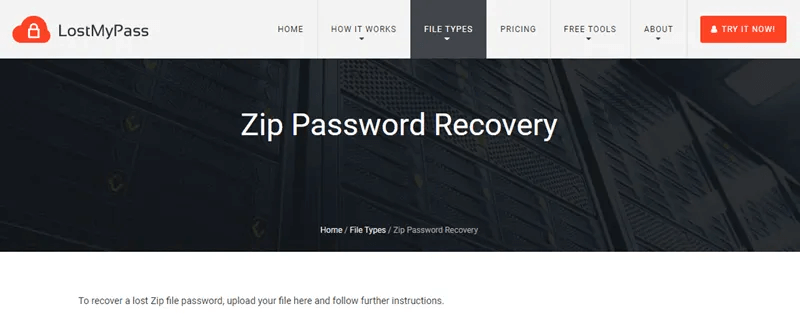 Step 3: Import the password-protected ZIP file.
Step 4: The password cracking process will run automatically.
Note
Although it is possible to crack ZIP files for free and without using software through online tools, this method requires you to upload the encrypted files to a public server, which may expose you to the risk of data leakage. Therefore, it is not recommended to use online tool if your RAR file contains any business information or important private data.
Conclusion
These are the 3 best and fastest ZIP password crackers to unlock password protected ZIP files, and here is a comparison of these 3 tools in different dimensions. Now the only thing you need to do is to choose the one that suits you best according to your actual situation and preference so you can decrypt your ZIP file password!
| Categories | iCrowbar | CMD | Online |
| --- | --- | --- | --- |
| Success rate | >95% | 70% | 80% |
| Time consuming | Short | Long | Medium |
| Data Security | No data leakage | Possible data leakage | No data leakage |
| File limit | No limit | No limit | <100MB |
| Operating difficulty | Easy | Moderately difficult | Easy |
We have to say that after our tests iCrowbar is the best cracker to unlock ZIP files. If you don't have time to try which method can be 100% successful, then we suggest you to use this professional password unlocker - iCrowbar without hesitation.