In today's technology-driven world, smartphones have become an integral part of our lives. With their increasing usage in organizations, the need to manage and control these devices efficiently has become crucial. This is where Device Management (MDM) steps in, offering a comprehensive solution to manage iOS devices, including iPhones.
In this article, we will explore the concept of Apple Mobile Device Management (MDM) and understand how it works.
Part 1: What is Apple Mobile Device Management (MDM)?
Apple Device Management (MDM) is a sophisticated solution developed by Apple specifically for managing iOS devices, with iPhones being the prime focus. MDM provides organizations with the capability to centrally control and administer their fleet of iPhones, enabling seamless management of device settings, policies, and application deployments.
With MDM, organizations gain the power to remotely manage and configure iPhones without physically accessing each device. It offers a centralized dashboard or console through which administrators can enforce policies, apply software updates, distribute applications, and streamline various device settings. MDM empowers organizations to ensure consistency, security, and productivity across their iPhone deployments.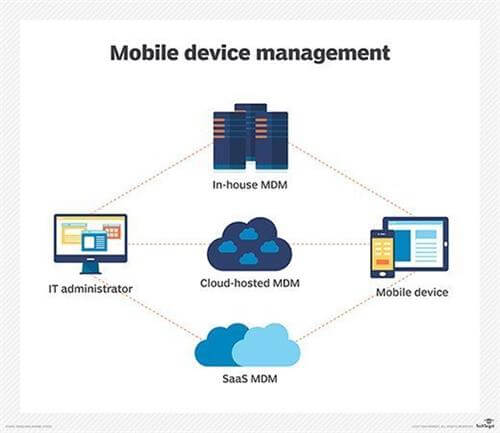 Part 2: Features of Device Management on iPhone
MDM encompasses a range of features that significantly enhance device management on iPhones. Some key features include:
Over-The-Air (OTA) Configuration: Administrators can efficiently set up Wi-Fi networks, email accounts, VPN connections, and other configurations without physically accessing each iPhone. This simplifies the setup process and ensures consistent settings across the organization.
Policy Enforcement: Administrators can set password requirements, enforce encryption, restrict certain device functionalities, and implement other policies to protect sensitive data and maintain a secure environment. By enforcing policies remotely, organizations can mitigate risks and maintain control over device usage.
Application Deployment: Administrators can distribute and manage applications over the air, eliminating the need for manual installations on each device. They can push updates, remove outdated apps, and ensure that employees have access to the necessary tools and resources, ultimately boosting productivity.
Device Monitoring: Administrators can track device inventory, collect usage data, and monitor compliance with policies. This monitoring capability allows for proactive identification of security threats, identification of unauthorized devices, and identification of potential policy violations.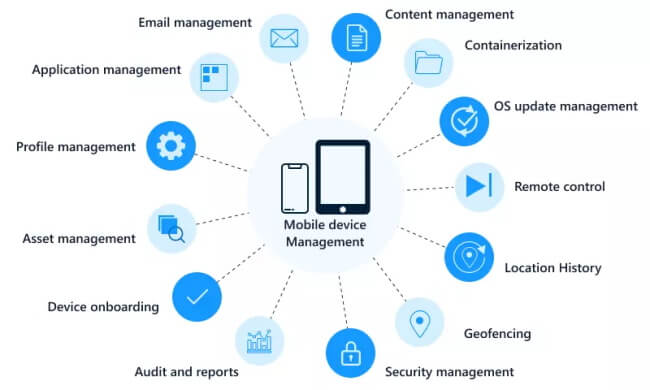 Part 3: How Mobile Device Management (MDM) Works?
MDM operates on a framework that involves several key components to ensure efficient device management:
1. Over-The-Air Enrollment
Over-The-Air (OTA) enrollment is the initial step, allowing administrators to enroll devices into the MDM system remotely. During this process, security certificates and configurations are installed on the device, establishing a secure communication channel between the iPhone and the MDM server.
2. Device Supervision
Supervised devices provide administrators with enhanced control and additional features, such as remotely locking or unlocking devices, restricting certain functionalities, and managing application permissions more granularly.
3. Communication Protocols
MDM relies on secure communication protocols, such as HTTPS, to establish a secure channel between the management server and the devices. This ensures the confidentiality and integrity of data exchanged during remote management.
Part 4: How to Enable Apple Device Management on iPhone?
Now, you may have a rough understanding of MDM on iPhone after reading this article. Then are you curious of how to enable MDM on iPhone?
Different company and organization use their own device management software. You have to download the MDM on your iPhone first before enabling MDM. Once you have the profile downloaded, follow the steps below:
Open Settings and navigate to "Profile Downloaded" and proceed to install Workspace Services. During the installation process, you may receive a warning message stating that the app allows your organization's admin to remotely manage your device. Simply select "Install" to proceed.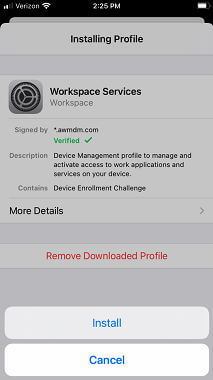 Once Workplace Services is installed, go to "Device Management" in your device's Settings. A prompt will appear, requesting permission to manage the app. Click on "Manage." You may be prompted to enter your organization's credentials.Select the MDM profile provided by your organization.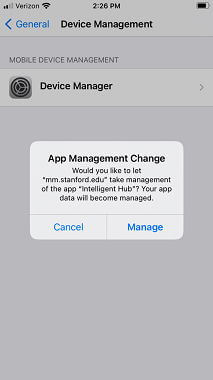 Upon entering the "Privacy" page, click on "I understand." Subsequently, you will be prompted to allow the app to collect data for improvement. Click on "I agree."
You will now be able to view your account with its associated details. Congratulations! You have successfully enabled MDM on your iPhone device.
By completing these steps, your iPhone will be successfully enrolled in the Apple Device Management system, allowing your organization to remotely manage and configure your device.
Part 5: How to Disable Apple Device Management on iPhone?
While enabling Apple Device Management provides organizations with powerful control over iPhones, there may be situations where disabling the management is necessary. Here are a few methods to disable Apple Device Management on an iPhone:
1

A Few Clicks to Remove MDM on iPhone with iDelock

If you want to remove MDM with permission and password, then WooTechy iDelock is the best solution! iDelock is a trusted iPhone unlocking tool that simplifies the process of removing MDM profiles from an iPhone. Not only it can bypass MDM, but it can also remove screen passcode, Apple ID and Screen Time restrictions.
Key Features of WooTechy iDelock
75.000.000+
Downloads
Remove MDM without jailbreak and bypass or delete MDM on iPhone/iPad without password.

Remove any kind of locks on iDevices including screen passcode, Apple ID and Screen Time lock.

Compatible with all iOS versions and iPhone models, including iOS 16 and iPhone 14 series.

100% secure, it won't invade your privacy and is user-friendly.
By following a few simple steps, users can bypass MDM with ease:
Step 1: Download and Install iDelock
To begin, download and install iDelock on your desktop or laptop computer. Once installed, select the "Bypass MDM" option.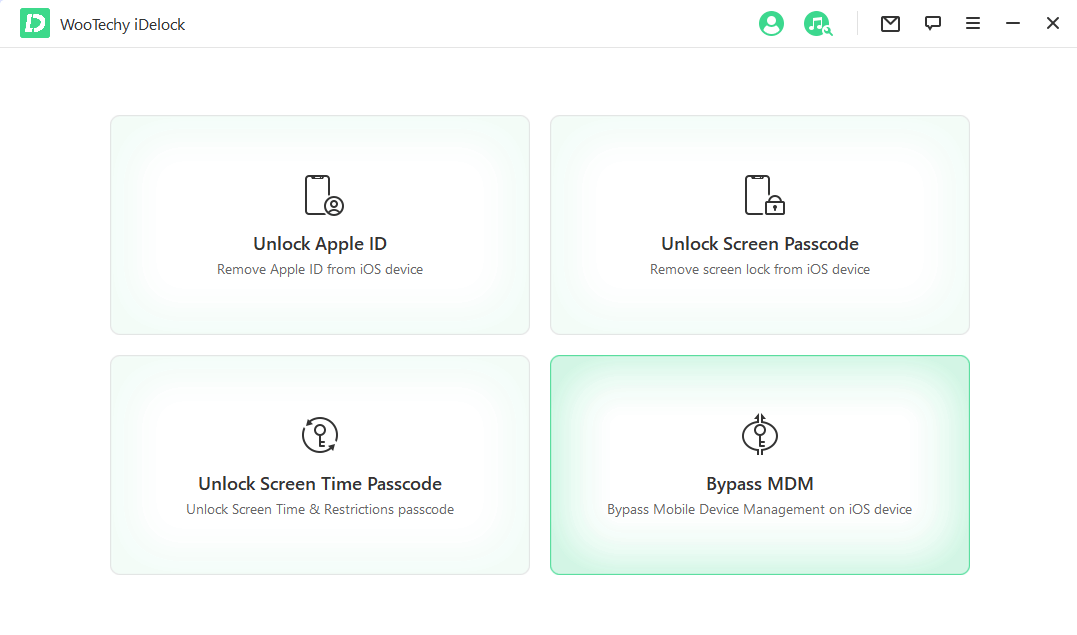 Step 2: Connect Your Device
Connect your iPhone to the computer using a USB cable.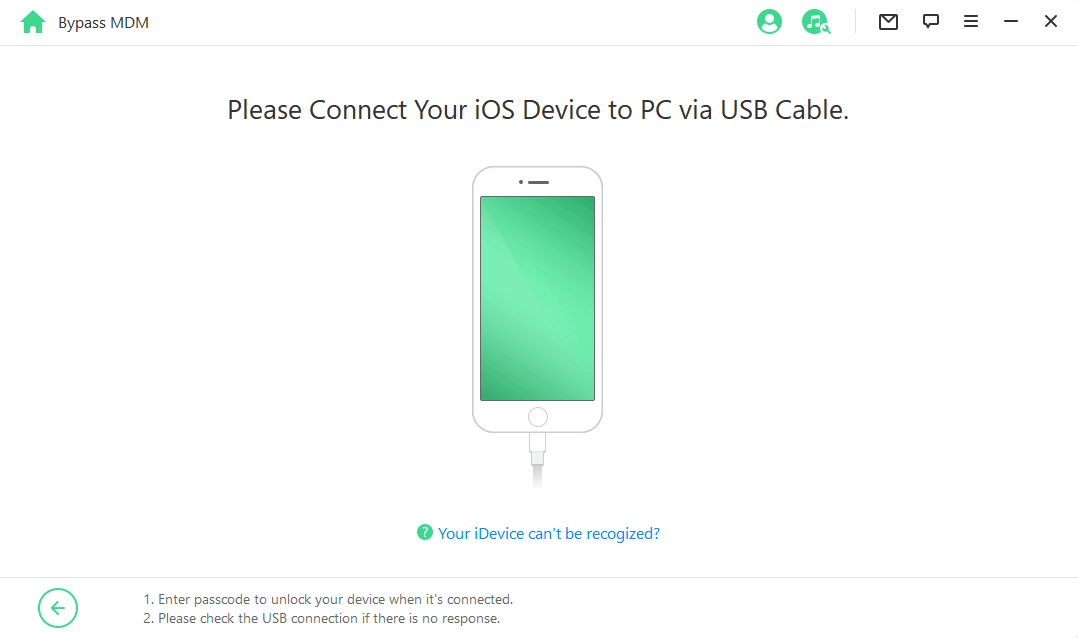 Step 3: Choose the Appropriate Option
Depending on your situation, you have two options to choose from: "Bypass MDM" or "Remove MDM."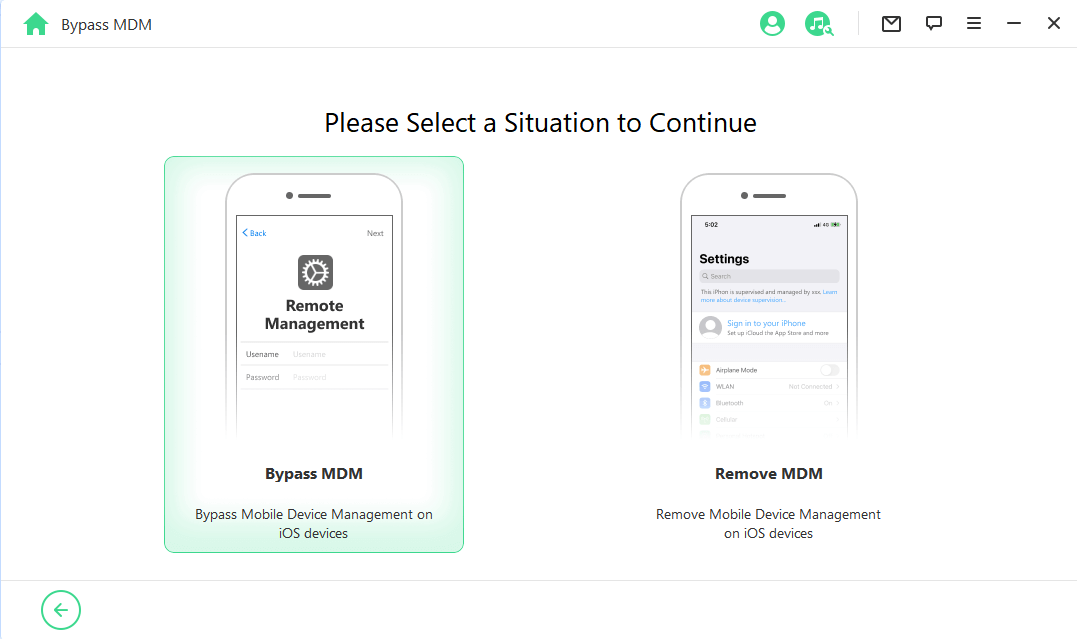 If you are currently locked out of the MDM screen, select "Bypass MDM." Click on "Start to Bypass" to proceed.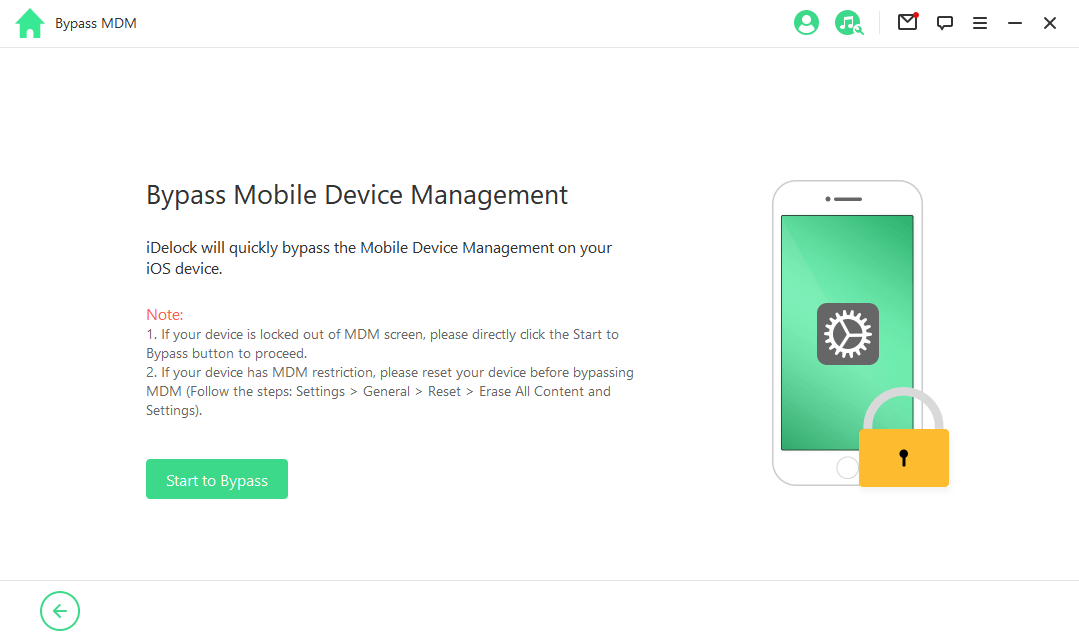 iDelock will efficiently bypass the MDM within a few minutes, and you will see a success message on the screen.
If your device is managed and supervised by another organization, select "Remove MDM." Click on "Start."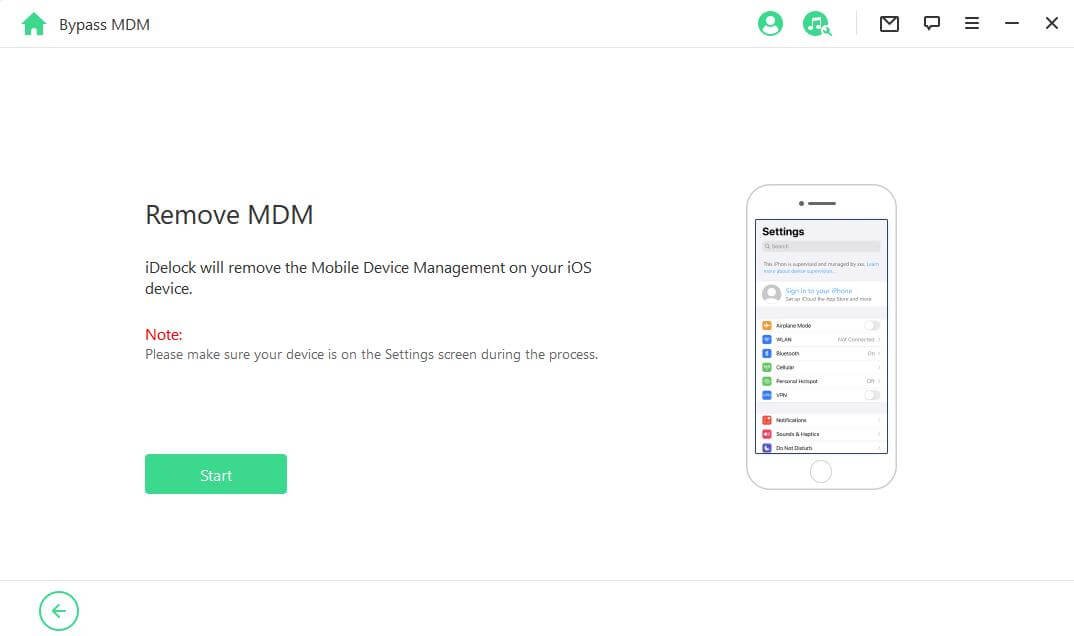 iDelock will immediately begin removing the MDM from your device. Within approximately 10 minutes, iDelock will complete the bypass process, resulting in the removal of all MDM restrictions from your device.
2

Official Ways to Disable Apple Device Management

To disable Apple Device Management on an iPhone, it is advisable to contact the organization or administrator responsible for the MDM setup. They can guide you through the official steps to remove the MDM profile from the device. But still, you can also remove MDM in Settings by yourself as long as you have the credentials.

Step 1: Open the Settings app on your iPhone. Locate and tap on "General."

Step 2: Scroll down and find the "Device Management" option. Tap on it. If you have an MDM profile installed, it will be displayed here.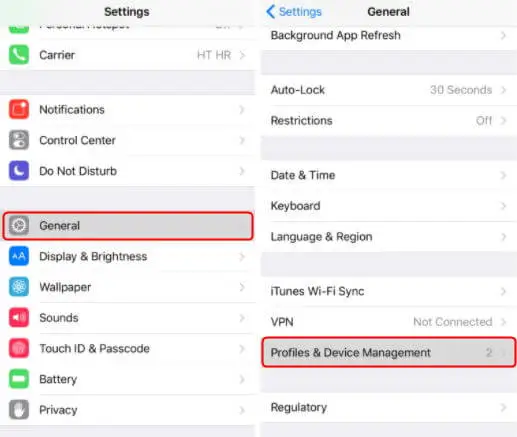 Step 3: Find and tap on "Remove Management" option. A prompt will appear, asking you to enter your MDM configuration password.
Step 4: Enter the required password in the provided field and proceed. Once the password is entered, the MDM profile will be successfully disabled, and the associated restrictions will be removed from your iPhone.
Part 6: Mobile Device Management Software for iPhone
There are many device management software in the market. Here we introduce 3 top MDM software for your choice.
1

Jamf Pro

Jamf Pro is a leading Mobile Device Management software specifically designed for managing Apple devices, including iPhones. It offers robust features like device enrollment, application deployment, policy enforcement, and remote management. Jamf Pro provides organizations with a comprehensive platform to streamline device management, ensuring security, efficiency, and productivity.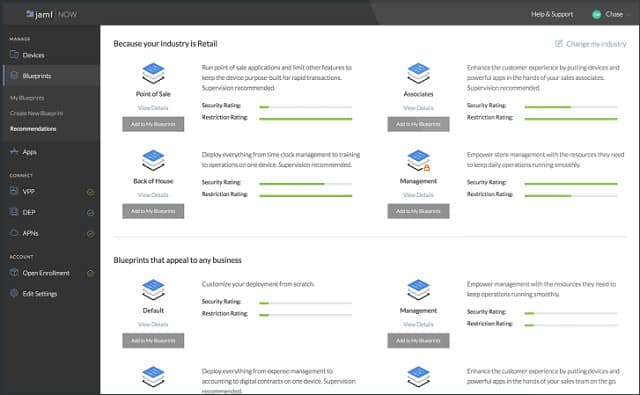 Key Features:
Automated device enrollment and configuration.
App distribution and license management.
Robust security features, including remote lock and wipe.
Advanced policy management and compliance enforcement.
Real-time inventory and reporting capabilities.
2

MobileIron

MobileIron is another popular MDM solution that supports iPhone management. It offers advanced security features, including data protection, threat detection, and encryption. MobileIron's cross-platform support allows organizations to manage iPhones alongside other mobile devices, providing a unified management experience.

Key Features:
Secure device enrollment and configuration.
App distribution and management, including in-house app development.
Advanced security measures like data encryption and remote lock.
Integration with identity and access management systems.
Detailed analytics and reporting.
3

VMware Workspace ONE

VMware Workspace ONE is a digital workspace platform that integrates identity management, application management, including Mobile Device Management capabilities for iPhones. It provides a unified solution for managing and securing various endpoints, including iPhones and other mobile devices, along with desktops and virtual machines.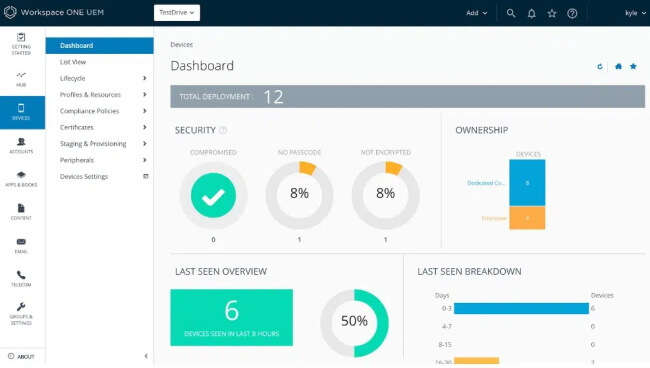 Key Features:
Simplified device enrollment and configuration.
App management and secure content collaboration.
Endpoint security with remote lock, wipe, and passcode enforcement.
Integration with virtual desktop infrastructure (VDI) solutions.
AI-driven analytics and automation.
Conclusion
Embracing Device Management (MDM) on iPhones is crucial for organizations seeking to maintain control, security, and productivity within their mobile device ecosystem. By implementing MDM and utilizing the available software solutions, organizations can ensure efficient management of their iPhone fleet and enjoy the benefits of streamlined administration and enhanced device security.
If you want to remove MDM on iPhone, then there is no other option better than WooTechy iDelock. Try the free download and you will get the charm.