z
Some people prefer buying second-hand iPhones to save money, as the new ones are really expensive. But sometimes, people accidentally buy a stolen iPhone. This puts the buyer in a miserable situation because he cannot do anything to the stolen iDevice due to the security lock. He must report to the nearest police station to check whether the device is reported as stolen or not.
Usually, police cannot find the real owner of the phone because many people do not report it, so the phone remains at the police department. If the police of your country or state cannot do anything and you have the iPhone, you can unlock it using various methods. In this article, we are going to discuss how to unlock a stolen iPhone/iPad.
Part 1: Is There Any Way for Stolen iPad to Be Unlocked?
Yes, there are different ways to unlock a stolen iPad or iPhone. However, most of them have a limitation on iOS versions or can only bypass certain locks. Thus, you need to see whether the method is suitable for the device or not.
It is difficult to unlock a stolen iPhone because there are different types of locks for the security of the device. There can be the Apple ID lock, screen passcode lock, or MDM lock. All these security locks require a different method to bypass them. Normally, when you get any stolen device, it has a screen passcode. Or if the buyer tells you the passcode, it might also be linked to a certain Apple ID.
Sometimes, the device is locked at the iCloud activation lock. This lock requires the Apple ID and password. It can only be bypassed through advanced tools. Another type of lock is MDM lock, which is usually in a company or organization owned device. It requires credentials that only the administrator knows.
All the locks can be bypassed if you know how to do it correctly. We will introduce you to an excellent tool in the next part that can help you get rid of all locks on iPhones and iPads.
Keep in mind that when you unlock a stolen iPhone or iPad, the data on the device will be erased.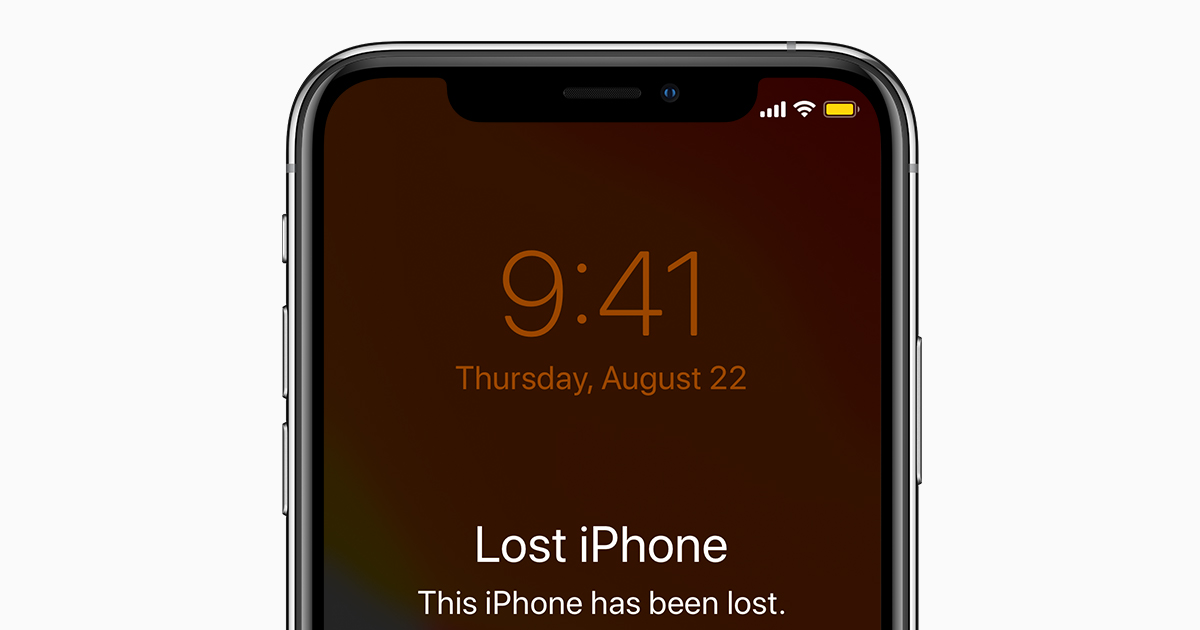 Part 2: How to Unlock a Stolen iPhone/iPad Fast and Easily
There are many tools in the market that claim to remove the screen passcode, Apple ID, MDM and iPad passcode without restore, but most of them do not work or only work on limited iOS versions. Here, we recommend WooTechy iDelock for this purpose because it is a commendable tool with versatile and amazing features.
Features of iDelock:
iDelock is an all-in-one solution for unlocking Apple ID, MDM lock, and find Apple ID password.

Simple to use and you don't need to be tech-savvy.

The highest success rate among other competitors.

It works on all iOS versions including the latest iOS 15. And you can check the compatibility of the device using the free trial version.
2.1 Unlock Screen Passcode of Stolen iPhone/iPad
The screen passcode is usually on all devices and you need to enter the right combination to unlock the screen. However, iDelock can easily bypass the screen passcode even if the device is disabled after entering the wrong password ten times.
Steps to Unlock Screen Passcode of iPhone/iPad Using iDelock
Step 1: After installing iDelock, open it. As we said, it can be used for 4 different purposes. You need to click on Unlock Screen Passcode to start.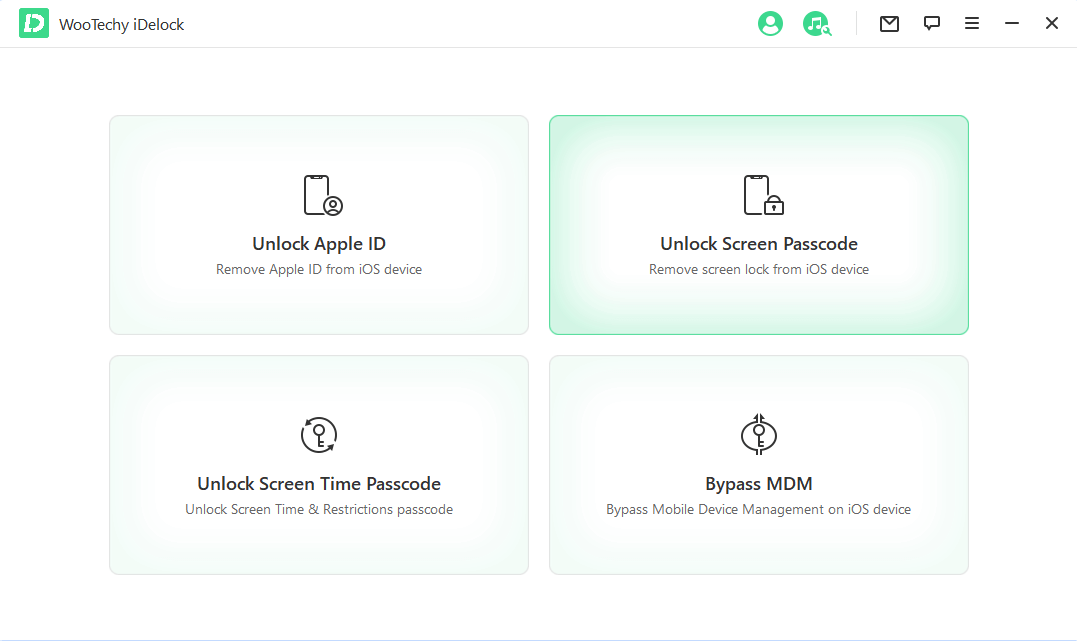 Step 2: Connect the iPhone/iPad to the computer. Once your device is recognized, click on Next.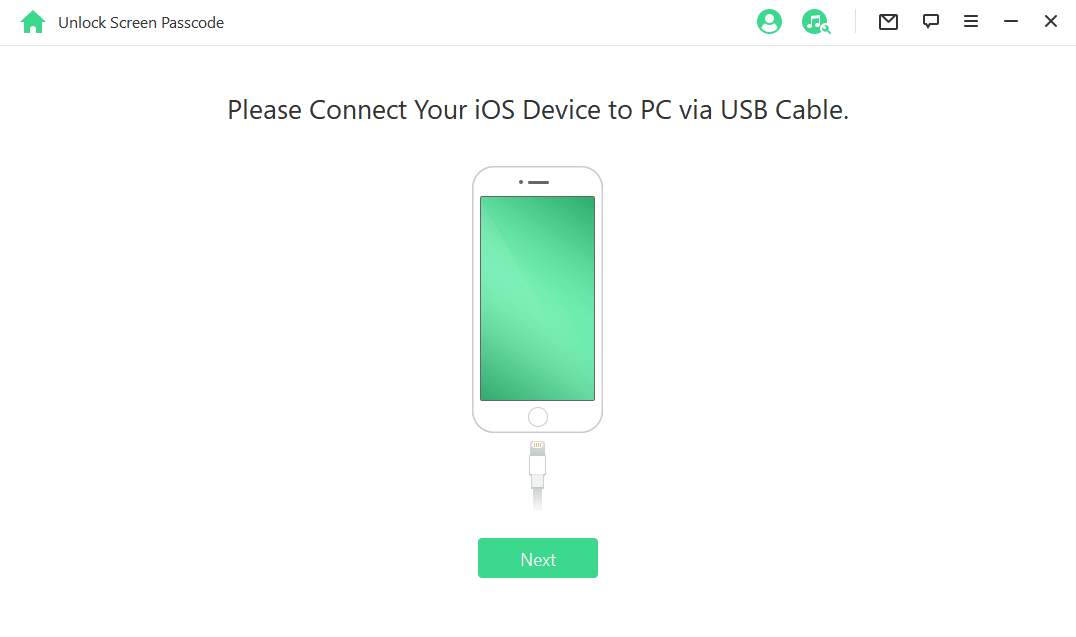 If iDelock cannot recognize your device, you will need to put the device into DFU/Recovery mode. iDelock will show the detailed steps to do it.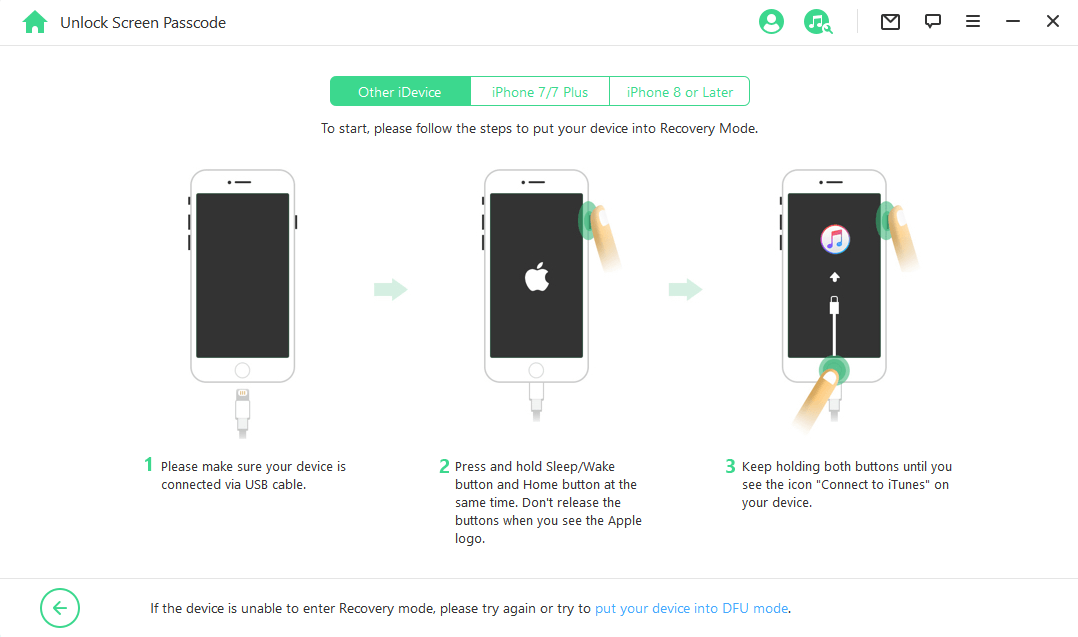 Step 3: After your device gets detected, you can select the firmware version and click on Download.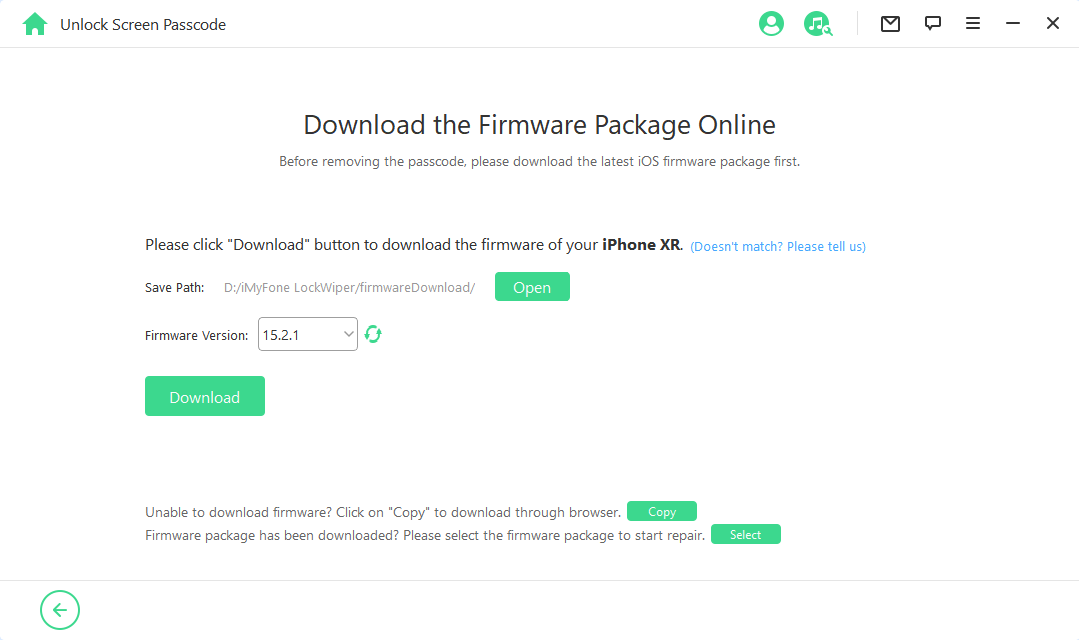 Step 4: Once the file is downloaded, you need to extract the package. Then you can click on Unlock and enter 000000 after reading the notice.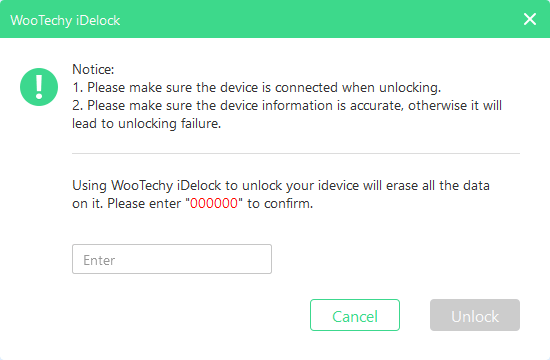 Step 6: iDelock will take a few minutes to unlock the device. Once it is unlocked, you can use the device without any restrictions.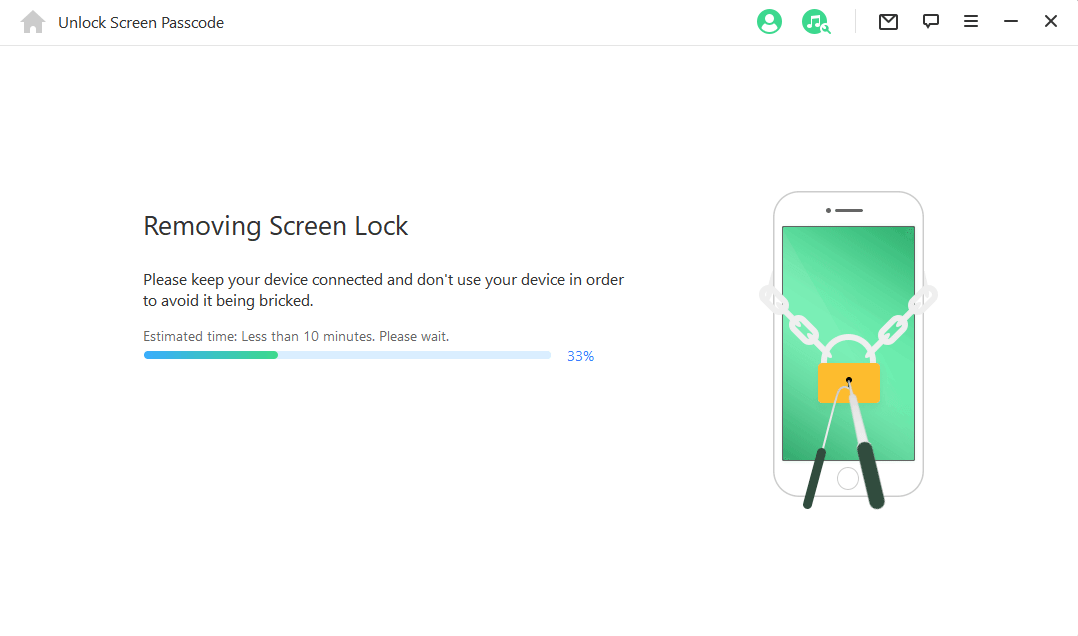 2.2 Unlock Apple ID of Stolen iPhone/iPad
Sometimes when you buy a second-hand phone, the buyer gives you the screen passcode, but after using the device, you realize it already has an Apple ID. In this case, you cannot reset the device or use some other features. Fortunately, you can also use iDelock to get rid of the ID and password.
Steps to Unlock Apple ID of Stolen iPhone/iPad Using iDelock
Step 1: Open iDelock on your computer. You need to click on Unlock Apple ID option.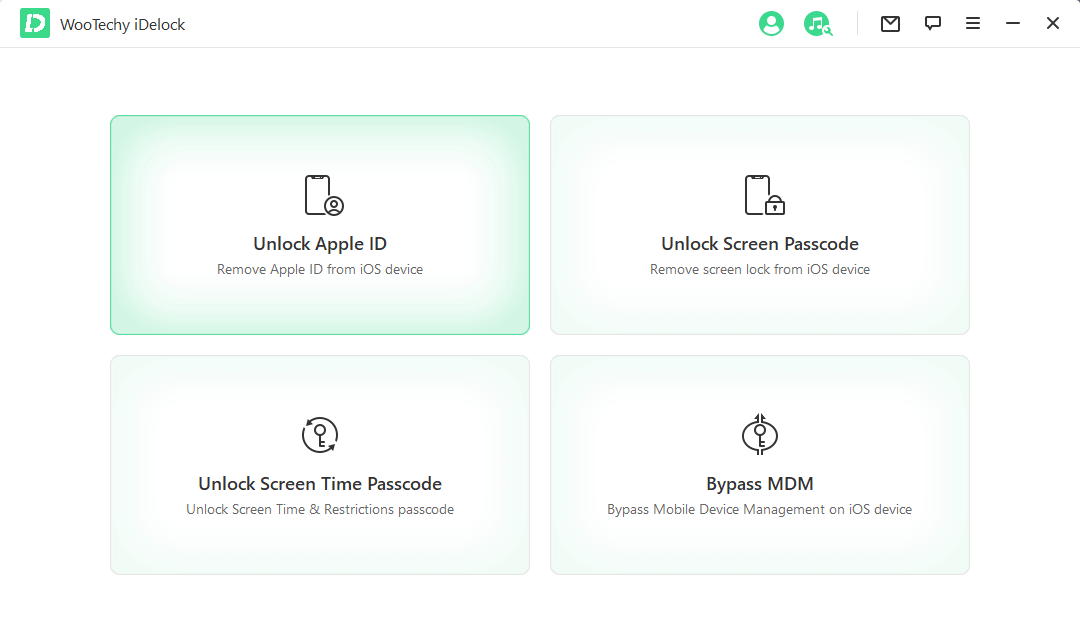 Step 2: Now, connect your iPad/iPhone to your computer and trust the PC.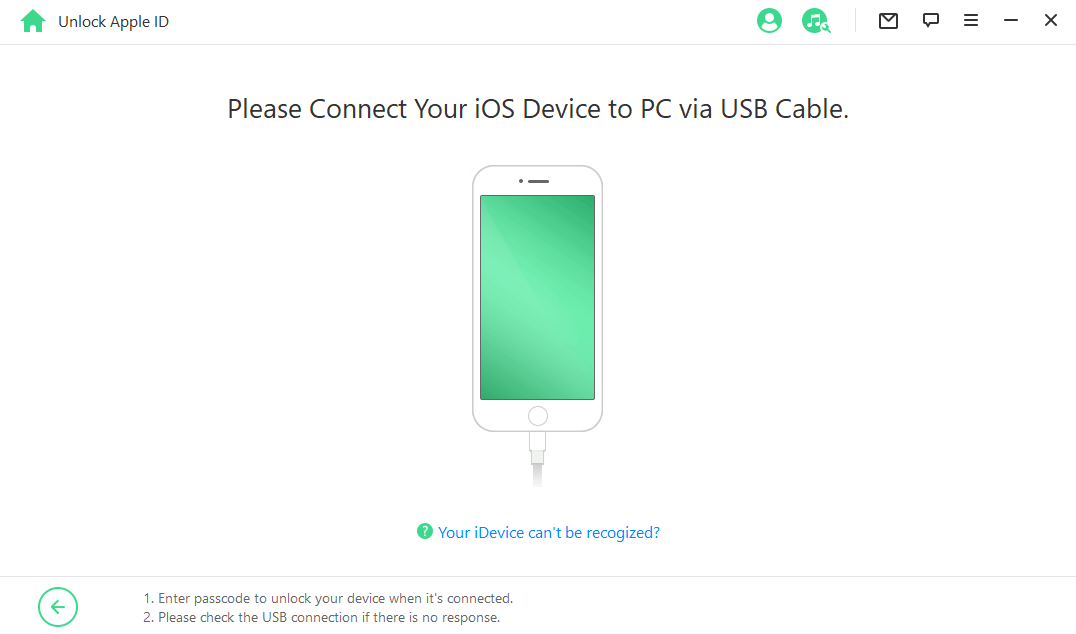 Step 3: If the Find My iPhone is disabled, iDelock will start unlocking Apple ID immediately. If the Two-Factor Authentication is enabled, you need to check the device status. If everthing is OK, click on Next.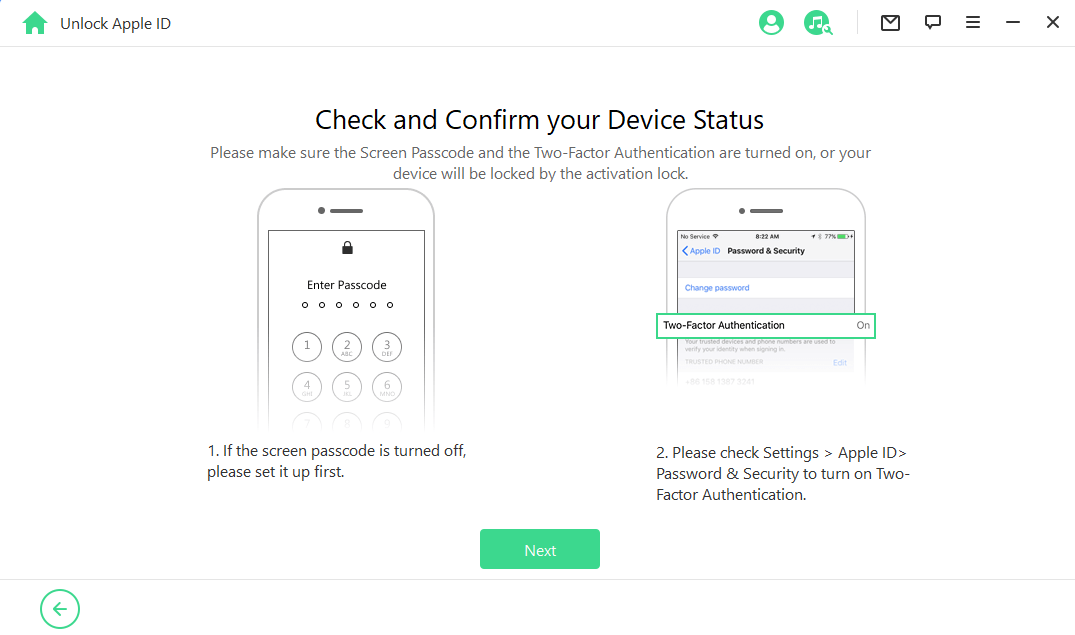 You will see a pop-up window. Please read the notice carefully and enter 000000 to confirm your action.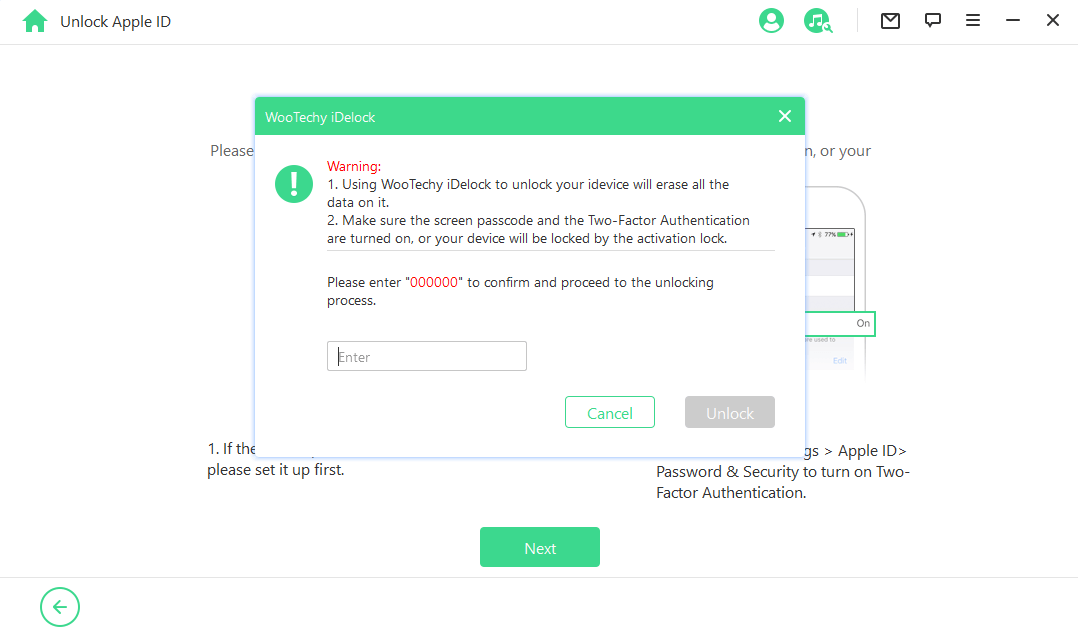 Step 4: After a few minutes, the Apple ID on your device will be unlocked.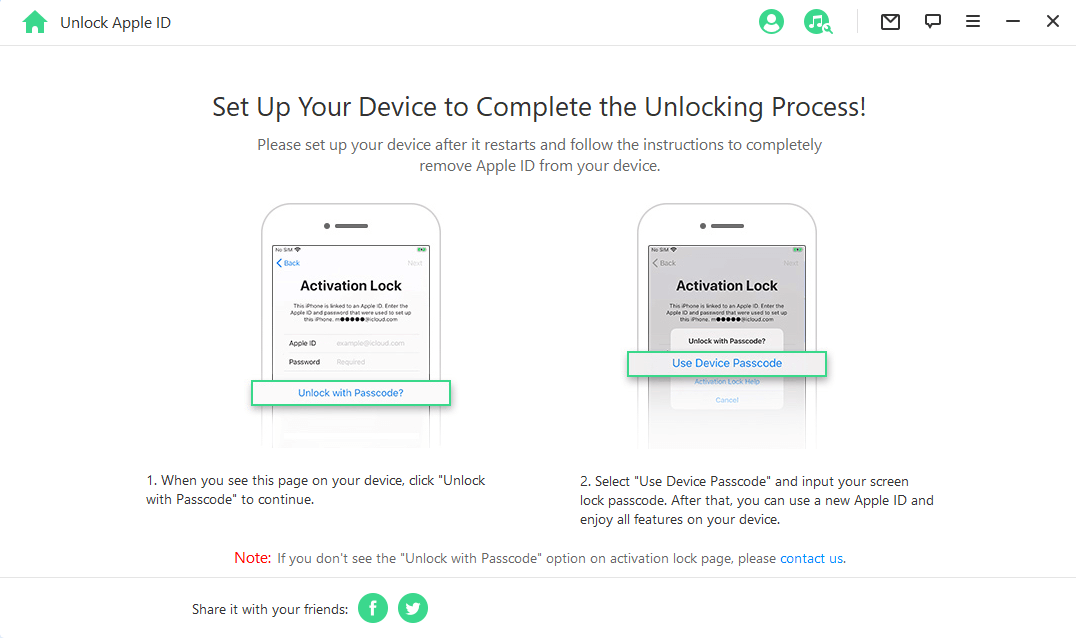 No matter what kind of iDevice locks you meet, WooTechy iDelock can help you out easily within just a few clicks. Download it to have a try and it can be your best assistant.
Part 3: Unlock Stolen iPhone/iPad Passcode via Siri [for Older iOS 8 to iOS 11]
Siri can help you unlock the screen passcode and use the device without any hassle. However, this method only works on iOS 8 to iOS 11 and can not remove the passcode permanently. Moreover, Siri should be enabled and the device is connected to network.
Steps to Unlock Stolen iPhone/iPad Using Siri
Step 1: Press and hold the Home button, and Siri will be activated. Ask, "What time is it?"
Step 2: Siri will show you the clock. Open the clock, and you will see the World Clocks set on the device.
Step 3: Tap on the + button that will be on the top right corner. Enter the name of any city in the search bar. Then, tap on Select All, and then tap on Share.
Step 4: The device will show you different options to share. Look for Messages and choose it.
Step 5: This will open the app. Now, tap on the To field and type anything. Select what you have typed and select Create a New Contact.
Step 6: You will be directed to create a new contact. Tap on Add Photo > Choose Photo. This will open the Photos application. Now, press the Home button, and you will be at the home screen. Thus, you have unlocked the device without entering the passcode.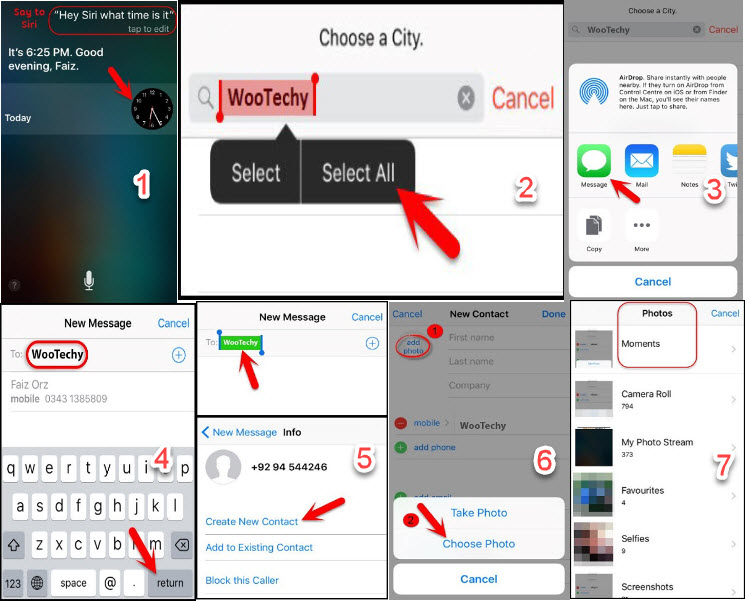 If you do not know the passcode of the iPhone or iPad, you may need to repeat this process. This method is not really recommended as it can't remove the screen lock passcode permanently, while WooTechy iDelock can remove the screen passcode to enable you reset the passcode.
Part 4: FAQs About Unlocking Stolen iPhone/iPad
Q1: How do I verify whether a second-hand iDevice is stolen or not?
It is quite easy to check whether the iDevice is reported as stolen or not. You need to get the IMEI first. Ask the seller to send you a screenshot of the IMEI number. Or you can check it by yourself in Settings > General > About. You can use any international blacklist checker, such as IMEI Pro and Swappa. Enter the IMEI number and check the status of the device. Most of the websites show the iCloud status, blacklist status, and Find My iPhone status.
Q2: How to avoid buying a stolen iDevice?
You must ask for the IMEI number and check the status of the device. If you can check the device physically before buying, make sure to check whether there is an Apple ID, MDM profile, or Find My iPhone/iPad enabled on the device. If there is an Apple ID or MDM profile and the seller doesn't know the credentials, then it could be a stolen device.
Q3: What can I do if I accidentally bought a stolen iDevice?
If you have accidentally bought a stolen iDevice, then report to the nearest police station. If the device is reported stolen, the owner will get the device back. But if it is not reported, then no one can return it. If the authorities in your country allow you to keep the device because it cannot be returned, you can then unlock it. But still, it is not recommended.
Q4: Will Apple give you a new phone if stolen?
No, Apple will not give you a new phone if stolen. Apple does not take such a responsibility.
Final Words
People accidentally buy stolen iPhones/iPads, and then they search about what they can do with them. Generally, you need to give the device to the nearest police station, and they will take care of the rest. But if the authorities of your country give you the phone because it cannot be returned, you can try unlocking it.
However, it is not recommended to unlock a stolen device. We recommend WooTechy iDelock if you want to unlock the device. It can bypass all types of locks in all iOS versions even the iOS 15. You can use it without any experience or expertise, and it takes only a few minutes. Just download and give it a try!