Apple devices require identification through your Apple ID, which stores sensitive information, including your contact and payment credentials. If your Apple ID has been lost or stolen, you cannot use Apple services like Apple Support, iCloud, App Store, iTunes Store, etc.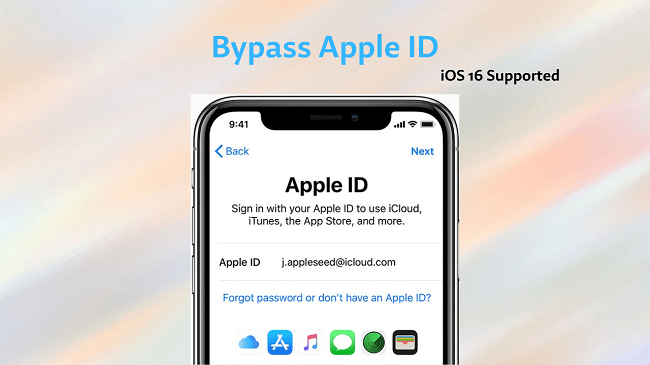 Suppose you do not know your Apple ID password or purchased a used iPhone that already has an Apple ID linked with it. An outsider could monitor and lock your iPhone. This article addresses how to bypass Apple ID in such cases. This article gives you the optimal method to resolve this issue.
Part 1: Why Your iPhone/ iPad is Locked?
If you repeatedly enter an incorrect password or forget your Apple ID login, Apple may lock or deactivate your account. The iPhone lockout system prevents unauthorized intrusion.
The previous owner's Apple ID may still be associated with the used Apple device you just bought. The first thing you need to do is to delete previous owner's Apple ID to get your iPhone work.
Also, your iCloud activation lock can be disabled using the Find My iPhone function. So, you need not worry; go over the method below to explore the fine solutions. You will find a good method for Apple ID bypass without a password.
Part 2: Is it Possible to Bypass Apple ID?
Are you conscious of how to bypass Apple ID password? The answer is yes, and it is possible to bypass Apple ID. Suppose you bought a used device or do not find the old owner of the device. WooTechy iDelock is your simple and best solution to bypass an Apple ID. With this tool, you may quickly and easily bypass your Apple ID.
iPhone's Find My iPhone app helps you find your lost iPhone. That makes bypassing Apple ID harder; thus, it can be a pain.
When Find My iPhone is active, WooTechy iDelock iPhone unlocker removes Apple ID in 5 minutes. It is simple. Let's proceed further to learn how to bypass an Apple ID.
Part 3: How to Bypass Apple ID?
1

Bypass Apple ID with iDelock [100% Sucess Rate]

WooTechy iDelock tool is a powerful and multipurpose iPhone passcode unlocker that quickly removes iPhone screen locks, Apple ID, MDM, and screen time passcode. This powerful software works on Windows and Mac.

Because of how efficient and simple it uses, it is a viable option among the many. Moreover, it may also restore your iPhone backup passwords.

Let us see some of the interactive features of this app.
Key Features of WooTechy iDelock
75.000.000+
Downloads
The WooTechy IDelock tool has an intuitive design and many useful features.

Bypass the Apple ID lock, the screen lock, and remove Screen Time and Restrictions on your iOS device.

Bypassing MDM (mobile device management) only takes three mouse clicks.

Compatible with any iOS or iPad OS version on any iPhone, iPad, or iPod touch.

Assists bypassing Apple ID lock, screen passcode, screen time lock, and mobile device management (MDM) lock on iOS devices.

Suitable for daily use at home, absolute security is guaranteed.

Simple enough that anyone can use it successfully without prior training.

A free trial is provided to all new customers.
There are not more than a handful of simple steps to follow, and no advanced expertise is required or necessary. Follow these steps to bypass Apple ID with the WooTechy iDelock.
Get WooTechy iDelock on your computer and launch it in "Unlock Apple ID" mode.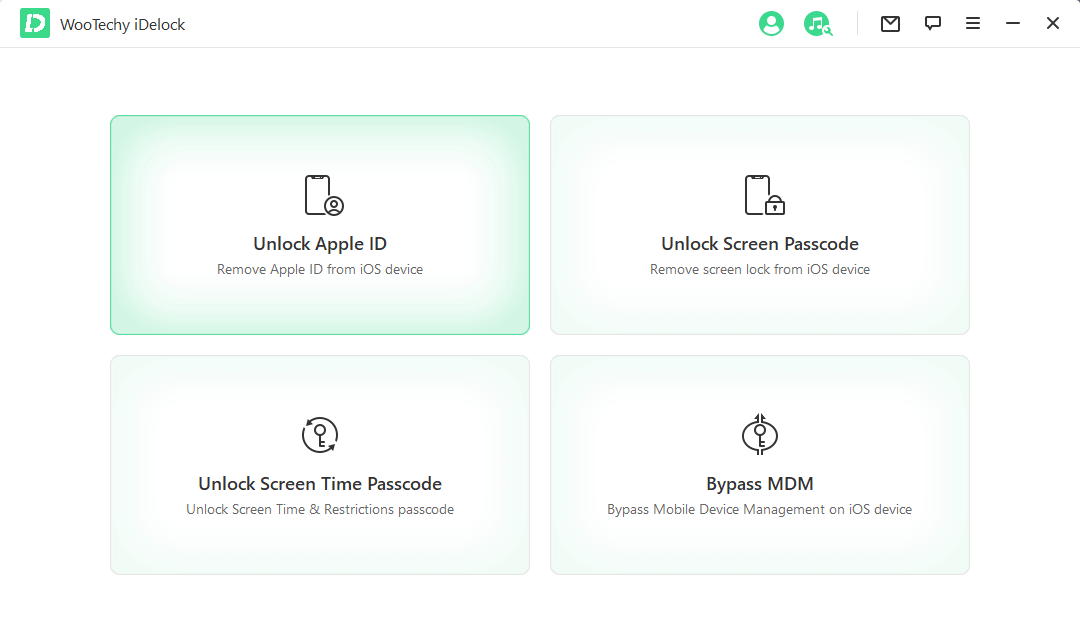 Use a USB cable to link your device to the computer, amd trust the computer. Then click "Next" to proccee.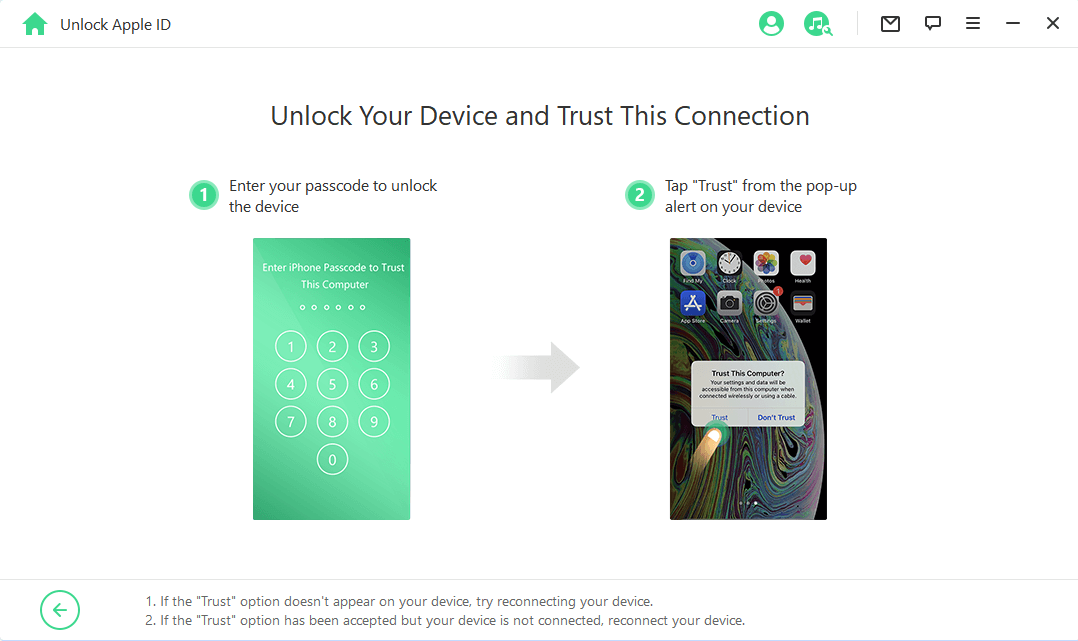 To remove the Apple ID from your device using WooTechy iDelock, follow these steps. Depending on your device's settings, there are three possible cases: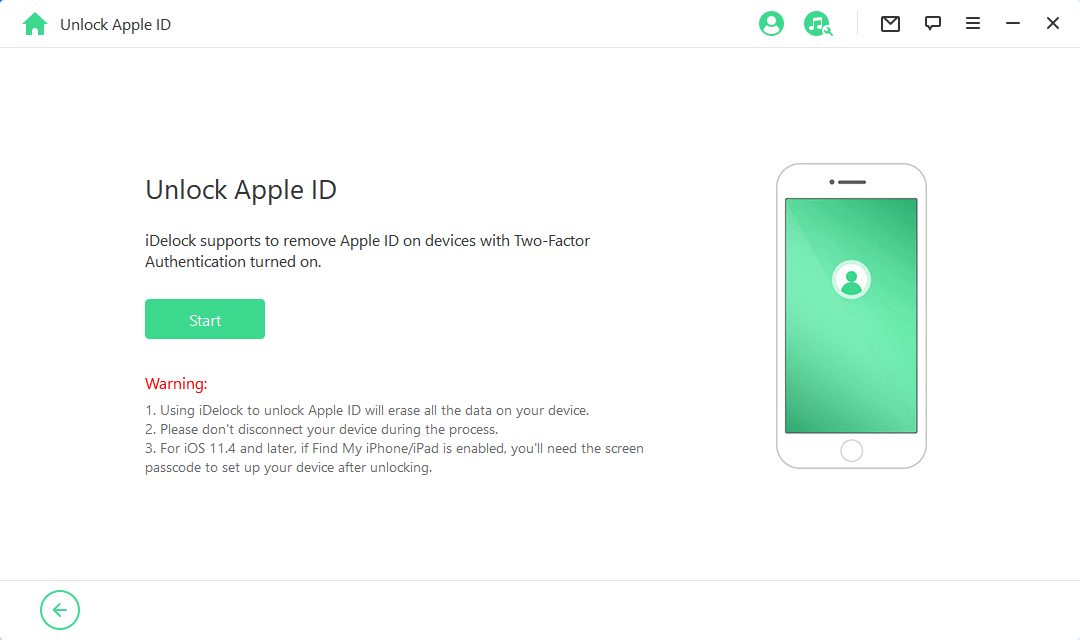 If the Find My iPhone feature is disabled, simply click Start and wait for WooTechy iDelock to automatically unlock your iPhone. The process may take a few minutes.
If the Find My iPhone feature is enabled (for iOS versions below 11.4), you will need to reset all settings on your device first. Go to Settings > General > Reset All Settings and wait for your device to reboot. Once the device has restarted, iDelock will begin the process and unlink your iPhone from the Apple ID.
If Two-Factor Authentication is enabled (for iOS 11.4 and above), you will need to take some additional steps. First, check if two-factor authentication is on by going to Settings > Apple ID > Password & Security. Also, remember to set up the screen lock passcode.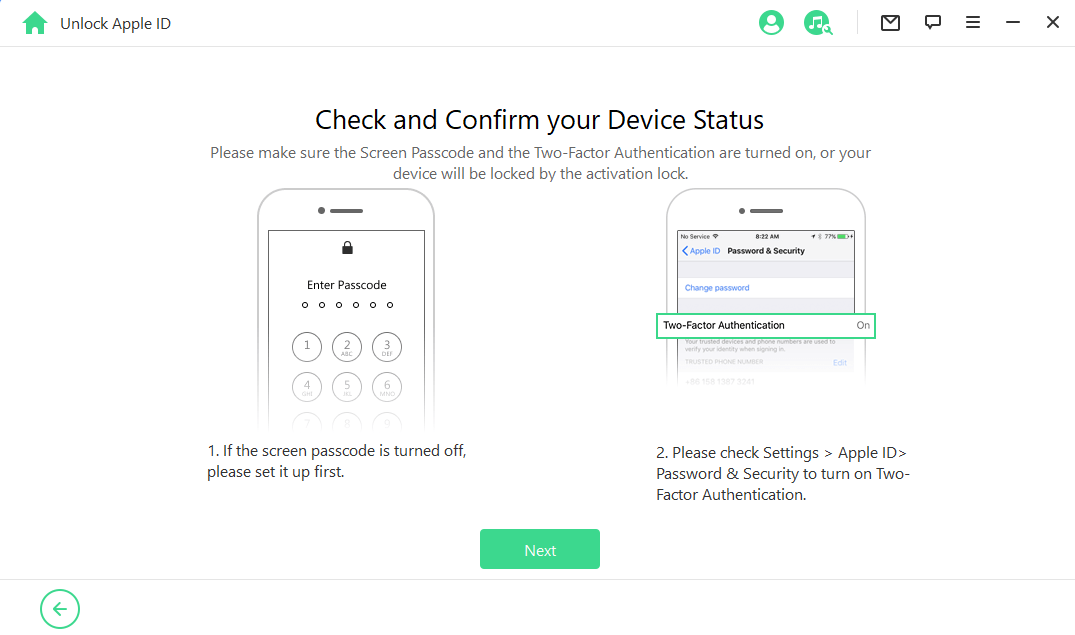 Then, after clicking on Next, enter 000000 when prompted. WooTechy iDelock will then begin removing the Apple ID from your iPhone.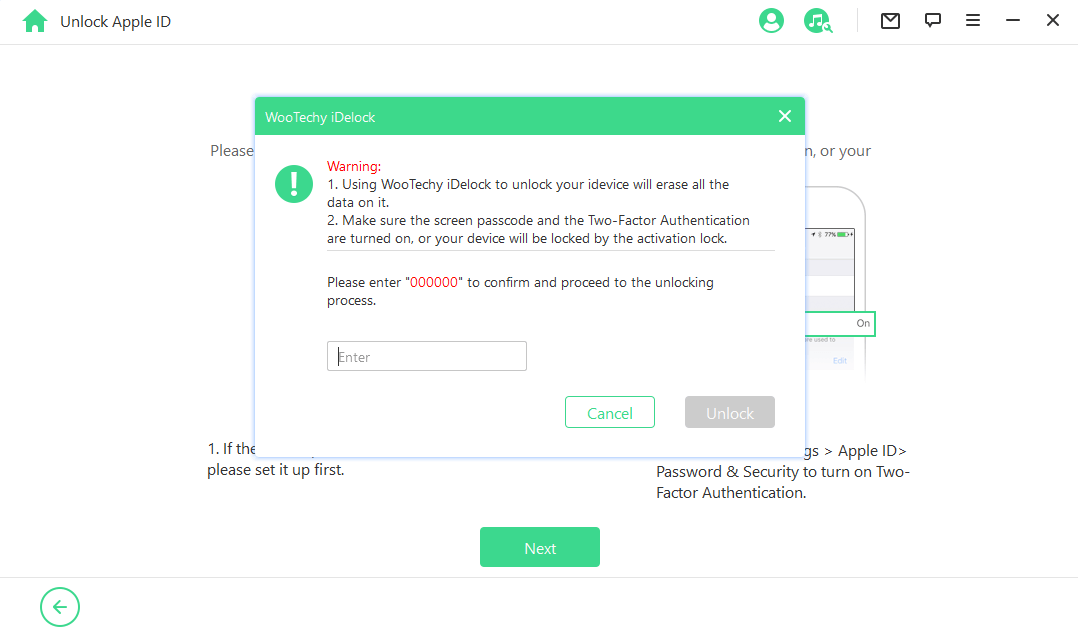 Please wait for several minutes, WooTechy iDelock will permanently delete your Apple ID and iCloud account from your iOS device.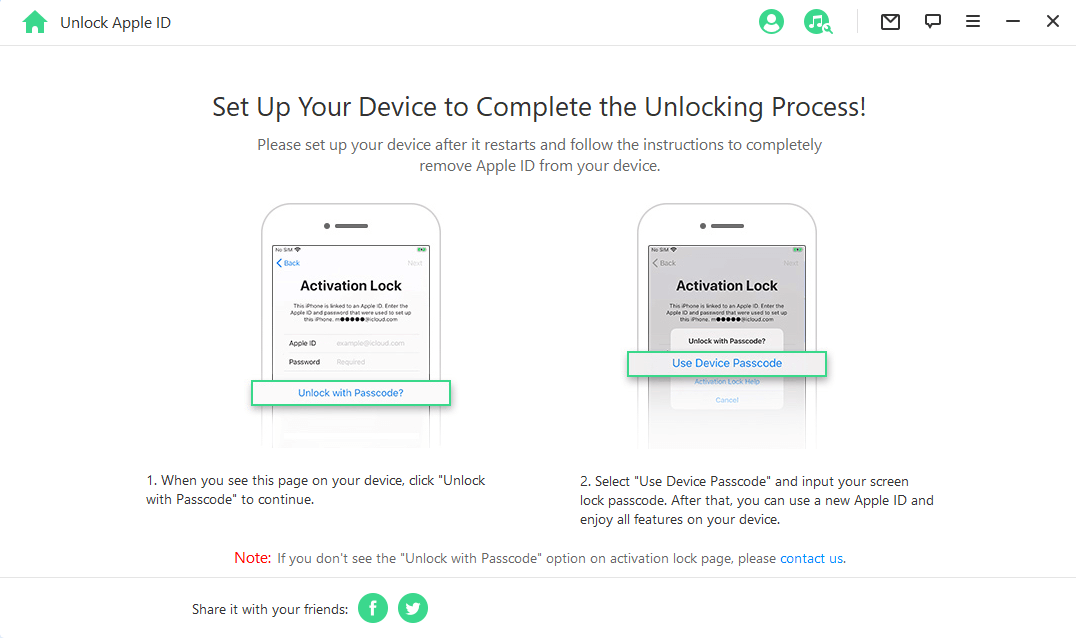 2

Bypass Apple ID via DNS Method

This method can help unlock iCloud if you can't reach the previous owner. By using it, you can disable or remove the iCloud activation lock. It's less successful. After removing the iCloud activation lock, users can only utilize a portion of their iPhone or iPad's functions, which is inconvenient. Follow these steps.

Restart your Apple device and choose your language and country.

Select "More Wi-Fi Settings." Click the I next to the Wi-Fi network.

Click "Configure DNS" and then "Manual."

Change the DNS settings to match your location.

Europe: 104.155.28.90

Asia: 104.155.220.58

Other Regions: 78.109.17.60

Following that, reconnect to your Wi-Fi network.

Return to the Activate iPhone screen and select "Activation Help."

After connecting to the DNS server, you will get a notification. Then you can access some apps and functions on your Apple devices.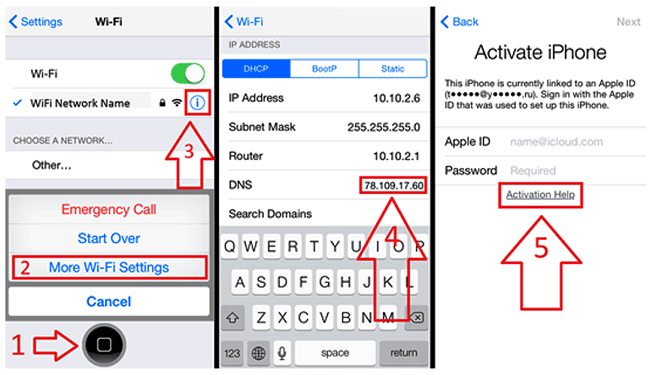 3

Ask the Previous Owner to Remove Apple ID

Suppose you have purchased a used iPhone or iPad and find that "This iPhone is Linked to an Apple ID" or it stuck on iCloud activation lock. In that case, you can remove the previous owner's Apple ID from the device. If this is the case, contact the device's previous owner. It's possible to achieve this by simply erasing the device from iCloud. You can instruct the prior owner to follow the procedures outlined below.

First, they should go to www.icloud.com and log in using their Apple ID.

Select the "Find iPhone" option.

Choose "All Devices."

Choose the device you want to remove from this iCloud account.

Click the "Remove from Account" button.

After completion, you can use your used gadget normally.

Now, you can use your own Apple ID or sign up for another.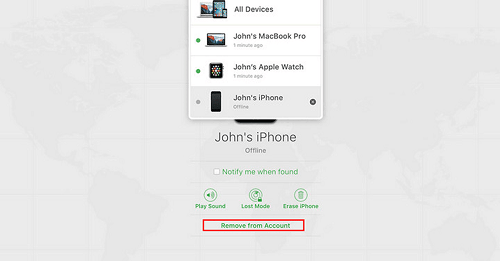 4

Ask Apple to Remove Apple ID

Some second-hand iPhone buyers ask for the purchase receipt (a receipt from an authorized vendor with the iPhone's serial number). As a result, if something goes wrong with their iPhones, customers can contact Apple Support.

You could book an appointment and go to the store if you get the receipt. Apple Help can assist you in bypassing the Activation Lock on your iPhone.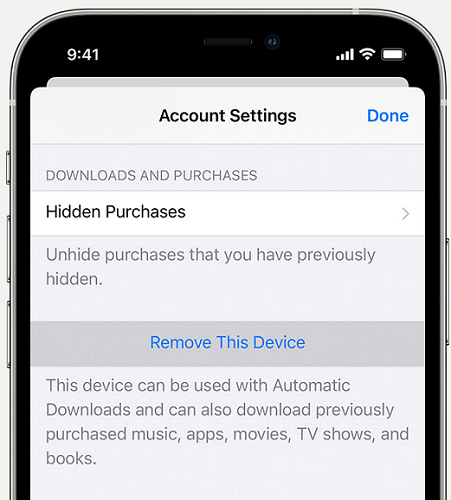 FAQs about Bypassing Apple ID
1. How do I get rid of the previous owner's Apple ID?
The best solution is to contact the old owner and ask them to delete the gadget from their Apple ID. On the Initiation Lock screen, they'll need to enter their password or use iCloud. If that isn't doable, reset the device to factory settings to delete all data, including the previous owner's Apple ID.
2. Can you bypass an Apple ID?
Asking the previous owner to delete the old Apple ID from a used iOS device is the quickest approach to bypassing Apple ID if you don't know the password. You can use your Apple ID when the old one is gone. WooTechy iDelock is the most feasible choice to bypass an Apple ID.
3. How to Prevent Apple ID from Being Locked?
If you want to avoid having your Apple ID locked out, setting up secure passwords and two-factor authentication on your Apple ID will help protect it from getting locked out.
Conclusion
The article provided feasible ways to bypass Apple ID. You can select the right approach based on the situation. A previous owner's Apple ID can be deactivated, or the device unlocked remotely using iCloud.com if you can contact them.
With WooTechy iDelock, you can unlock an iOS device without an Apple ID if you know the device's passcode. We hope that one of the solutions provided in this article will help you fix your issue.