Have you ever faced a situation where your iPhone screen shows that "This iPhone is Linked to an Apple ID" and you are locked out of it? You may have bought a seond-hand iPhone, or simply just forget the ID or password. Whatever it is, the sad fact is you cannot access the iPhone before entering the same apple id and password that was linked to it. And this sounds intimidating!
Fortunately, in this article, we have put forward some easy solution to unlock activation lock of an iphone/ipad even without password. Please continue reading this article to the end.
Why Does "This iPhone Is Linked to an Apple ID" Appear?
To put it simply, each iPhone requires a unique Apple ID. When you set up a new iPhone, it will ask you to create an apple ID or connect to a previous one, and the ID gets linked with the phone. Without it, many features of iPhone are restricted.
So, if you get an iPhone that someone has linked their Apple ID to, you will see the "This iPhone is linked to an Apple ID" message with the activation lock when trying to reset an iPhone. As the phone is already linked with an Apple ID, it asks you to enter the same ID and password to unlock the phone. You don't know the ID and being stuck now? Don't worry, there are ways to remove thelock and unlink the iPhone from a linked Apple ID without knowing its password.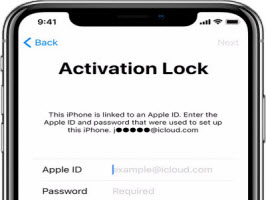 How to Bypass "This iPhone Is Linked to an Apple ID"
Following are three different methods that can help you solve the "This iPhone is linked to an Apple ID" problem, choose that one that suits your situation.
2.1 Ask the Previous Owner to Remove Apple ID Remotely
Suitable for: Second-hand iPhone
If you are not the original owner, when the screen shows "this iPhone is linked to an Apple ID" message and you don't know the login details, there is no other way to bypass it unless you use an efficient bypassing tool or you ask from previous owner to remove Apple ID remotely. If you can get in touch with the previous owner and prove that you have authorized ownership, just let the previous owner do the following steps to unlink Apple ID from the phone.
Step 1. Sign into the official iCloud website with previously linked Apple ID.
Step 2. Go to the "Find iPhone" option.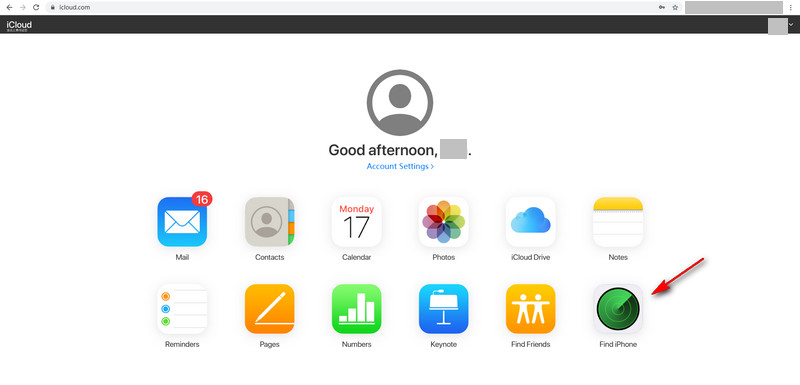 Step 3. From the "All Devices" list on top, select the device that shows the linked Apple ID message.
Step 4. Click "Remove from Account" option and follow the prompts and instructions.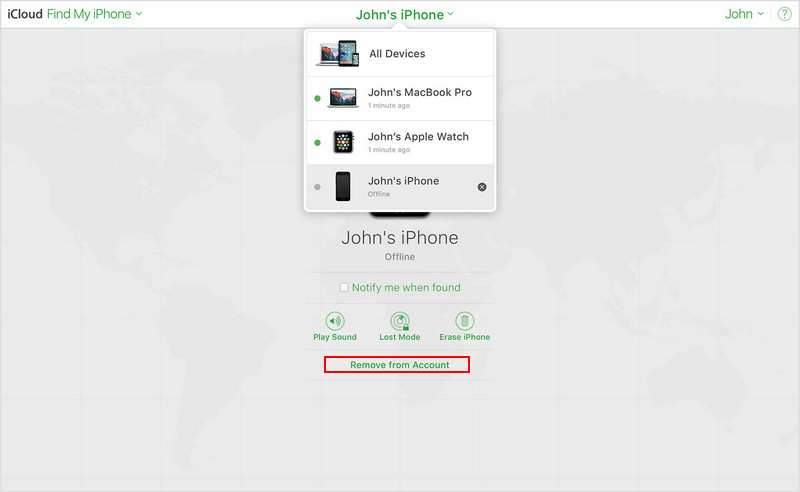 After the previously used Apple ID is removed from the iPhone, there won't be any locks. You can use it as a brand new device without any restrictions, but remember to create an Apple ID of your own.
2.2 Reset Apple Password to Remove Apple ID from iPhone
Suitable for: Your Own iPhone
If you are the owner and forget the Apple ID or password, but now you want to sell the old iPhone or any other Apple device, then make sure to remove, or reset previous locks. Here are the steps to do it:
Step 1. Open your Apple ID account page, then lick "Forgot Apple ID or password".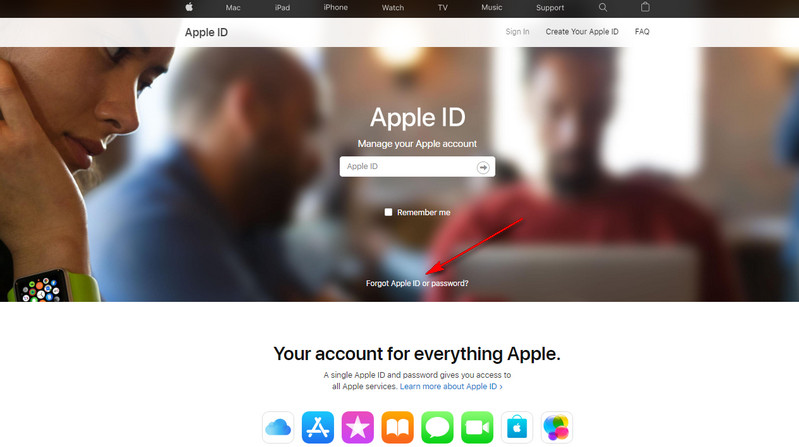 Step 2. Log in your Apple ID. If unluckily you also forget the Apple ID, chose "look it up" option. You will be required to provide some information to prove you're the owner, follow the wizard to restore your Apple ID.

Step 3. After that, enter the phone number that is used when signing up this Apple ID and Continue. You will receive a message from Apple official, just follow the instructions to reset the password to your Apple ID.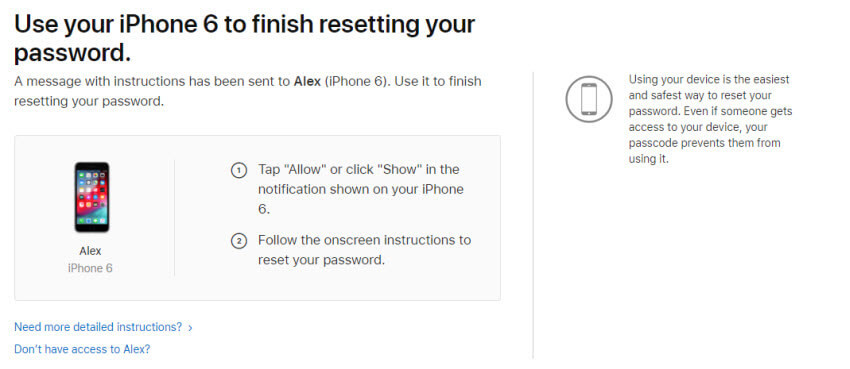 The prerequisite of fetting back Apple ID and password from the official website is al least to have access to thephone number, used account name or answers to the security questions. If you don't have any of these information but get stuck on "This iPhone is linked to an Apple ID" screen, then a reliable activation lock removal tool is your best solution.
2.3 Use An Activation Lock Bypass Tool to Remove It
Suitable for: Your own iPhone & Second-hand iPhone
As we can see, the two methods described above have some disadvantages. If you have found this lost iPhone but cannot contact the previous owner, then there is not much use.
So in this method, we'll help you to skip the activation screen showing that this iPhone/iPad is linked to an Apple ID, even without previously linked Apple ID and password. For this purpose, we recommend WooTechy iSalvor iCloud activation lock bypass tool, it is a hassle-free and efficient software to unlink your iPhone from the previous Apple ID. Except for bypassing activation lock, iSalvor allows your to remove iDevice screen locks in case you forgot.
Why Choose iSalvor:
Support iPhone 5S to iPhone X running on iOS 12.0 to iOS 14.8, widely compatible.

Bypass "This iPhone is linked to an Apple ID" sccreen without Apple ID and passwords.

You may sign in a new Apple ID and use the iPhone normally after bypassing the activation lock screen.

No worry about the iPhone being tracked or erased by the previous owner, completely safe.

The steps are simple and straight-forward, anyone can do this by themselves.
Remove "This iPhone is Linked to an Apple ID" Screen with WooTechy iSalvor
Here are four easy steps to bypass "This iPhone/iPad is linked to an apple ID" activation lock.
Step 1. Run WooTechy iSalvor
Simply install WooTechy iSalvor on your Mac or PC, it is 100% safe. On the intuitive interface, choose "Bypass iCloud Activation Lock Screen" and click on Start.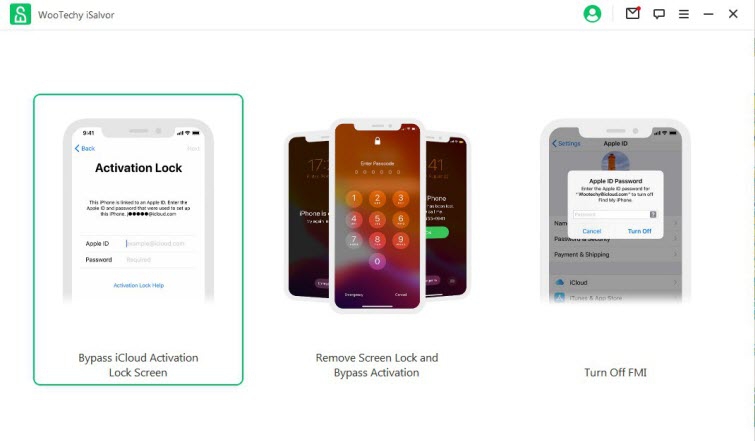 Step 2. Connect Your iPhone
Connect your iPhone with a cable to the PC. In case the connection fail, please check the option "Your iDevice can't be recognized" on the software screen and see solutions.
Step 3. Jailbreak Your iPhone
If you are using iSalvor Mac version, the software will help jailbreak your device automatically with simple operations.
For Windows, there is no jailbreak tool, but you can refer to the given Jailbreak Tutorial and follow instructions. After completion, click on "Finished Jailbreak" and proceed.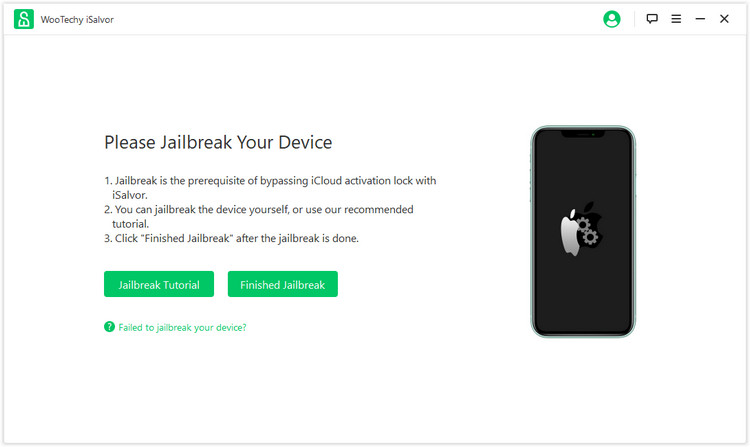 Step 4. Bypass Apple Activation Lock Screen
Just conform your iPhone information and click "Start Bypass" to start the unlocking procedure. It will automatically bypass activation lock in some time.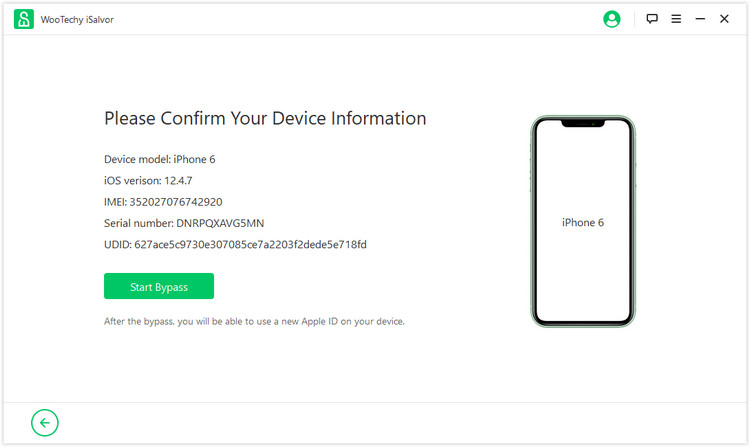 Once you can see display screen, the unlocking is successful. Now click on the Done button and enjoy using your device.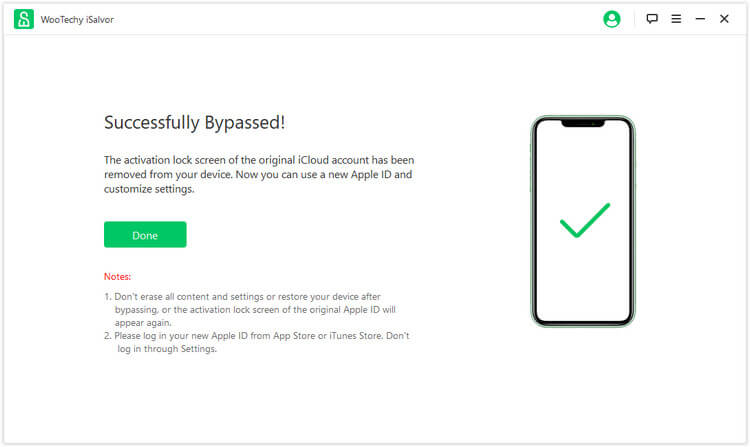 FAQs about "This iPhone Is Linked to an Apple ID"
In this section of the article, you'll find helpful tips, tricks, and answers on activatioon lock.
Q1: How do I find my Apple ID is linked to my iPhone?
A simple way is to check where your apple device is signed in. Go to settings and scroll down. Click on the device name to view relevant information.You can check where the device is trusted and can receive apple ID verification codes. Also, you can check the apple ID in the app store.
Q2: Why does my iPhone/iPad keep asking for my Apple ID?
Some Apple users have reported a problem that their iPhone/iPad keeps asking for entering the Apple ID login and password even for no reasons. Sometimes it pops up from time to time, sometimes following a iOS update, sometimes due issues with iCloud, or other reasons. Here are some common issues to to fix this issue:
Restart Your iPhone

Make Sure All Of Your Apps Are Up To Date

Sign In And Out Of Apple ID

Turn FaceTime & iMessage Off And Back On

Reset Your Apple ID Password

Put Your iPhone In DFU Mode

Contact Apple Support
Q3: Why does my iPhone keep asking for someone else's Apple ID?
The most common answer to this issue is when a person borrows your iPhone or iPad and adds his own Apple ID. He may want to download something from the app store or any other reason. To solve this issue, remove the borrower's ID from the Apple store and use your own ID. It will not appear after you remove his ID.
Conclusion
In this informative article, we have discussed the reason why "this iphone/ipad is linked to an apple ID" message appears on activation screen. In case you don't have the correct Apple ID and password or cannot find the previous owner, there is no way to skip this verification unless you use a reliable iPhone activation lock bypass tool.
WooTechy iSalvor is a piece of hassle-free software to bypass activation lock screen on iPhone/iPad/iPod touch regardless of their iOS versions. Do not hesitate to bypass "This iPhone is linked to an Apple ID" without Apple ID and passwords with the software and see the magic yourself.