We use our Apple ID for almost everything on our Apple device. Whether we want to download an app, access Find My iPhone, and other valuable tips, but what happens when we lose it or forget our Apple ID? It's not the end of the world, since we can quickly recover Apple ID passwords, and here's how.
How to Recover Apple ID Password on Apple ID Account Page
One easy way to recover your Apple ID password is to go to the Apple ID Account Page. Here you will need to go into a computer and do it. If you're ready, follow these steps below.
Step 1: Go to the Apple ID Account Page and select Forgot Apple ID or Password.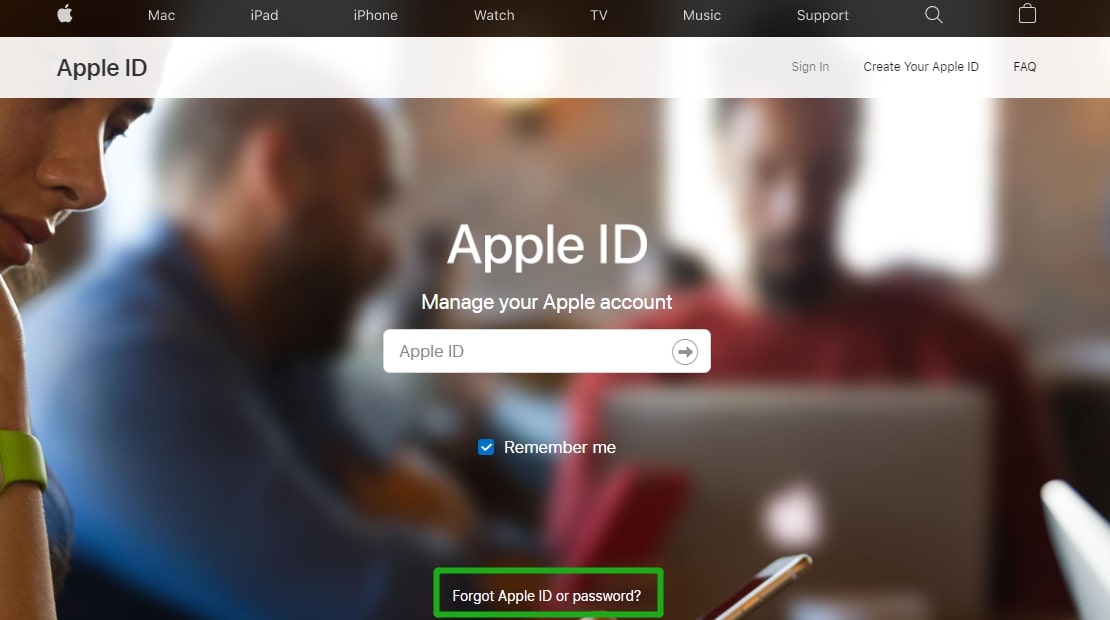 Step 2: Next, you will need to enter your Apple ID, which will most likely be the email address of the Apple account in which you're in.
Step 3: Once you input it, you can select Continue.
Step 4: You will then click I need to reset my password.
Step 5: (If you have two-factor authentication set up, you will need to confirm your phone number first.)
Step 6: Then, you will be able to choose how you would want to reset the password. You can choose between email or answering security questions.
Step 7: Select the one that best suits your needs and follow the instructions.
How to Recover Apple ID Password with Two-Factor Authentication
Usually, when you try and log in to an online service, you must enter information such as username and password.
Now, that is not considered secure due to the rise of hackers. Today to be fully secured, you can now use two-factor authentication or (2FA) in services such as applied.apple.com.
This will send a code to your registered device, and once you input the code, you can proceed with the service. However, if you want to have your Apple account recovery or your Apple ID password, follow the steps below.
Step 1: Go to apple.com and enter your Apple ID.
Type in the number associated with your account and press continue.
Step 2: Next, you will get a message from your trusted device asking you if you allow the password to be reset. You want to press Allow.
Step 3: After that, you will type in your passcode and select Done
Step 4: Lastly, enter your new Apple ID password and confirm it, then tap Done.
If You Can't Recover Apple ID Password. Unlock It with WooTechy iDelock (iOS 15 Supported)
If you're still trying to figure out how to recover Apple ID password, then using WooTechy iDelock is a great way to get over that head scratch. WooTechy iDelock is an all-in-one iOS decrypted that can help you bypass issues of Apple ID/iCloud accounts, screen passwords, screen time passcode, and much more. Besides, it now supports iOS 15, so you can use it on any devices regardless of the iOS versions they are running.
First, you will need to have a computer ready and go into their system, WooTechy iDelock. After you do so, follow the steps to recover the Apple ID password.
Watch this video to unlock Apple ID quickly:
Step 1: Launch WooTechy iDelock on your computer. And click Unlock Apple ID.
Step 2: Next, connect your device to the computer with a USB cable. After you connect, make sure you Trust the device.
Step 3: After you trust the device, click Start to Unlock.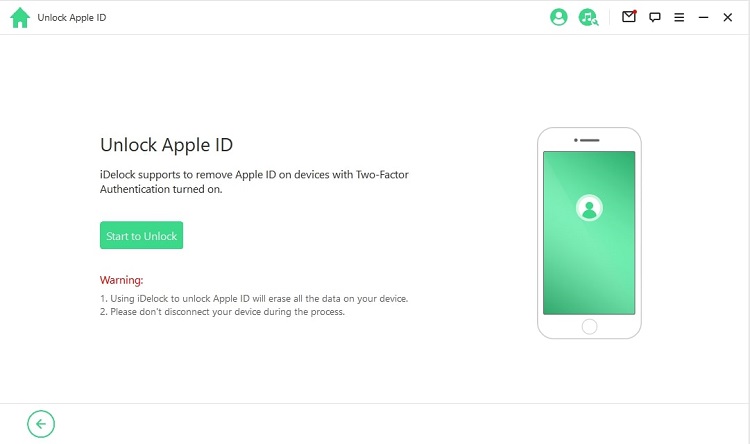 Step 4: Lastly, you will need to wait until it unlocks and follow the rest of the on-screen instructions.
You may run into some problems if you have to Find My iPhone enabled. If it's not enabled, then iDelock will start to unlock your device immediately.
However, to about disabling the Find My iPhone, you will need to:
Go to Settings then General and select Reset All Settings.

After your reset your settings, your device will restart, and iDelock will begin to work on the Apple account recovery.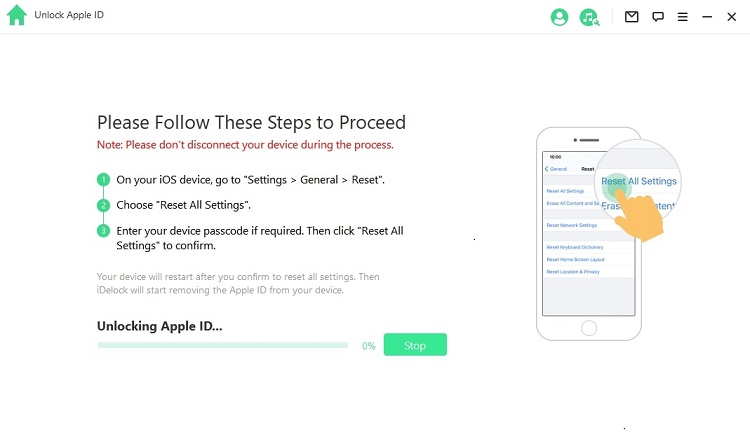 When the process is done, the Apple ID and the iCloud account will not be registered into the device any longer. So, now you will need to set up your device with a new and different Apple ID. You can also create a new one if you like.
FAQ about Recovering Apple ID Password
Q1: How Do I Recover My Apple Passcode?
To recover the Apple ID passcode, you will need to do the following:
Go to Settings.

Click on your name, then go to Password & Security and select Change Password.

If you're signed in to iCloud and have a passcode set up, you will need to enter it first.

Lastly, follow the onscreen instructions to recover your Apple ID password.
Q2: Is iPhone Passcode the Same as Apple ID Password?
No, the iPhone passcode is the passcode you will use to enter your phone or unlock your phone. This passcode can be four numbers that you've chosen, or it can be more numbers.
You will need to enter this passcode every time you want to unlock your iPhone.
However, an Apple ID password is a password that you will only need to use and input in certain situations. Such as wanting to install apps or other in phone services.
Q3: How Can I Unlock My Apple ID?
If you're using the two-factor authentication method, you will need to trust your device on the computer and reset your Apple ID password and unlock the account.
Now, if you have a recovery key, you can also regain access to your account.
Q4: How Do I Get into My iPhone If I Forgot My Password?
If you can't remember your passcode or password and input, many wrong attempts, and your device is disabled. You will need to erase your iPhone, which will delete all the data, including your passcode.
To regain the data, you will need to have backed up your device before erasing your data.
Wrapping Up
Forgetting your Apple ID password is expected because we don't use it as frequently as other passwords. However, if you happen to be one of the people that do, don't worry. Using WooTechy iDelock will have you reset your password easily.