Being an iPhone user you must have faced the "iPhone is disabled connect to iTunes" issue. If not, then you're among the lucky ones. You may be here because you're currently facing this problem and there's nothing you can do it solve it.
In this article, we'll introduce different ways that will eventually resolve this issue and make iPhone usage much easier for you. iPhone might get a little tricky to use sometimes but there is always some way or the other to help you out in an unwanted situation. So, let's begin with the guide that will help you.
Part 1: Why "iPhone is Disabled Connect to iTunes" Error?
Apple always surprises its users with some hilarious problems that leave them confused. However, we're always there to your savior in all such situations and we make sure to provide you more than one way to resolve your issue.
Recently, some of the users have been facing an issue where their iPhone is disabled due to some reason and it fails to connect to iTunes. It makes them scratch their heads that why have they landed in such a situation in the first place.
This issue often occurs due to a little irresponsibility when you often leave your iPhone with children and keep tapping the numbers in their mischief. This act might get your phone disabled. Or you might have a habit of carrying your phone in your hand and you never know when you mistouch several time and your iPhone gets disabled. In another situation, if you're a parent and want to keep a check on your kid's activities, then don't try to guess their password by making several attempts. This would take you nowhere as the phone will get disabled. All the Apple devices are disabled when you forget their passcode.
Part 2: Official Solutions to "iPhone is Disabled, Connect to iTunes"
Fix via iTunes
If your iPhone is disabled and you are continuously seeing the 'Connect to iTunes' notifications then it might be possible to unlock it but you might have to lose your data in the entire recovery process. We hope that you already have a backup to restore it. So, to fix your disabled phone, you must have a computer and a USB cable.
Connect your iPhone to your computer and then enter into the recovery mode.
( For iPhone 8 and later generations):
Press and hold on to the side button and one of the volume buttons to turn off your iPhone.

Keep holding the side button as you plug your iPhone in Mac and wait till the recovery screen appears on it.
(For iPhone 7 and 7 Plus)
Press and hold on to the top of the side button to turn off your iPhone.

Now connect your iPhone to your computer while you press the Volume keys downwards until the recovery mode screen appears.
Now locate your iPhone via PC or Mac by using iTunes12/ iTunes11/iTunes 10. The process will match to one of these versions on the PC for Windows.

After selecting your iPhone, click on the Restore option and software will be downloaded that will erase all your data.

You are now all ready to set up your iPhone and it may give you an option to restore from backup.
Fix via iCloud
If you fail to fix your disabled iPhone with iTunes then there's no need to worry because we have other options for you too. If you've already tried the above procedure and it was of no help then here is an alternative for you by using iCloud. But, you must know that this method will only be possible if you've already set up Find My iPhone and your disabled iPhone has a data connection.
You can use your Mac or any other iPhone and visit icloud.com.

There, click on Find iPhone.

Enter the password used for your Apple Account.

In a while, a map will be there showing the location of your device.

Select All Devices on the top and then choose the one you want to erase.

Click Erase iPhone.
Part 3: Fast Way to Fix "iPhone is Disabled, Connect to iTunes"(iOS 15 Supported)
If you're an iPhone user, you must know the amount of effort it requires to solve an issue. So, in case if your issue of disabled iPhone doesn't get resolved by connecting to iTunes then we'd like you to try WooTechy iDelock. It is one of the best ways to solve your issues relating to Apple products.
Features of iDelock:
1. It is very easy to use because it comes with an easy to follow user guide.

2. It is a multi-functional tool for all the iOS users as it fixes all kind of errors related to it.

3. It can resolve your issues in the quickest time span.

4. It is a perfect tool for beginners because it is easy to understand.

5. It is compatible with almost all iOS versions including the iOS 15.
You can very conveniently remove your screen passcode with the help of iDelock by following the steps given below and fix your disabled iPhone.
Steps 1: Open WooTechy iDelock, choose "Unlock Screen Passcode" in it, and then click Start to proceed. (Do not disconnect your device from your computer and remember that all your data will be erased after your password is removed.)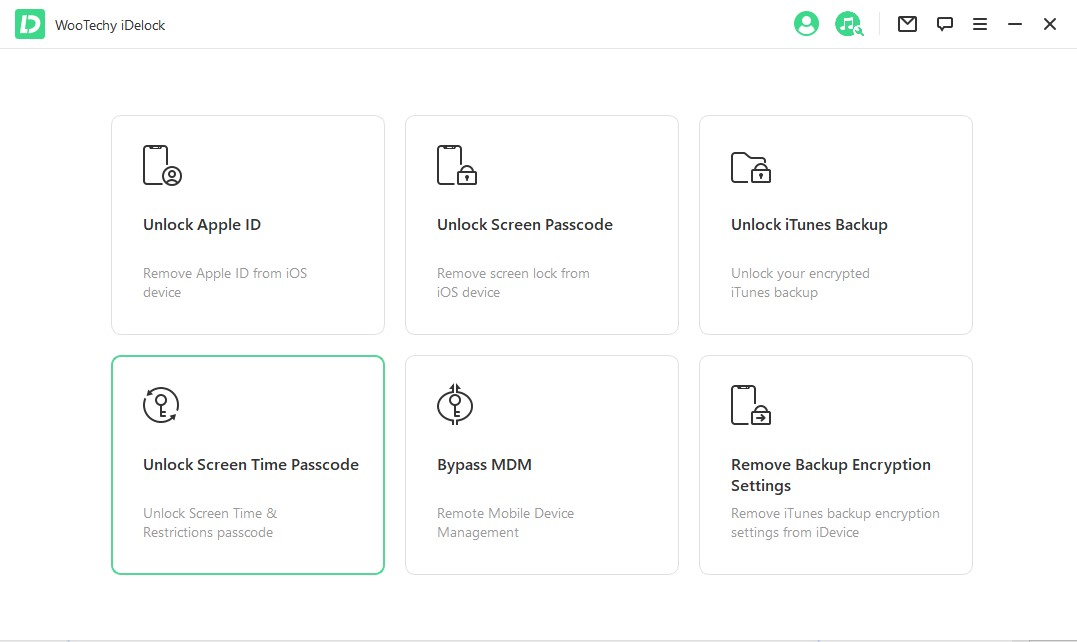 Steps 2: Connect your iOS device to your computer/Mac via USB cable and tap "Next " to load the information of your device.
Steps 3: If your device fails to be recognized then put it into Recovery mode so it can be detected.
Steps 4: The model of your device will be detected automatically so now you can select the firmware version and download it.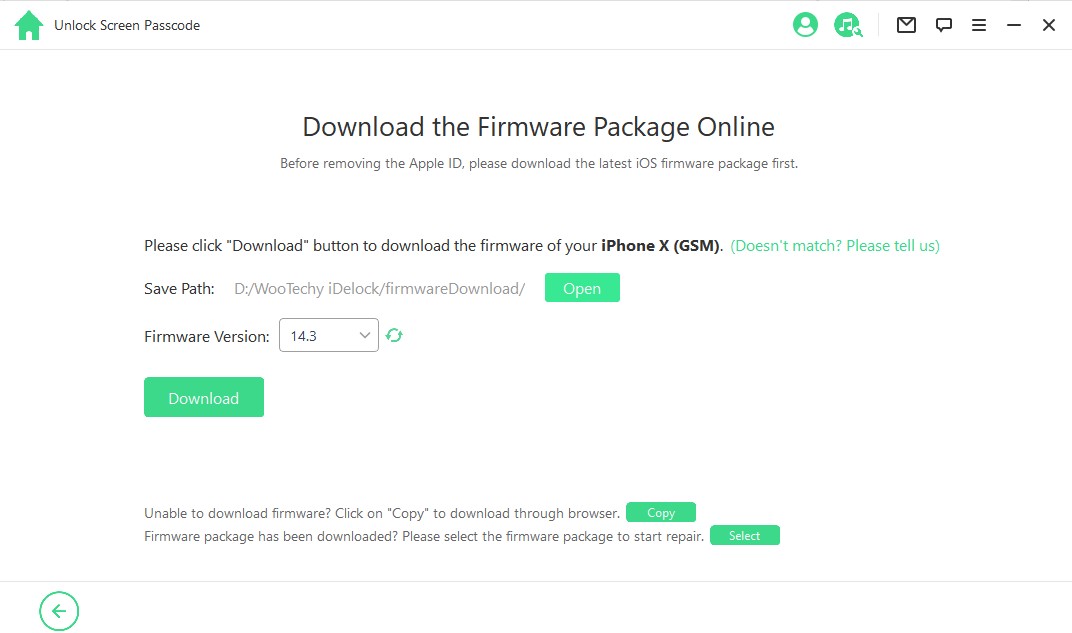 Steps 5: Verify it after the completion of download and then click "Start to Extract". Patiently wait for it to get completed.
Steps 6: Now, click "Start Unlock" to move forward and keep your device intact during this procedure.
Steps 7: Read the notification carefully and enter "000000" to reconfirm that you agree to unlock your device. Now click "Unlock". Your device will ultimately enter into recovery mode and the lock will be removed in a few minutes.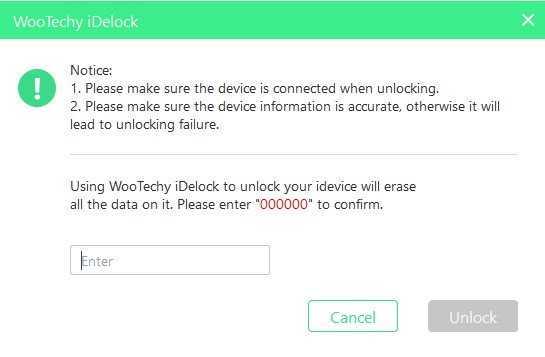 Comparison Chart of iTunes & iCloud & iDelock
| | | | |
| --- | --- | --- | --- |
| Product | iDelock | iCloud | iTunes |
| Introduction | iDelock is one of the best ways that you can use to resolve not only this but any kind of issues related to the iOS devices. You can follow its simple steps and attain your desired results in a matter of few minutes very conveniently. | Using iCloud for your disabled iPhone might be a little complex as it requires your phone to have a data connection and you must have to Find My iPhone set up in it already. Therefore, it won't work without it. | Using iTunes to fix your disabled iPhone is quite simple but the success rate is quite low. People often fail to get their desired results using this method. |
| Success Rate | The success rate is the highest. | The success rate is quite low. | The success rate is high. |
| Ease of Use | It is the easiest to follow and use. | It becomes a little difficult to keep following it. | It is easy to follow and use. |
| Official Guide | The official Wootechy website contains all the details about it. | A little user guide is provided by the previous users. | You can get guidelines about it from the internet. |
Summary
Concluding it all, it is always fun to learn new things when you're using such a complex phone. However, iPhone intrigues its users to keep digging about newer issues. But, it eventually has its solutions too. Just like to recover a disabled iPhone, you might have to go through a lot of hassle but in the end, you have an authentic way to fix your issue in the shortest time. You know what I'm talking about right? It's WooTechy iDelock! Easy to use and manage. Most importantly, it now supports iOS 15! So, which method are you going to choose to recover your iPhone back by removing its passcode?