Ever got locked out of your own phone? We all know how annoying it can be if you forget your passcode or you are simply locked out because your kid made a lot of failed attempts in the hopes of unlocking it.
Other than an inconvenience, getting locked out of your phone when you are not home can also put your data at a safety risk. All of these scenarios can be harmful, which is why it is advised to avoid these circumstances at any cost.
However, if you have been locked out of the device, it is urgent to regain access to it. Therefore, in this article, let's talk about 4 best methods to unlock your iPhone or iPad without passcode. Stay tuned!
Unlock iPhone/iPad Without Passcode via iDelock
WooTechy iDelock is software that allows you to remove not only your screen passcode but also remove Apple ID passcode, Screen Time passcode and MDM profile. It is fast, simple, safe to get the job done right. It is easily available for download from the website and supports both Mac and Windows.
Why You Shouold Choose iDelock:
Easy to Use - WooTechy iDelock has the super user-friendly interface which requires no tech knowledge at all.

Fast to Unlock - It is an extremely efficient application which takes a short time to unlock any sort of lock of your device.

Multifunctional Application - WooTechy iDelock allows the users to bypass multiple passcodes like the screen passcode, Apple ID passcode, Screen Time passcode and MDM profile.

Safe - WooTechy iDelock is definitely safe to use and promises no virus or malware infiltration.

Great Compatibility - WooTechy iDelock works well on all iOS devices and versions, even the latest iPhone 13 and iOS 15.
Let's find out in detail how you can remove screen passcode from your iPhone or iPad using WooTechy iDelock.
Here is Video Tutorial of how to unlock iDevice without passcode in 2022.
Steps 1: Launch iDelock and choose the Unlock Screen Passcode.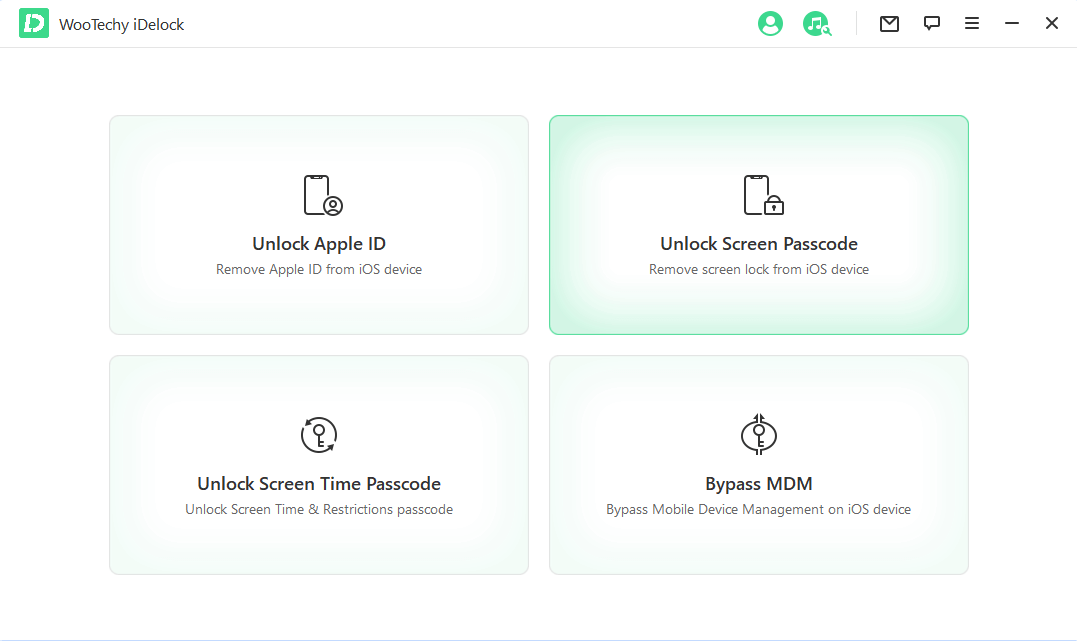 Be sure to have your device connected to the PC using a suitable USB cable.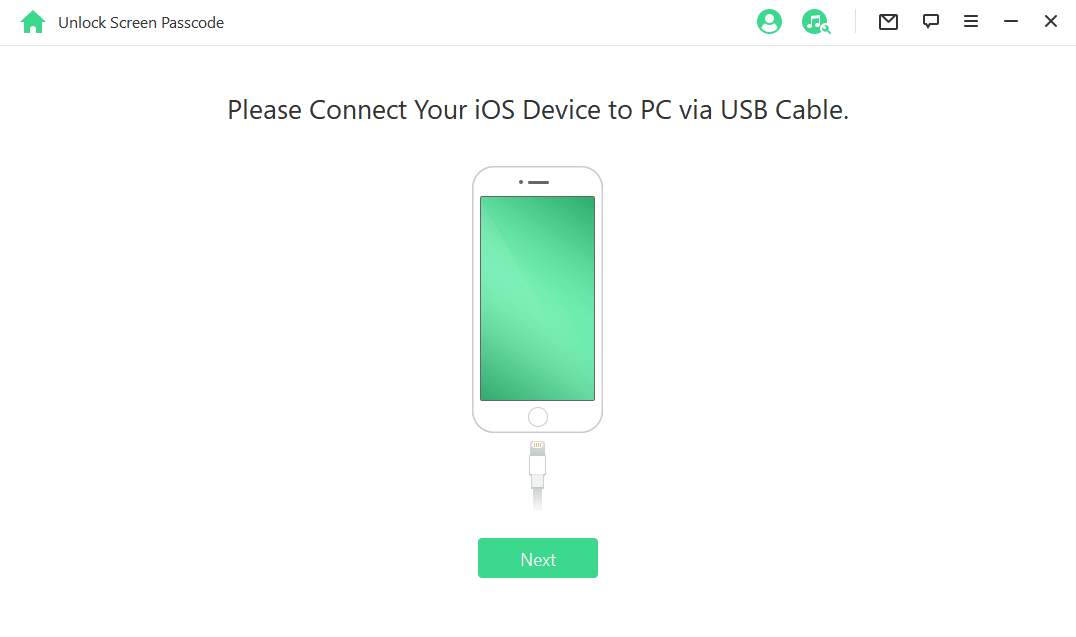 Steps 2: Once you are through, you should download the firmware provided by the program.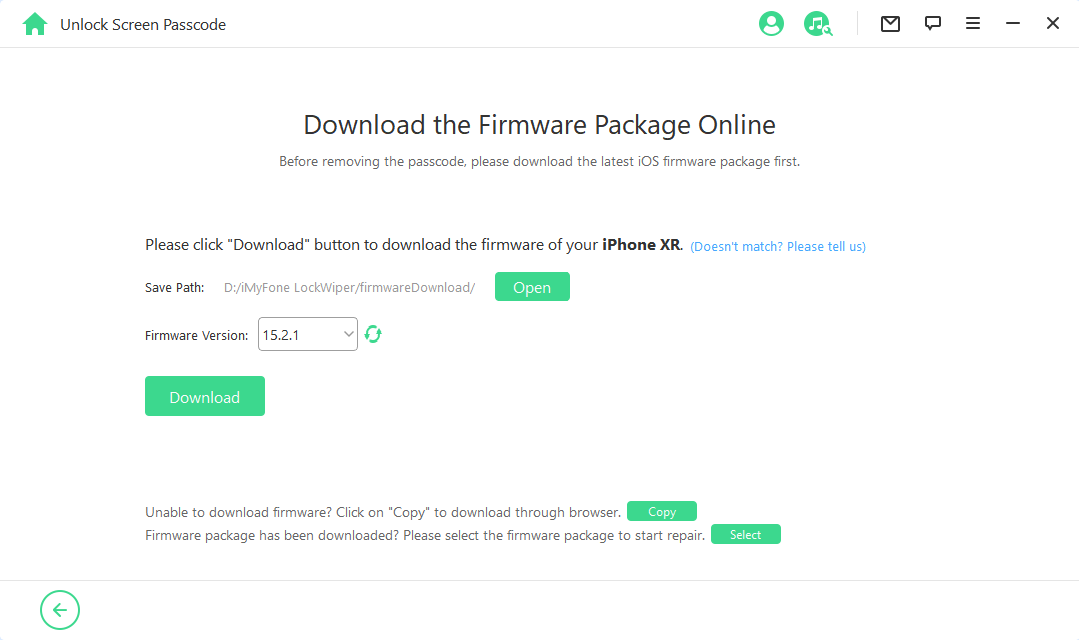 Steps 3: After the firmware is ready, click on Start and you can see a pop-up window. Read the notice and then enter 000000 to begin the process.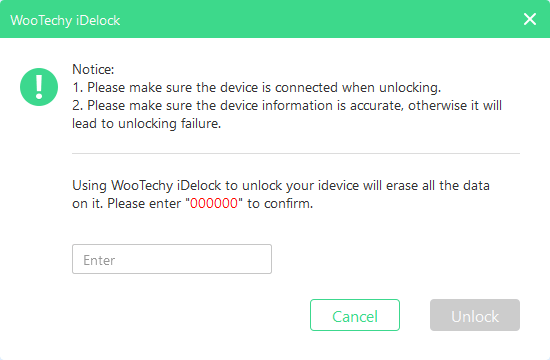 After a few minutes, iDelock will finishing removing. Then you can get a device without any password.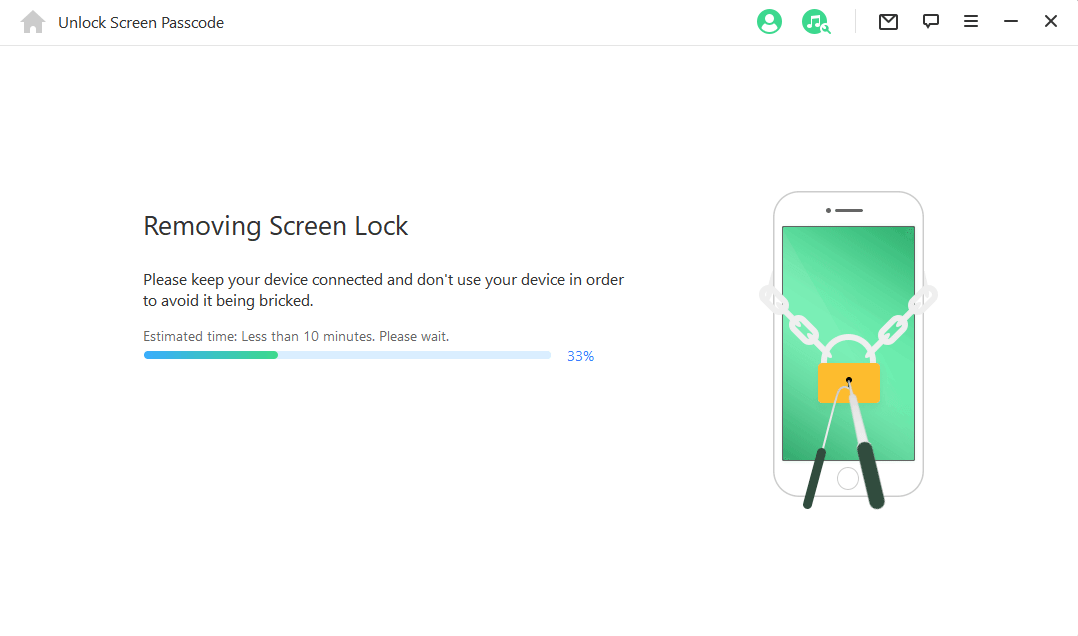 Method 2. Unlock iPhone/iPad Without Passcode via iTunes/Finder - Only for Synced Device
Factory resetting your iPhone or iPad via iTunes/Finder can be very simple and easy if you have synced your device to it before. However, it will cause a permanent data loss. You can follow these simple steps to do it:
Connect your iPhone or iPad to your computer with the iTunes/Finder app.

Once the device gets detected, you need to click the device icon on iTunes or Locations on Finder to enter the Summary section.

Choose Restore iPhone/iPad to proceed. Then follow the prompts to finish the whole process.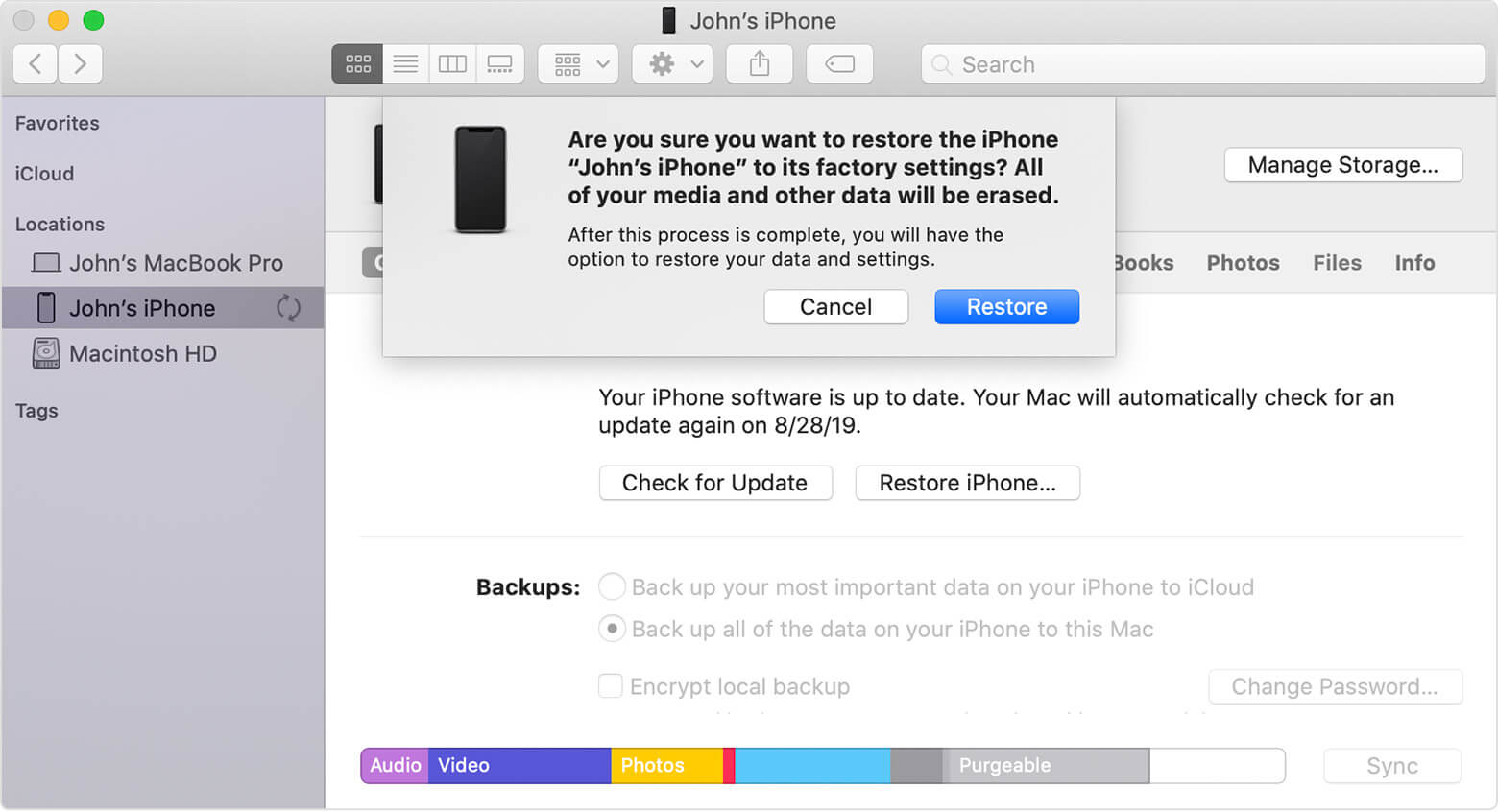 This method seems simple, but the user may face many problems to successfully remove the screen passcode from the iPhone using iTunes:
If you don't remember the password to your iPhone, you can not restore the backup as the password settings are included in it, too.

The "Find My iPhone" feature must be turned off on your device; otherwise, you won't be able to restore the device to factory settings.

If your iPhone is running on iOS 11.4 or later versions, the "USB Accessories" must be turned on.
Method 3. Unlock iPhone/iPad Without Passcode via Recovery Mode - Complicated
In case your computer does not recognize or detect your iPhone or iPad, you will need to put your device in recovery mode and restore it. Please note that this method might not work for some devices in certain circumstances such as if the device is not up to date etc. You can unlock your iPhone/iPad without a passcode via recovery mode by following these steps:
Step 1. First, update the iTunes/Finder to the latest version. Then connect your device to the computer using a USB cable.
Step 2. Put your device into recovery mode with steps below.
For iPhone 6s and earlier, iPad with a Home button, hard press and hold the Top and the Home buttons simultaneously. Keep holding until the device enters the recovery mode.

For iPhone 7/7 Plus, press and hold the Volume Down button and Side button together. Release them until you see the recovery mode screen.

For iPhone 8 and newer models, iPad without a Home button, press and release the Volume Up button and then the Volume Down button. After that, hold the Side button till you see the recovery mode screen.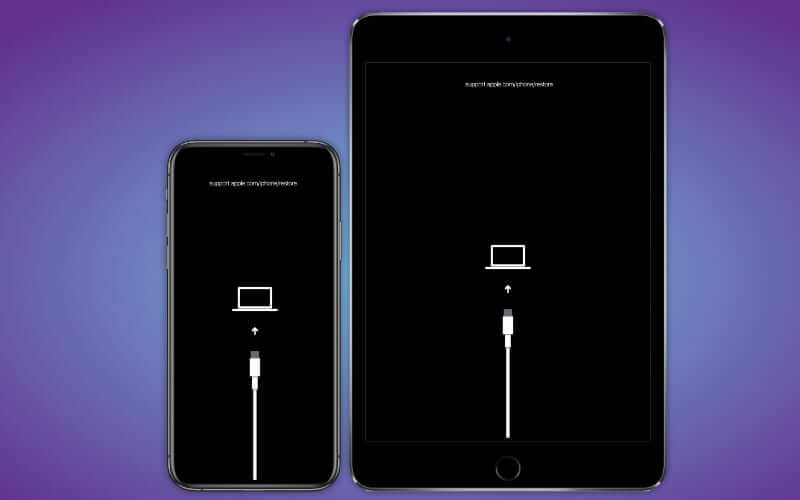 Step 3. Now open iTunes/Finder and the system should detect your device. Select on Restore to reset your device to factory settings and unlock the screen passcode on your iPhone.
Once it is complete, your device will be ready to be set up as a new device. You can restore your backups and continue using your device without the screen passcode unless you decide to put it again.
As aforementioned, this method might not work for devices that are not updated, or the process can take longer. Just like all the other methods, using this method will also delete all of your data and settings as you can not restore the backup if you don't remember the passcode.

Method 4. Unlock iPhone/iPad Without Passcode via iCloud - Apple ID Password Required
You can also unlock your iPhone/iPad without a screen passcode via iCloud. And this method will cause a total data loss as well. To do so, you will have to do the following steps:
Go to the iCloud website in a browser.

Log in with your Apple ID credentials.

Go to Find iPhone > All Devices. Then select the device you wish to unlock.

Click on Erase iPhone/iPad and the system will reset the phone to factory settings.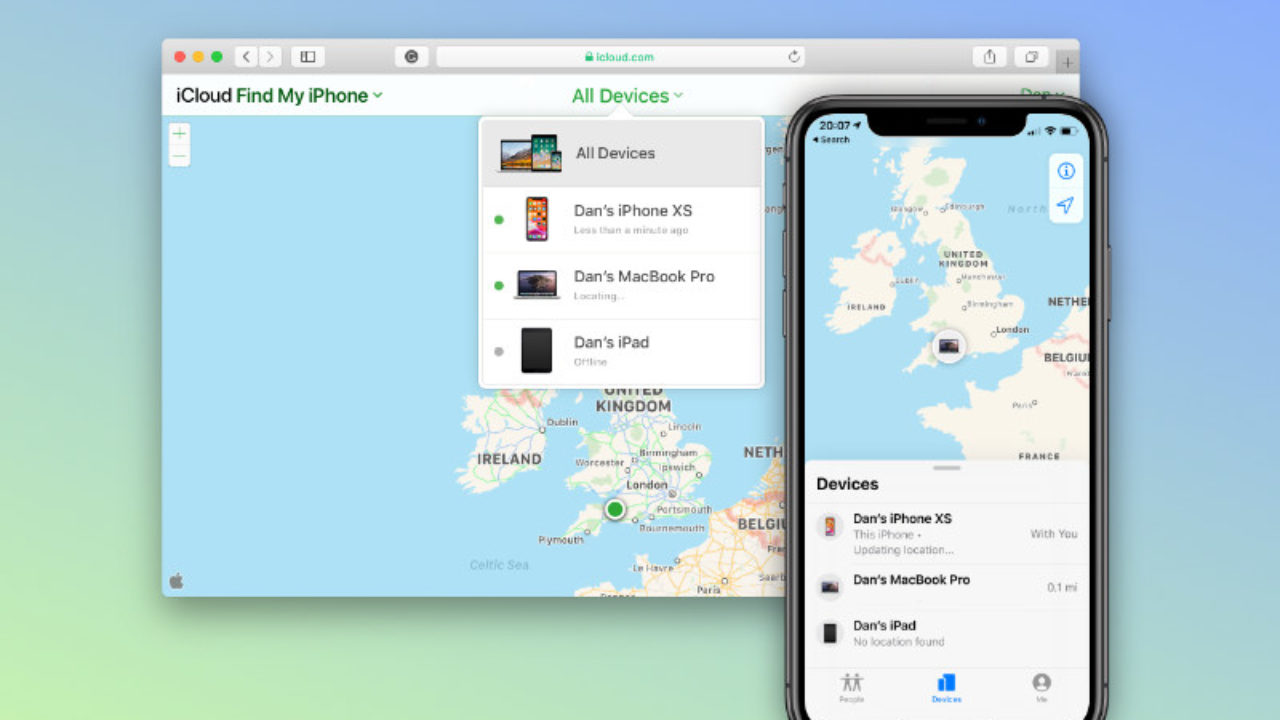 This method seems like a matter of a few steps but can become problematic if the conditions are not met to use this method. Those prerequisites are:
The "Find My iPhone" feature must be enabled on your iPhone- If the "Find My iPhone" feature is turned off, iCloud will not be able to gain access to the device.

This goes without saying, but you should know the Apple ID and password that your iPhone is linked to. iCloud will require you to log in to the same Apple ID that is on your iPhone.

Your iPhone must have an active internet connection; otherwise, the iCloud will not be able to connect to it and reset your iPhone or iPad remotely.
Bonus: Frequently Asked Questions About iDevice Passcode
1. How often should you change your iPhone passcode?
There is no hard and fast rule, and you are not required to regularly change your iPhone passcode. You can keep the same iPhone passcode as long as you keep it safe and don't tell anyone. However, it is advisable to immediately change your passcode if you feel like someone knows your passcode and may breach your privacy.
2. Does the iPhone require you to change the passcode?
iPhone does not require you to change your passcode. It is up to you if you have a strong password which is a combination of non-consecutive numbers and letters or a weak one that can be easily guessed.
3. Is there a default iPhone passcode?
No, there is no default iPhone passcode. The user can choose to have passcode or not. However, it is highly advised to have a passcode on your iPhone to ensure that no one breaches your privacy and gets hold of your personal data and information. The user can easily set up the iPhone passcode in the welcome screen when setting up the phone. This can also be changed by locating Password and Security in the Settings.
4. Will unlocking an iPhone without a passcode erase all the data?
To unlock the iPhone without a passcode requires a factory reset that will erase all the data and the phone settings, making it just like a brand-new device. Thus, it is highly recommended to have regular backups.
Wrapping up
Forgetting your screen passcode can be a hassle, but with applications like WooTechy iDelock, you can ditch all your problems regarding passcodes. WooTechy iDelock is a complete package for your iPhone or iPad. Its simplicity, fast speed, security, compatibility with iOS 15 are what give it an edge over other methods. Moreover, it is an extremely user-friendly application to bypass any locks on your iPhone or iPad.
This app not only bypasses the passcode but also eliminates any worries that you might have regarding the passcodes of your device, ensuring peace of mind and a greater experience with your iPhone or iPad. Just download and give it a try!