It's no secret that the audacity real time voice changer has been trending recently. Everyone, from adults to youngsters, wants to give it a try. You never know when a piece of voice-altering software might come in handy. They are also useful if you want to imitate a celebrity's voice exactly.
Audacity voice changer has always been the finest option when it comes to changing voices. With the Audacity voice changer plugin , it is possible to change male voice to female voice audacity. This post will provide comprehensive information on the audacity voice changer. In addition, there is a step-by-step guide on how to change voice with audacity.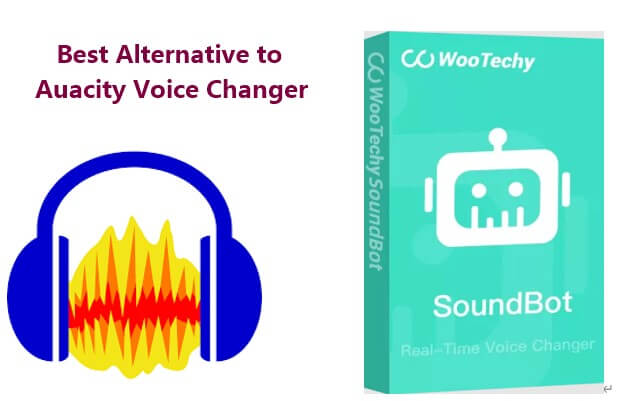 Part 1. What is Audacity Voice Changer?
Multi-track audio editing and recording have never been easier than with Audacity voice changer, a free program compatible with Windows, macOS, GNU/Linux, and other platforms.
It's a professional audio editor, so you may modify existing audio files, create new ones from scratch, and add or remove sonic effects. For in-depth investigation of frequencies, it also features graphic spectral windowing.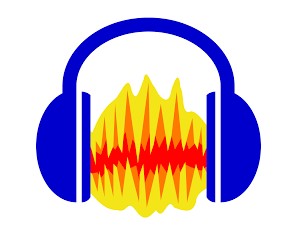 Part 2. Feature of Audacity Real Time Voice Changer
Here is a rundown of the software's most salient features to assist you in deciding whether or not to try Audacity voice changer.
Audacity offers superior sound quality. From 16 bits to 32 bits are supported by the software.
Your microphone can be used to record audio files. Audio files from other social media sites can also be edited.
With this program, modifying files is simple and quick.
A wide variety of file types can be imported and exported using audacity.
The software's user-friendly editing facilities make post-production a breeze. You can also undo and redo it as often as you like.
It can change voices either way. Therefore, you can change male-to-female audacity; audacity change voice to female is also available.
Part 3. How to Change Your Voice with Audacity?
Here are the steps to change voice with voice changer for Audacity. Actually, the steps will be a little complex, one should be careful be follow the instruction if it's the first time to use it.
Step 1 Start by opening the audio file in Audacity where you want to make the pitch adjustment. To modify a specific section of an audio file, click and drag the mouse along the track.
Step 2 Second, pick Change Pitch... from the Effect menu at the top of the screen by clicking the word Effect. Alternatively, you can select Change Speed or Change Tempo from the pull-down option. The tempo and pitch of the music will change accordingly.
Step 3 You can adjust the pitch of the sound by dragging the slider to the right or left in the pop-up box (slide left). Knowing the current anTo choices.
Step 4 When you're finished, click OK and wait a few seconds as the audacity voice changer processes the audio. You can test the modified audio by playing it upon completion. If so, you can stop working on the project now. If you aren't satisfied with the result, press Ctrl + Z (or Command + Z on a Mac) to undo the edit and start over.
Part 4. Some Disadvantages of Audacity Voice Changer
Cons
Like any program, audacity cannot tag MP3s. In audacity's tag editor, the cover art section is missing. Try MP3Tag (free for Windows) or ID3 Editor for audio file tagging.

Audacity can import MIDI files, but it lacks loops, sequencers, and other capabilities present in other music-making programs.

Audacity cannot publish or distribute; audacity only exports; there's no one-click publishing or sharing, Do that yourself. No audio editor can improve terrible audio. Audacity bugs can crash suddenly. Thus, this software is less robust and refined than other professional sound-editing tools.

Audacity cannot apply real-time or customizable effects, and before listening, you must apply an effect in audacity. You must undo and reapply to alter settings.

Audacity can record as many tracks as a single device supports, but you need special drivers on Windows or an Aggregate Device on OS X to record many devices simultaneously.
Part 5. Best Alternative to Audacity Voice Changer
Although Audacity voice change is a kind of nice option to change your voice sound like others, it still has several limitations and restrictions. So, is it there any other better alternative to audacity voice changer? Definitely, here is the best one to replace the Audacity voice changer.
That's WooTechy SoundBot, which can change your voice with more than 500 filters in real time, much more than Audacity. This funny SoundBot voice changer is in constant updates to enhance your experience. There are limitless interesting options to enable you to change your voice as you like.
75.000.000+
Downloads
The Soundboard's 500+ built-in sound effects double the pleasure, such as changing vice to a witch, Space Marine and so on.

SoundBot will provide several popular and interesting voice filters each day for 100% free. If you are lucky enough, you can use your perferred sound effect for free.

There are several ways to play sound effects: replay, cycle, overlap, and mute.

Just a few simple steps needed, you can create good key binds and use them without disturbing the audio.

It allows you to add more sound effects to the library and import your MP3 or WAV audio files.
How to Use SoundBot to Changer your Voice with 4 simple steps:
Step 1 Download, set up, and launch SoundBot. If you use it for the first time, please adhere to the setup instructions.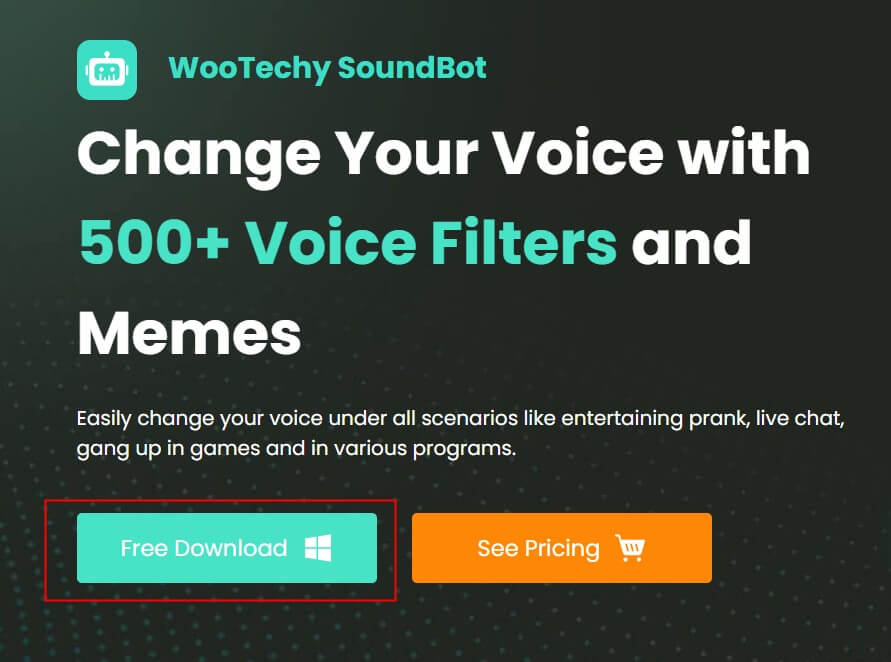 Step 2 Choose the output and input to utilize the voice changes. Put your headphones in the output device position. Assign the input device to your actual microphone.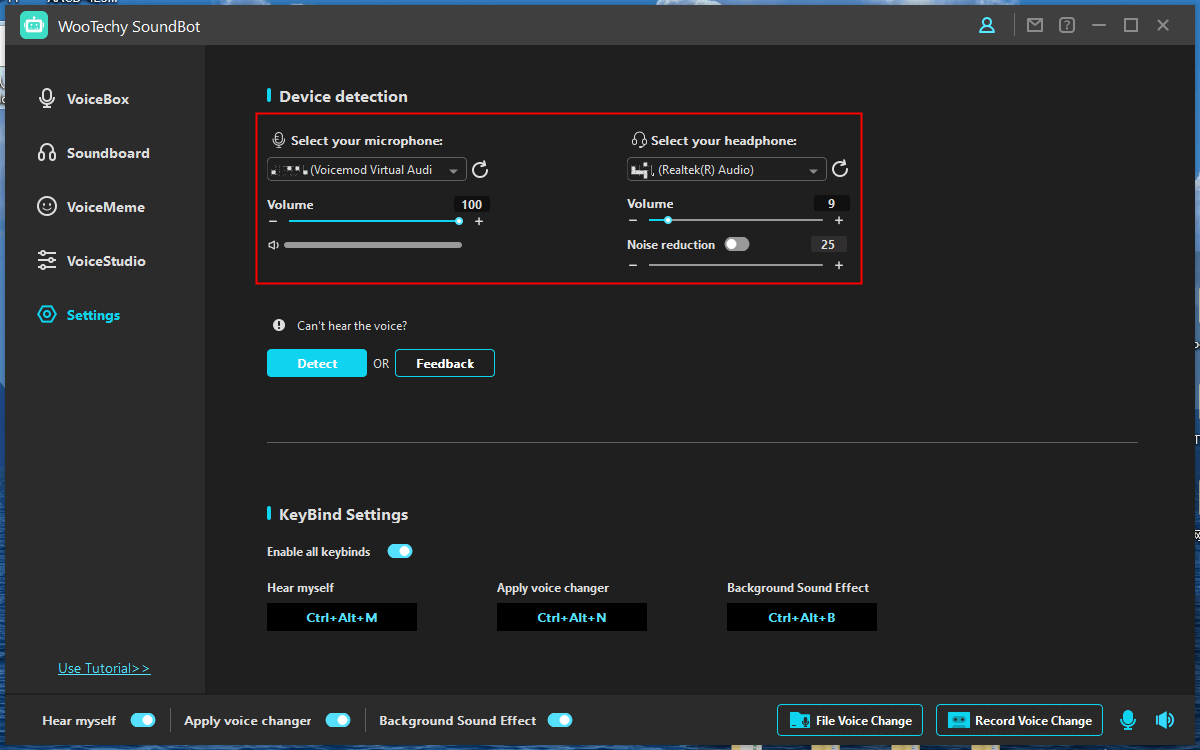 Step 3 Speak into your microphone after selecting each voice filter to hear how your voice changes.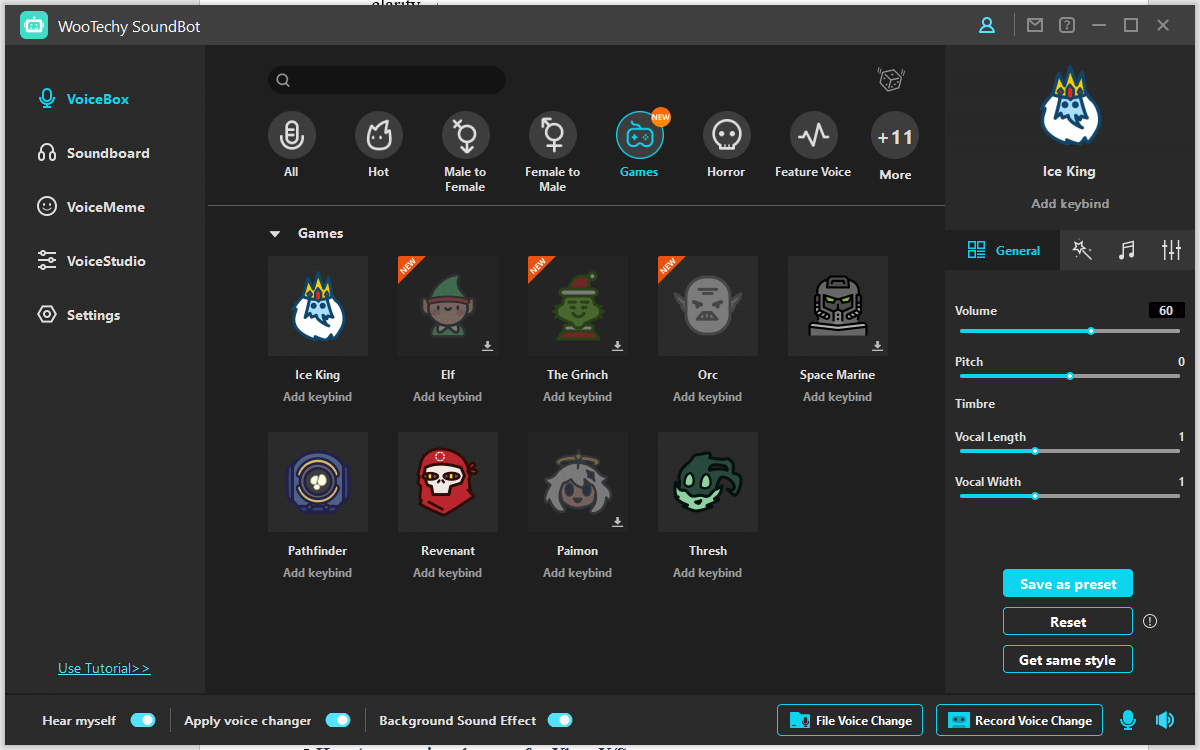 Step 4 On many platforms, including Fortnite, PUBG, Discord, Skype, Twitch, and others, SoundBot can be used. Here is a step-by-step tutorial for using SoundBot on various platforms.
Conclusion
WooTechy SoundBot is the most affordable and user-friendly voice changer currently. If you haven't used it before, click the Download Now button below to freely install this excellent voice changer. Trust me, once you use this smart voice changer, you must fall in love with it, which is 100% much better than Audacity voice changer.