There is a rise in voice changers among video makers due to increased concerns about privacy. Some users also like to add humor to the content by making funny voices. Some even want to change their voice to make it sound more professional.
Live streamers also like to use voice changer software to make their viewers laugh by mimicking them, keeping with the theme of the video, and much more.
It's not easy to find the best voice changer. Before starting, checking for features like voice effects, many voices, and a simple interface is essential.
This article lists the top video voice changers on PC, Online, and mobile. Let's begin!
Part 1: The Best Video Voice Changers on PC
For PC, WooTechy SoundBot is the best video voice changer that is recommended for content creators. Since it's pretty smart software that can change your voice, it has more than 125 voice filters, such as male, female, scary, anime, funny, or a representative from a video game.
With the voice modulator, you can change the pitch, volume, and tone of your posted audio files or newly recorded sounds.
SoundBot – Video Voice Changer App on PC
75.000.000+
Downloads
Though SoundBot is a new program, it has more voices and effects than any other voice changers.

More than 400 sound effects and more than 200 voice memes add to the fun in your videos.

More than 400 sound effects and more than 200 voice memes add to the fun in your videos.

SoundBot can be integrated with any video editing programs to do voice over with numerous effetcs.
WooTechy SoundBot can also change your voice in your live videos to increase followers. It has the high-quality voice changing effects and features noise reduction. Therefore, you can ensure your voice changing quality in your video.
How Can I Change My Voice in a Video?
Step 1 The first step is downloading the WooTechy SoundBot and installing it on your PC.
Step 2 To use the voice changer, choose output and input and set your headphones as the output and your mic as the input. After you set the input and output, a pop-up will tell you the setup is done.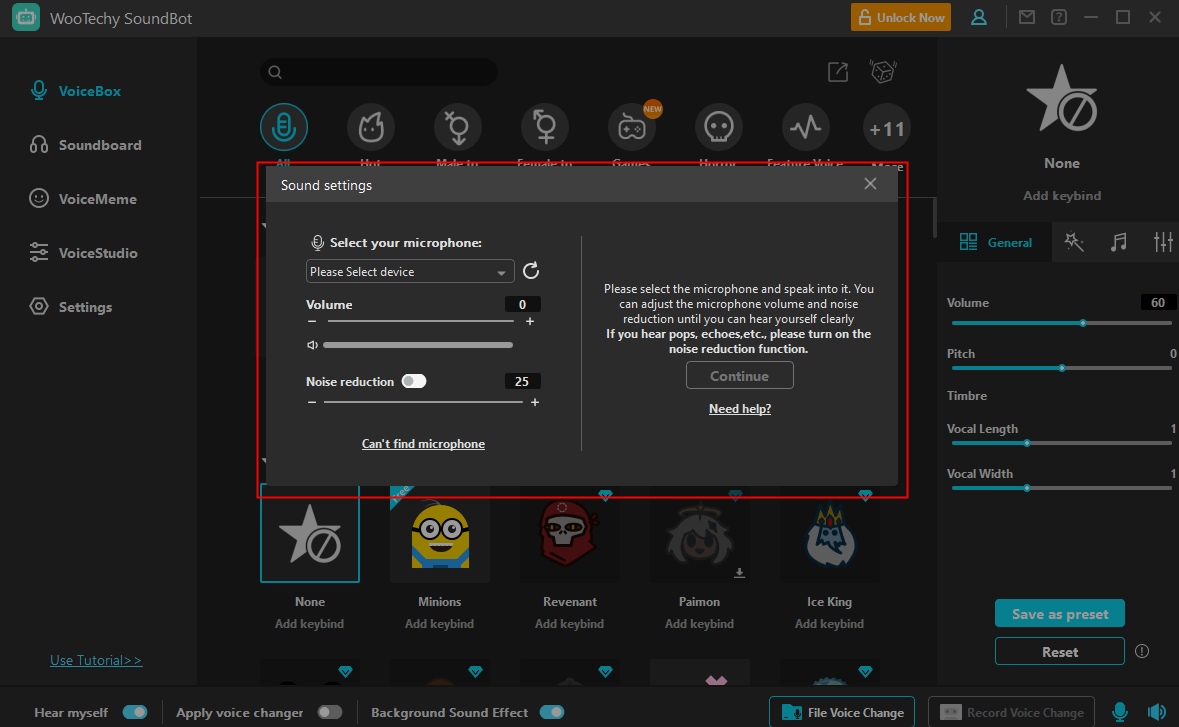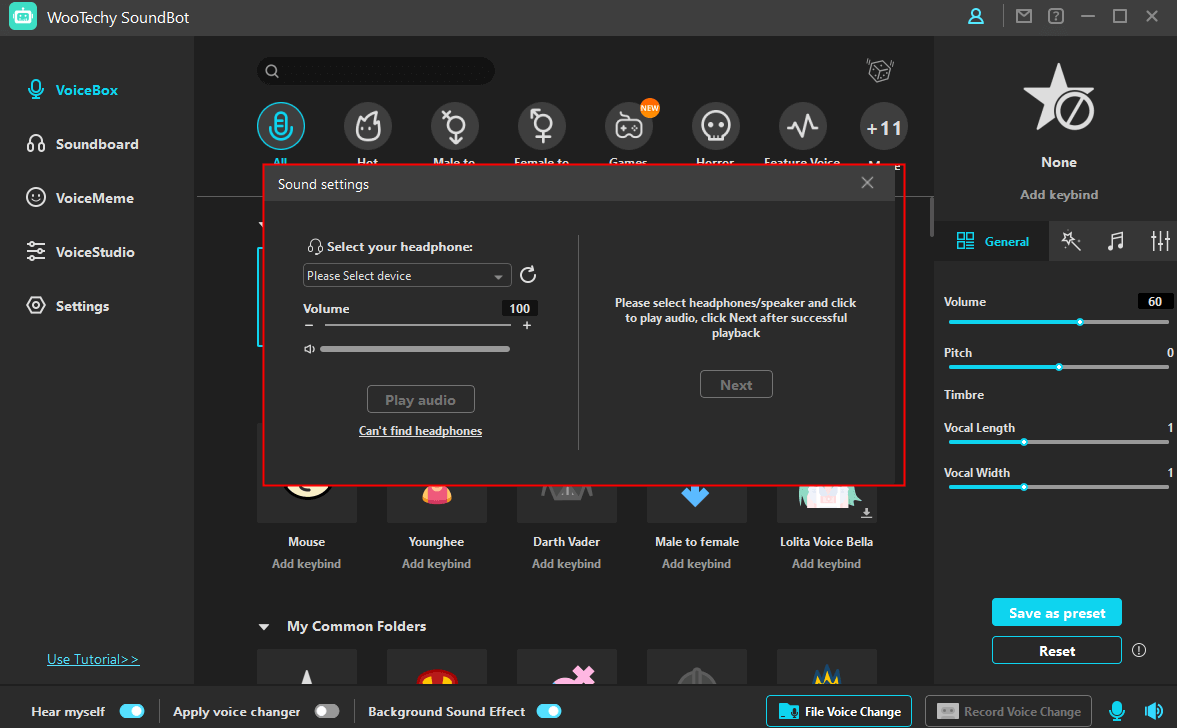 Step 3 Choose File Voice Change tab at the bottom and import your MP3 video or other formats of audio tracks from your video.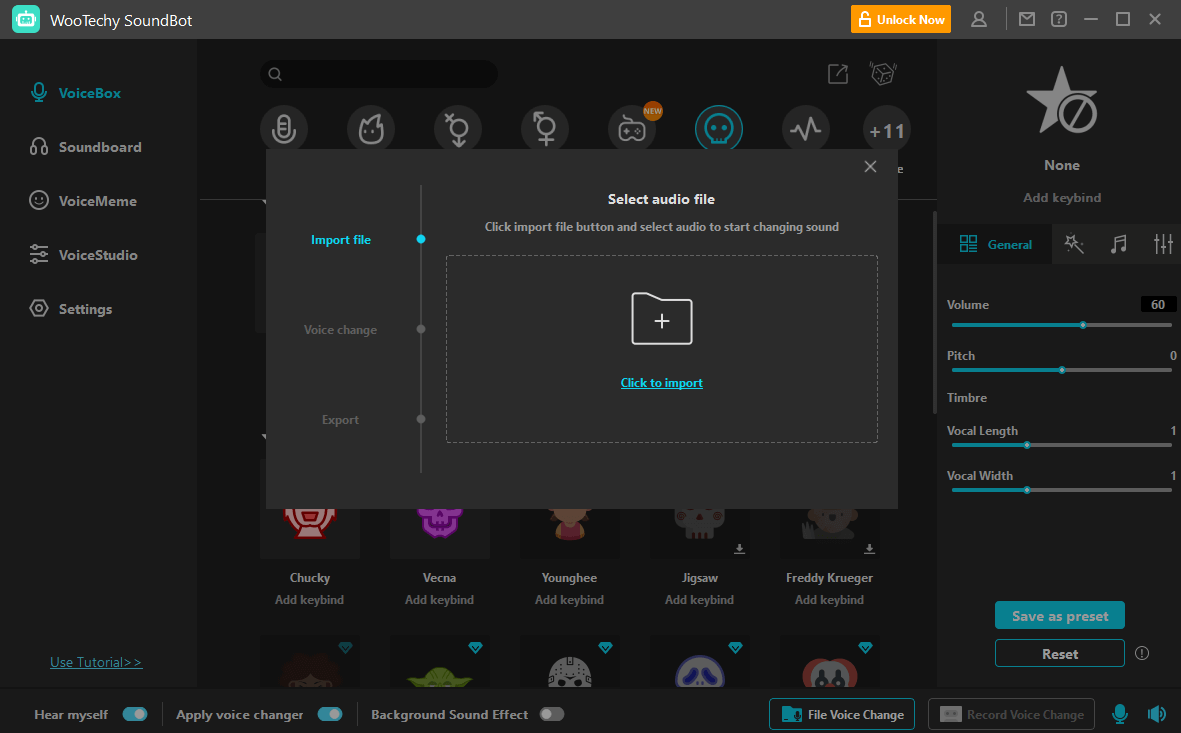 Step 4 Select the voice you want to change for your video or audio track. Then export it to desired location. Now the voice is successfully changed in your video.
Part 2: Video Voice Changers Online
1. VoiceChanger.io
Voicechanger.io is a full-featured, real-time voice changer powered by artificial intelligence. Its' creators focus on building an advanced voice changer that can work with Zoom, Discord, and all other games and apps.
You can easily change individual aspects of your voice, like timbre, pitch, and accent.

Voice can be fully transformed into that of your favorite fictional character.

You can create your customizable AI-powered voices.

There is a built-in text-to-speech option if you don't want to use your voice.

You can use the output audio freely.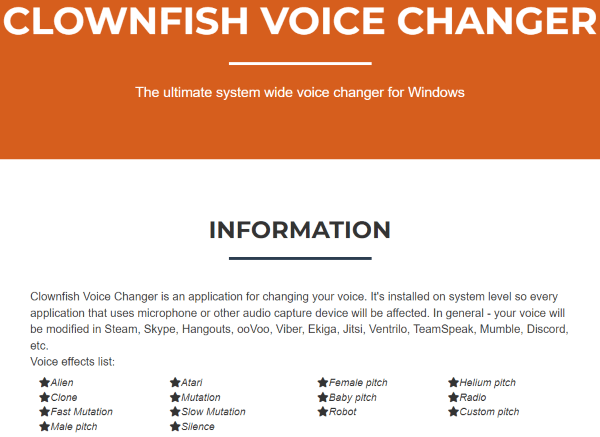 How to Change Your Voice Using Voicechanger.io?
Visit the website voicechanger.io.
You can choose an audio input method by uploading the audio track of your video or by using the microphone.
After uploading, you can play or download a voice by clicking on one of the icons.
2. Media.io Online Voice Changer
The audio and video industry always welcomes creative content. Media.io online voice changer can change your voice to a robot, girl, or demon, making it sound amusing. It modifier lets you turn your voice into different pitches automatically. It is an excellent and funny voice-changing tool.
Media.io offers large filters to change your voice and experiment with your creativity.

It uses an advanced AI algorithm to improve working efficiency.

It supports all audio files, including MP3, MP4, OGG, AU, MOV, VOB, MTS, and M4A.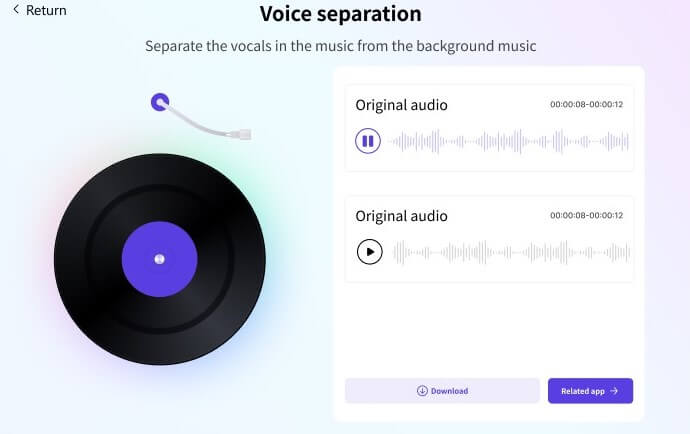 How to Change Your Voice Using Media.io Online Voice Changer?
You can upload your file to media.io using the Choose Files option.
Choose the voice effect that you wish to use to suit your needs. You can preview the voice to check whether you like the output voice and then make changes accordingly.
You can download your video via drive or Dropbox.
Part 3: Video Voice Changer on Mobile
There are a variety of video voice changer apps available for use on smartphones. Here are the two best options:
1. Video Voice Changer FX
Video Voice Changer FX is a simple program that can change your voice and edit videos. The list of voice effects is easy to comprehend and includes features like chipmunks, men's voices, women's voices, and more. It's great for short videos like Youtube reels.
This app works on Android devices.
You can change your voice in an Android video.

You can record a video with it or pick one from your phone.

Live effects can also be turned on and off while the video is playing.

It gives you 7+ different voice filters, such as helium, devil, and robot, to change your voice.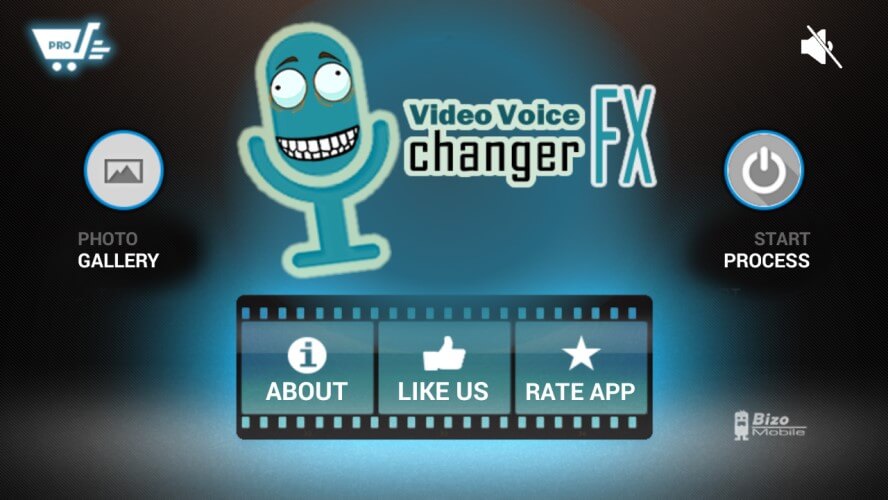 2. Video Voice Changer- Fun Editor
With a video voice changer or Editor, you can choose a video and trim it or leave it as is, depending on what you want to do. If you want to cut the video, a copy is made, and the audio part is taken out of this copy.
On the list of voice effects, you can hear men and women of different ages. You can choose voice effects from the list and change the sound file. Then, you'll be asked to check the audio for changes or go straight to making the video. The end effect is amusing and entertaining, to be sure.
You can record your video and voice or choose a recording from your album.

Add your voice to the videos and photos you like.

There are more than 30 voice effects and background noises to choose from.

Post the finished video on Vine, Instagram, Facebook, email, and other places.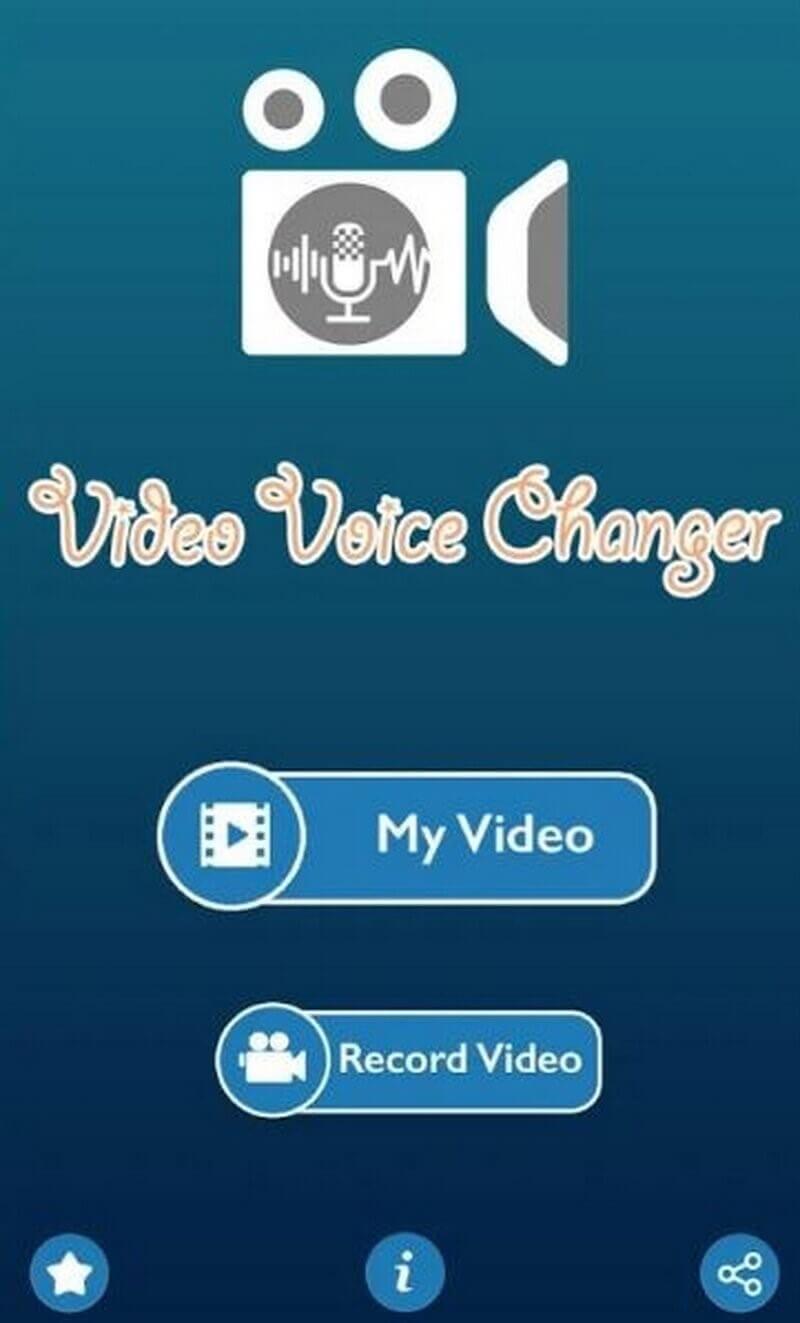 Conclusion
Video voice changers help improve videos and content development. It allows for the creation of various characters, narratives, and effects. All these tools are high-quality, so you should have no difficulty choosing the best match for your needs.
We advise you to use WooTechy SoundBot because it is the best option for video voice changers on PC. It's real-time and has the most voice-changing effects for your video.