Want to prank your friends or fellow gamers using a girl's voice? All you need is a girl voice changer that offers the female voice effect and voilà. The game is on!
A girl voice changer can also come in handy if you are a voice actor and want to expand your dynamics by taking on the role of a female character in a story.
Let's begin by reviewing the Voicemod girl voice changer. It is the one that is most widely used by gamers. Then you will get about WooTechy SoundBot, which can transform any voice into one that sounds like a female.
Scroll more and keep reading until the end to get the guide about how to do a girl voice.
Part 1. A Full Review of Voicemod Girl Voice Changer
Voicemod is a voice modulator that allows the user to modify his natural voice using a variety of voice changers available.
The Voicemod soundboard presents eighty-plus readymade voice effects that one can use for fun during a live stream. And the girl voice changer is one of them.
It is a fantastic choice for gamers as it is compatible with several games, including Fortnite, Call of Duty, and Minecraft. One can also use it during live streams on discord free of cost.
1. Can Voicemod Make You Sound Like a Girl?
Yes! Voicemod is regarded as one of the most fantastic AI voice changers in which you can smoothly convert your voice into a girl's voice.
If you are a gamer or professional user, you can try Voicemod, which turns your voice into a cute girl's voice. You can try this under the following conditions:
If you want to communicate for work online.

To engage in cooperative video game play with your buddies.

For social or educational reasons, it is essential.

Switch your natural voice into a Female superhero.

Convert your voice into a cute cartoon princess.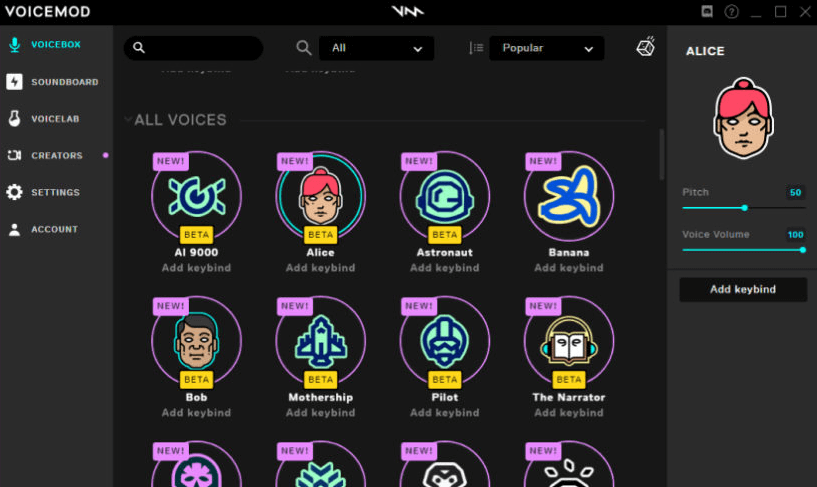 2. How Do You Get the Girl Voice Through Voicemod?
Voicemod's girl voice changer is named Alice, powered by artificial intelligence. It can give your voice a heightened pitch desired to sound like a girl. Follow these steps to sound like a girl using Voicemod's girl voice changer.
Run Voicemod on your computer and select your computer's microphone as the input source while your speakers as the output source.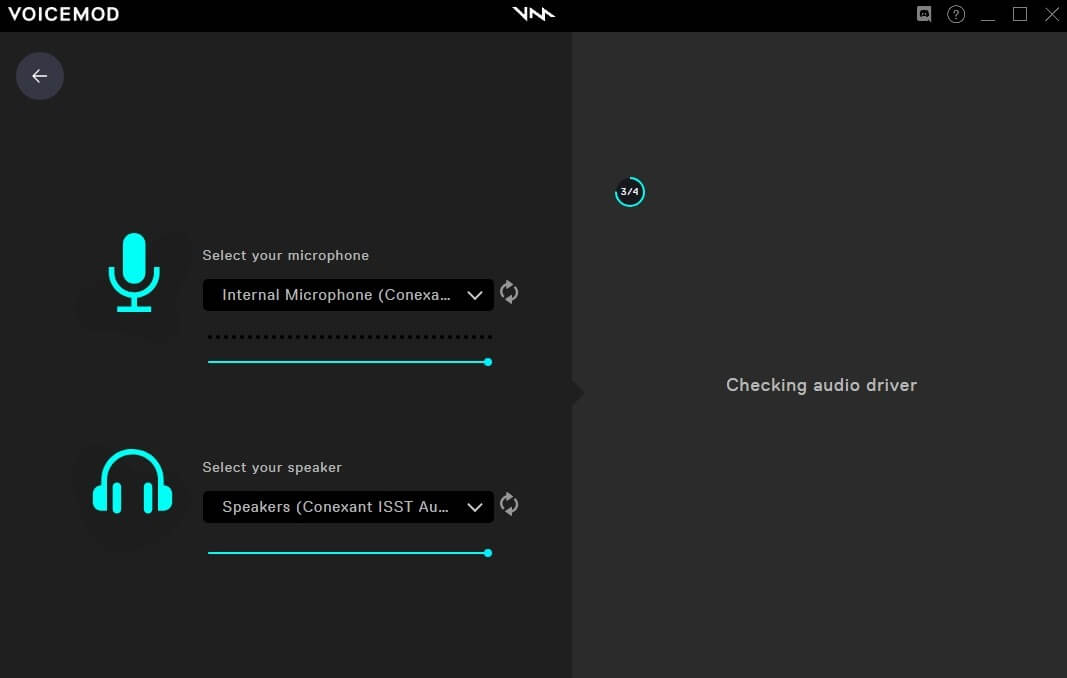 To get Voicemod female voice, access this effect first. You should open the voicebox, choose Alice, and then you are all set for action!
You can adjust the pitch of the Alice voice changer in the settings to match the tone of your voice. If you raise the pitch of Alice to between sixty-five and seventy, you might hear your voice's girly tone.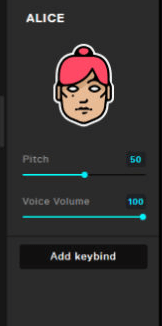 If you do not like the Alice voice effect, you can create your own female voice using the voicelab.
In the custom voice section, you can modify the pitch and the power pitch, as shown in the image below. There is also a "humanize" button. Turning it on removes the eerie robotic tone from the voice effect.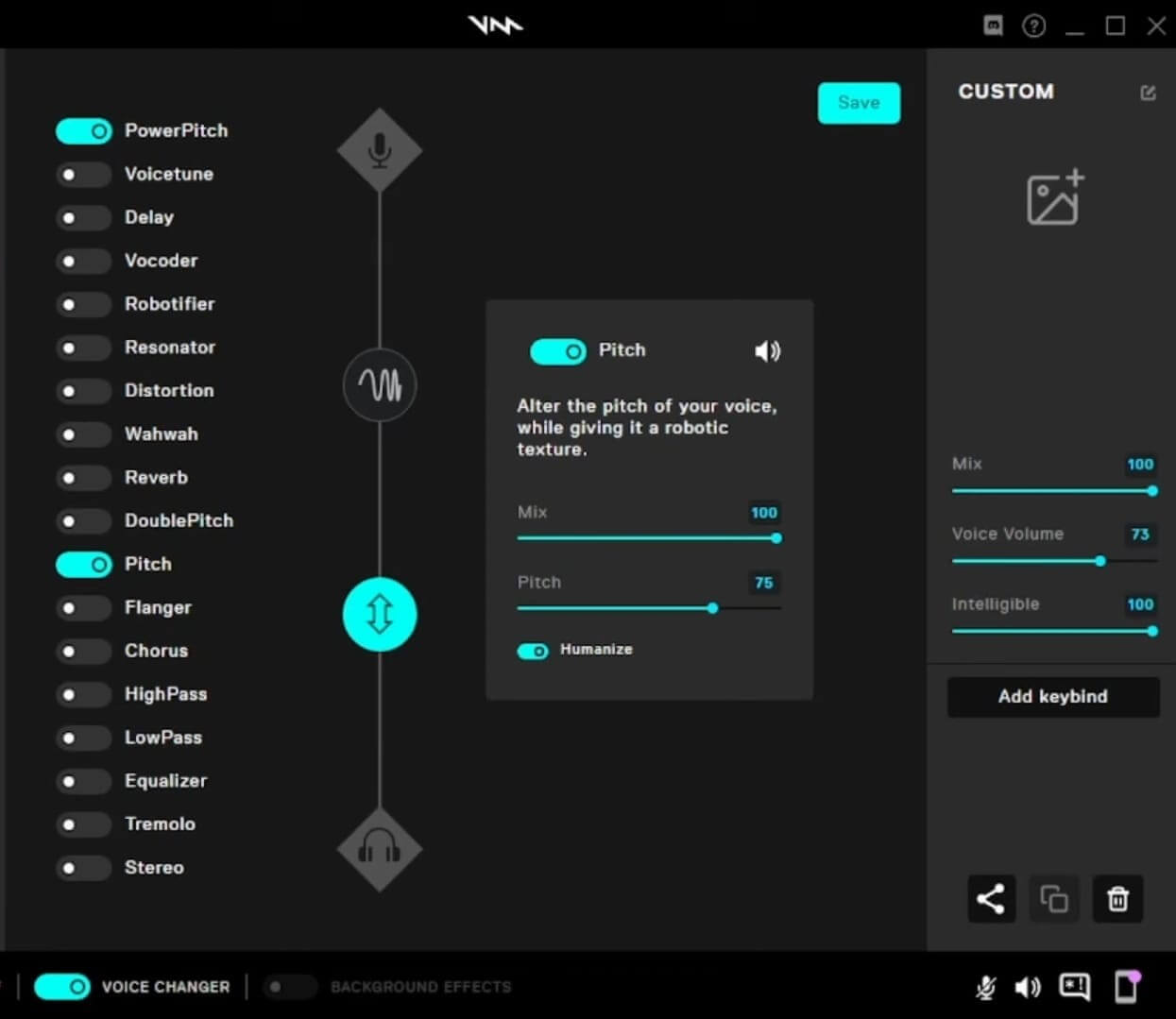 Pros
It is powered by artificial intelligence and is easy to use.

To get a perfect feminine voice, all you have to do is adjust the pitch of your voice.

There is no lag time, and we get instant results.

It is compatible with most online games like Fornite.
Cons
The girl voice filter from Voicemod is really limited.

The Voicemod female voice is not very realistic. It's rather mechanical.

It takes a very long time to install the software.

The software sometimes crashes and doesn't work.
Part 2. The Best Free Girl Voice Changer in 2023
Don't know what to use? What's the best tool for a girl voice changer? Then don't worry; we are giving pro tips to select and work on the best voice changer app, SoundBot, presented by WooTechy.
Scroll more and change voice to girl easily with various girl filters.
SoundBot is an incredible real-time AI voice changer with plenty of fun voice effects. You can connect SoundBot to many platforms, such as Fortnite, Discord, Twitch, PUBG, and Skype, then further change your voice in real-time.
Offering 5 free voices each day, SoundBot also allows you to customize your own voice when change voice to girl. SoundBot girl voice changer has more girl filters than Voicemod girl voice.
SoundBot – The Perfect Girl Voice Changer
75.000.000+
Downloads
Offer 125+ voice filters including different girl and ladies voices.

A sound library with over 400 sound effects available such as anime, horror, daily, etc.

200+ voice memes like celebrity and girl that you can use to double up the fun during live streams.

Developed by professional teams, it change your voice with 100% safety and certainty.

Update different voice weekly, including the free voice.

Custom option for adjust the voice freely.
Follow the below steps of using SoundBot to change voice to girl:
Download WooTechy SoundBot for Windows. Run the application on your computer.
You will be needed to select your microphone as your input source. Next, select your headphone as your output source.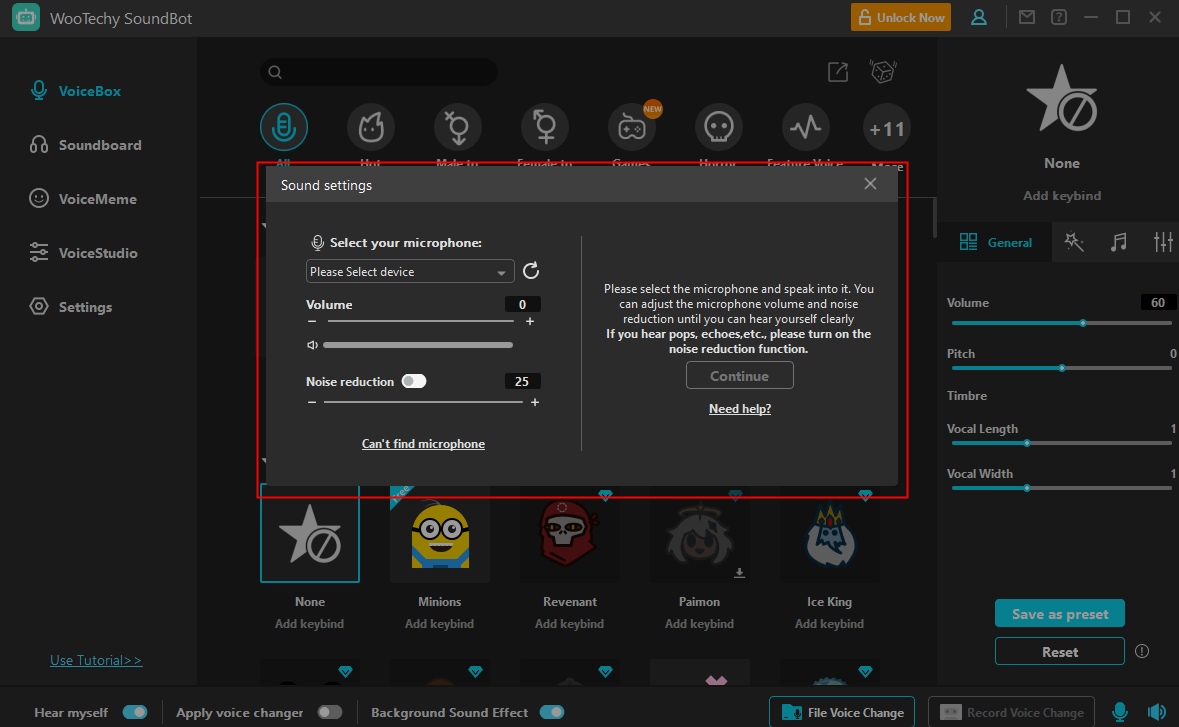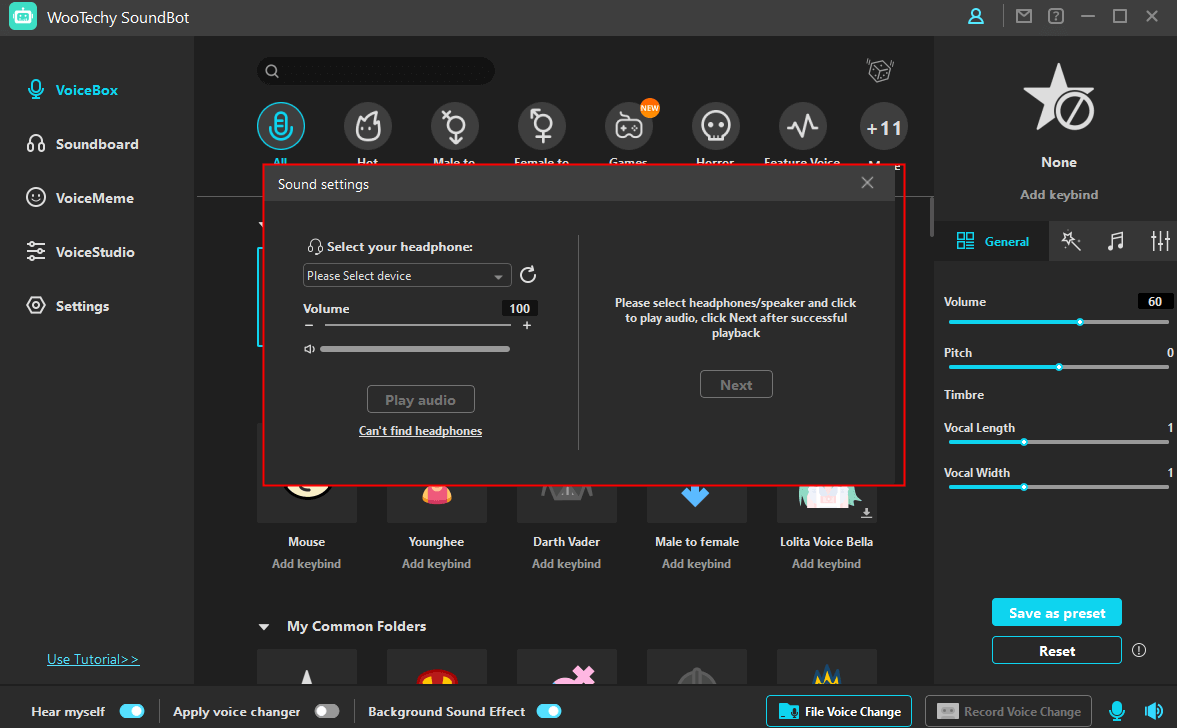 In the girl voice SoundBoard, you can find different type of girk voice. You can select the "Male to Female," "College Girl Alice", "Cute Gamergirl Amy" or "Young Lady Riley" voice effects present in the VoiceBox.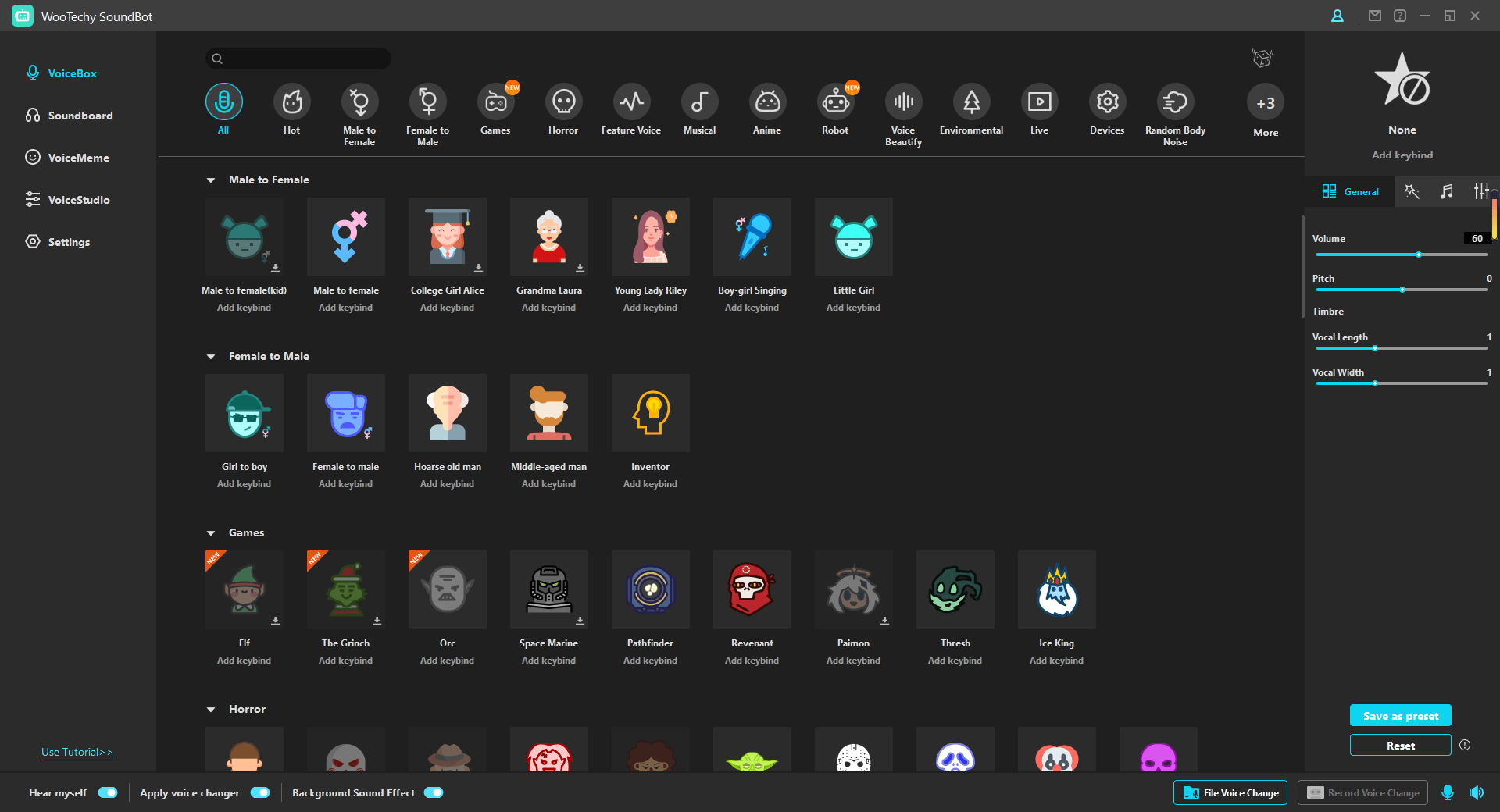 Speak into your microphone and your voice is changed to girl.
Part 3. Other Options to Get Voicemod Girl Voice-VoiceFX
We also review another tool for gril voice changing. VoiceFX is a potent voice changer tool in which you can easily modify your voice or change the audio into any voice on your mobile phones. Moreover, you can easily do live chat or live streaming with voice-overs and replay them on the spot.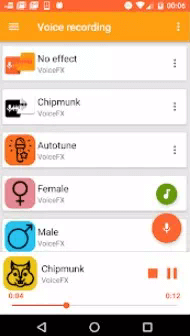 Pros
Record and implement audio effects quickly.

Save the voice change and then export it as an MP3.

Download music and insert them as voice effects.

Change and playback your voice during live sessions.

Transform voice lives on web browsers and media players.
Cons
Not working on low internet connections.

Sometimes users face bugs like screen freezing and loading errors.

Create issues during games like score updations and game points.

In most cases, game levels are not regularly updated by VoiceFX.
Final Words
We live in an age of technology where everyone leads two lives—one in the physical world and the other in the virtual one. There are certain circumstances in our daily life where we wish to conceal our real identity and change voice to girl. And for that, we require a girl voice changer!
Hopefully, with WooTechy SoundBot, you can change your voice to different girl filters and apply them in various programs.