My Google Drive is almost full. Is there a way today to get every single WhatsApp message from Google Drive, so I can store them on my PC?
While Google Drive is a secure cloud backup for WhatsApp data, it becomes problematic when users want to download a copy of this backup on their PC or mobile phone for ease of accessibility.
If you are faced with this problem, breathe a sigh of relief as this article contains simple and reliable ways to download WhatsApp backup from Google Drive. We have also spiced this article up with some extra bites to ensure you have total control of your WhatsApp data. Enjoy!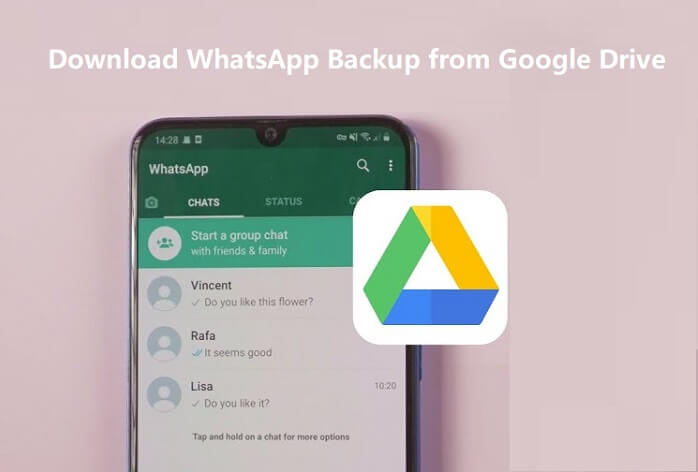 Is it Possible to Download WhatsApp Backup from Google Drive?
There are no official means of downloading your WhatsApp backup from Google Drive to PC or phone. This is because Google Drive keeps the WhatsApp backup encrypted, only to be restored to the parent platform (Android WhatsApp).
However, you can access your WhatsApp backup in Google Drive. But this is also limited as you can only find and delete the backup but can't read it.
Follow the steps below to find your WhatsApp backup on Google Drive:
1

On PC

Step 1: Go to drive.google.com on Chrome and select the Storage option on the left plane.

Step 2: Click the Backups option at the top right corner of the screen and scroll down to locate your WhatsApp backup.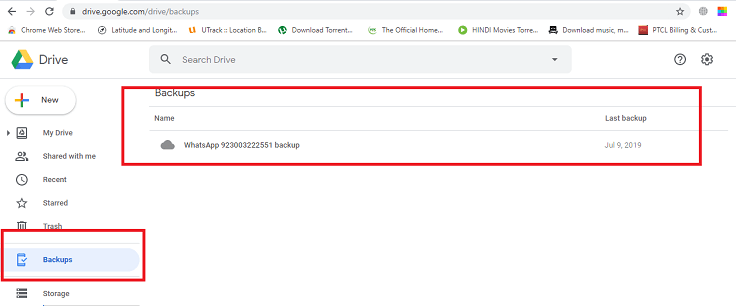 2

On Android

Open the Google Drive app and tap the three horizontal lines (menu button) at the top left corner. Now, select the Backups option and locate your WhatsApp backup amdist the backups there.

But everything stated here is only official. Unofficially, however, you can download WhatsApp backup from Google Drive with the help of third-party software. This will be explained in the subsequent sections of this article.
Download WhatsApp Backup from Google Drive to PC
As mentioned earlier, you can only download WhatsApp backup from Google Drive to PC with third-party software. And there is no better software for this task than WooTechy WhatsMover.
The WhatsMover - WhatsApp Transfer software gets your WhatsApp backup from Google Drive by breaking the encryption effortlessly. It does not just download the backup to your PC but also decrypts it, makes it readable, and, more importantly, restores it to any phone. Whats's more, the whole process is simple with just a few clicks of the mouse.
The WhatsMover Software Is Capable Of
100.000+
Downloads
Transferring all WhatsApp data between iPhone and Android devices directly.

Backing up your WhatsAPP to computer safely; no storage limitation.

Restore Whatsapp backup (including the backups in Google Drive) to your phone easily.

Export large WhatsApp chat to HMTL/PDF/XLS format for easy access.
Below are the steps to follow to download WhatsApp backup from Google Drive to PC using the WhatsMover software.
Download and install the WooTechy WhatsMover software on your PC. Launch it and click the Restore/Export WhatsApp Backup tab on the left plane.
Click the Import Google Drive Backups button in the bottom left corner and log into your Google account.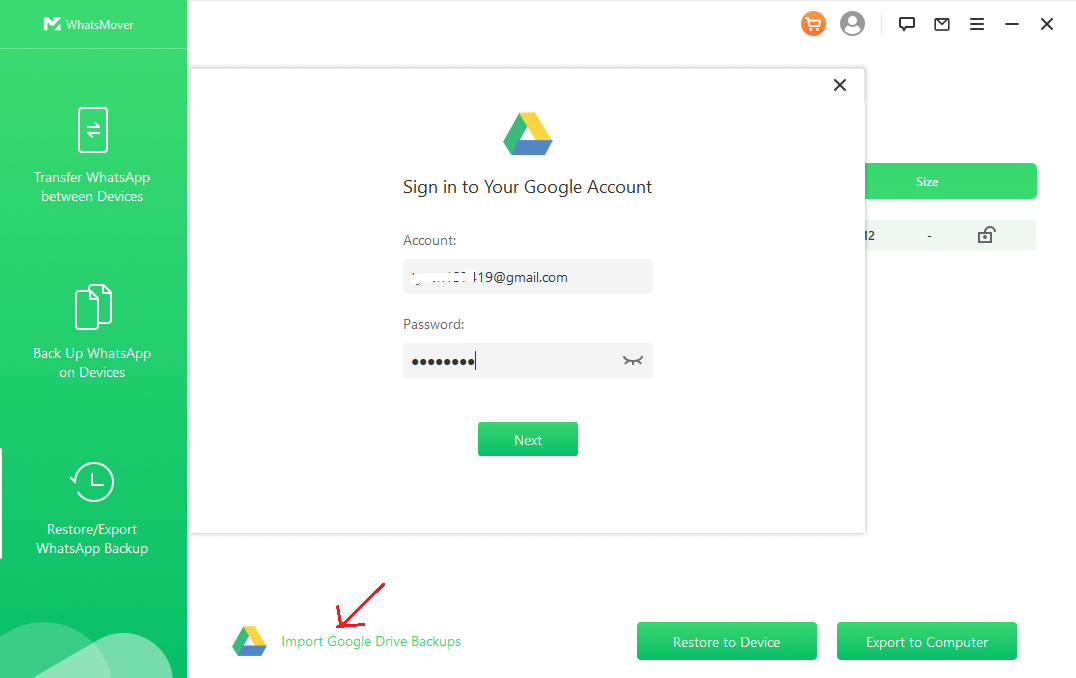 Click on the download icon at the front of the backup you need. Wait for the download to complete, and the backup will be automatically saved to the WhatsMover backup list.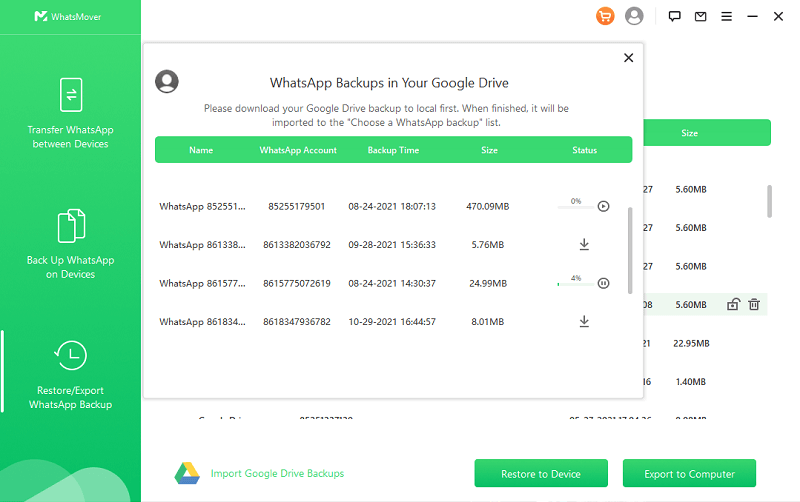 You have successfully downloaded your WhatsApp backup from Google Drive to your PC with the above steps. To restore the backup on Android or iPhone or export it to a readable format on your PC, follow the steps below.
Select the Google Drive backup you downloaded and click either the Restore to Device or Export to Computer button, depending on what you want to do.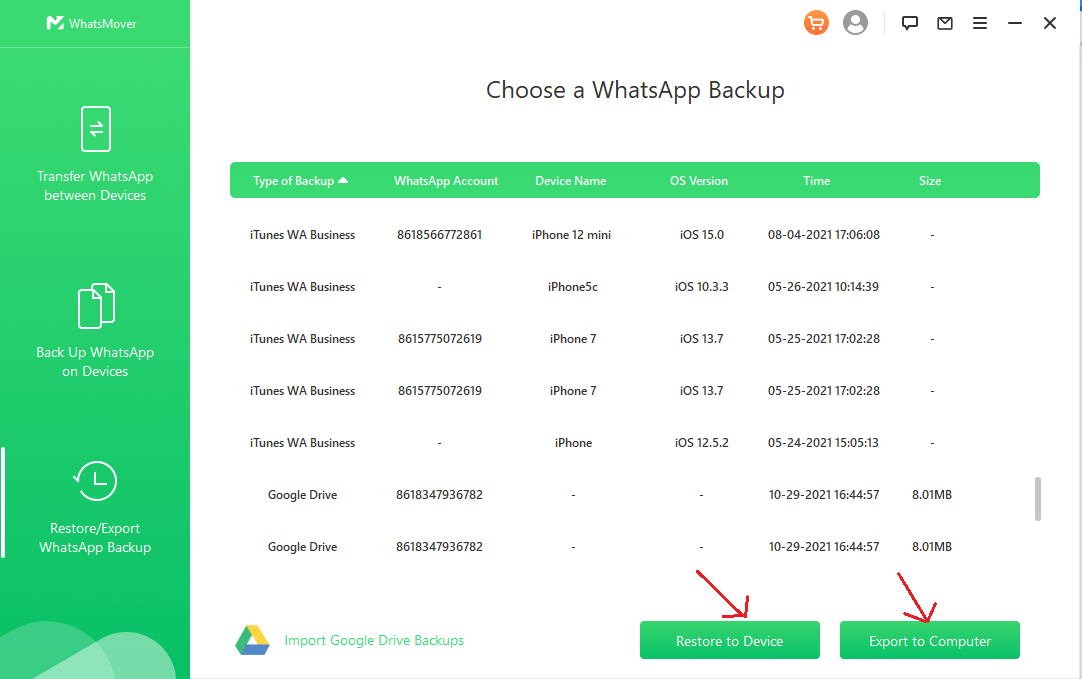 Enter the phone number you used on WhatsApp to create the backup on Google Drive. This is important for the verification of your account and the decryption.
A verification code will be sent to the number you just entered. Enter it on WhatsMover when prompted.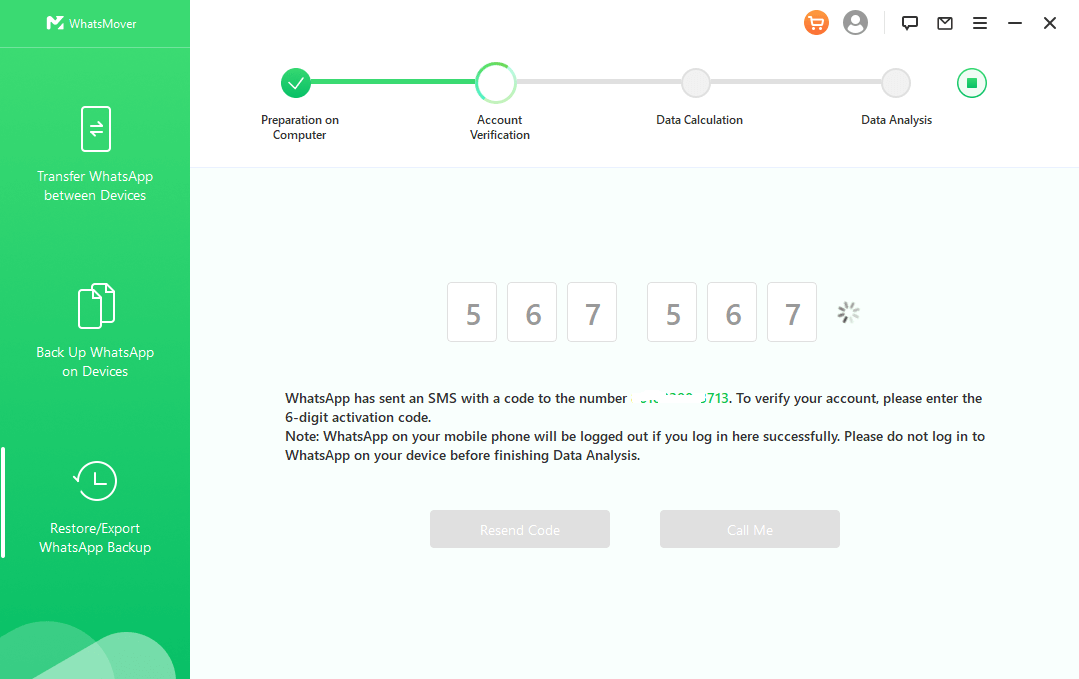 Wait for the data analysis to finish, and the content of your backup will be displayed. From here, you can export, view, and restore the backup to Android or iPhone as you wish.
Download WhatsApp Backup from Google Drive to Android
Downloading WhatsApp backup from Google Drive to Android is pretty straightforward. This is because Google Drive is the default cloud platform for WhatsApp data backup and restoration on Android.
Note that you need to properly back up your WhatsApp on Google Drive before attempting to restore it.
Go to Google Play Store to download WhatsApp if you are using a new Android device. If it is a device you have been using WhatsApp on, you need to uninstall and reinstall WhatsApp to get started.
Launch WhatsApp and log in with the phone number on your old WhatsApp to complete the verification process.
Grant WhatsApp access to your phone and select the Restore option when prompted to restore WhatsApp backup from Google Drive. Wait for the process to finish, and you will have your backup restored on your phone.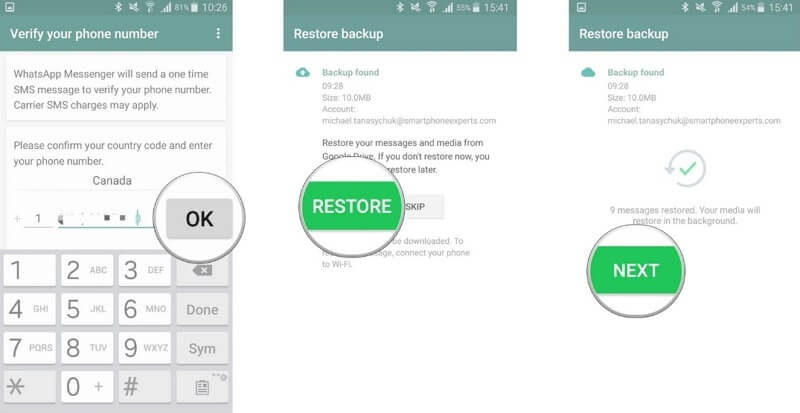 Can I Restore WhatsApp from Google Drive to iPhone?
Yes, this is possible, but also requiring a third-party tool as the restoration is not direct.
It is a two-stage process that involves restoring the WhatsApp backup on Android first and swiftly transferring WhatsApp from your Android to your iPhone. This process has been simplified in this full guide.
As secure as Google Drive is for WhatsApp backup, it has proven an impossible nut to crack when users need to download the backup directly from the platform.
In this article, we have discussed the solutions to this problem extensively, recommending the WooTechy WhatsMover software as the most secure way to get the job done. With this software, you can download your WhatsApp backup from Google Drive to PC, read, export, and restore it to any phone. This is just one of the many WhatsApp administrative tasks you can use this software to carry out.