Please help! I just switched from a Xiaomi Mi 9T Pro to an iPhone 12. So far I've managed great, the only issues is transferring my WhatsApp chat history. I have it backed up to my Google Drive, is there any way to transfer the WhatsApp backup to iCloud and then restore it?
Transferring WhatsApp messages is no doubt the most worrying problem when people are shifting from Android to iPhone. By default, the WhatsApp backup in Android phones is saved on Google Drive, and for iPhone, it is saved on iCloud.
Therefore, many users are trying to transfer WhatsApp Backup from Google Drive to iCloud, so they can restore the backup to a new iPhone. However, is this possible? How can we do this? Read on and you will definitely find the answers.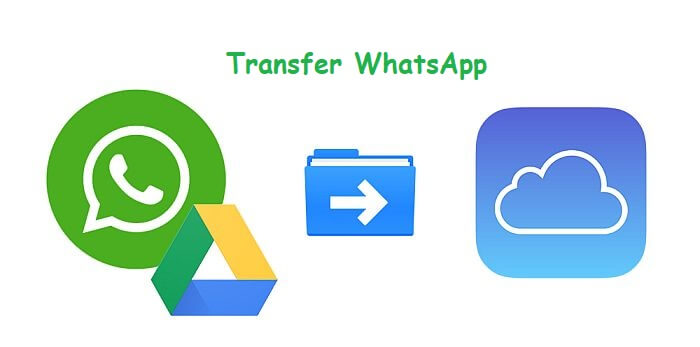 Can You Transfer Backup from Google Drive to iCloud?
Officially, you can't directly transfer WhatsApp backup from Google Drive to iCloud given the differences in the encryption used for the backups and storage mechanisms of both platforms.
Google Drive is not compatible with iCloud and will not allow the migration of data between the cloud drives in any manner.
However, you can use several third-party applications to ease out the process and achieve a seamless transfer of WhatsApp backup from Google Drive to iCloud, as explained in detail.
How Do You Transfer WhatsApp from Google Drive to iCloud on iPhone?
Although the transfer is not direct, you can surely transfer your WhatsApp data from Google Drive to iCloud in 2 different methods that are explained below.
Way 1: Transfer WhatsApp Backup from Google drive to iCloud in 2 Steps
1

Directly Restore WhatsApp Google Drive Backup to iPhone

At first, you should restore WhatsApp backup from Google Drive to iPhone. There is no official way to do so but professional WhatsApp data management software -- WooTechy WhatsMover can help you directly do that.
WhatsMover – The Comprehensive WhatsApp Data Management Software
100.000+
Downloads
Directly download the WhatsApp backup from Google Drive to PC and restore it to iPhone or Android.

Can also scan your WhatsApp backup on iTunes and then restore or export it.

100% safe, your data privacy is ensured and there is no data loss..

No technical expertise needed, you just need several clicks as it is very easy to use.
Step 1 Download and open WhatsMover on your computer. Go to Restore/Export WhatsApp Backup mode and click Import Google Drive Backups. Sign in your Google account.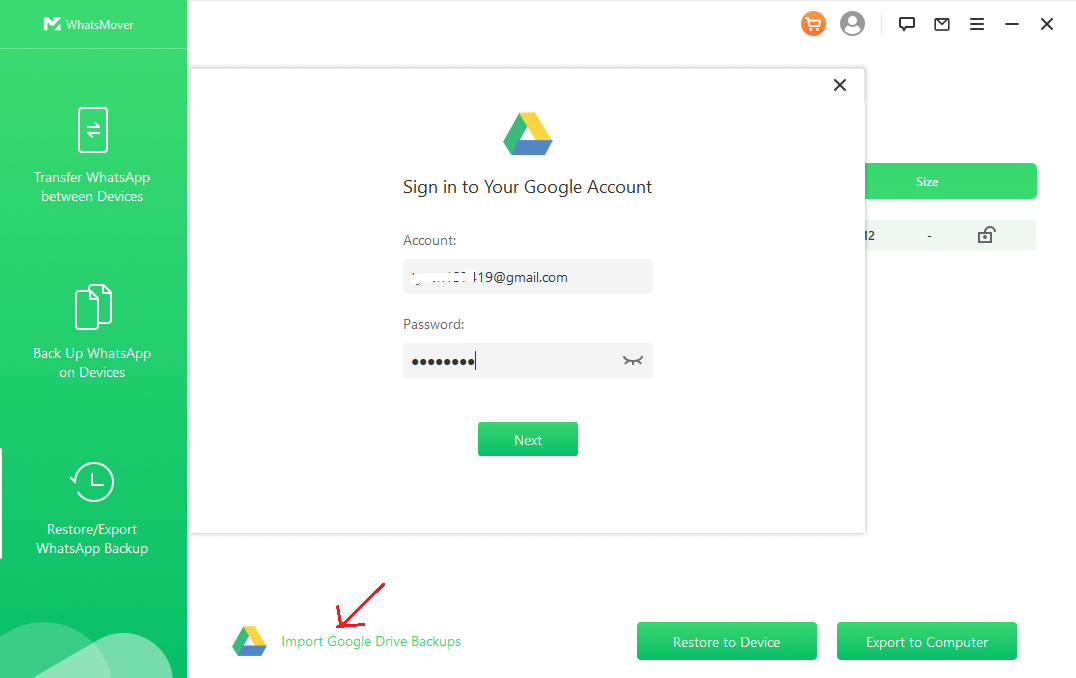 Step 2 Your WhatsApp backups in Google Drive will be shown. Select the backup you need and click the Download incon.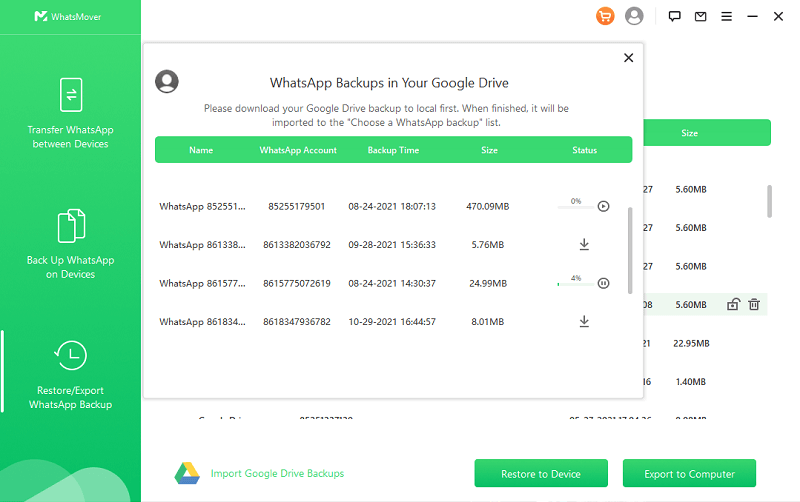 Step 3 Connect your iPhone to the computer and choose Restore to Device option on WhatsMover's screen. Wait until the whole process is complete and finally your WhatsApp data from Google Drive is restored to iPhone.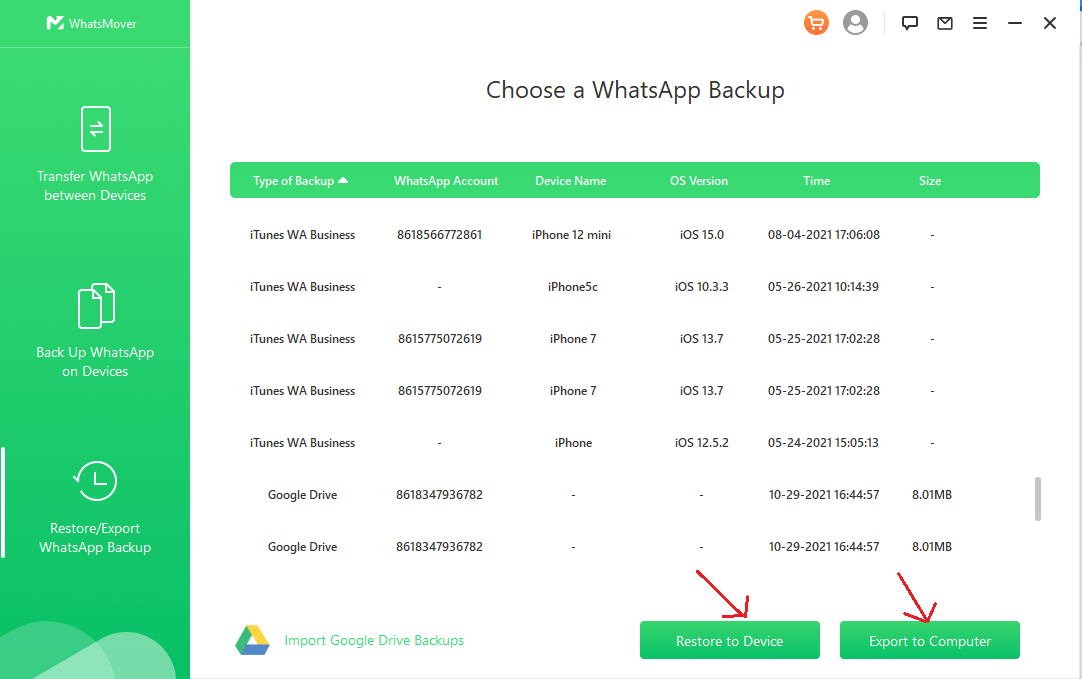 2

Back Up WhatsApp on iPhone to iCloud

Now, you can create a WhatsApp backup on iPhone to iCloud automatically or manually as you like. Be sure that the WhatsApp backup procedure uses a WiFi network rather than your costly cellular data network.

Notes

1. You must sign in to the Apple ID and turn on iCloud Drive.

2. You must have iOS 10 or newer version.

3. The space available in your iCloud account and on your phone must be at least 2.05 times the actual size of your backup.

Open WhatsApp on your iPhone and tap Settings from the main menu.

Go to Chats > Chat Backup and tap on Back Up Now.

To take automatic backups, you can choose the Auto Backup feature and set its frequency.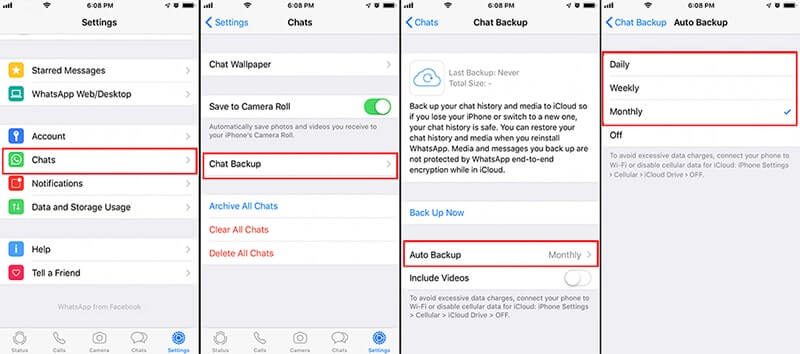 When you complete the instructions above, your iPhone will begin backing up WhatsApp chats and photos to iCloud when linked to a WiFi Network. At this point, you have successfully moved WhatsApp backup from Google Drive to iCloud.
Way 2: Transfer WhatsApp Backup from Google drive to iCloud in 3 Steps
There is another way to transfer WhatsApp backup from Google Drive to iCloud. This method takes 3 steps, but it is very useful, too.
1

Restore WhatsApp Backup from Google Drive to Android

To do so, you'll need a most recent backup of your WhatsApp data on Google Drive by following this path: Settings > Chats > Chat backup, then click the BACK UP button.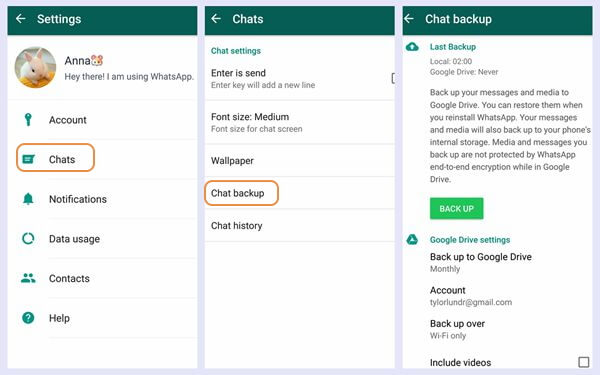 Now you have the WhatsApp backup ready; make sure you're using the same phone number and Google account and follow the steps below to restore WhatsApp backup from Google Drive to Android:
On your Android device, uninstall and then reinstall WhatsApp.
Next, open WhatsApp and you'll be prompted to verify your phone number (use the one you were using to make the backup) and tap OK.
A most recent WhatsApp backup will be found. Tap the Restore button.
Wait for the restoration process to complete and finally tap on Next.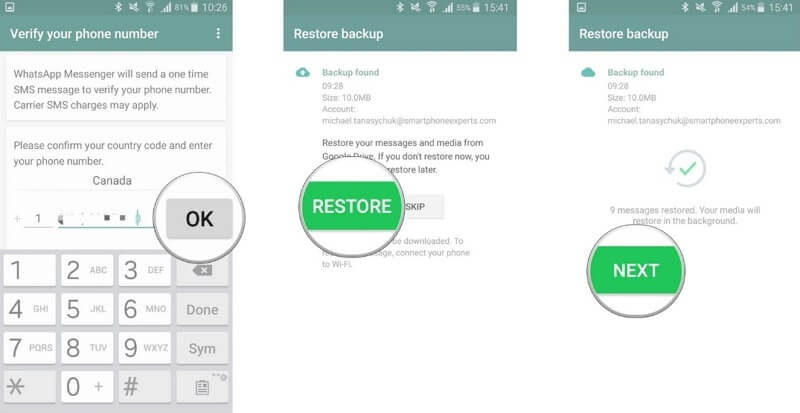 2

Transfer WhatsApp Chats from Android to iPhone

To back up WhatsApp to iCloud, we have to firstly transfer WhatsApp data from Android to iPhone. Therefore we need help from related professional software. A qualified WhatsApp transfer tool should be widely compatible with all Android and iPhone devices, easy to use, and of course, able to transfer all data directly — WooTechy WhatsMover is just the perfect choice for you.

It can transfer your WhatsApp messages, contacts, photos, and other data from Android to iPhone as well as iPhone to Android, and it is direct without requiring other tools. What's more, WhatsMover supports a wide range of phone brands like iPhone, Samsung, LG, Huawei, Motorola, and Xiaomi. And the whole process is 100% secure.

Given the ease of use of WhatsMover, you can transfer Whatsapp data between Android and iPhone in three steps after installing it on your computer.

Step 1: Get Your Devices Connected

After launching the WhatsMover program, connect your Android and iPhone to the computer using USB cords. Make sure the source and destination device is correct, then click on the Transfer button.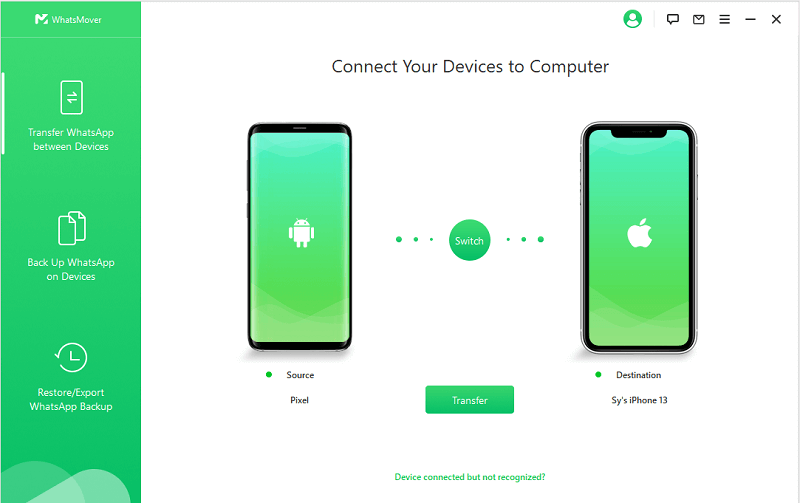 Step 2: Begin Data Transfer
You'll be asked to choose transfer whether Whatsapp Messenger or WhatsApp Business, after which the transfer process will begin.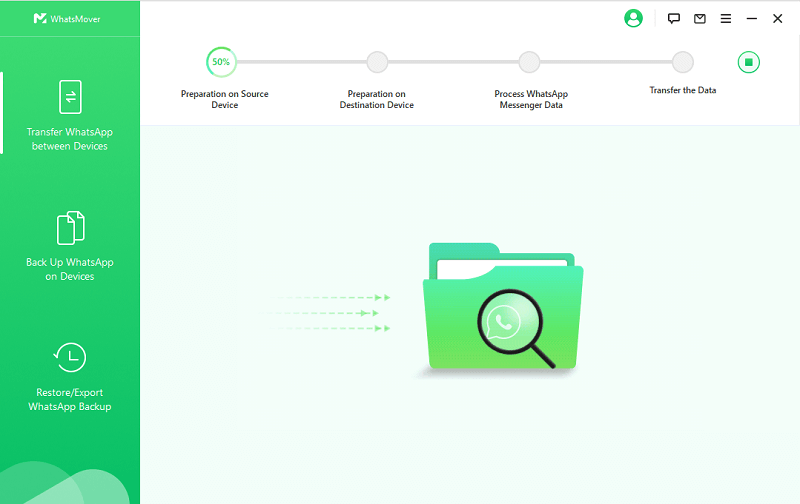 Step 3: Complete the WhatsApp Transfer
Ensure both devices are connected to the computer. Once the transfer is complete, your iPhone will reboot immediately, and all WhatsApp data will be available.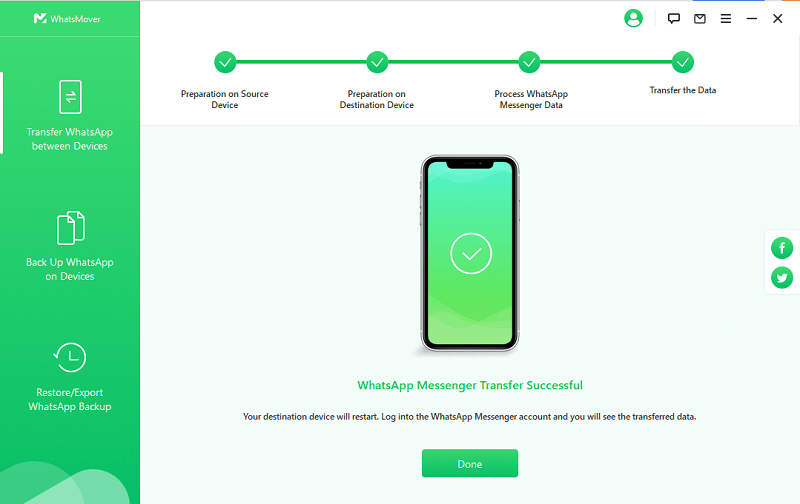 3

Back Up WhatsApp on iPhone to iCloud

At the last stage of this solution, you just need to follow the same procedures of Step 2 of the first way to back up WhatsApp on iPhone to iCloud.

Although iCloud is the official WhatsApp backup solution for iPhone, it comes with several shortcomings like limited space and risk of data loss, therefore many people are seeking to

backup WhatsApp without iCloud

. And for this, we'd also like to recommend

WooTechy WhatsMover

, which can

back up all of your WhatsApp data on both iPhone and Android to PC for free

. With

no storage limitation

, it is

100% secure

and there isn't data loss.
Can You Back Up WhatsApp from Android to iCloud?
No, it's not possible to back up WhatsApp from Android to iCloud, at least not directly, because the two operating systems are not at all compatible with each other. However, there are third-party tools like WhatsMover WhatsApp Transfer that allow you to backup and transfer data between Android and iCloud.
Conclusion
If you've just got a new iPhone and want to transfer your WhatsApp from your old Android through Google Drive backup, there is a solution. This article will tell you precisely how one can successfully transfer Whatsapp backup from Google Drive to iCloud while keeping all data wholly safe and sound.