Hey guys, how can I get an export, to .txt or a zip of .txt, of a 130,000 message chat history? I'm actually trying to save to Drive rather than email, thanks!
There have been quite a few posts on Reddit asking how to export large WhatsApp chat with over 40,000 messages. Unsurprisingly, as messages are the most important data on WhatsApp, we'd like to save our WhatsApp messages safely elsewhere in case we need to delete these messages and empty some space for the phone.
So, if you are actively searching for an easy solution to the exportation of large WhatsApp chats, be at ease as this article contains everything you need to know about WhatsApp export more than 40,000 messages quickly. Enjoy!
WooTechy WhatsMover -- WhatsApp Export More Than 40000 WhatsApp Messages Video Guide:
Part 1. Can I Export More than 40000 WhatsApp Messages?
Officially, No. This is because the in-app option available to export WhatsApp chat history is via email and the limitation is 10,000 messages when you are attaching media files and up to 40,000 messages without media files. But never more than 40,000 messages.
Aside from this, with email, no matter the number of chats you want to export, you will have to export them one after the other manually. This consumes a lot of time and can also lead to data loss due to mechanical inaccuracies.
However, email is still a very good and straightforward option provided you can make do with the limitations. Below are the steps to follow to save WhatsApp chat history with Email on Android and iPhone:
Step 1. Launch WhatsApp and open the chat you want to export.
Step 2. If you are using an Android phone, tap on the menu button on the top right-hand corner of your screen and select More. For iPhone users, just tap on the contact name at the top of the page.
Step 3. From the options displayed, select Export chat. You will be prompted whether you want to add media files or not. Choose from one of the options (remember the limitations stated above) to proceed.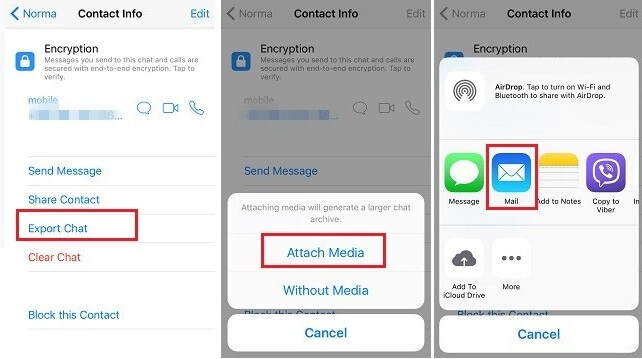 Step 4. Tap on the mail icon and supply the email you want to export the chat to as the recipient. Now, send the email and you should have the chat as a normal email message in your inbox.
As mentioned earlier, if you want to export more than one chat, you will need to repeat the process above for every chat on either Android or iPhone.
Now, that is the official in-app way of exporting WhatsApp chat with its limits. Fortunately, it is very possible to export more than 40,000 WhatsApp messages thanks to some efficient third-party software. Want to find out how? Scroll to the next section of this article.
Part 2. How Do I Bulk Export WhatsApp Messages Over 40000 at Once?
If you're looking for a tool that can export more than 40,000 messages without problem, export WhatsApp data at once, and also be easy to use, the reliable WooTechy WhatsMover WhatsApp transfer software is no doubt your best choice because it meets all these requirements.
WhatsMover is a trusted and user-friendly program that eliminates all the limitations of using Email to export WhatsApp chat plus extras. It does not matter whether you export the chat history with media files or not, WhatsMover will export and save all your WhatsApp data quickly.
WooTechy WhatsMover - Easily Export WhatsApp Chat More Than 40000 at Once
100.000+
Downloads
No size limitation and you can preview the chats before exporting.

Available for both WhatsApp Messenger and WhatsApp Business with Android 13 and iOS 16 supported.

It requires no technical knowledge and exports all WhatsApp messages in simple steps.

Chats can be exported in HTML, CSV/XSL or PDF format, which gives easy access and versatile reading options.

Not limited to just chat exportation; it is a complete WhatsApp management tool that can transfer, backup and restore WhatsApp data.
Export More than 40000 WhatsApp Messages with WhatsMover
Step 1. Install and Launch the WhatsMover software on your PC. Now, connect your device (either iPhone or Android) to your PC with a USB cable.
Step 2. Select the Back Up WhatsApp on Devices option on the left plane. Click on the Back Up button after the software has recognized your device. Wait for the backup process to finish.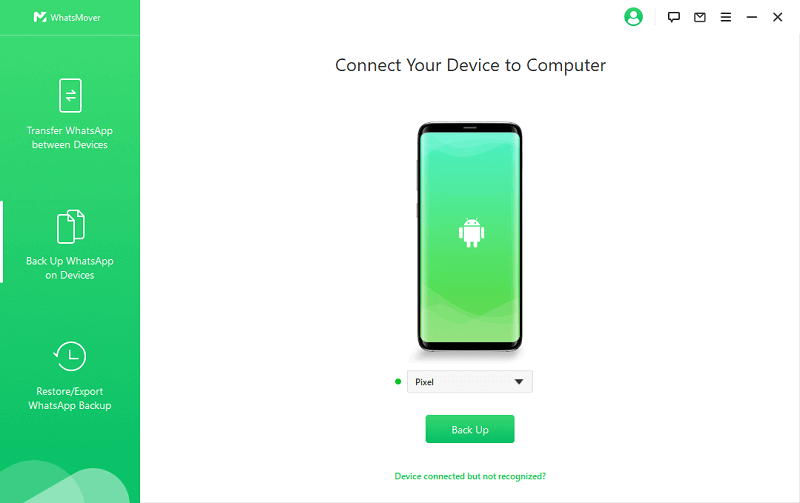 Step 3. Now, select the Restore/Export WhatsApp Backup option from the left plane to switch to the Export mode. From the list of backups shown, select the backup you want to restore and click on Export to Computer.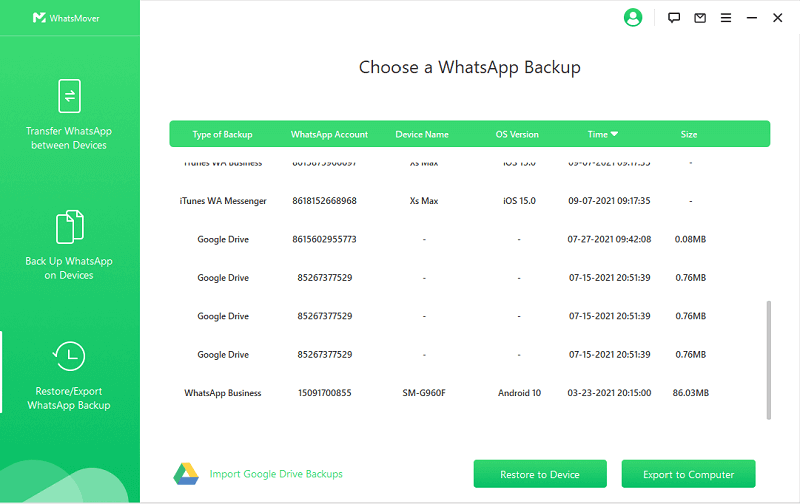 Step 3. You can also have a preview of your WhatsApp data before final exportation. Once you decide, select the WhatsApp chats or attachments you want to export and click the Export option.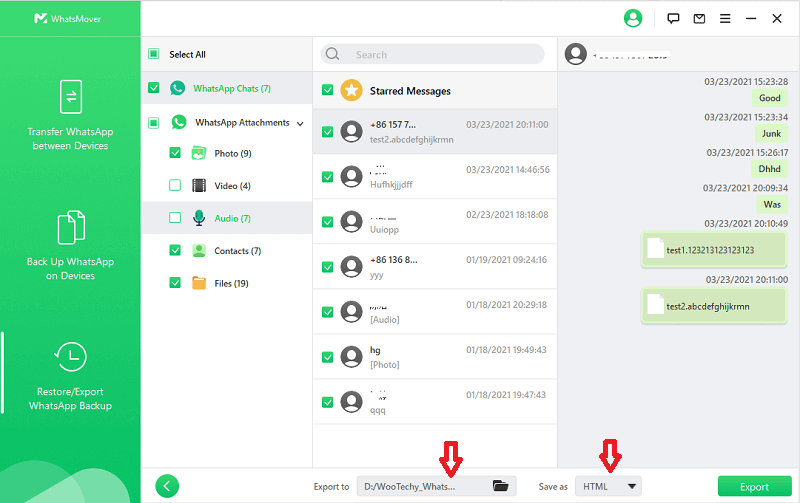 Bouns Tip: How Do I Save A Whole WhatsApp Conversation As A PDF?
FAQs about WhatsApp Chat Export
How can I read my Exported Chat as it appears on Phone?
A: To read your exported chat as it appears on your phone, you can export the chat to HTML format using a third-party software.
Can an Exported Chat be Imported back?
A: Yes, you can import an exported chat with WooTechy WhatsMover provided you still have the chat backed up. Connect your phone to your PC and go to the Restore/Export WhatsApp Backup tab on the left plane of the software. Select the backup you want to import from the list of backups shown and click on the Restore button to restore the chat on your phone.
However, if you don't have the backup, there is no way to import the chat directly from the exported file itself.
Final Words
With the ever-increasing popularity of WhatsApp, it comes as no surprise that users are seeking ways to save large WhatsApp chat history.
However, the in-app option provided by WhatsApp is predictably limited as it cannot export more than 40000 messages amidst other flaws. What now happens when users need to export large chat history with hundreds of thousands of messages?
To help counter this problem, we have discovered the heralded WooTechy WhatsMover. This software can export chat histories with any number of messages and attachments. Be it ease of use, effectiveness or dynamism, WhatsMover has everything to not just help you export over 40000 WhatsApp messages but also carry out WhatsApp transfer and backup.