WhatsApp is one of the most popular instant messaging systems in the world. With billions of users, people can send an unlimited amount of messages to their friends and family. But, what if you want to export your WhatsApp contacts to your computer?
In this post, we'll talk about how to export WhatsApp contacts to Excel. The steps for completing this process can take a bit of time depending on the method you use. But, we'll discuss the most simple ways to do this here!
Part 1. How Do You Export WhatsApp Contacts to Excel?
You can export your WhatsApp contacts in a few different ways. Some methods take more patience and steps than others, and other methods can be completed in a single click.
1

Export WhatsApp Contacts to Excel in One Click

WooTechy WhatsMover is the method we recommend trying first. WhatsMover makes it extremely easy to export your contacts to Excel, and this is the only way to export your data in a single click.
WhatsMover – The Best WhatsApp Exporter
100.000+
Downloads
Back up and export WhatsApp data on both your Android phones and iPhone.

Support exporting WhatsApp contacts and chats to XLS, HTML, PDF and CSV formats.

Export WhatsApp contacts without a limitation of 40000 messages.

The exported contacts can be saved in a different folder, not overwriting your previous data.
How to Export WhatsApp Contacts to Excel with WhatsMover in 1 Click:
Step 1 Download WhatsMover to your computer and open up our program. Plug in your device with a USB cable. First backing up your WhatsApp contacts with the software by clicking Back Up WhatsApp on Devices and finish the process.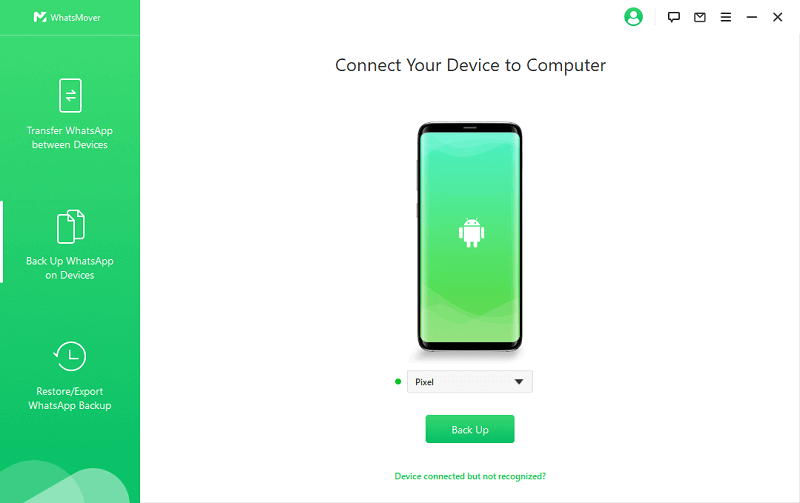 Step 2 Then tap on the Restore/Export WhatsApp Backup on the side menu. Choose a WhatsApp backup so you can access your contact data and click Export to Computer.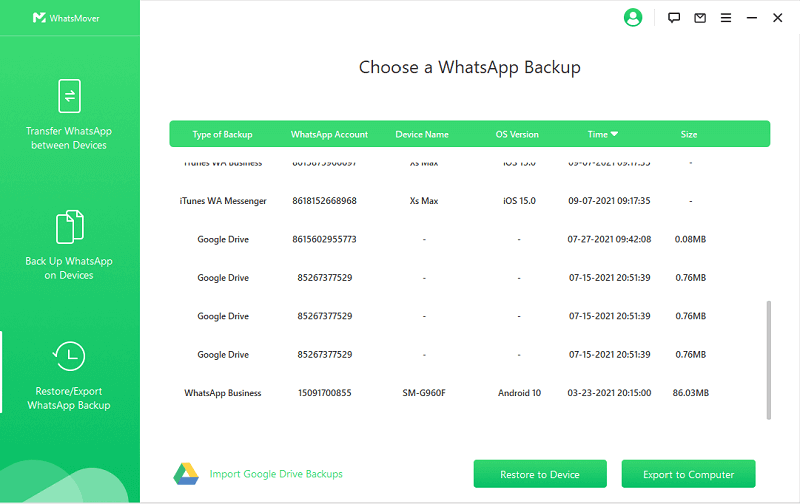 Step 3 Choose your contact files and where you want them to export. Save them in Excel format as XLS. Then, click the Export button and your contacts will instantly be formatted into XLS and can be seen in Excel.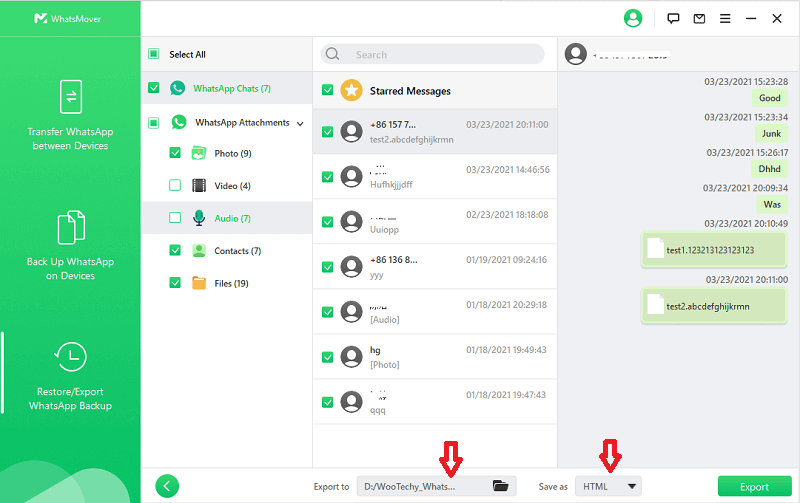 2

Export WhatsApp Contacts to Excel Using WhatsApp Web

WhatsApp contacts can also be exported through WhatsApp web app. But this will be a lot more complicated than using WhatsMover and your contact data will need to be manually imputed into an Excel sheet.

Step 1 Type in the website, web.whatsapp.com. Then log in with the QR code that pops up on the screen.

Step 2 Go to your groups chats and choose which group chat you want to export contacts from. This is the easiest way to gather up contact information.

Step 3 In your selected group chat hover your mouse and right click to press Inspect over the details bar, this is where names and numbers are displayed. A window with HTML text will pop up.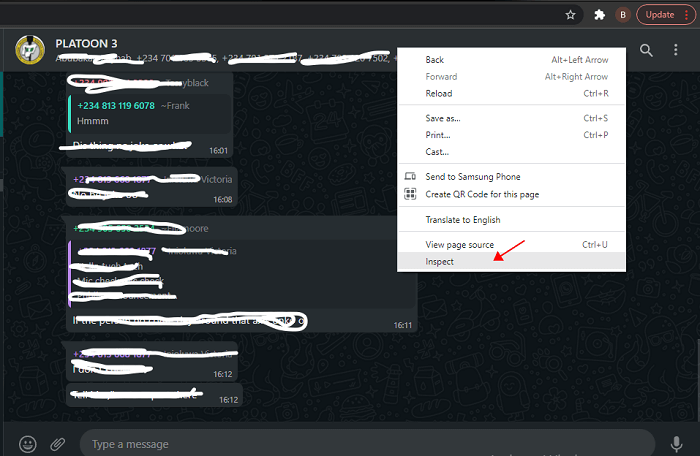 Step 4 Look through the HTML page and right click the portion that has your group contacts and press Copy > Copy outerHTML.
Step 5 Open up a blank document on Google Docs, Microsoft, or other word processors and paste the text.
Step 6 Then get rid of any extra text that isn't relevant. Copy and paste the contact text into an Excel sheet. Ok, you export WhatsApp group contacts to Excel successfully.
3

Export WhatsApp Contacts to Excel Using Google Chrome Extensions

Google Chrome extensions can export your contacts to Excel, as well. There are a few different options you can go with, but we will go over two popular extensions and show you how to export your contacts with them.
Option 1: Download WhatsApp Group Phone Number
Download WhatsApp Group Phone Number is the first extension you can try out for free.
Step 1 Go to the Google Play store and download the extension. Let your web browser restart, then go to the WhatsApp webpage. Type in web.whatsapp.com.
Step 2 Go to your group chats and select a group that you want to download WhatsApp group contacts in Excel.
Step 3 Next to the names in your group chat there is a three-dot icon. Click it and press Download Info.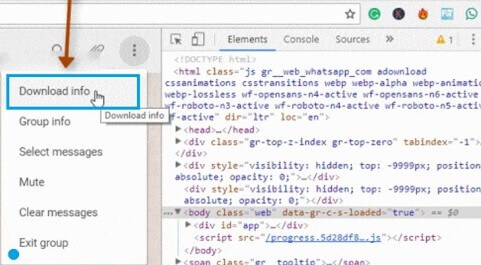 Step 4 Your extension will detect the download and create a CSV file that will save to your computer automatically.
Open up the file with Excel and all your contacts can be accessed now.
Option 2: Contacts Exporter for WhatsApp
Contacts Exporter for WhatsApp helps export your data a little faster. But it is not free and only 4 exported contacts will be shown.
Step 1 Go to your Google Play Store but this time download Contacts Exporter for WhatsApp.
Step 2 Open up WhatsApp on your computer by going to their website web.whatsapp.com. Go to your group chats and click on a group.
Step 3 With your group selected, go to the top right-hand corner of the Google browser and click on Contacts Exporter for WhatsApp extension. It's a green icon with a person.
Step 4 Click what information you want exported, then hit the Export Contacts button. This will turn your contacts into a CSV file which can be opened in Excel.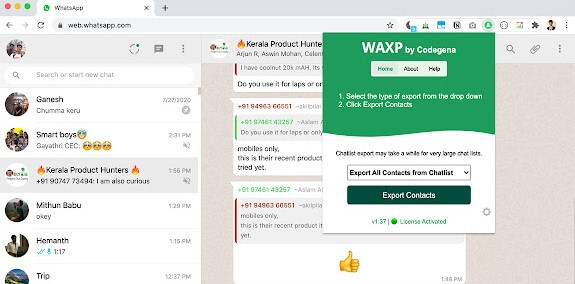 FAQ. How Can You Save 1000 Contacts on WhatsApp?
Most of the methods we talked about are great if you are saving a few contacts to an Excel file. But what if you need to save up to 1000 contacts on WhatsApp? WhatsMover is the best option for this as you can save as many contacts as you want seamlessly, and all at once with our app. And it only takes a click!
But, if you need to save a thousand contacts without our app, create larger group chats. You can add up to 256 people to a group chat.
Create a new group chat and add as many people as you can. Make a few of these bulk group chats until you have all your contacts added.

Use one of the methods outlined above and save and export your contacts into Excel.
Conclusion
Exporting your contacts to Excel doesn't have to be complicated. With the methods we talked about today, you can get all your WhatsApp contact data into Excel. Our WhatsMover app is the best option for this task with the 100% success rate. But if you are interested in exporting your data with other methods go back and read through our guide to see what you need to do.