Nowadays WhatsApp has 2 billion active users worldwide, who send and receive messages on this platform daily with friends or business parners. As such, it is paramount to back up WhatsApp data safely.
WhatsApp backup on cloud services or local phone storage is as secure as it can be, but it is no match for backing up WhatsApp messages to computer, where you can easily access the data and determine how to deal with it.
In this well-detailed guide, we will explain 5 ways to back up WhatsApp to PC, whether you are using an iPhone or Android device. Without much ado, let's dig deeper into each of the methods.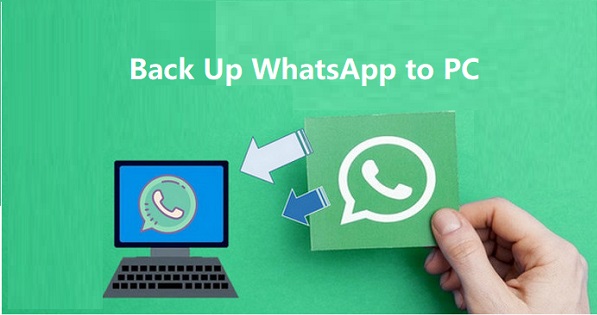 Back Up All Messages to PC at Once using WhatsMover
If you need a quick way to back up all WhatsApp chats at once, then WooTechy WhatsMover is the best you can get.
It is a third-party WhatsApp transfer tool that allows you to create a safe backup of all your WhatsApp data on computer for FREE. With just a click of the mouse, you can back up your WhatsApp chat history, contacts, photos, documents and other attchments on your PC. Besides, there is no storage limitation.
WhatsMover - Best WhatsApp Transfer/Backup Tool
100.000+
Downloads
Compatible with both WhatsApp Messenger and WhatsApp Business.

Freely backup all WhatsApp messages on iPhone/Android to PC, no data loss.

Preview and restore old WhatsApp backups to your phone when needed.

Transfer your WhatsApp to a new phone - including Android to iPhone or iPhone to Android.

Easy to operate, only a few clicks are needed.
Below are the steps to follow to back up your WhatsApp messages to PC after installing the WooTechy WhatsMover software.
Step 1: Launch WhatsMover and click the Back Up WhatsApp on Devices tab on the left plane. Now, connect your device (Android or iPhone) to your PC.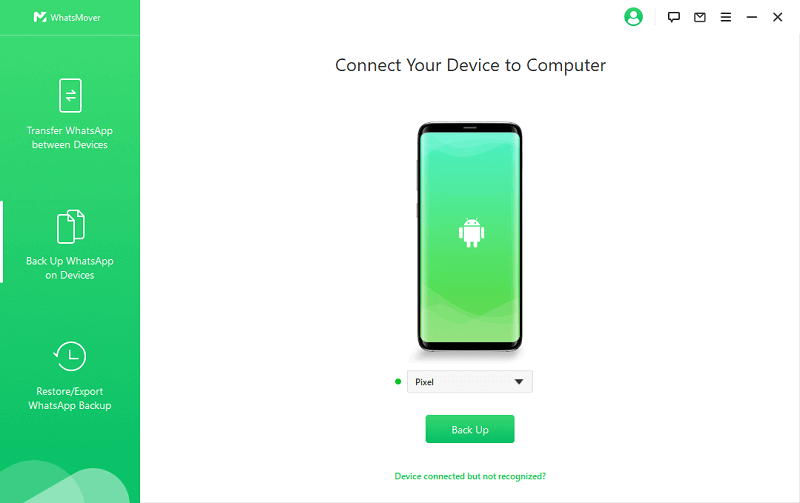 Step 2: Click the Back Up button and select your WhatsApp type. This will begin backing your WhatsApp data.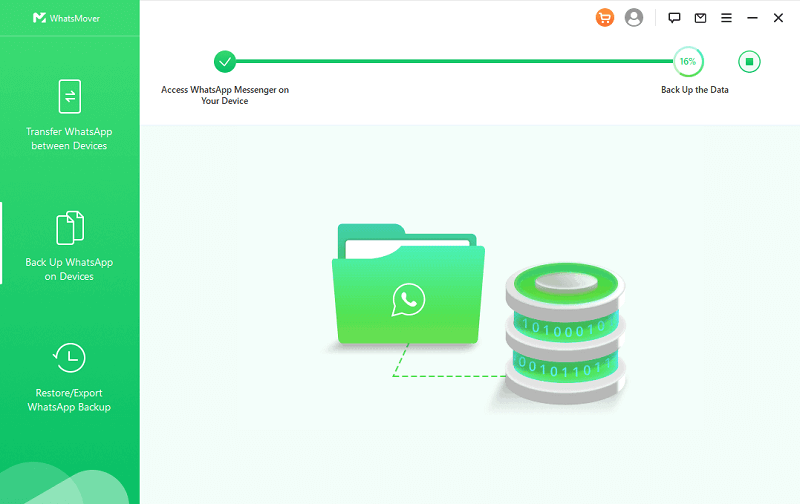 Step 3: Click the Done button when notified that the backup is complete, now you have your WhatsApp chats backed up on your PC.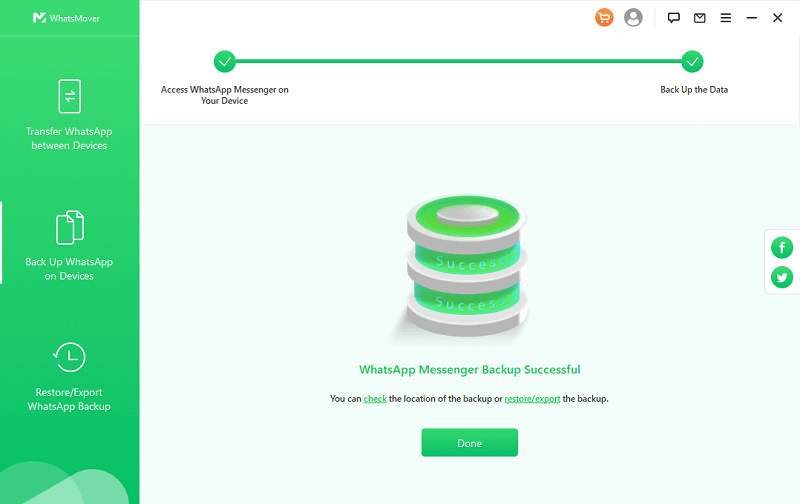 Save WhatsApp Chat on PC via Email Exportation
Email is the official WhatsApp means to export and read WhatsApp messages across multiple devices. With this method, you can export WhatsApp chat to email on your mobile device and download the backup as a text file on your PC.
Below are the steps involved for backing up WhatsApp on Android and iPhone to PC.
Step 1: Open WhatsApp and tap on the conversation you want to back up.
Step 2: On Android, click on the menu button (three vertical dots) and select More > Export Chat. For iPhone users, tap on the contact name at the top of the screen and select the Export Chat option.
Step 3: Select whether to attach media files or not when prompted. Now, tap the email icon from the list of apps displayed and enter your email as the recipient, click Send.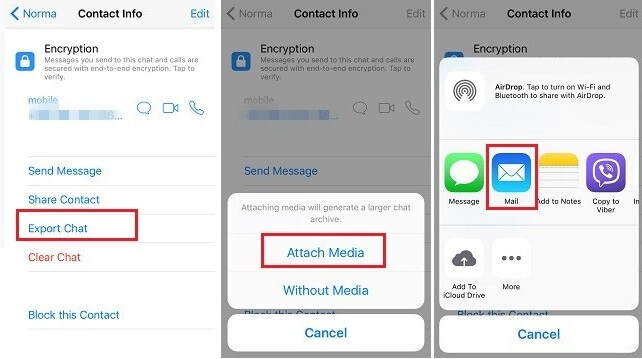 Step 4: Open the email box on your PC and download the WhatsApp chats sent as a .txt file attachment.
Cons
You can only back up one chat at a time.

You can export no more than 40,000 messages (without media) or 10,000 messages (with media) by email. While the WhatsMover software doesn't have such a limit.
Transfer WhatsApp Messages from Phone Memory to PC (Android)
This method allows you to backup WhatsApp messages, but it can only be used on Android devices. In this method, you should transfer WhatsApp messages from Android to PC via the local backup created daily on your mobile device.
Step 1: Connect your Android device to your PC via a USB cable. Open the file explorer and select your phone memory from This PC section.
Step 2: On your phone storage, locate the WhatsApp backups: Phone (or SD Card if you've got one) > WhatsApp > Databases.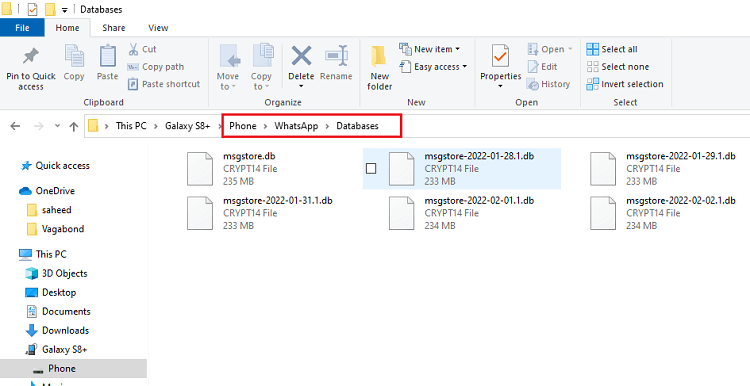 Step 3: In the Databases folder, copy the most recent backup (msgstore.db) and paste it to another location on your computer. You can also copy and paste this whole folder.
You can also export the messages from the backup by right-clicking on it and selecting "Export to PC". However, you can't read the content because the file format is .SME and is not compatible.
Back Up WhatsApp to Computer via WhatsApp Web (Android)
Apart from directly backing up WhatsApp on mobile devices, you can also download some or all your chats using WhatsApp Web in a few steps.
Step 1: Log in to WhatsApp Web
Go to web.whatsapp.com on any browser – preferably Chrome on your PC. A QR code will be displayed.

Open WhatsApp on your Android device and follow the path: Menu button > Linked devices > LINK A DEVICE.

Now, scan the QR code on the screen, and you will be logged in.
Step 2: Back up messages to PC
Click on the chat that contains the messages you want to backup. Now, right-click any message on the page and select the save as.. option. This will download the chat in HTML format on your PC.
Cons
You can only save one message at a time. It would be time-consuming if you have meesages to be backed up.
Back Up WhatsApp to PC via iTunes (iPhone)
The last but certainly not the least on our list is the use of iTunes for iPhone devices. iTunes is the official Apple software for carrying out administrative tasks, including backups on iPhone. With this app, you can back up WhatsApp to your PC in just a few clicks.
Step 1: Connect your iPhone to your PC and wait for iTunes to launch automatically.
Step 2: Once your device is detected, click on the iPhone symbol at the top of the screen. From here, click on the Summary tab on the left plane.
Step 3: Go to the Backups section and select This computer. Lastly, click the Back Up Now button, and your WhatsApp messages will be backed up on your PC.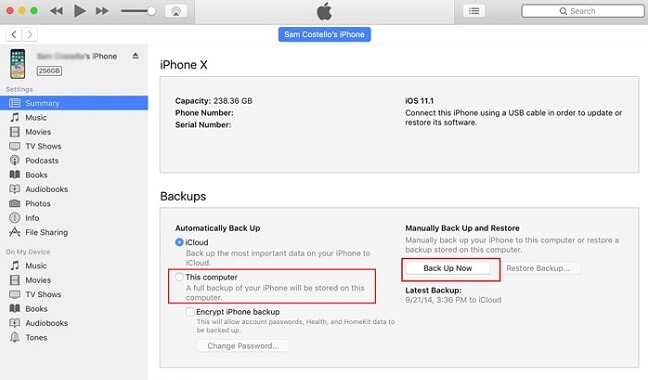 There are other ways to back up iPhone WhatsApp to PC apart from iTunes, check out the guide to learn more if you are interested.
Cons
This method is available for iPhone only.

iTunes will create a backup of all data on your iPhone, rather than WhatsApp only. And restoring the WhatsApp backup to iPhone will erase current data.
Final Words
The importance of creating WhatsApp backup away from mobile devices cannot be stated enough, and it is evident in the number of people looking for how to back up WhatsApp to PC. This article has more than done justice to this providing five practical ways to help you carry out this task.
While all the methods listed are worthy and effective in their rights, the use of the WhatsMover - WhatsApp Transfer especially catches the eye. This is due to its universal compatibility, safety, ease of use, and suitability beyond just carrying out a backup. It is just a tool that is hard to overlook.