Despite being the most used Instant Messaging app, WhatsApp still has not provided a solution to a vital user task – WhatsApp transfer across platforms (Android to iPhone and vice versa). This has led to restrictions for users and sometimes data loss when changing devices.
Thankfully, with the ever-evolving world of technology, there have been third-party software built specifically for this purpose.
Since you are here, you are most probably searching for a reliable WhatsApp transfer software to commit. Be at ease as this article does not just contain one but five of the very best you can employ for your WhatsApp transfer tasks. Enjoy!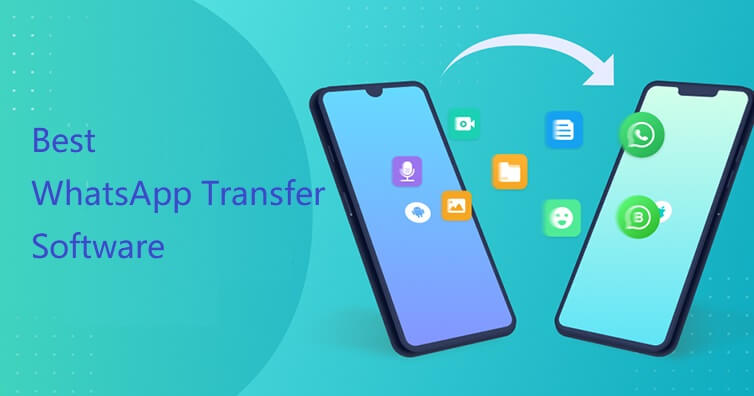 Part 1: Is WhatsApp Transfer Tool Safe? Is It Free?
Like with other software, safety and price are without doubt the more concerning questions for users regarding WhatsApp transfer tools.
1. Is WhatsApp Transfer Tool Safe?
Generally, WhatsApp transfer tools are safe to use as long as you've downloaded them from official website. They do not have any inherent risks of data loss or device corruption. Hence, you don't need to worry too much about that.
Moreover, they have been supported by famous antivirus software such as Macfee. So they won't cause danger to your computer. And WhatsApp transfer tools highly protect users' privacy.
2. Is WhatsApp Transfer Tool Free?
As third-party software, however, most of these tools are not free as it costs money and time to develop high-quality tools. Fortunately, the price is usually affordable, and they offer enough value to match and even exceed what you pay.
Also, some software such as the WhatsMover WhatsApp Transfer offer some features for free to give you a taste of what you will get. With these, the price you pay will eventually be worth it at the end.
Part 2: 5 Best WhatsApp Transfer Software in 2022
There are numerous effective WhatsApp transfer software, with each boasting impressive features. But for this guide and what is apparent at the time of writing, below are five of the very best available.
| Features | WhatsMover | MobileTrans | Move to iOS | Backuptrans | Wazzap Migrator |
| --- | --- | --- | --- | --- | --- |
| Android to iPhone transfer | Yes | Yes | Yes | Yes | No |
| iPhone to Android transfer | Yes | Yes | No | Yes | Yes |
| Transfer WhatsApp Only | Yes | Yes | No | No | No |
| Ease of use | Very easy | Easy | A bit complicated | A bit complicated | Complicated |
| Price | Affordable | Expensive | Free | Affordable | Cheap |
1

WooTechy WhatsMover — Editor's Choice

The undisputed number one choice is the WhatsMover WhatsApp Transfer Software from the WooTechy brand. It is at the top of this list because of its 100% safety, ease of use, and unrivaled effectiveness in WhatsApp transfer.

It is an all-in-one tool that can be used to effectively transfer, back up, restore, and export your WhatsApp. This gives you total control over your WhatsApp data and you don't need to worry about changing phones or shifting between iOS and Android any more.
WhatsMover – The Best WhatsApp Transfer Software
100.000+
Downloads
Able to transfer WhatsApp between iOS and Android without OS restrictions such as from Android to iPhone, iPhone to Android, iPhone to iPhone, and Android to Android.

Support all iPhones and Abdroid phones like major brands ranging Samsung, LG, Huawei, Motorola to Xiaomi.

Transfer all WhatsApp data including messages, contacts, photos and other media files in a few clicks.

With the 100% success rate, it is very easy to use plus a user-friendly interface.
The steps for WhatsApp transfer from one device to another is relatively simple:
Launch WhatsMover, then connect both the Android and iPhone to your computer. Make sure the Source and Destination devices are set right.
Once your devices are detected, click on Transfer and the process will start immediately. Wait for the transfer process to complete.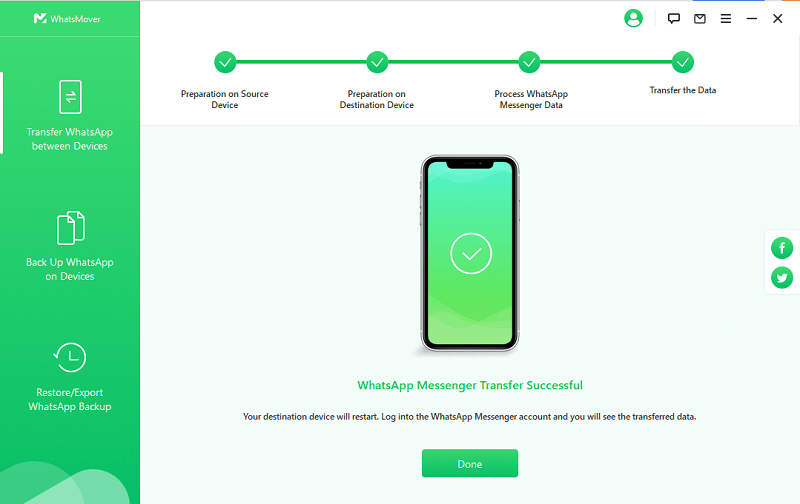 Pros
It is compatible with both WhatsApp Messenger and WhatsApp Business.

Transfer is directly within the two devices involved, and as such, there is no risk of data loss.

User-friendly interface; super easy to use.

Back up WhatsApp to your PC for free and without storage limitation.

Its price is the most competitive and affordable, $29.95 per month for 5 devices (all features included).
Cons
It is a PC software that can not be used on a mobile device This makes it totally reliant on the availability of a computer.
2

MobileTrans

MobileTrans is another effective program for cross-platform WhatsApp transfer. It transfers WhatsApp data from iPhone to Android and the other way round effortlessly.

This software can be used for WhatsApp data backup to on PC and WhatsApp restoration afterward (which requires additional payment). Like WhatsMover, it also works with every major mobile brand, including Apple, Samsung, and Huawei.

Launch the software and connect both phones to your computer. Choose the Phone to Phone and WhatsApp Transfer options.

Set your both phones as Source and Destination devices. Then click the Start button to begin the transfer.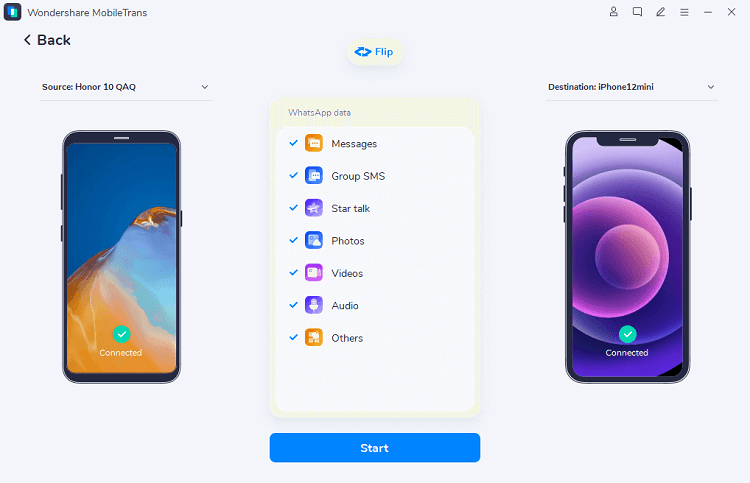 Wait until the transfer process is complete and see if there is a notification appearing.
Pros
Transfers WhatsApp across platforms (Android to iPhone and iPhone to Android)

Supports transfer WhatsApp chats, photos, documents and other attachments.

Allows data transfer on other apps such as WeChat, Viber and Line.
Cons
It is totally reliant on a PC to work.

Does not support some of the old Android versions.

Takes time to transfer large WhatsApp data and sometimes can be unresponsive.

Its price starts from $29.99 for a year package (only for transfer & backup).
3

Move to iOS

This is an Android app built by Apple for data transfer from Android to iPhone. Not just limited to WhatsApp, it allows you to transfer contacts, calendars, mail accounts, and some other essential data.

The steps are relatively easy, all you have to do is to connect the device to Wifi and then follow the instructions to move data from Android to iOS.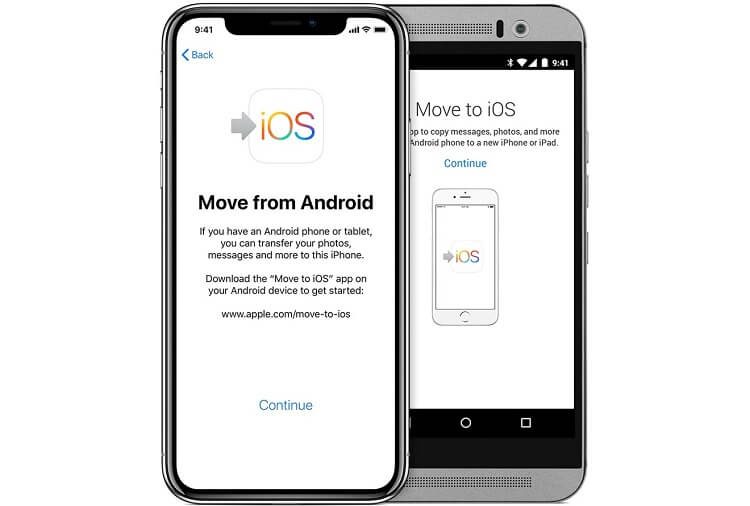 Pros
It is a mobile app and requires no computer to transfer data.

Transfer WhatsApp and other data from Android to iPhone.

Easy-to-use interface.
Cons
The transfer takes a lot of time as it transfers all the data more than just WhatsApp on the Android device together.

Many users complain that it returns an error message a few minutes into the transfer and the pairing of devices can get wrong sometimes.

It will overwrite the data on the receiving device (iPhone), which can cause data loss.

It does not offer the other benefits of some of the WhatsApp transfer apps discussed earlier.
4

Backuptrans

Backuptrans is a household name in the data transfer industry for its efficiency in what it does. It is compatible with virtually all Android versions and iPhone devices starting from iPhone 6.

Backuptrans has two versions: transfer WhatsApp from Android to iPhone and from iPhone to Android, therefore you should download the tool accordingly. You can also use this tool to copy WhatsApp messages from your phone to computer.

To use this tool, you have to firstly back up your data on your device by connecting your phones and further clicking Back up my data.

The backup process may take a while. After that, you can continue by clcking the OK button.

Then all WhatsApp chats will appear on the screen. Click the transfer option on the toolbar to start the transfer process.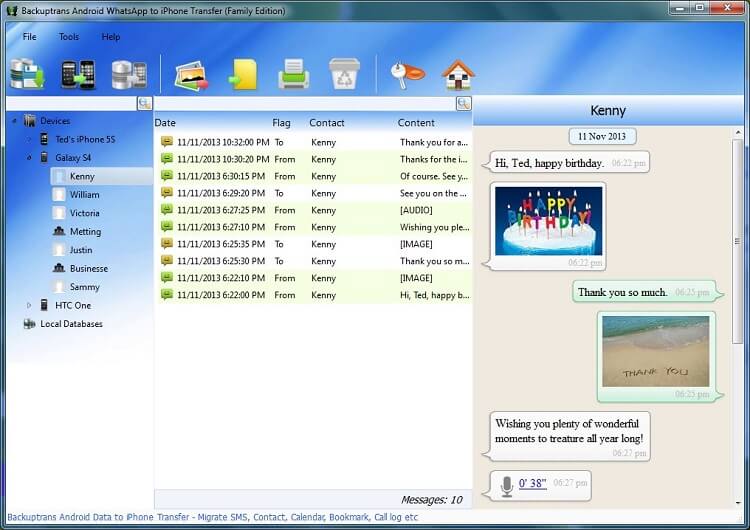 Pros
It can back up WhatsApp messages from Android to computer.

It lets you preview the WhatsApp chats and transfer selectively.
Cons
User interface can be hard to understand, not friendly to users.

It is outdated. Your devices can get hardly recognized and data transfer takes a lot of time.

It has no free trial version, with price starting from $19.95 for Windows PC and $24.95 for Mac.

No timely customer support.
5

Wazzap Migrator

The Wazzap Migrator is also a one-way WhatsApp transfer tool from iPhone to Android. It is available on Google Play to transfer your messages, photos, videos, and other data from your old phone to a new one.
The process of using Wazzap Migrator to transfer WhatsApp is a little lengthy.
To use this tool, you will need to create an iPhone WhatsApp backup first.
Then the Wazzap Migrator will extract the files from your backup and transfer them to your Android phone.
Pros
It is compatible with both Windows and Mac platform, with its price charging at $8.49.

Support various WhatsApp data types including messages, photos, and documents.
Cons
The data transfer process is rather complicated and time-consuming.

It may not work well for some WhatsApp versions and devices.

Cannot transfer WhatsApp data from Android to iPhone.
Conclusion
WhatsApp data holds so much value and should be transferable irrespective of the devices involved. While it is true that there are no official means to transfer this all-important data across platforms at the moment, there are lots of third-party software that can get the job done effectively.
We have reviewed five of the best WhatsApp transfer tools in the business for you to make an informed decision. With a quick look into this review, you will agree with this editor's pick that the WooTechy WhatsMover software is the most well-rounded of all the tools available. Not only does it offer effective inter and intra platform WhatsApp transfer, it also gives you complete control over your WhatsApp data.