Nowadays a hot topic among WhatsApp users is the data transferring and backup, which need third-party tools involved. Among them, you might have heard of BackupTrans. In this article, we are gonna review BackupTrans fully and answer some frequently asked questions such as what backup trans is, what it does, and if it's a secure platform.
We will also do a few guides on how BackupTrans Android WhatsApp transfer can be possible with iPhones and its best alternative. Thus, stay tuned and be sure to stay attentive till the end of this article.
A Full Review of BackupTrans
1

What Is BackupTrans?

If you have searched "Android to iPhone WhatsApp transfer tool" on your browser, then chances are you might have seen BackupTrans show up on the first page. Now if you didn't then you might ask what BackupTrans exactly is? BackupTrans is a software company that specializes in the most cutting-edge phone management field and let's people backup their files. Its most notable service is to offer transferring of Android WhatsApp messages to iPhones and extracting messages from iTunes backups.
It also has products for restoring Android Contacts and restoring messages from iPhones and Android phones. However, it is a paid software that costs around $29.95 for the license of the full version.
2

Is BackupTrans Secure?

Privacy and data protection are major concerns among people when it comes to backing up personal data. Hence, to protect customers' personal information, BackupTrans utilizes a completely secure server that is hosted by PayPal, SWREG, and other 3rd-party credit card processors.

This ensures that the customer's personal information such as their name, mailing address, and other credit card details are encrypted safely onto the servers. However, all this security might not be available if you are resorting to using the cracked version of the software.

If you have any further security concerns, consider this evaluation from scamadviser if you want to see even more evidence of how safe and scam-proof the BackupTrans software is. The feedback from users on backuptrans.com has been overwhelmingly good as well.
3

Does BackupTrans Work?

Is BackupTrans a legitimate service that does what it claims to? This may linger on the minds of many, however, it's an answer that's best served live. Although the software itself appears to be rudimentary, it is much functional.

Many people have used BackupTrans iPhone WhatsApp to android transfer feature and have reviewed it to have a relatively high success rate. Hence, if you are still having second thoughts about investing money in this software, just simply follow the guide below to see how it's done!
4

How Do You Transfer WhatsApp from iPhone to Android with BackupTrans?

After getting preliminary knowledge about what BackupTrans is, we realize that some of you still might have second thoughts about it. Hence, without further ado, we think it's best if we jump straight onto how you can transfer WhatsApp from iPhone to Android with BackupTrans. Here is a step-by-step guide to show exactly how it's done!

Note

The iCloud Backup have to be disabled on iPhone and the USB debugging on Android should be enabled.

Step 1 To begin the process, simply connect your existing Android and iPhone devices to your computer and run the BackupTrans iPhone WhatsApp to Android Transfer tool.

Step 2 Make sure to create a backup of your WhatsApp data by clicking Back up my data option on your Android device as soon as it is recognized on the software. Then click on OK on the software.

Step 3 Allow the program to complete the backup process while you are waiting. After it's done, you may see and store the WhatsApp chats that have taken place on your Android device through the UI on the program.

Step 4 Now hover over the Transfer Messages from iPhone to Android option in the toolbar and click on it to have all of the stored WhatsApp messages from iPhone transferred instantly to your Android.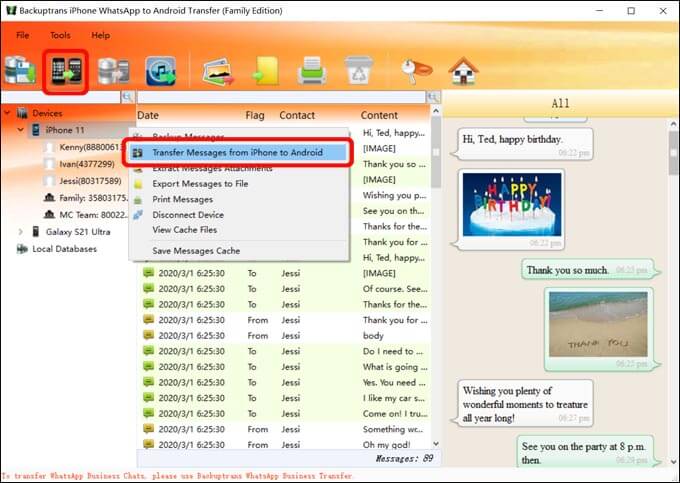 Step 5 In addition, you have the option of moving certain chats on an individual basis as well. On the phone icon, click on it to drag contact names and their respective chats. Simply right-click on any contact and pick the Transfer Messages with this Contact to Android option from the drop-down menu that appears.
5

Pros and Cons of BackupTrans

Now that we have covered the basics of its functionality, let's discuss the pros and cons of Backuptrans!
Pros
Compatible with all the newest Android and iPhone models, including the new iPhone 13 and 13 Pro. It is also compatible with early Windows OS like 2003 to the latest ones.

You can move chats one at a time and get a preview of them before.

Users can also export chats excluding any attachments in text formats.

Trusted and reliable works for just about anyone who follows all the steps accordingly.
Cons
Some iPhones users reported that the data they have sent doesn't show up on their iPhones.

The software cannot detect the Android phone successfully at some times.

The steps are really complicated for some users and the operating interface is not user-friendly.

You have to manually install WhatsApp on Android before you transfer WhatsApp data to Android.

You may not see the messages in WhatsApp on Android device after the transferring process.

It is kind of expensive for some as it can cost $29.95 for the basic plan, which can support up to three screens. The business plan costs $149.95 which allows unlimited screen options for a year.
The Best Alternative to BackupTrans - Backup and Transfer WhatsApp Between Android and iPhone
After the full review about BackupTrans, you might be dissatisfied with its performance and want an alternative that is equal to what it does, then don't we have good news for you! With WooTechy's Whatsmover, a few clicks are all that is needed to transfer data between iPhone and Android phones like WhatsApp and WhatsApp Business. Moreover, no errors will happen and the success rate is really high.
WhatsMover – The Best WhatsApp Data Management Tool
100.000+
Downloads
Transfer your WhatsApp and WhatsApp business directly without jailbreaking and root.

Support all data types including contacts, chat history, photos, videos, and more.

Compatible with all models of iPhone and Android phones like Samsung, LG, Huawei, Motorola, Xiaomi, etc.

Secure and private, it protects your files during the whole process.

Have many other functions such as backing up WhatsApp, restoring WhatsApp backup without limitation and exporting WhatsApp backup to HTML, PDF, CSV, or XLS formats.
And the best part? The Wootechy Whatsmover allows you to carry out the in just 3 simple steps with a really user-friendly UI! Here's how it goes!
Step 1 First, connect your devices to your computer in the first step. After starting the WhatsMover application, choose Transfer WhatsApp between Devices from the left side of the WhatsMover program. Connect your Android and iPhone to the computer and double-check the Source and Destination devices.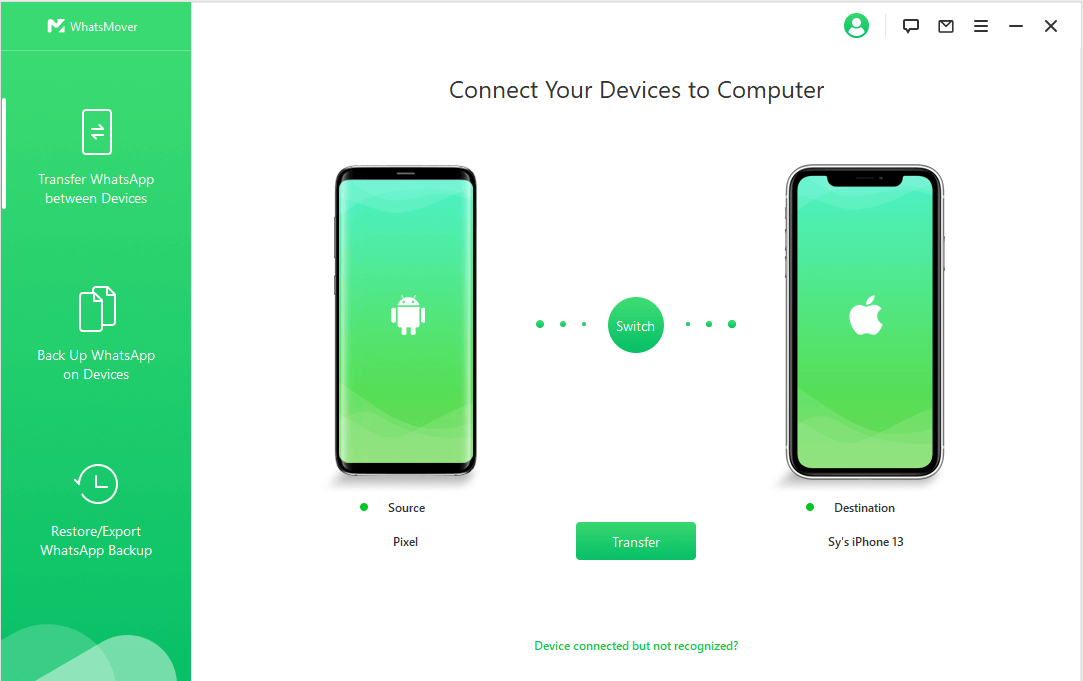 To make data accessible, simply allow USB debugging on Android phones and authenticate the computer on iPhones.
Step 2 Once both devices have been identified, choose Transfer. Then simply confirm whether you want to use WhatsApp Business or WhatsApp messenger. Then the transferring procedure will start.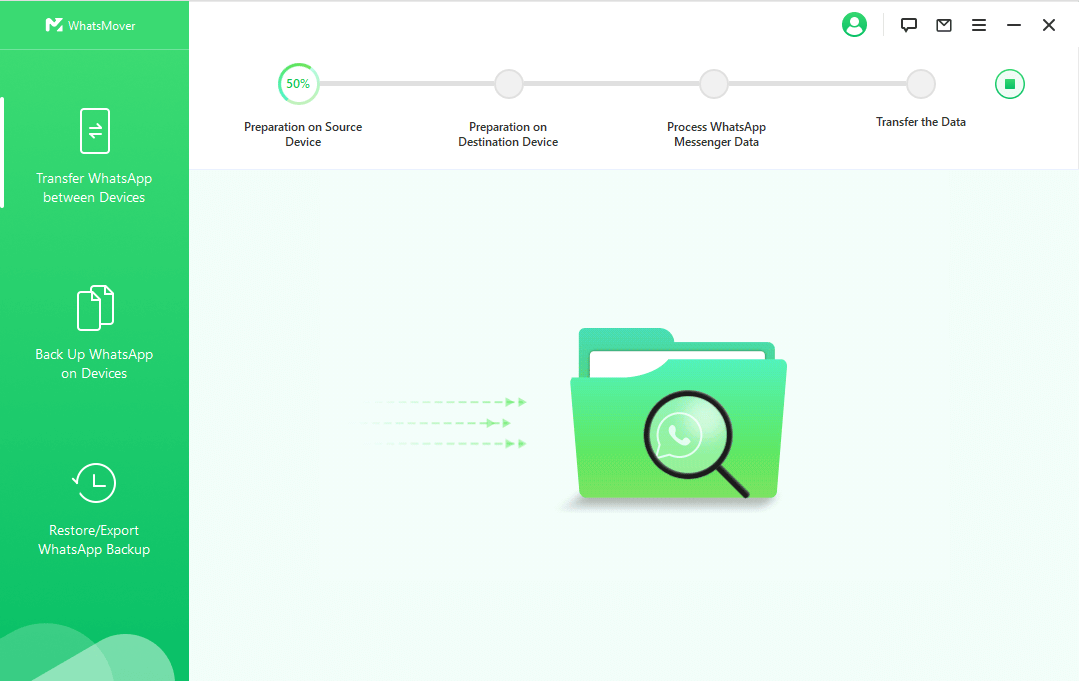 If your iPhone is the destination device, please turn off Find My and install WhatsApp. Moreover, WhatsMover will install a 100% safe WhatsApp on your Android device.
Step 3 Simply wait for the transfer to be completed. All WhatsApp data will display on the destination phone after the process is complete.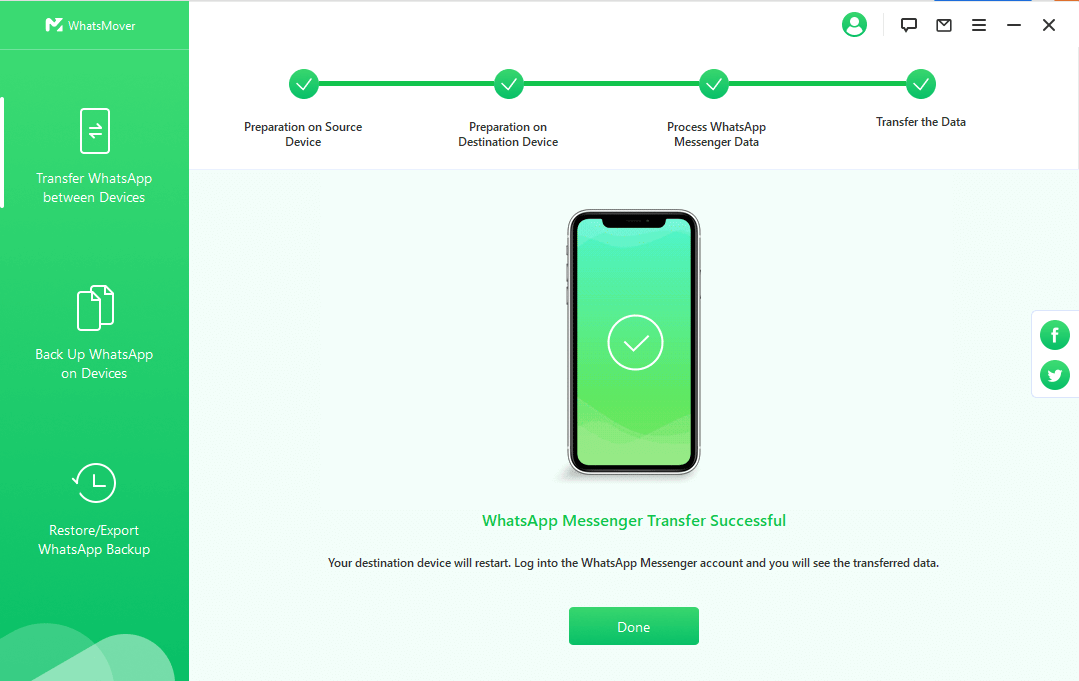 Conclusion
That pretty much covered all that we had to say about BackupTrans and its best alternative. As you can see, WooTechy WhatsMover simplifies and completes the transferring process with the fastest speed and the highest success rate. Why not give it a try? Finally, we hope this article was able to help you to the fullest and you can have the adequate knowledge to make an informed decision.