Sometimes you may need to share some WhatsApp messages with colleagues and wonder how to send WhatsApp messages to an email address? Well, thanks to the advanced features that WhatsApp continues to add to its platform, it is easier to export various types of data like messages, memes, photos, and many more.
WhatsApp has a built-in export chat feature that works efficiently to extract and export chats via email. This article brings to you various ways to send WhatsApp messages to email. But first, let's check out why you need to export WhatsApp chat via email.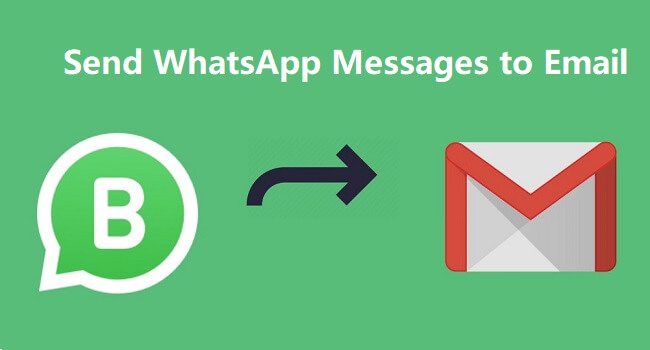 Why Do We Export WhatsApp Messages via Email?
You can opt to send WhatsApp messages to email rather than on other platforms for various reasons.
Email is a straightforward process that will directly send the WhatsApp chats to your inbox or the inbox of your recipient.

It helps for easy retrieval of your files. Just sign in to your email and extract them from the inbox section. Alternatively, you can keep them in a folder within your account and reach to them any time.

To transfer WhatsApp files between different devices. It doesn't matter what OS device the recipient is using as the files will be accessible.

Enable you to send your files in ".txt" format that is also easy to access and print.

We also use email for reliable storage as long as you don't archive your files. More so, email won't erase your previous chat backup as iCloud or Google Drive does.
How to Send WhatsApp Messages to Email?
Whether you use an Android or iPhone device, check below for the steps on how to forward a WhatsApp message to email.
2.1 Send WhatsApp Messages to Email on Android
Android users can use these steps to export chats on WhatsApp from the phone via email. For different versions, the steps may vary slightly.
Step 1: Launch the WhatsApp application on your Android phone or tablet, then open the personal or group chat you wish to export.
Step 2: Tap the three dots icon at the top right corner inside the conversion and select More.
Step 3: On the next screen, tap the Email chat option and select to email your WhatsApp chats.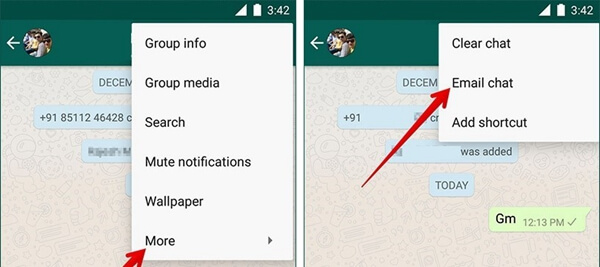 Step 4: You have two options you can use to send your chat; either Attach Media or Without Media. The latter option will only export the chat texts in .txt format.
Step 5: Then enter the Email address you wish to forward the WhatsApp chats. Now the messages will be received at the destination email address.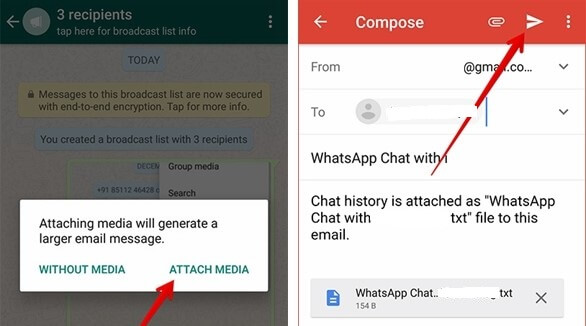 2.2 Email WhatsApp Chats on iPhone
For this method, employ the built-in feature to email WhatsApp chats on iPhone, the steps are easy to follow.
Step 1: Go to WhatsApp and open the chat you want to email.
Step 2: Then tap on the name of the personand open the contact information.
Step 3: Check under the "Contact Info" for the Export Chat option and tap on it.
Step 4: A pop-up will show up. Here, select whether you want to attach media files or not, then select the Mail application to export chat to.
Step 5: Next, type in the email address of the recipient and send the WhatsApp messages to email.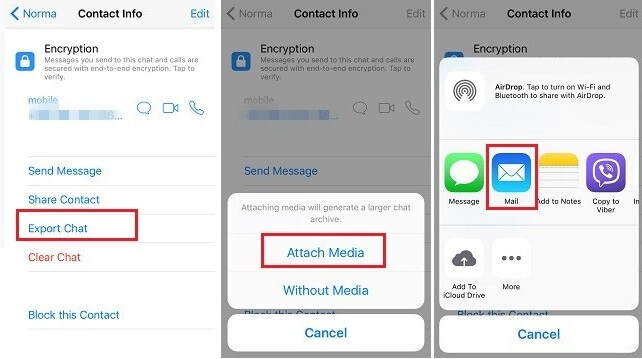 2.3 Forward WhatsApp Messages to Email Automatically
Plenty of users are also looking for a way to automatically send WhatsApp messages to email. This is only possible with third-party apps.
Use "Online Social Solutions" to automatically forward WhatsApp messages to email via these steps. This is an online tool that does not require any download and installation.
Step 1: Visit the online social solutions site on your PC. It will ask you to enter a username or phone number used for your WhatsApp to send an email from WhatsApp.
Step 2: Next, hit the Check Now green button, and the application will enable email WhatsApp chats automatically to the provided number daily.
Best Way to Export All WhatsApp Messages At Once
If you are intended to transfer WhatsApp messages between different devices via email, there are some disadvantages.
WhatsApp has a limit of 40,000 messages if you don't attach media, and you can send only 10,000 messages if you choose to include media.

You can only send one WhatsApp chat to email at once.

The messages cannot be exported to your phone via email, you can only read them in the email application.
Fortunately, now you can bypass all these limits by using a third-party WhatsApp transfer tool - WooTechy WhatsMover. It can back up all your WhatsApp chats and attachments on Android & iPhone to your computer, which will be stored safely and won't be overwritten or deleted. Then, you can export the data as it appears on your phone. Let's get straight to the process.
1

Back Up All WhatsApp Chats to Computer

First all all, you need to create a backup of all your WhatsApp chats to computer using the WooTechy WhatsMover. Just select the Back Up WhatsApp on Devices option and it will be done in minutes.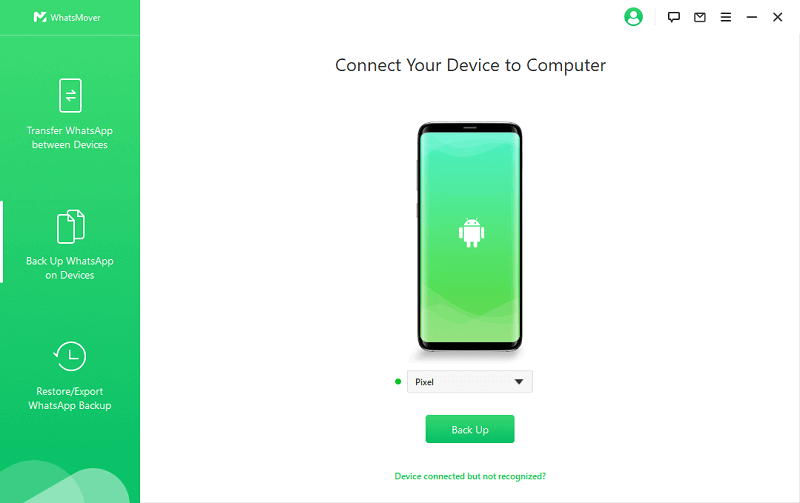 2

Choose a WhatsApp Backup

Select the Resore/Export WhatsApp Backup on the left pane and choose the WhatsApp backup you want to export.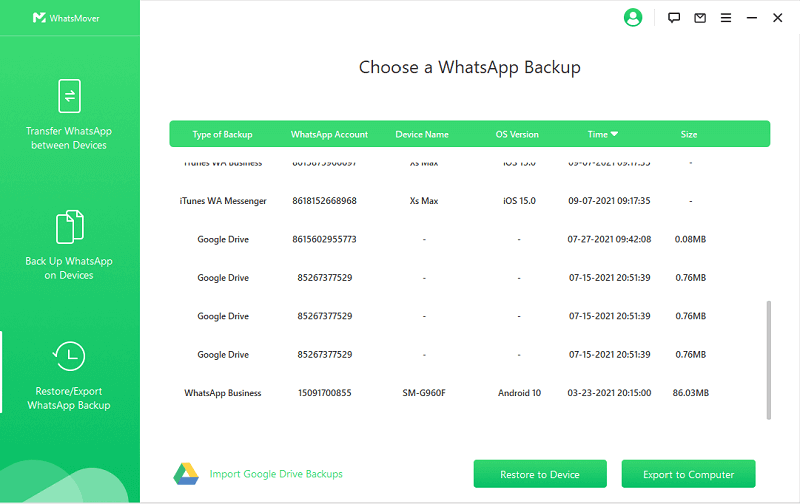 3

Preview and Select the Needed Files

Now you can preview all the files in your backup, choose the chats or media files you hope to export. There are several formats to choose from, you can read the chats as they appear on your phone (HTML/PDF) or as a log file (XLS/CSV).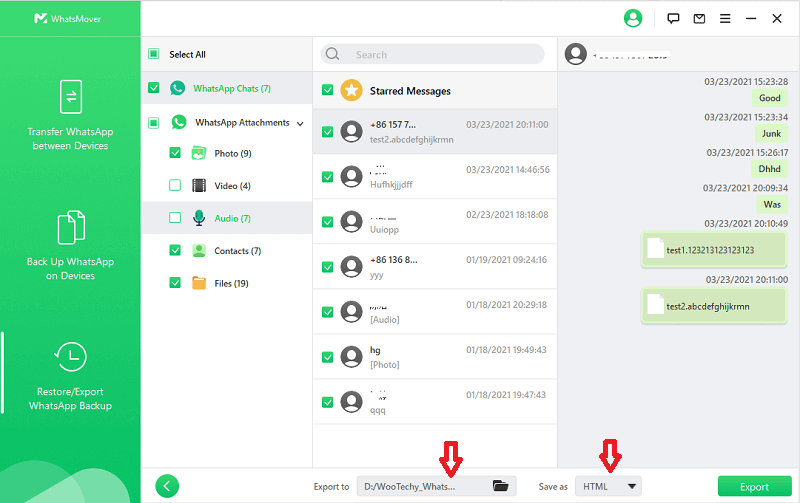 4

View the Exported Messages

Now you can preview all the files in your backup, choose the chats or media files you hope to export. There are several formats to choose from, you can read the chats as they appear on your phone (HTML/PDF) or as a log file (XLS/CSV) .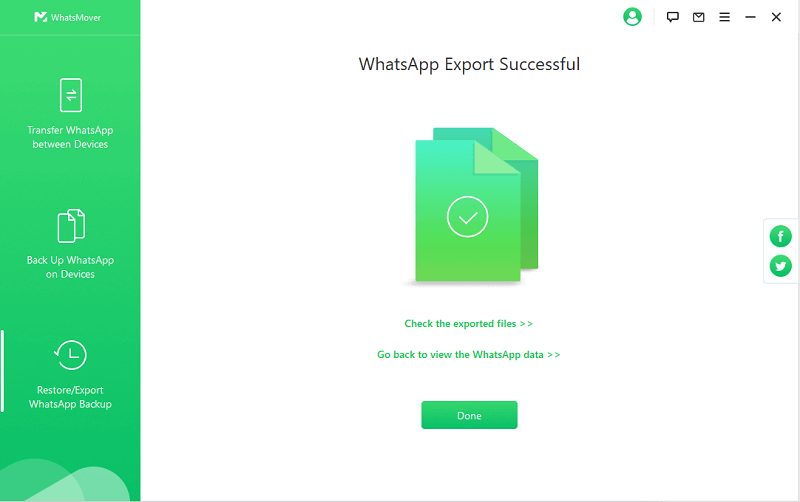 After this, you can send the WhatsApp messages to email quickly. What's more, you may restore the WhatsApp backup created by WhatsMover to any Android or iPhone, which is useful if you are switching to a new phone.
Final Words
You don't need rocket science to send WhatsApp messages to email whether you are using an iPhone or Android. Furthermore, you can easily transfer your WhatsApp messages to any device with WhatsMover, it can move more than 40,000 messages at once, with no limitation at all!