Let's face it. Having to uninstall WhatsApp before restoring the backup is a frustrating process. But that's the reality most WhatsApp users have had to cope with.
However, with the ever-evolving world of technology and WhatsApp becoming more popular by the day, the backup restoration process is surely going to change. Users are now searching hard for how to restore WhatsApp chat without uninstalling the app, which is what brought you also to this post.
Be at ease as this article contains the answers to your questions and covers everything you need to know about how to restore WhatsApp backup without uninstalling. Enjoy!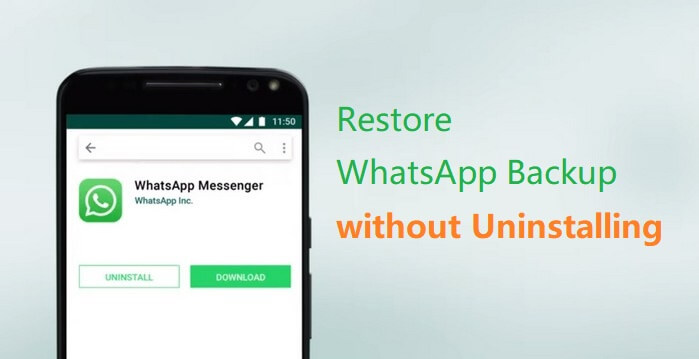 Part 1. Can I Restore WhatsApp Backup Without Uninstalling?
YES, you can restore WhatsApp backup without uninstalling, but not with an official method. Before letting you in on the process, let's quickly take a look at the official options you've got.
Officially, there are 3 ways by which you can restore WhatsApp backup – via Google Drive and Local Storage (for Android users) and iCloud (for iPhone users). Unfortunately, all the ways require you to uninstall and reinstall your WhatsApp in the offical way which is the tedious process you are trying to avoid.
| | | | |
| --- | --- | --- | --- |
| | Supported Device System | Uninstall WhatsApp | Storage Limitation |
| Google Drive | Android | Yes (Offically) | 15GB |
| Local Storage | Android | Yes (Offically) | Depend on the Phone Storage |
| iCloud | iPhone | Yes | 5GB |
| iTunes | iPhone | No | No limitation |
| WooTechy WhatsMover | Android & iPhone | No | No limitation |
Thankfully, there are other ways to pull this off without stress and that's what the next section of this post entails. Read on!
Part 2. How to Restore WhatsApp Backup Without Uninstalling?
There are 4 sure-fire ways of restoring WhatsApp backup without uninstalling the app. These methods are pretty straightforward with no technical knowledge. You can know them clearly following the steps.
2.1 How to Restore WhatsApp Backup Without Uninstalling with One Click? ( Android & iPhone )
Although new to the market, WooTechy WhatsMover is a superb WhatsApp management software that enjoys a dramatically growing WhatsApp users. It's easy for you to restore your WhatsApp backup without uninstalling and reinstalling the app much more directly and efficiently than any other methods.
On one hand, it is a totally offical and professional WhatsApp restoration tool which allows you to retore all kind of WhatsApp data you backed up, including messages, images,video, documents and any other attachments. On the other hand, this tool allows you to restore the backup with a high success rate and the quickest speed.
The Shining Features of WooTechy WhatsMover:
Support to restore WhatsApp/WA Business data to iPhone and Android phones, such as Samsung, LG, Huawei, Motorola, Xiaomi, and more.

In one click, you can restore any backup created by WhatsMover to your Android or iPhone devices with an ability for you to preview the backup data in detail.

Restore WhatsApp chats from the Google Drive backup to either your iPhone or Android without OS limitation.

Allow you to scan the iTunes backup and further restore it to your phone without uninstalling WhatsApp.
Foremost, you need to install WooTechy WhatsMover on your computer (available for Windows and macOS) and launch it, then follow the simple steps below to restore your WhatsApp backup without uninstalling.
Step 1: Back Up Your WhatsApp Data
Connect your Android phone or iPhone with a stable USB cable, WhatsMover will automatically detect your phone. Select Backup WhatsApp on Devices from the left panel and click Back Up to start the process.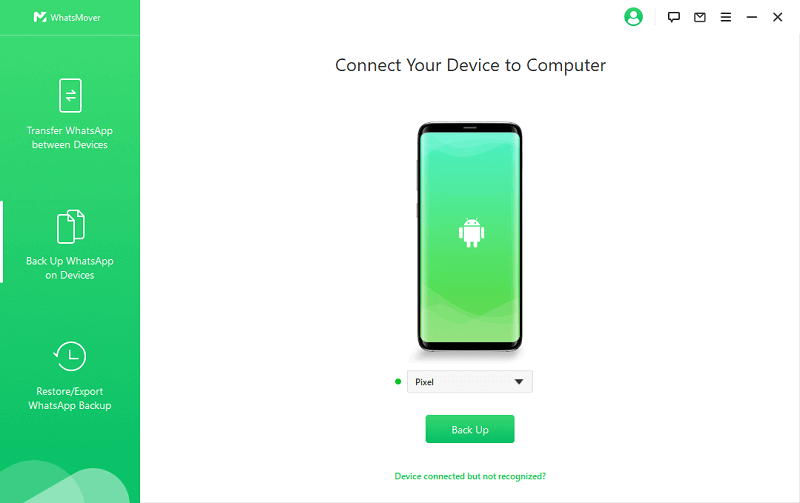 Step 2: Choose a WhatsApp Backup
After the backup process is completed, select Restore/Export WhatsApp Backup on the left panel. A list of WhatsApp backups will appear on the screen, choose the one you need.
Then select Restore to Device on the bottom and WhatsMover will immediately start to restore the data from your backup.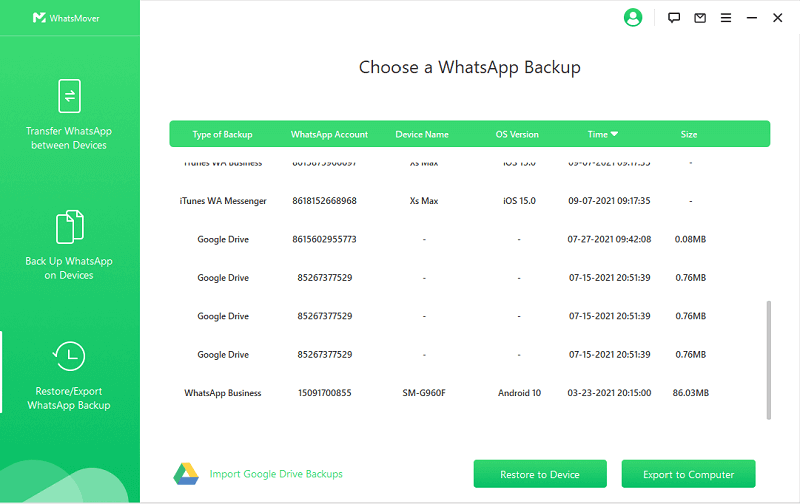 Step 3: Restore Backup Without Uninstalling
Wait until the restoration is complete, it won't take long. Click on Done and disconnect your device after that, then open WhatsApp and you will see all your WhatsApp data fully restored.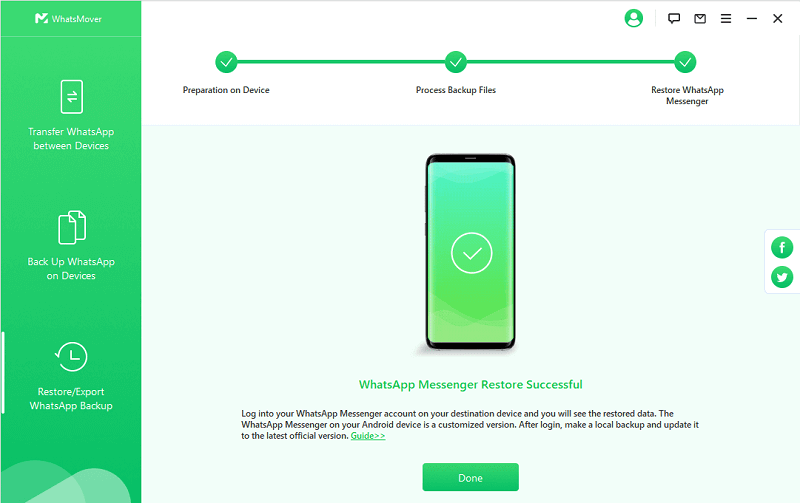 2.2 How to Restore WhatsApp Backup from Google Drive Without Uninstalling? (Android & iPhone)
As metioned previously, to restore WhatsApp backup from Google Drive has to uninstall and reinstall WhatsApp app in the offical way. However, here gets an excellent method which can achieve to restore WhatsApp backup from Google Drive without uninstalling or reinstalling WhatsApp.
That's to use WooTechy WhatsMover to complete this process, which can download the WhatsApp backup from Google Drive and then restore it to your Android and iPhone deivces. Let's find out how it works.
Step 1: Install WooTechy WhatsMover on your PC and launch this tool, tap on Restore/Export WhatsApp Backup mode.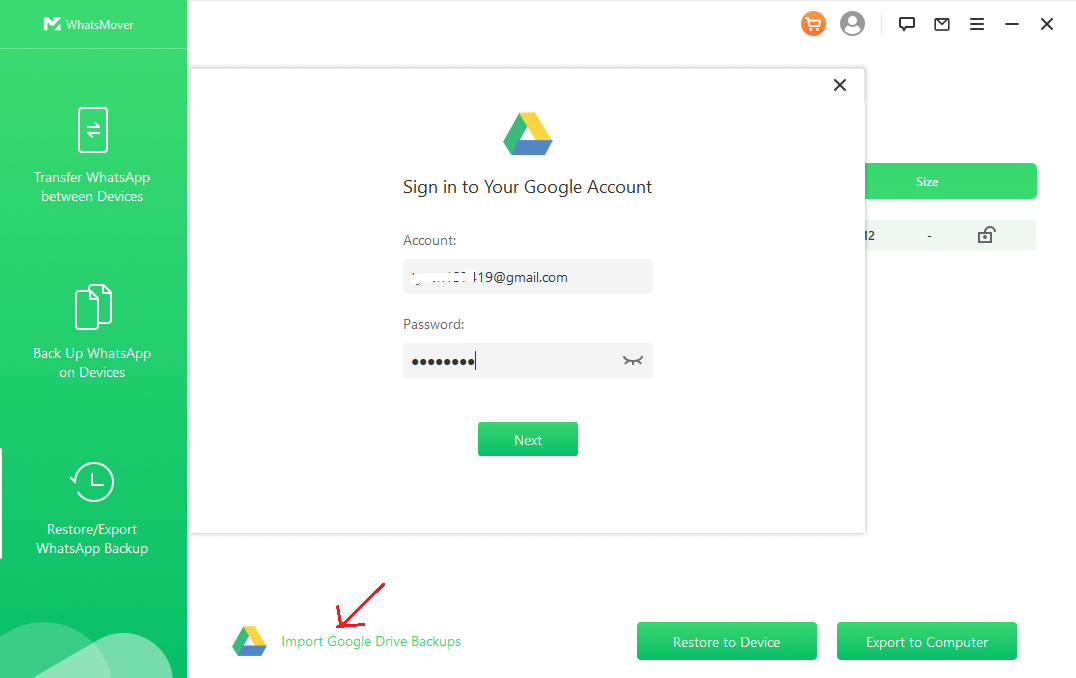 Step 2: Hit Import Google Drive Backups, and sign in your Google account. Your WhatsApp backups in Google Drive will be shown. Select the backup you need and click the Download icon.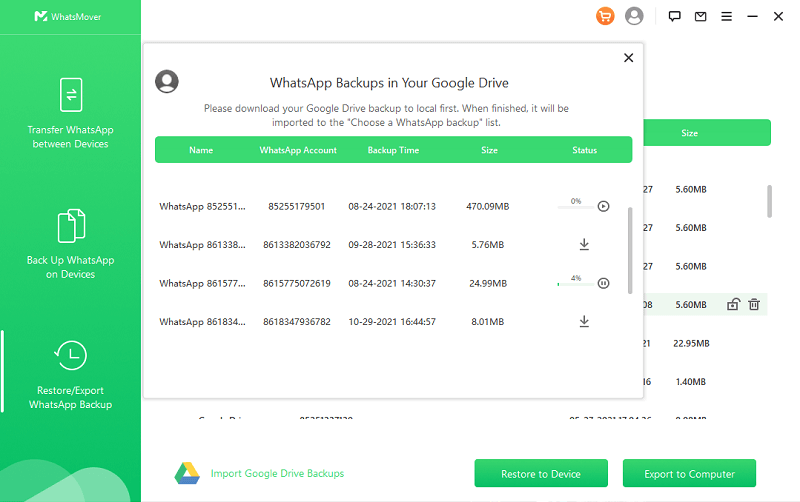 Step 3: Connect your Android device or iPhone to the computer and choose Restore to Device option on main screen. Just wait a minute, the whole process will be complete and then your WhatsApp data from Google Drive has been restored to your iPhone.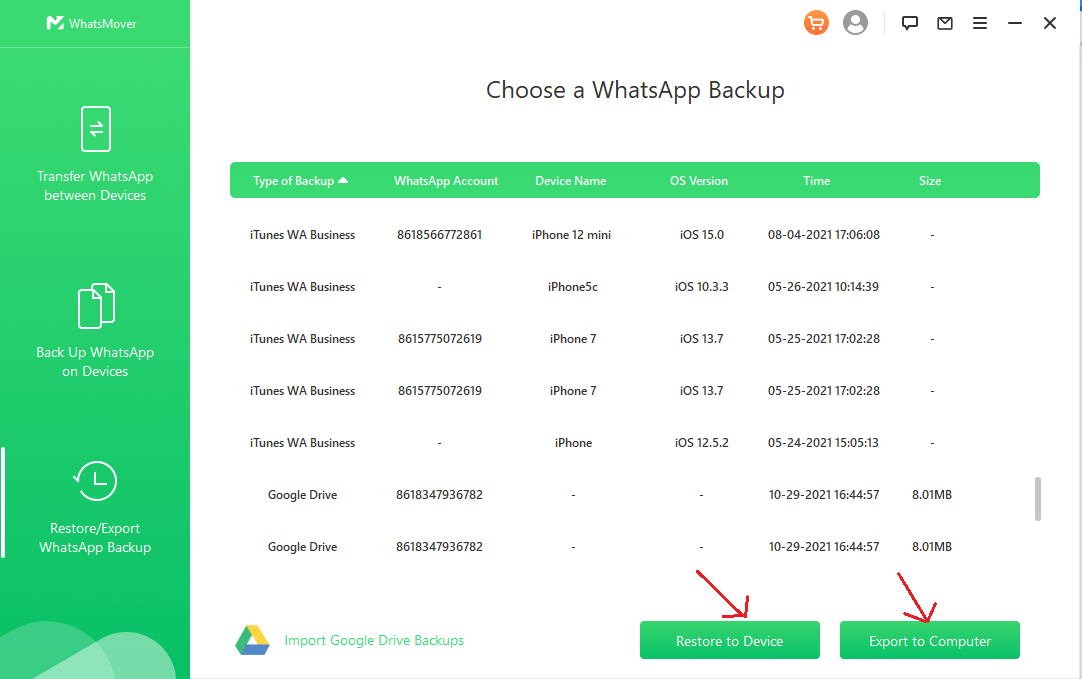 2.3 How to Restore WhatsApp from Local Backup Without Uninstalling? (Android Only)
Actually, you still can restore WhatsApp from local backup without uninstalling or reinstalling your WhatsApp app. Now the following will teach you the operations step by step:
You can use the built-in File Manger of your phone or install any other perferred File Managers from Google Play Store to your phone.
Check the Local Backup of Your WhatsApp
Step 1: Confirm that your Local Backup exists on your device and it is up to date. Go to Internal Storage and tap on the WhatsApp folder. You should find three folders ( Databases, Backups, and Media).
Step 2: Open the Database folder. If you are using the latest version of WhatsApp, your most recent backup file should be renamed as msgstore.db.crypt14.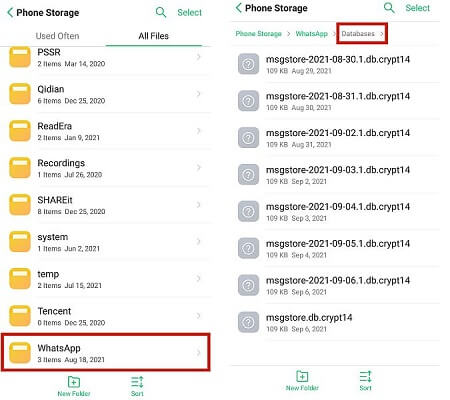 Step 3: Check the backup data to find the recent backup file you need.
Step 4: Restore the recent WhatsApp backup. Go to your phone Settings > Apps > WhatsApp > Storage > CLEAR DATA. Then a pop will appear to inform you that your app data will be deleted, just tap on OK.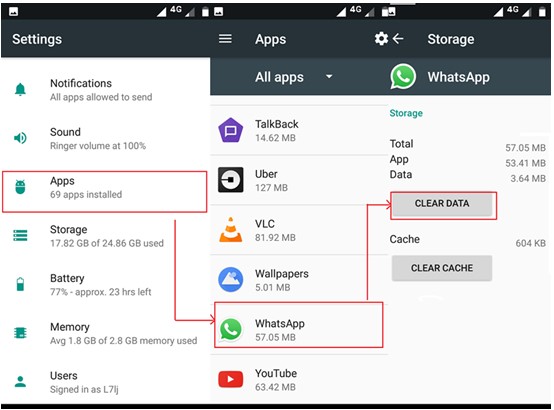 Restore WhatsApp Local Backup Without Uninstalling
Step 1: Locate the WhatsApp app on your phone, it will behave like you just install it.
Step 2: Launch your WhatsApp with entering your phone number and verifying code. Then fill in your unsername and provide your WhatsApp profile photo.
Step 3: Finally, tap on the Restore button to start your WhatsApp backup restoration. Please don't click SKIP, or the restoration process will be stopped. Wait untill the process is complete, then you have succeeded in restoring WhatsApp backup using local backup without uninstalling WhastApp.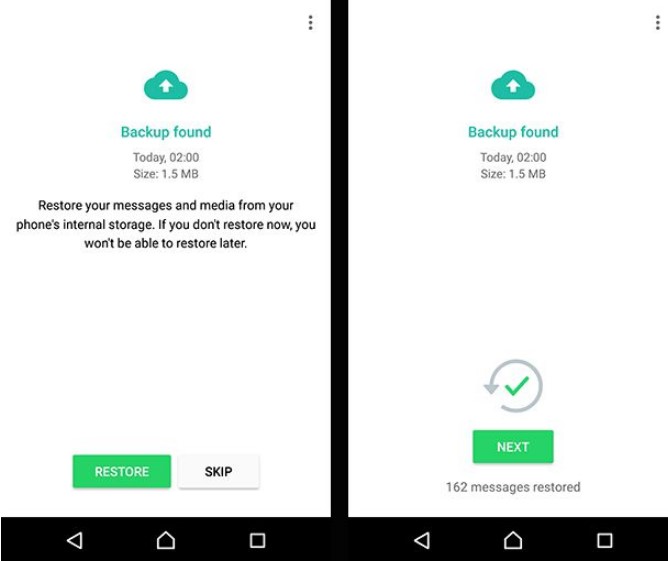 2.4 How to Restore WhatsApp Backup from iTunes Without Uninstalling? (iPhone Only)
For iPhone users, there's another way to restore WhatsApp backup without uninstalling and reinstalling the app, that's via iTunes. To make this work, you first need to make sure that all the data in your device including WhatsApp is backed up to iTunes. Also, make sure your backup is up-to-date to avoid losing your most recent data.
Step 1: Open iTunes on your computer and connect your iPhone via the power cable, make sure your iPhone can be detected by iTunes.
Step 2: Locate the Summary panel on iTunes window and go to the Backups section.
Step 3: Click on Restore Backup and you will be prompted to select a backup of your choice. Make sure to select the backup that contains the WhatsApp data you want to restore.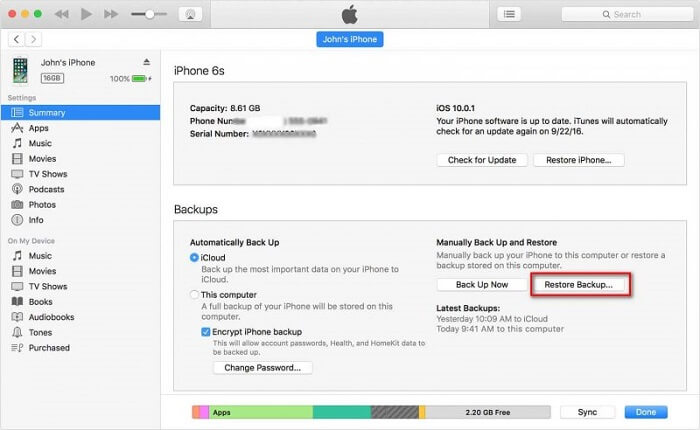 Step 4: Select Restore and iTunes will automatically start restoring all your backed-up data including WhatsApp to your iPhone.

This approach is the restoration of full iPhone backup rather than just WhatsApp. Consequently, it will consume a lot of data, storage space, and time. If you want to restore backup selectively, I'd recommend
WhatsMover WhatsApp restoration tool
.
Final Words
From the aforementioned, this article has outlined 4 proven methods to restore WhatsApp backup without uninstalling and reinstalling WhatsApp. It's evident that the first method - using WooTechy WhatsMover is the most relaible and convenient method to remove your probem.
Therefore, if you want a fast and drag-free restoration of WhatsApp backup, WooTechy WhatsMover is your go-to tool. Have a try via clicking the Download Now button below and you won't regret it!