Having been a fervent Android phone user for a good part of the last decade, I decided to switch to the much-touted iPhone for a new experience. The transition was seamless and effortless, except for a major obstacle - how do I transfer WhatsApp from Android to iPhone?
If this sounds like you, and you feel helpless with WhatsApp transfer, don't worry anymore. This article will take you through the best ways to move your WhatsApp data from Android to iPhone – including the newly-released iPhone 13 models. Read on to find out more!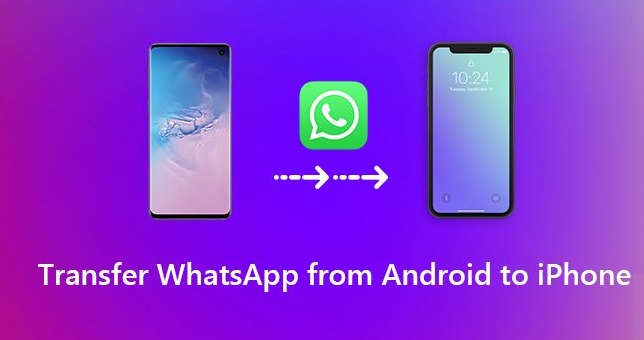 Can I Transfer WhatsApp from Android to iPhone Using Backup?
Many people have asked this question and it's natural to think so. Unfortunately, you may get disappointed because the working principles of Android and iPhone are different.
Android stores WhatsApp backup on Google Drive while iPhone stores the backup on the iPhone iCloud. Even if you decide to save your WhatsApp backup locally on your Android, your iPhone won't be able to access it due to the difference in encoding.
Furthermore, the Move to iOS app that allows you to transfer data from other devices to an iPhone does not support WhatsApp data yet. Hence, there is no direct way to transfer WhatsApp from Android to iPhone using backup.
But there's good news!
If you have already backed up the WhatsApp messages on your Android device to Google Drive [Go to Settings > Chats > Chat backup], you can surely restore the backup to iPhone using a third-party WhatsApp transfer tool.
How to Transfer WhatsApp from Android to iPhone?
There might not be direct official means of transferring WhatsApp from Android to iPhone, however, there are still simple and effective ways you can transfer all your data as if you never switched phones. Below are the two best options available.
2.1 Transfer WhatsApp from Android to iPhone in One Click
As we have explained, WhatsApp official doesn't offer a way to transfer WhatsApp chats yest, therefore you need a professional WhatsApp transfer tool that can move WhatsApp Android to iPhone in an efficient way, and WooTechy WhatsMover is no doubt the best choice.
WhatsMover is a unique software that allows you to transfer WhatsApp data from Android to iPhone with just a single click of the mouse. It has no version or model limitation and can transfer data from Android to even the latest iPhone devices (iPhone 13, iOS 15 included).
Be it WhatsApp messages, images, videos, chat history, and all other attachments, the WhatsMover software transfers them all effortlessly.
WhatsMover - WhatsApp Transfer in One Click
Compatible with both WhatsApp and WhatsApp Business.

Direct transfer from Android to iPhone devices. It requires no other tool or app.

Clear instructions and a user-friendly interface ensure that you don't need any technical knowledge to transfer your data.

Its advanced and cutting-edge technology ensures 100% data transfer success.
Transfer WhatsApp from Android to iPhone Using WhatsMover
Step 1: Connect Your Devices
Download and install the WhatsMover software. Launch the app, and connect your Android and iPhone to your computer via USB cables, then click Transfer.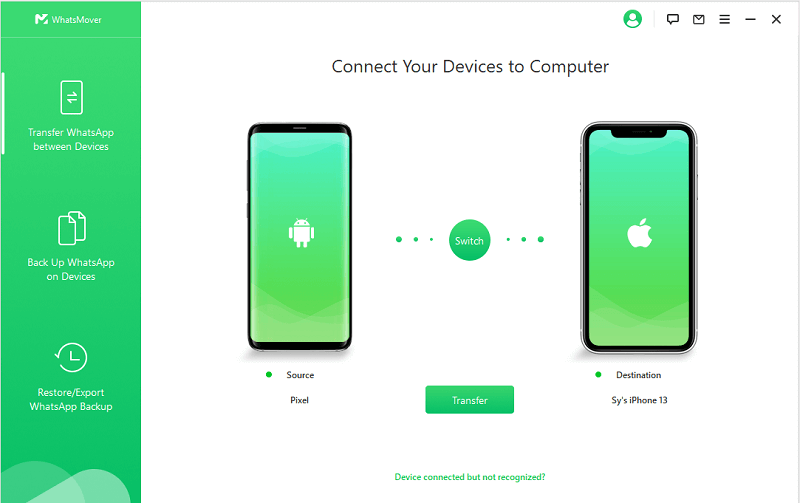 For data transfer from Android to iPhone, the Android should be displayed as the source, while the iPhone as the destination. Click on the Switch button to correct the order if it is otherwise.
Step 2: Start Transferring Data
You will be asked to choose the type of WhatsApp you want to transfer, choose either WhatsApp Messenger or WhatsApp Business and the transfer will start.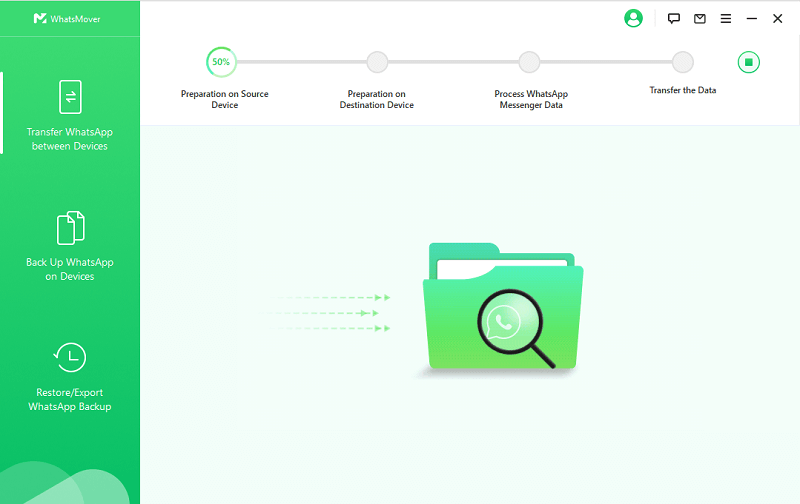 Step 3: WhatsApp Transfer Completed
Ensure both devices are connected to the computer till the end of the transfer. When the transfer is complete, your iPhone will reboot automatically, and you will have your WhatsApp data ready for use.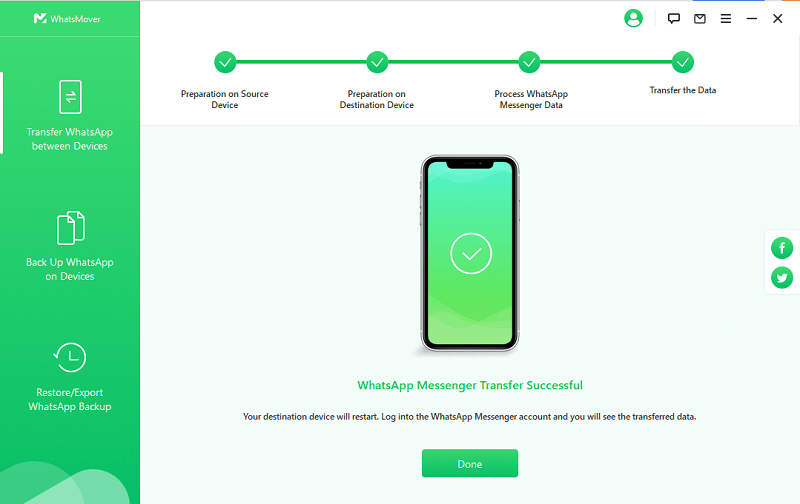 2.2 Move WhatsApp from Android to iPhone Using Email
This is another good option, though not as effective as using the WhatsMover transfer software. This is because using Email only allows you to back up your chat history as an inbox that can be read later.
Hence, when you log in to the same Email address on your iPhone, you will be able to read the messages on your Email, but they won't be restored to your iPhone's WhatsApp. Below are the steps to follow to transfer WhatsApp chats from Android to iPhone using Email:
Step 1: Open WhatsApp on your Android phone and go to Settings.
Step 2: Select Chats and tap Chat history to open the chat history page.
Step 3: Select the Export Chat option. This will display your chats, and you will be asked to select the chats you wish to export.
Step 4: Choose a contact of your choice and select the Email option to transfer the chat history to Email. This will display the traditional Email composing interface.
Step 5: Enter your Email address as the recipient Email and send it.
Step 6: Log in to the same Email address on your iPhone and open the inbox. From here, you can view the chat history on your iPhone.
As email has a limited size, this method is only recommended to transfer a handle of important messages. If you want to transfer all WhatsApp data directly, way 1 is best for you.
FAQs about WhatsApp Android to iPhone Transfer
Q. Can I transfer WhatsApp messages from Android to iPhone using Google Drive?
Not officially. This is because the mode Google drive uses to save WhatsApp backup is not compatible with iPhone. Also, iPhone only restores WhatsApp backup from iCloud/iTunes while Android restores from Google Drive. They cannot work interchangeably.
Q. Can I transfer WhatsApp chat history across platforms?
According to WhatsApp officials, this is only possible if you want to transfer chat history from an iPhone to a Samsung. Below are the requirements for the data transfer to be successful:
1. Install Samsung SmartSwitch app version 3.7.22.1 or higher on your device.

2. WhatsApp iOS version 2.21.160.17 or abover on the iPhone.

3. WhatsApp Android version 2.21.16.20 or higher on Samsung device.

4. USB-C to lightning cable or an equivalent adapter.

5. Phone numbers must be the same for Samsung and iPhone.

6. The Samsung must be new or otherwise reset to factory settings.
Final Words
As easy as it is to switch from an Android device to your dream iPhone, there is always the challenge of how to transfer WhatsApp from Android to iPhone. This is because the operating systems of the two devices are sorely different.
This article explains in details everything required to transfer WhatsApp messages from Android to iPhone. We also recommended the ever-reliable WhatsMover software for straightforward and safe WhatsApp data transfer. You now have all you need to enjoy your WhatsApp as if you never switched phones.