WhatsApp has become one of the most important messaging apps in the world, everyone needs to communicate with friends, family or business partners each day. However, sometimes we will encounter some errors. A standard error that can occur is the pop-up: "Unfortunately WhatsApp has stopped."
It is a very annoying message and ambiguous as to what exactly has gone wrong on WhatsApp, so how do we fix this issue?
Don't worry, we will explain that to you in this article and give you numerous ways to fix "Unfortunately WhatsApp has stopped solution."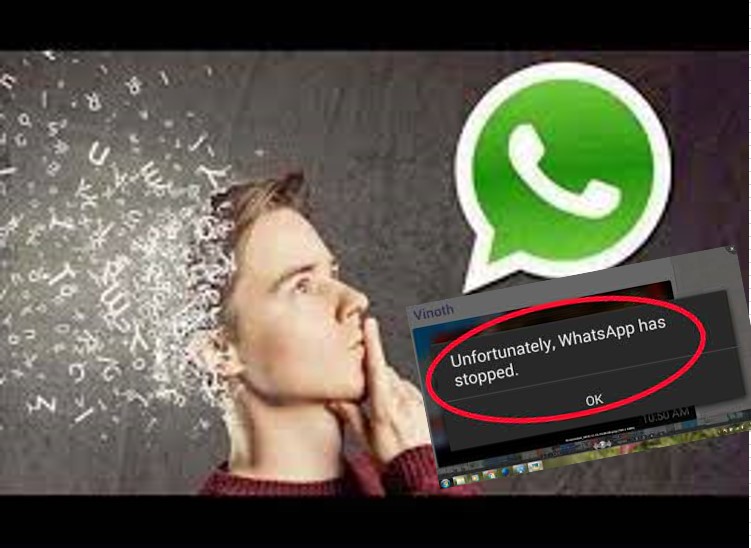 Part 1. Why Does My WhatsApp Show Unfortunately WhatsApp Has Stopped?
Unfortunately, WhatsApp has stopped issue generally means something is wrong with the overall download of your WhatsApp and not something specific. It typically comes when something causes the application to crash or freeze, showing the error. The possible reasons are listed below: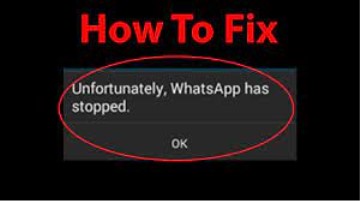 The stuck of your phone deivce.

Low version of your WhatsApp app.

Your WhatsApp cache may be full.

WhatsApp imcompatible with your Android Phone.
Part 2. How Do You Solve Unfortunately WhatsApp Has Stopped?
Take it easy, it's not as difficult and complex as you imagine to solve this issue. Here brings 8 quick fixes to help you out.
1. Restart Your Phone Again
Restarting your phone is the simplest solution for many WhatsApp-related issues. Try restarting your phone to see if WhatsApp can work normally again. For most users, this should solve the problem. If not, proceed to the steps below.
2. Clear Data and Cache of WhatsApp
While we have a separate article on this which we highly recommend you go through, here is a basic rundown:
For iPhone users:
Select General > iPhone Storage > WhastApp > Offlaod App.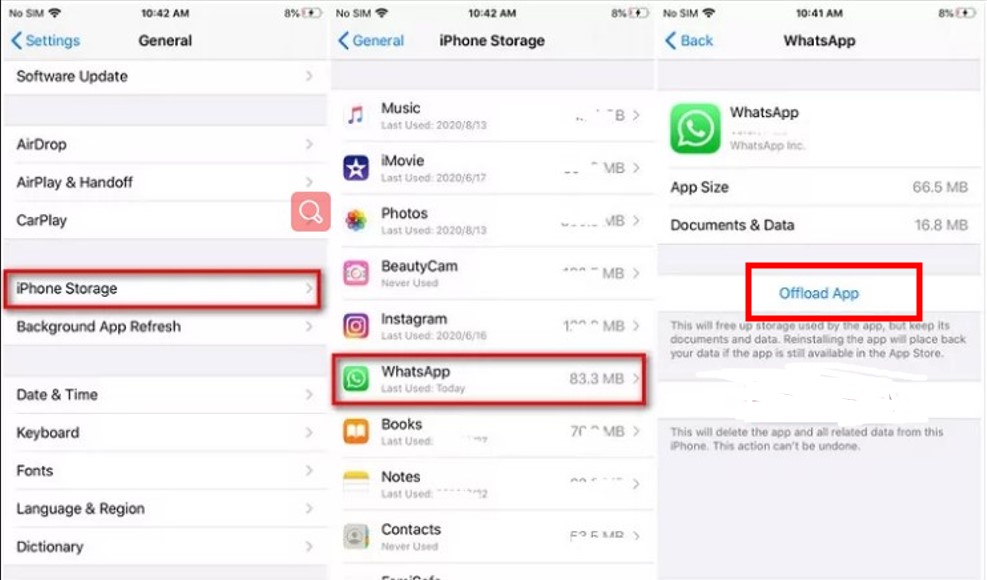 For Android users:
Go to Settings > Apps & notifications> WhatsApp > >Storage & cache > CLEAR CACHE.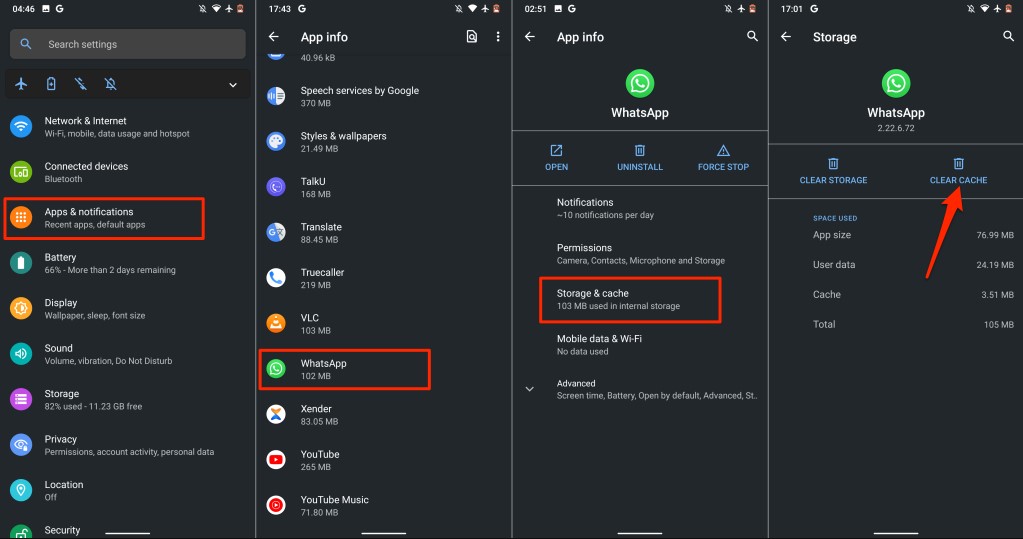 3. Check Your Phone Storage
A common reason why WhatsApp gives the Unfortunately, WhatsApp has stopped error is that there is no more storage left for WhatsApp to operate and function normally. To clear some space up, delete some old photos or apps you don't use to free up space. While there is no set amount that WhatsApp uses, we recommend having at least 1 GB of space for WhatsApp and other apps to function normally.
Check iPhone Storage:
Settings > General > iPhone Storage.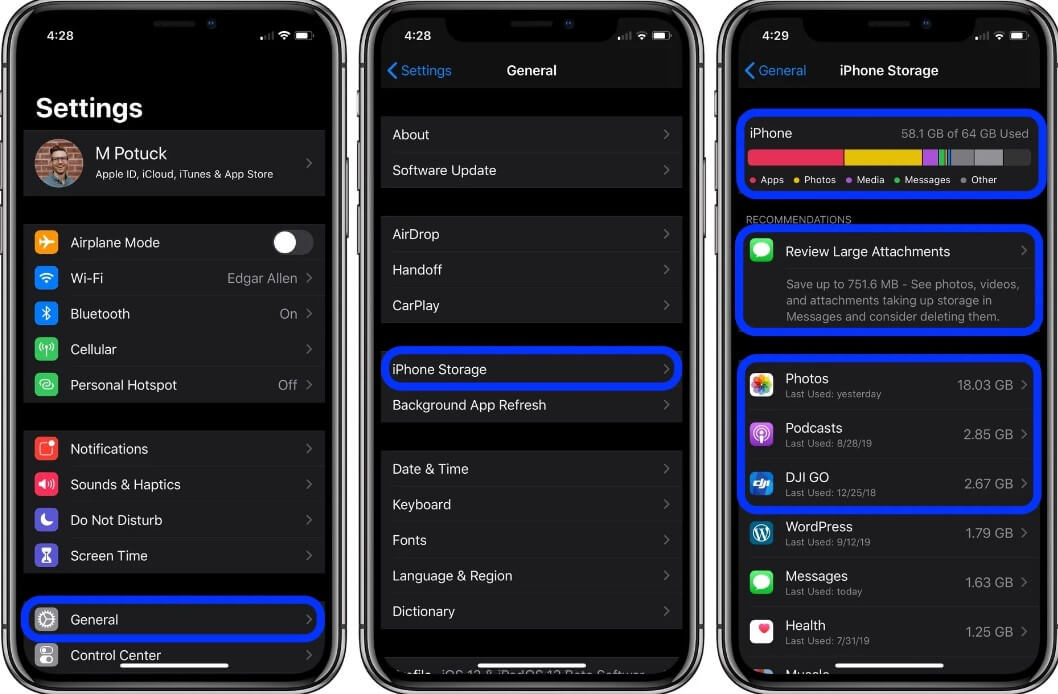 Check Android phone Storage:
Settings > Storage > internal shared phone storage.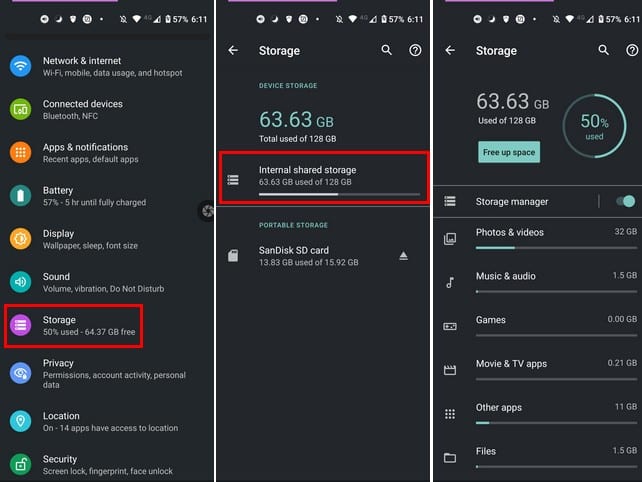 4. Update WhatsApp
Sometimes, WhatsApp may need to be updated because it lacks certain features or has solutions to current bugs. It could have certain components which are corrupted and need to be fixed. Go to your App Store for iPhone ( or Play Store for Android) and update WhatsApp. This should fix the problem.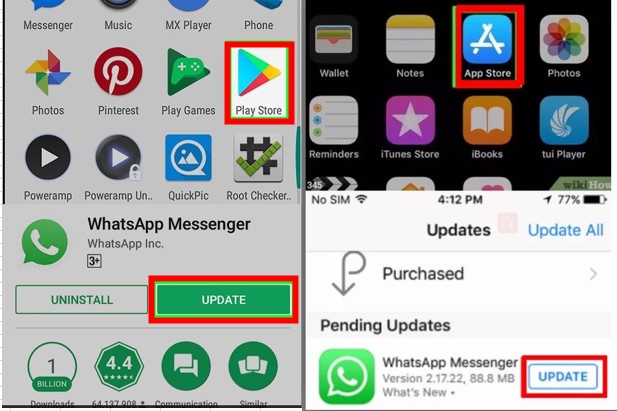 5. Uninstall and Reinstall WhatsApp
If none of these solutions work so far for you, you may want to try uninstalling and reinstalling WhatsApp. This can solve any issues related to the application's internals as sometimes WhatsApp can download parts improperly.
However, before you do this, ensure you have all your WhatsApp data backed up, as sometimes you can lose all of it by uninstalling it. To ensure you have the latest backup and how to back up all your WhatsApp data .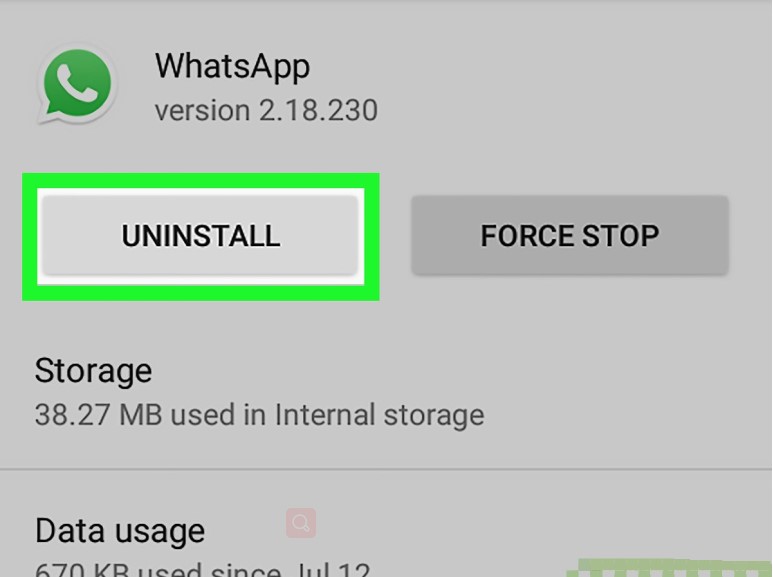 6. Gmail Account Hacked or Invalid (Android Only)
It is a well-known fact that your Google account is detrimental to your Android Phone. Sometimes, your Gmail account could no longer be valid or hacked. If you are sure your Gmail account isn't hacked, you should try logging out. To do this:
Go to Settings > users & accounts > Select Google Account > Remove Account.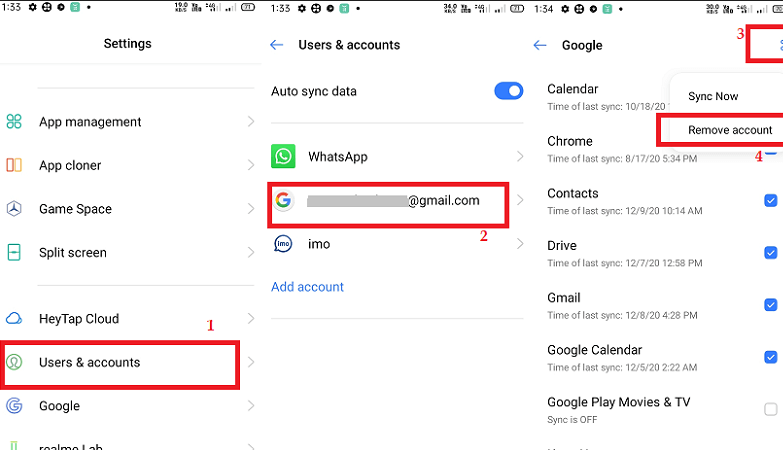 You can now try to log back in or use a different Gmail account with your phone.
7. WhatsApp Incompatible (Android Only)
If nothing so far has worked, this could mean that your Android phone is not compatible with WhatsApp.
In this scenario, it is best to install a modded WhatsApp version called GB WhatsApp. We don't recommend using it, however, as there could be malware infested with the download you get, which can lead to people hacking your phone and stealing your data.
8. Factory Reset Your Phone
If you have made it up to this point and nothing else works, the only option is to Factory Reset your phone. Before you do this, however, you should back up your WhatsApp data, because if you don't, all of it will be gone forever. Below are the quick and easy steps on how to do that.
For iPhone devices:
Settings > General > Reset > Reset All Contents and Settings.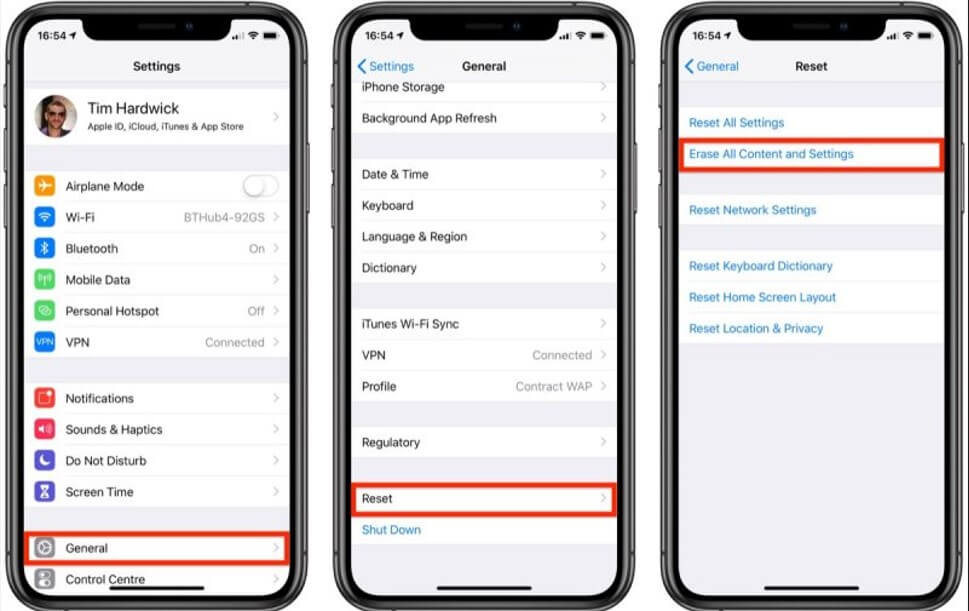 For Android devices:
Settings > General management > Reset > Factory data reset > Reset.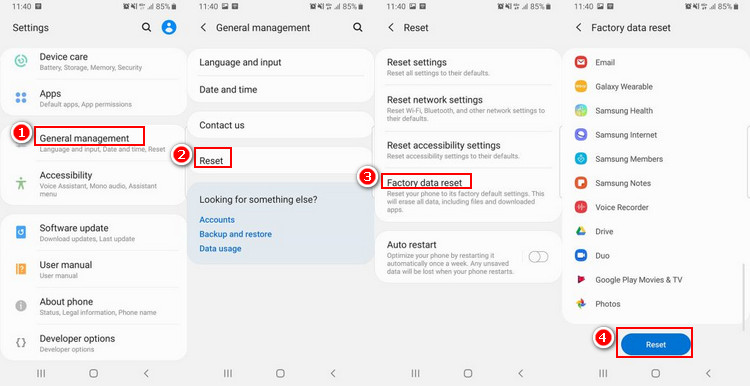 Part 3. [Totally Free] How Can I Back Up WhatsApp Without Losing Messages?
In several of these methods referrs previously, we needed to either temporarily delete WhatsApp or mess with its storage to fix our solution. While it won't harm your data in most cases, there may be some unexpected circumstance that deletes all of your data for good.
So you need to have a great quick fix to back up all your WhatsApp data without losing messages. This is where WooTechy WhatsMover comes in, which an easy-to-use and user-friendly WhatsApp backup tool. Moreover, you not only can back up all your data with just a few clicks, but also can enjoy the whole backup process without costing a cent since this is a 100% free WhatsApp backup tool.
WhatsMover - the Best WhatsApp Backup Tool You Are Worthy to Use
100.000+
Downloads
Great Compatibility : Back up all your WhatsApp/ WA Buisness data on iPhone & Android tablets/phones, including all major brands, such as Samsung, LG, Huawei, Motorola, Xiaomi, and so on.

All Data Included : Back up all kinds of your WhatsApp data like messages, images, videos, documents and other attachment at a time immediately without any storage or OS limitation like other methods.

Able to Access and Read: Allow you to download the backup from your computer, so that you can access and read the backup directly and easily.

100% Security : Ensure to protect the privacy and security of each WhatsApp data without overwriting or deleting the hitory backups.

High Efficiency : Complete the whole process with the quickest speed and high success rate.
Video Guide on How to Back Up WhatsApp to PC via WooTechy WhatsMover
Conclusion
This article showed you all the possible ways to fix the Unfortunately, WhatsApp has stopped errors, as well as how to keep all your WhatsApp data safe when performing these steps.
It is also a great idea to keep WooTechy WhatsMover as you will be able to ensure that you have the latest backup so you won't have to worry about losing your WhatsApp data again.