Be it business communications or sharing images, videos, documents, or other files, WhatsApp is now the preferred mode of communication. But what if you lose some media by accident and want to find them back?
The first thing that comes to your mind is to restore the media from WhatsApp backups. However, sometimes you're not able to restore them due to poor network or account issues. So here we have got some ways to resolve the issue of WhatsApp not restoring media from backup, ensure to check them out!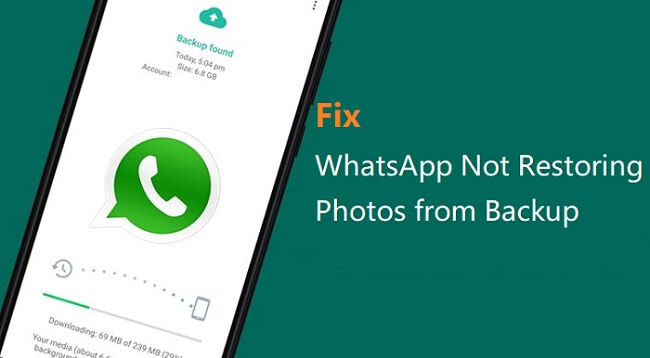 Part 1. How Do You Fix WhatsApp Does Not Restore Media from the Backup? (Android & iPhone)
Well, you may think that things are very technical here, and you'll need to go through a lot to fix the WhatsApp media not restoring issue. However, there are some very common fixes and you just need to look into a generic thing, then you can remove your trouble with ease. So, let's have a look at the first things you must do when you encounter this problem.
1.1 Clear WhatsApp Cache
The first quick fix should be to check your WhatsApp cache and clear it to make this app operate well, so that there is more room for the backups being restored.
For iPhone users: Select General > iPhone Storage > WhastApp > Offlaod App.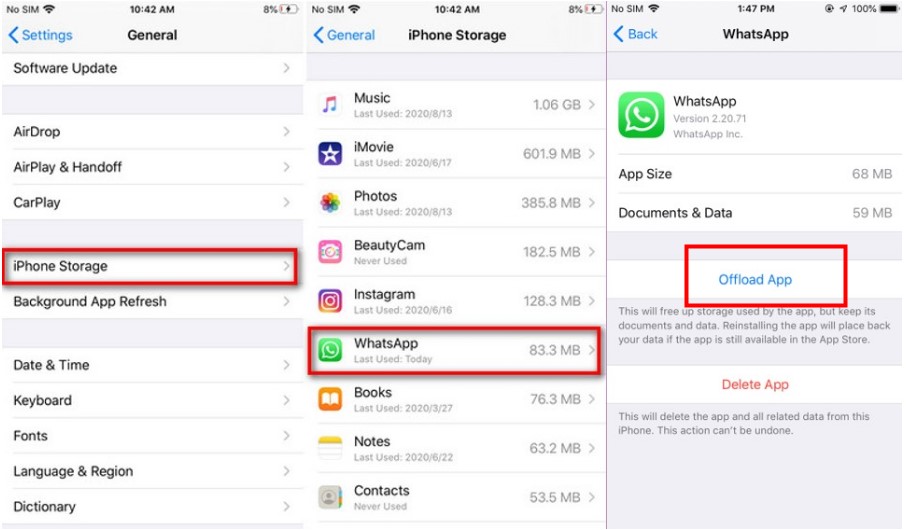 For Android users: Go to Settings > Apps & notifications> WhatsApp > >Storage & cache > CLEAR CACHE.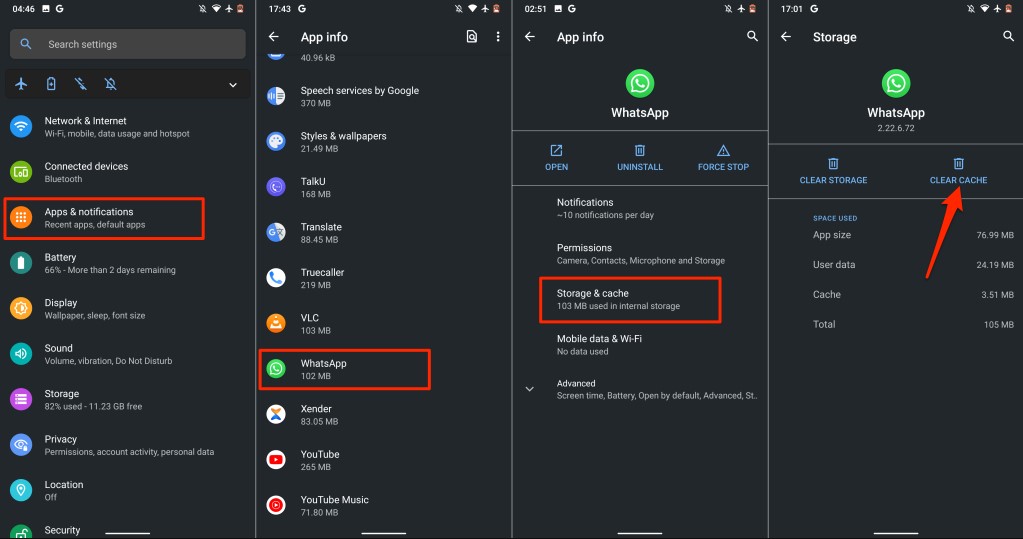 1.2 Update WhatsApp
WhatsApp app needs to be updated in time to adapt to the phone, for the older versions may be not supported any more.
For Android device: Go to Play Store, Search WhatsApp Messenger, then select UPDATE next to WhatsApp Messenger.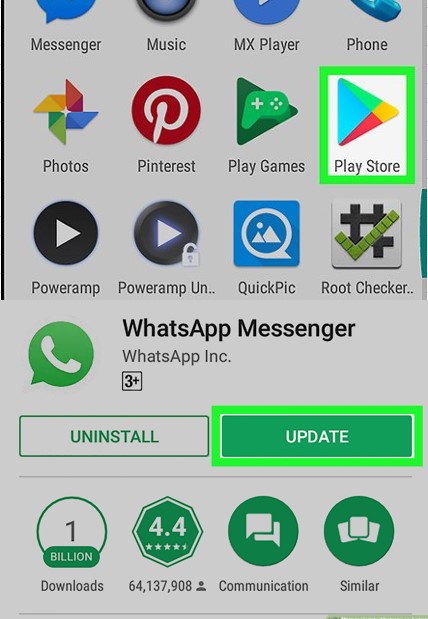 For iPhone deivce: Go to App Store, Search WhatsApp Messenger, then select UPDATE next to WhatsApp Messenger.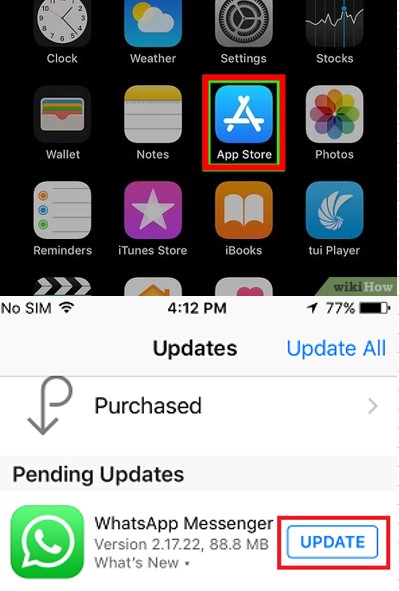 1.3 Use the Same WhatsApp Account
If you're trying to restore pictures received on one WhatsApp account from the backup of another, WhatsApp cannot restore media files because backups of different accounts are not interchangeable. If that's the case, you just need to check the account you're using and make sure that it's the same WhatsApp account.

If you're an iPhone user, in addition to ensuring that you're using the same WhatsApp account, make sure that you're using the same Apple account as well. This is because when you're trying to restore the media from backup, you'll need access to iCloud, which is possible only when you're using
the same Apple ID
that you used initially when the photo was received.
The same goes for Android users, who need to make sure that they're using
the same Google Account
where the backups were saved.
1.4 Ensure Stable Network Connections
WhatsApp backups are stored over cloud service. So, when you're trying to restore anything from the backup, WhatsApp needs to access the cloud server to find the backup you're looking for. This means that your device needs to have stable network connections.
So, before going over for any other fixes, check your network connections. In case they're weak, move to a more stable network or stronger WiFi environment and then try restoring media from the backup again.
Part 2. Fix WhatsApp Not Restoring Media from Backup on Android Devices
It's possible that even after trying for common fixes, your problem remains persistent. In that case, you need to look for more specific fixes. So, here's a fix for WhatsApp not restoring media on Android devices.
2.1 Restore WhatsApp Media from Local Backup
Generally, you think that the only way to restore media from WhatsApp backup is to access the Google Drive backup. But you can also restore the media from your local backups, follow the steps explained hereinbelow to do the same.

Before restoring from local backup, please open WhatsApp and go to Settings > Chats > Chat backup > select Never under the Back up to Google Drive option.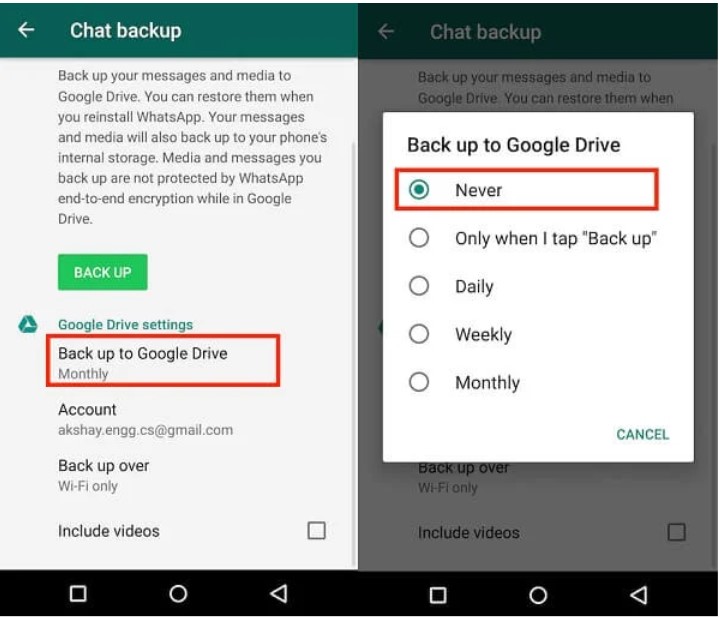 Step 1: Go to File Manager > Internal Storage > WhatsApp, here you will find your local WhatsApp backups and start to restore the media. If you store WhatsApp data on your SD card, check the backups there.
Step 2: There are several folders inside tap on Databases. Your data are saved in this WhatsApp Databases folder.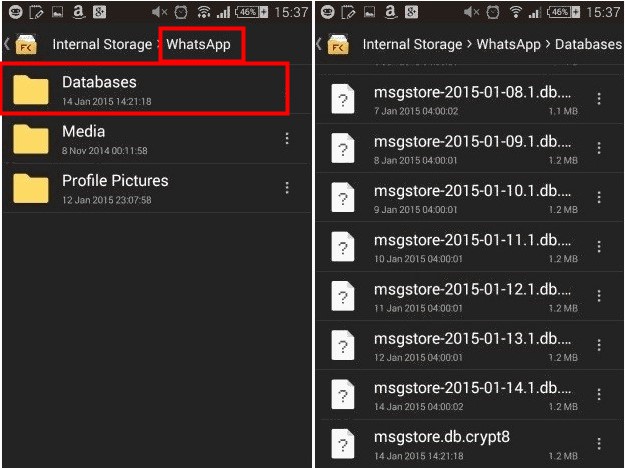 Step 3: The backup file is usually named as msgstore-YYYY-MM-DD.1.db.crypt14, change it to msgstore-db.crypt14, make sure that you don't edit the file extension.
Step 4: Once done, uninstall WhatsApp on your device and subsequently reinstall.
Step 5: As you set up your WhatsApp account, the application will prompt you to restore the backup. Click on the Restore button.
You're all done, and you'll have your media right there back in your device.
2.2 Exclude Videos in Your Backup
WhatsApp has an option to include or exclude videos in the backup. If the videos you backup have too big cache, then you will encounter some stucks in both backup and restore process, since the backup may not be complete.
To fix this, you can just go to the WhatsApp Settings > Chats > Chat Backup, and then turn off Include videos.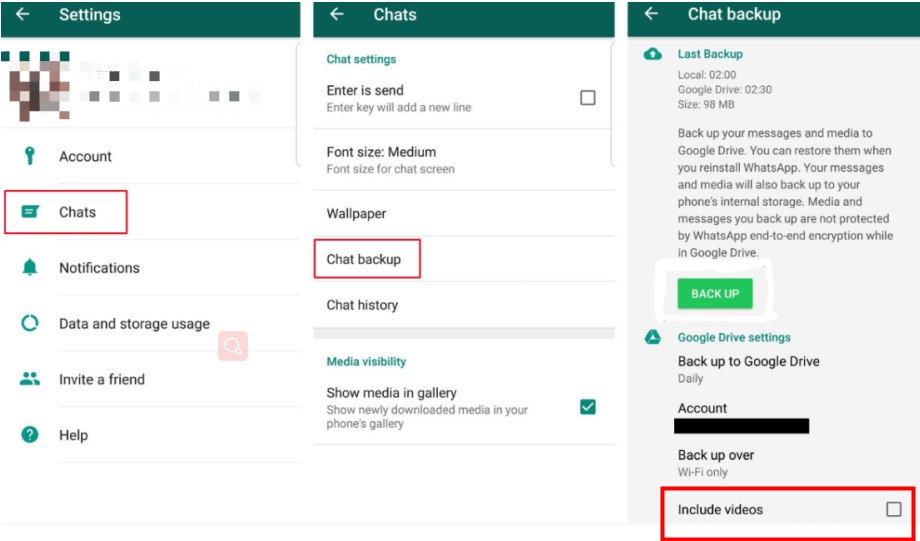 2.3 Delete WhatsApp Backup from Google Drive
If you have made multiple and repeative WhatsApp backups on your Google Drive, then the system will get stuck when you wonder to restore the backups. So you need to delete the redundant backups.
Step 1: Go to Google Drive and click on the gear icon at the top to find its Settings.
Step 2: Click Settings > Manage Apps > WhatsApp Messenger , then you can see the WhatsApp backup files there, click Options, tap on Delete hidden app data, then delete the redundant backup files.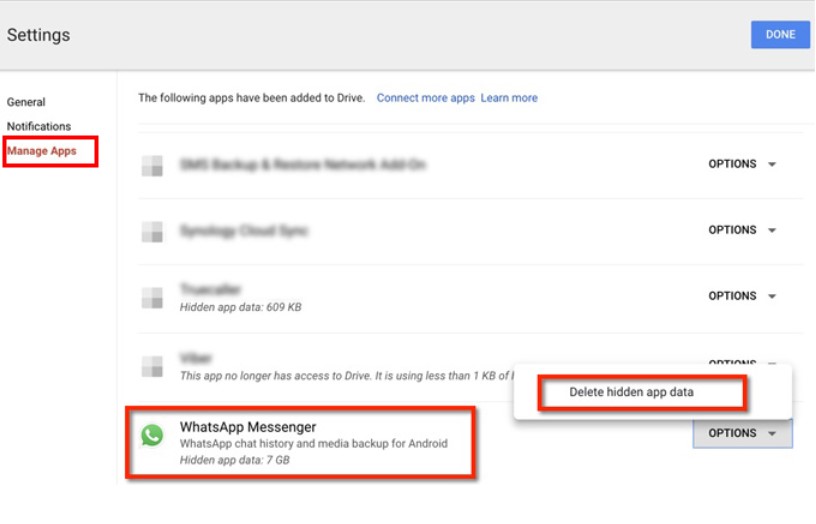 2.4 Switch from Bate Version to Stable Version of WhatsApp
Android users have the chance to sign-up for the WhatsApp beta program to test the new updates before its public release. It's a kind of testing app, which sometimes can cause some errors like WhatsApp not restoring photos from backup. You can Just go to the beta program's page right here and click LEAVE THE PROGRAM to fix issues with your WhatsApp chats.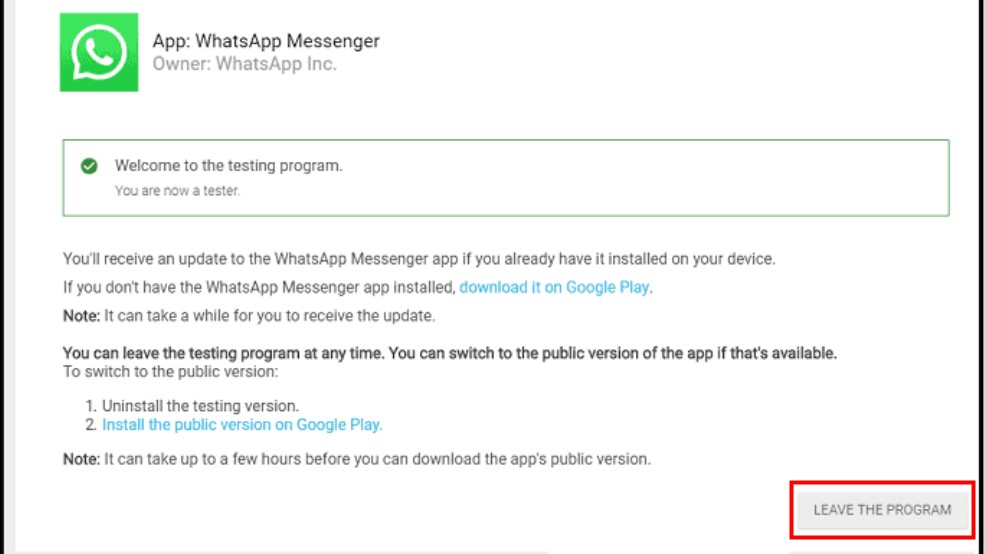 Alternatively, you are also able to unstall the bate version of WhatsApp and install the stable version of WhatsApp to use.
Part 3. Fix WhatsApp Not Restoring Media from Backup on iPhone
When it comes to iPhone, there are several fixes you can try to solve WhatsApp not restoring media from backup on iPhone. Let's have a look.
3.1 Check Your iPhone Storage
If your iPhone lacks storage space, it won't let you restore images from the backup. Go to Settings > General > iPhone Storage and check if have enough space, try deleting a few unimportant files and data to make more room. Alternatively, you can transfer the files to another device.
Once you've made enough room, try to restore media from backup again, and you might be able to have them back on your iPhone.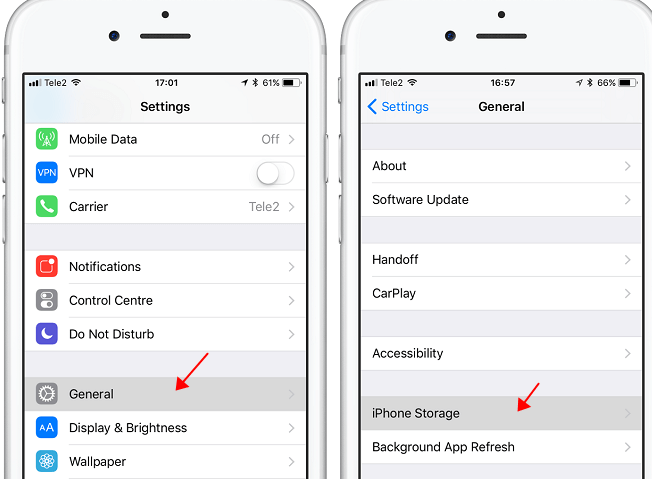 3.2 Turn On Backup in iCloud Drive
You need to make sure that your iCloud drive allows for WhatsApp backups. So, if WhatsApp does not restore media from backup, you've probably disabled the backup option in your iCloud drive. Go and enable this option by doing the following things:
Step 1: Go to Settings and tap on your Apple ID.
Step 2: Choose the iCloud option, and then turn on the iCloud drive.
Step 3: Once the iCloud drive is enabled, you'll see a WhatsApp option there too. Turn on this option as well by swiping it. This will allow WhatsApp to store backups, and you can then restore your media and other files from them whenever needed.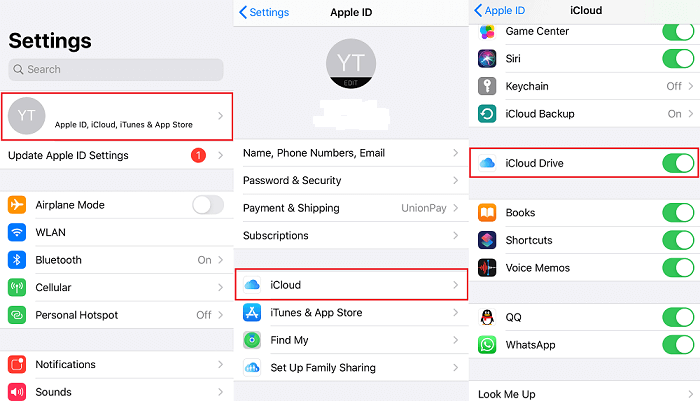 3.3 Ensure iPhones Are Running on Same iOS Versions
Another big reason for WhatsApp not restoring media from backup on iPhone is that the devices are running on different iOS versions. This creates a disparity between the backups, and the devices are not able to find and access them.
So, check the iOS versions of your devices and make sure that they're exactly the same. You can easily do that by going to your Settings > General > About > Version.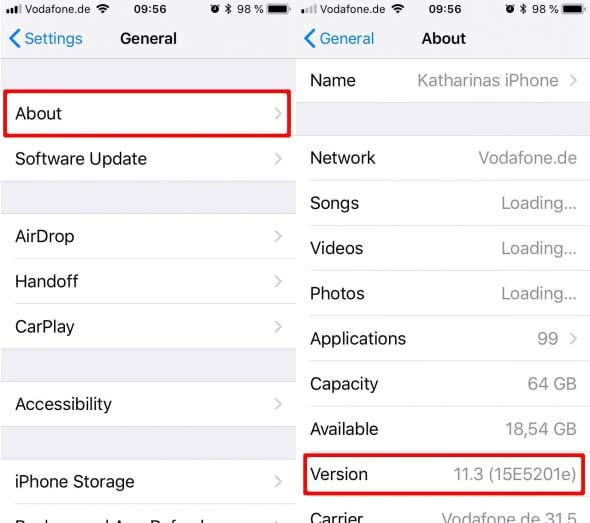 3.4 Remove Your iCloud Account and Sing-in Again
It is also possible that there are some stucks on your iCloud account if your WhatsApp not restoring photos from backup. In such a case, WhatsApp will not access and restore your meida backup normally. You can try signing out of iCloud and logging in it again on your iPhone to check if it fixes this error.
Step 1: Go to your iPhone Settings, tap on your name at the top of screen.
Step 2: Scroll down to the bottom, click Sign Out button, Enter your Apple ID Password and tap on Turn Off in the upper right corner, then you have signed out your iCloud account.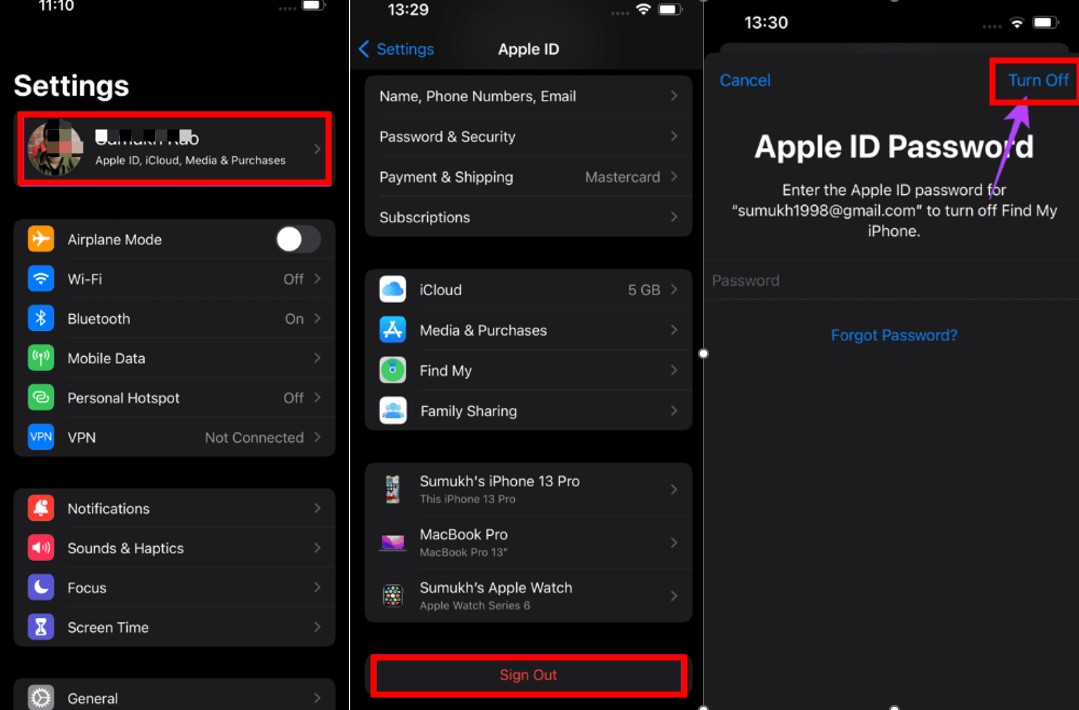 Step 3: You can see Sign in option in the same menu, click it and log in your Apple account again. Wait a minute and try to restore your WhatsApp backup once again.
3.5 Try to Restore WhatsApp Media Backup from iTunes Backup
If your WhatsApp not restoring media from iCloud issue is still exsiting after trying all the methods referrd previously, then there is still an great alternative for iPhone users. Restoring WhatsApp media from iTunes Backup is also a practical method if you have ever backed up your WhatsApp media to iTunes. Here is how it works:
Step 1: Open your iTunes app on your computer and connect your iPhone to the computer with a USB cable.
Step 2: Click Summary button on the left menu, you can find your WhatsApp backup there.
Step 3: Hit Restore Backup and tap on the Restore button once again to confirm it. Now you can succeed in restoring your WhatsApp media from backup.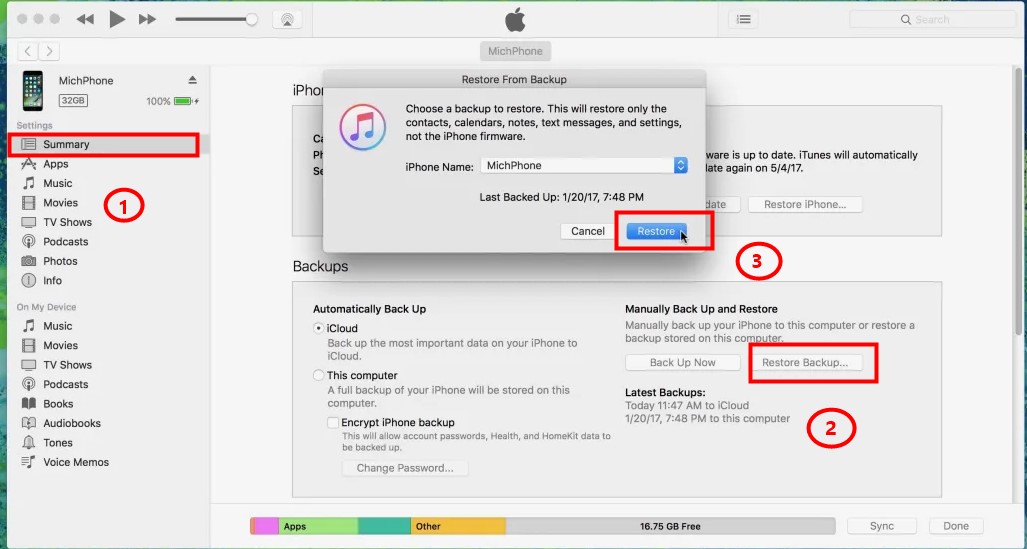 Part 4. Restore WhatsApp Media from Backup with the 100% Success Rate
The aforementioned were the quick fixes to WhatsApp not restoring media from backup on your iPhone or Android devices. Although you now can restore your WhatsApp media from backup normally, you will find it still difficult to finish the whole process with some obstacles like storage limitation, time-consuming or complex operations, etc.
If you still fail to fix WhatsApp not restoring media issue after trying the whole previous methods or you just don't want to waste time to try those complex methods one by one, then here is still the last quick fix for you -- Restoring WhatsApp Media from backup through WooTechy WhatsMover, which is a user-friendly WhatsApp restore tool with an overwhelmingly increasing development around the world.
This tool can completely ensure you to restore all your WhatsApp media from backup successfully without any limitation . Moreover, you don't have to restore the media one by one, you can finish restoring all the WhatsApp media backup at a time with the fastest speed.
WooTechy WhatsMover- the Smartest WhatsApp Restoration Tool
You are able to restore all your WhatsApp media from the Google Drive backup to either your iPhone or Android deivces, with no limitations on the WhatsApp account and operating system at all.

In one click, you can restore any backup created by WhatsMover to your Android or iOS device. This program also allows you to preview the backup data in detail.

WhatsMover can also scan your iTunes backup, thus allowing you to efficiently export and restore WhatsApp data from the iTunes backup.

You can easily restore all your WhatsApp backup from Android to iPhone or vice verse without OS restrictions.
First please install WooTechy WhatsMover to your computer, then following the 3 simple steps below to restore your WhatsApp media from backup:
Step 1: Lauch WooTechy WhatsMover. Connect your Android phone or iPhone with a stable USB cable, WhatsMover will automatically detect your phone. Select Backup WhatsApp on Devices from the left panel and click Back Up to start the process.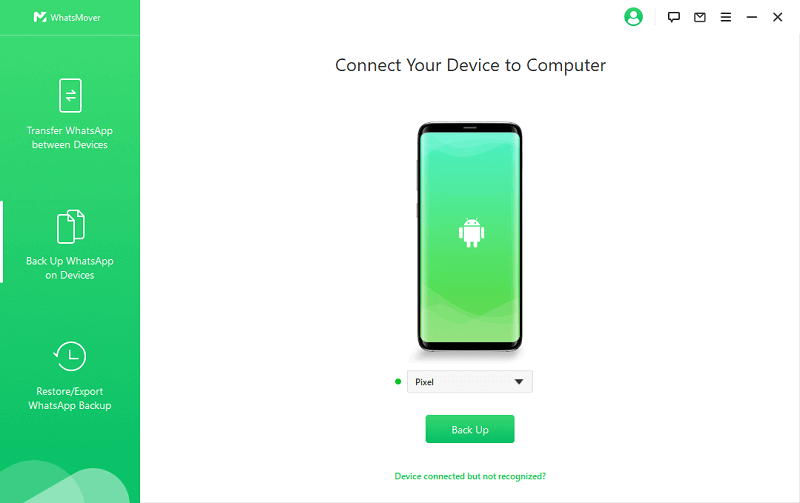 Step 2: After the backup process is completed, select Restore/Export WhatsApp Backup on the left panel. A list of WhatsApp backups will appear on the screen, choose the media backup you need.
Then select Restore to Device on the bottom and WhatsMover will immediately start to restore the data from your backup.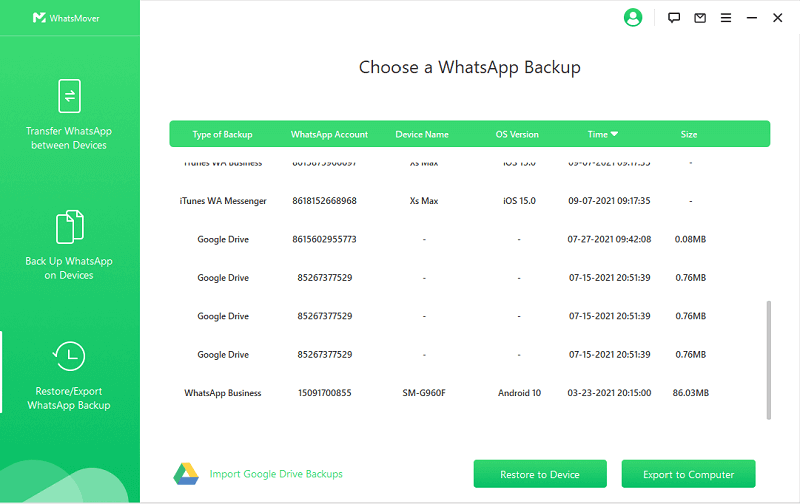 Step 3: Wait until the restoration is complete, it won't take long time. Click on Done and disconnect your device after that, then open WhatsApp and you will see your WhatsApp media fully restored.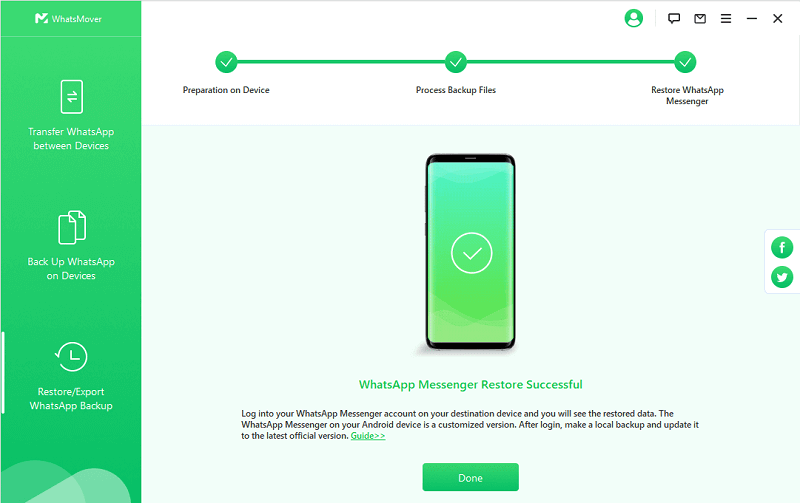 WooTechy WhatsMover -- WhatsApp Backup to PC Video Guide [100% Free]:
Final Words
So, these were the fixes for WhatsApp not restoring media from backup whether you're using an iPhone or Android. Keep trying them until one of them works. If you need a more hassle-free solution, you can directly jump to the most effective way that is WooTechy WhatsMover, a most powerful WhatsApp manager tool .
I hope this article has helped you out and you're in better control of your data and media files.