According to statistics, WhatsApp is the most popular messaging app in the world. WhatsApp is used by around 1.2 billion people worldwide daily to communicate everything, from personal details to business secrets to intimate details.
However, sometimes, we may want to know more about our friends or family by secretly checking their WhatsApp out of our care of them. Maybe all of you desire for a good method to how to spy on WhatsApp messages without target phone.
When you are reading this article, you must come to the right place, the following will help you out.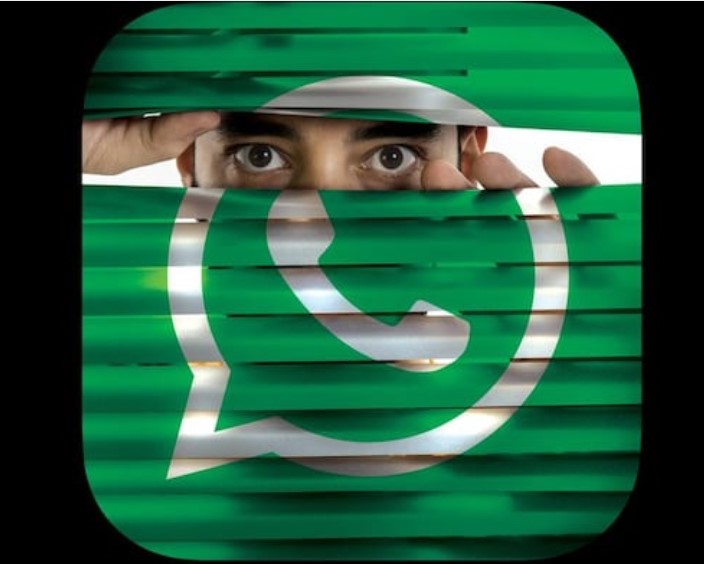 Part 1. Is It Possible to Spy on WhatsApp Messages Without Target Phone?
I would like to answer: Yes.
Maybe you will doubt that WhatsApp's secure encryption feature virtually eliminates hackers from accessing user data. This makes it easy for them to worry-free communicate with their friends and family.
That's true, WhatsApp has a great security system to protect the privacy of all the users. But we can use several correct and formal methods to spy on the WhatsApp messages of someone we love, for the sake of our kindness and care.
Keep reading, this article will share you several useful ways to spy on the WhatsApp messages of your friends and family.
Part 2. How to Spy on WhatsApp Messages Without Target Phone?
2.1 Spy on WhatsApp Messages Using Google Drive Backup (Android only)
Google Drive backs up the entire multimedia and text messages that you have on your smartphone onto Google Drive, since someone's WhatsApp can be backed up to Google Drive automatically if he has made this setting. The only thing you need you get is the Google Drive account and password of the person whom you want to spy on.
Note
But the target phone must be Android device.
If you would like to spy on the WhatsApp messages of your lover, you can ask him or her to give you the Google Drive account and password with some reasonable causes.
While if you wonder to spy on your kids' WhatsApp message to know what they are doing recently, you can get their google account more directly, because they may use your phone number or email to set up the Google Drive accounts.
The steps to access and read the WhatsApp backup from Google Drive on computer:
Step 1 Log in the Google Drive account you want to spy on with entering the account and passwords on computer, then you can be directed to Google Drive.
Step 2 Tap on Backups on the below left corner, then click Storage.
Step 3 You will able to locate your WhatsApp backup data. And you can also copy and paste the backup files to the location you like if needing. Now you can access and read the WhatApp messages without any worries.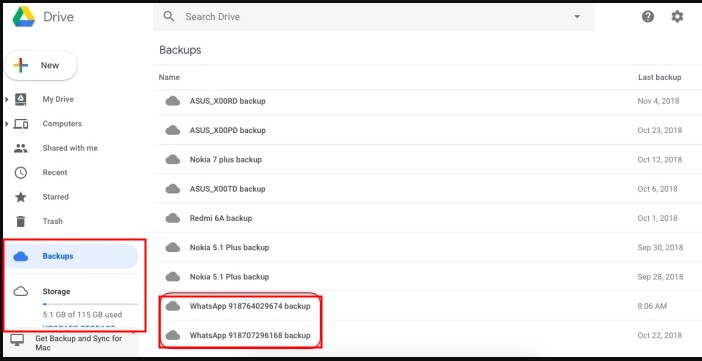 Pros
You can read the WhatsApp messages of others without the target phone.

Even if the person deletes the messages from their phone, you can still access them.

Use the official and virus-free unzip software for the extraction of the content, this will prevent your zip files from damage and problems.
Cons
Just Android device is supported.

Because the delay of WhatsApp backup, you can catch the latest messages of the target person.

You cannot get the backup until the person back up his WhatsApp messages to Google Drive.
2.2 Spy on WhatsApp Messages Using WhatsApp Web
Have you ever thought - do I have the ability to look up WhatsApp chat messages on the Internet? Yes, you can.
Usually, WhatsApp Web app could allow you to access an individual's WhatsApp messages from a distance. But you'll require an access the target phone at a time, then you can check the chat message without the target phone anymore.
Here's how to do it:
Step 1 Open web.whatsapp.com , a screen that displays the Reader for QR codes will appear.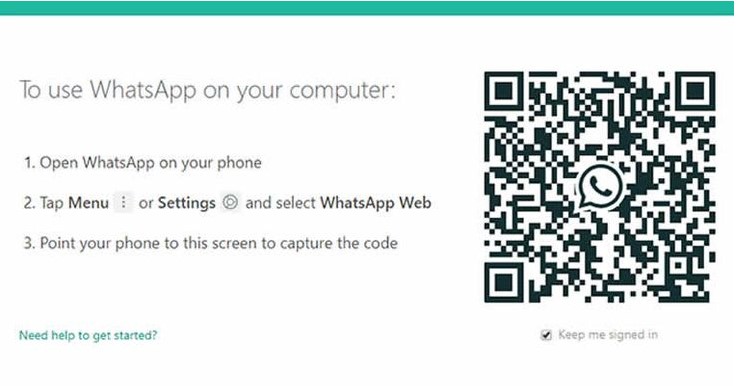 Step 2 Use the target phone to scan the QR code.
Step 3 You will be directed to the main screen of WhatsApp Web. Now you can check the messages of the target people any time you want.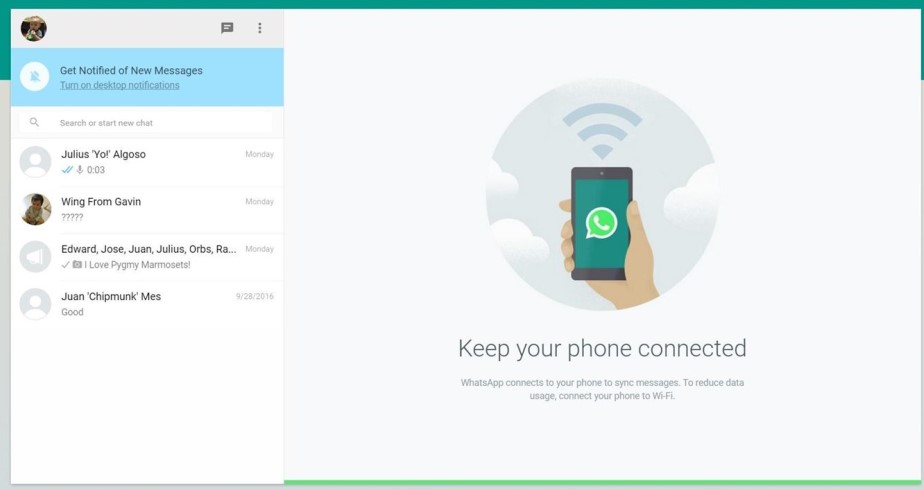 Pros
All messages sent and received by the device can be viewed.

You can see the WhatsApp conversations on the PC.
Cons
If the WhatsApp account of the target person lost, the WhatsApp Web version will also be closed.

Due to the networks, you may cannot check the whole WhatsApp chat history.
2.3 Spy on Someone's WhatsApp Messages Using Mac Spoofing Methods
Mac Spoofing is possible due to an access number for the media control device (MAC). Each device has its unique MAC number. However, you still need the target phone for a while with this method. Here's how to spoof your phone's number:
Step 1 Find the target's phone MAC address. Open the app, and they will be able to access:
For iPhone: Settings > General> About > WiFi Address.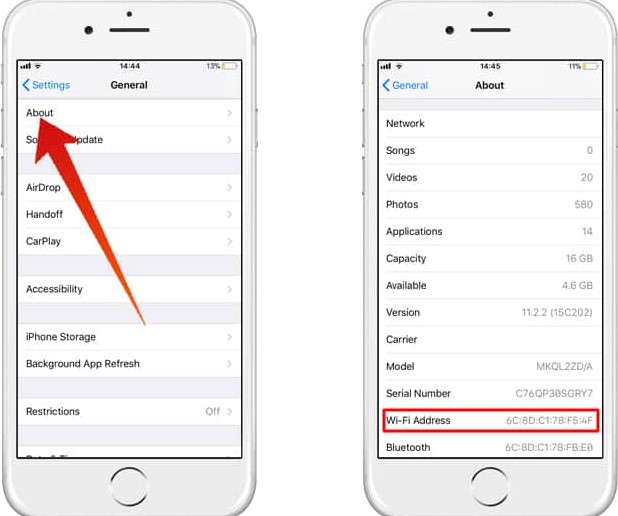 For Android: Settings > About > Status > WiFi MAC Address.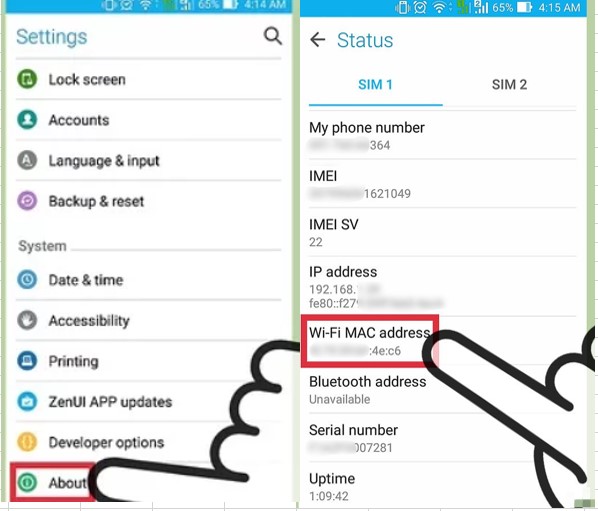 Step 2 Delete WhatsApp from your cell phone.
Step 3 Make changes to your smartphone's MAC address, and then replace it with the target's address.
Step 4 Install WhatsApp to your mobile and get an activation number.
Step 5 Enter the code and delete messages from the target's phone. Then change your current MAC address to the old one.
Pros
You can read someone's WhatsApp messages without the target phone.

This method is undetectable, meaning that the person you're spying on will never know that you're reading their messages.
Cons
You will need physical access to the person's phone in order to install the spoofing software.

Mac spoofing can be detected if the person you're spying on is tech-savvy and knows what to look for.

This method is not 100% foolproof and may not work in all cases.
Part 3. [100% Security] Spy on Someone's WhatsApp Using A WhatsApp Transfer Tool
If you thing those three methods are not good enough for the risk of security and any other limitation, you would like to get an excellent method which allows you to access and read the WhatsApp messages from the target phone more directly and easily.
Then you have to try using a brilliant tool – WooTechy WhatsMover , which is an official and professional WhatsApp transfer tool with a hot popularity among WhatsApp users from home and abroad.
Besides, this tool allows you to transfer all the WhatsApp data you want from one phone to another without any limitation and with 100% security. Moreover, whether the two phones are both Anddroid devices, both iPhone devices, or Android and iPhone device, you can be supported to use this useful tool to tranfer WhatsApp data.
If you haven't ever heard of this wonderful tool before, that must be a big loss for you. So, I'm here to sincerely recommend it to you. Believe me, you will love this tool as much as I do after finishing reading.
WooTechy WhatsMover – the Most Terrific WhatsApp Transfer Tool:
100.000+
Downloads
Wide Compatibility: It allows to work with both WhatsApp and WA Business on iPhone and Android tablets/phones, including all major brands like Samsung, LG, Huawei, Motorola, Xiaomi, and more.

All Data Included:It supports the transfer of all kinds of WhatsApp data, such as chat history, photos, videos, contacts and more other attachments without any storage limitation, much better than any other WhatsApp transfer tools.

100% Security: All the WhatsApp data will be protected during the whole transfer process and can appear on the new phone once the transfer is complete without any previous data files being deleted or covered.

Easy Operation: Just one or two clicks are needed to finish the whole transfer process with high success rate and the quickest speed.
WooTechy WhatsMover -- Transfer WhatsApp from Android to iPhone Video Guide:
3 simple steps to transfer WhatsApp data from one phone to another
Step 1 Install WooTechy WhatsMover tool on your PC. Make sure both phones you need are connected to the computer using two respective USB cables. Open up this tool and hit WhatsApp Transfer between Devices button on the left screen menu.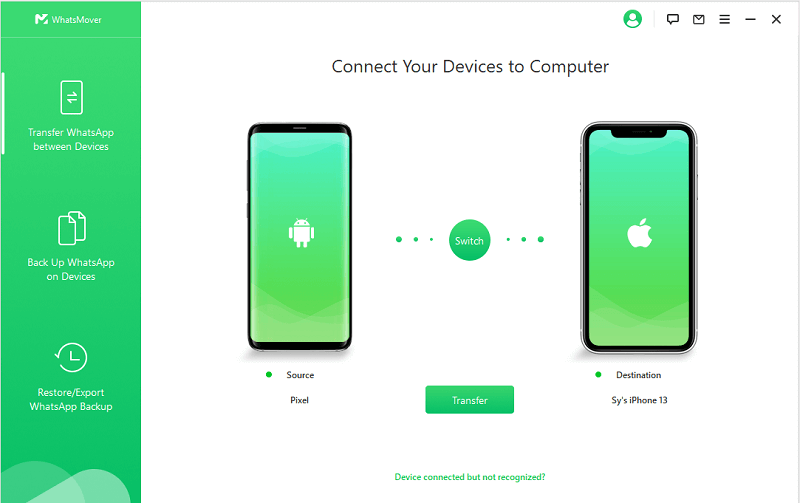 Step 2 Ensure that the source and destination phones are at the right place, then tap on Transfer on the main screen.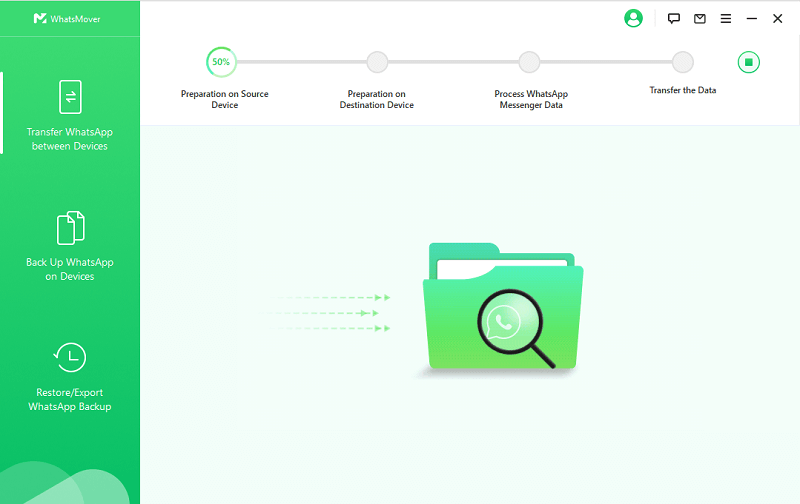 Step 3 Choose whether you need WhatsApp or WA Business, just select your perferred one. Then the data transfer will start and be finished in a second.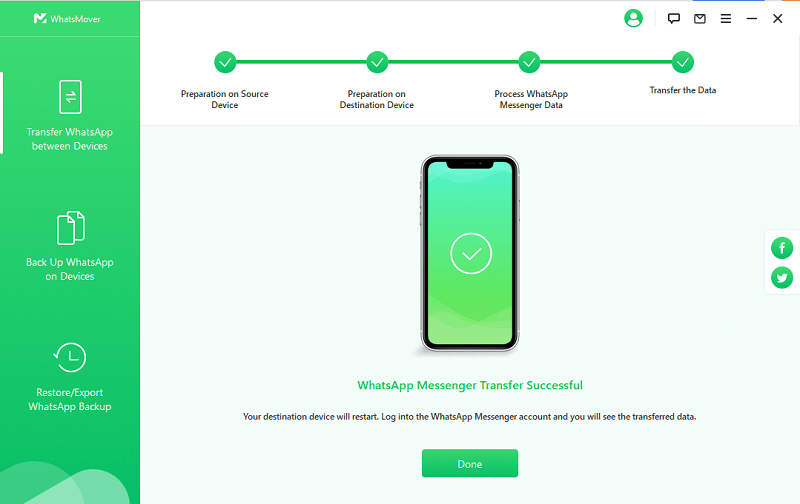 Done! See, how quick it is! WooTechy WhatsMover is a really convenient and efficient way to transfer WhatsApp data from one phone to another one and can be extremely helpful for users.
Now you can try transfer all the WhatsApp messages of the person you want from his phone to your personal phone, then you can check the message with huge ease and convenience.
Conclusion
To sum up, this article fully outlined how to spy on WhatsApp messages without the target phone and a useful tool (WooTechy WhatsMover ) to help you transfer WhatsApp data from one phone to another. Now your problem must be done.
You can go home and give it a try to spy the WhatsApp messages of someone you care of and use this practical tool to transfer the WhatsApp data of the target person to your phone. Just tap on the Download Now button below, you can gain this amazing tool for yourself, just enjoy it! Good luck to you.