It is considered time-wasting and frustrating when using the default WhatsApp backup function today for frequent mobile phone changers and those who wish to use it for other reasons.
Upon exploring how to import WhatsApp chat from Email, we discover that it is a better call to make rather than the pretty delaying machine in the default WhatsApp backup or restore function.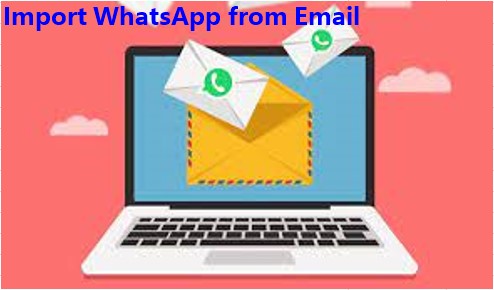 In this article, we will see a step-by-step guide on how best to keep our chat privacies or get back important conversations with our close friends and families using the email method on how to import Whatsapp chat from Email on iPhone and Android.
Part 1. Can We Import WhatsApp Chats from Gmail?
WhatsApp chats could be imported from Gmail if it was already backed up on a Gmail account before requesting to be imported. If your WhatsApp messages and files weren't backed up using the default way of doing so on WhatsApp, then they cannot be imported.
However, you are allowed to use this way only on Android device. If you have done the following steps before, then you can import your chats from Gmail:
1 Back Up WhatsApp to Gmail
Step 1 Open WhatsApp > More > Settings > Chats > Chat backup.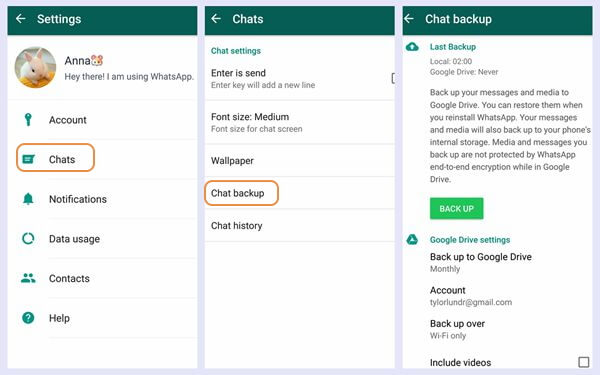 Step 2 You choose a Gmail account to back up your chats; however, you can create a local backup on your device.
Step 3 Click BACK UP icon to start it. If you have done these steps, restoring or importing your backup chats isn't difficult, but make sure your WhatsApp backup Gmail with the same phone number.
2 How to Import Chat from Gmail to WhatsApp
Step 1 Uninstall and reinstall your WhatsApp, vertify your phone number which must be same with the one your used before.
Step 2 Click Restore icon when prompted, you can start to import the WhatsApp from Gmail.
Step 3 After finish the restoration process, select Next button, you can import all your WhatsApp to your device with Gmail.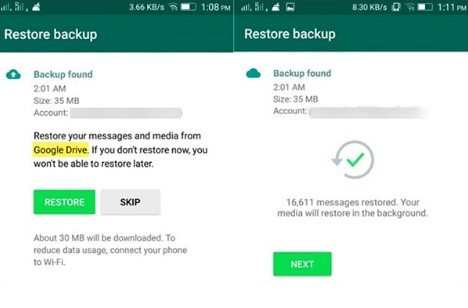 Part 2. How to Import WhatsApp Chat from Email?
The pros of importing WhatsApp chats from Email is one way to recover lost chats without using the local backup, Google Drive or iCloud options. Here are some advantages to importing WhatsApp chats via Email.
Pros
1. Preserve Your Data

You can preserve your data by recalling it via email before your Google Drive /iCloud backup reaches its limit.

2. Present Your Chats in Better Format

If you need to present your chat for formal purposes, importing them via WhatsApp is a more effective method to recall them.
2.1 Import WhatsApp Chat from Email on Android Devices
How to import WhatsApp chats from email Android device is detailed below:
Step 1 Open the WhatsApp app on your Android device. Click the three dotted icon at the top right corner of the screen. Click Chats > Chat history > Export chat. You are then to select the Email option to export them.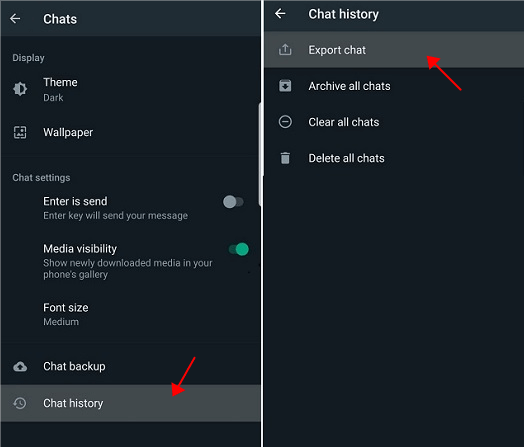 Step 2 A list of conversations will appear on your device screen. Select the messages you want to backup via email and if you'd like them to be sent with or without media.
Step 3 Imput your email address in the dialog box and select the Send button. After you've sent the chats, you can check through your mailbox to download the chat back.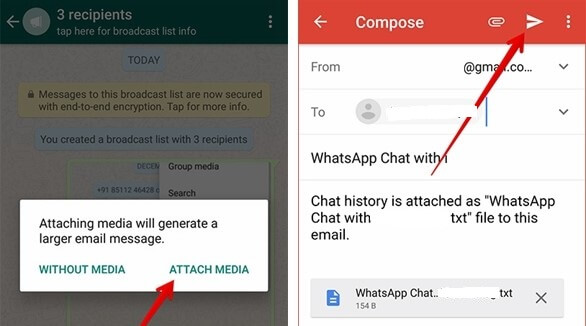 Step 4 Then you can log in the Email account on any device you need to access and read.
2.2 Export and Import WhatsApp Chat from Email on iPhone
Well, as for iPhone device, you are also allowed to use Email to export and import your WhatsApp messages. Here are the following steps on how to export WhatsApp chat email on an iPhone device.
Step 1 Launch your WhatsApp. Tap More options. You will find it at the top right corner of your device's screen. It has three vertical dots.
Step 2 A list of drop-down menus will be presented to you, then click on Export Chat.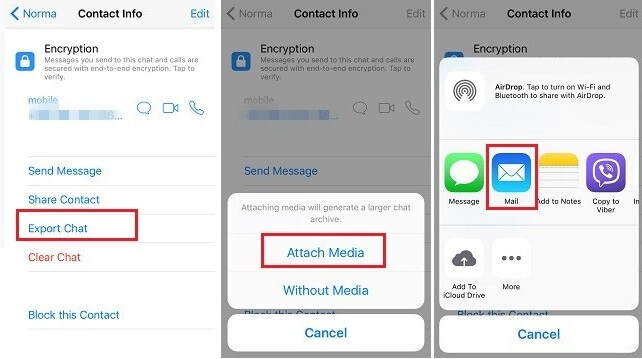 Step 3 Afterward, you can now select if you want to export messages only or messages with media together. And choose Mail icon and enter your email address as the recipient. And finally, click Send icon.
Step 4 Now you can log in your Email account on your device or other devices to get the WhatsApp file you just exported.
Part 3. A better Alternative to Import WhatsApp Chat Without Any Data Loss
Although using email to import WhatsApp chats seems an available way, you need to face with several obstacles as well:
Cons
You must be patient to wait the whole process to finish, since it costs too much time.

If you're exporting chats and media, you can only export up to 10,000 of your latest chats. However, if it's not with media, then you can export 40,000 chats. This is because that is the maximum email size.

You are just allowed to export WhatsApp chats from one contact each time, so you need to repeat the operation if you need to get more WhatsApp messages from other contacts.
Suppose some of you can't bear these disadvantages, so here is WooTechy WhatsMover coming, which is a totally official and professional WhatsApp backup and restoration tool with users from all around the world.
You are supported to use this tool to freely back up all the WhatsApp data including contacts, messages, images, stickers, videos, files and more on your WhatsApp or WA Business without any storage limitation and further restore them back to your device directly if in need.
WooTechy WhatsMover – Import WhatsApp Chats with 100% Security:
100.000+
Downloads
Working with all models of iPhone, from iPhone 4 to iPhone 14, with iOS 16 supported and all brands of Android, like Samsung, Huawei, Xiaomi, OPPO, LG and more, with Android 16 available.

All your WhatsApp data can be protected safely without any data loss.

Support the highest success rate and fastest speed to back up your WhatsApp to PC and further restore the backups back to your device.

If you have backed up your WhatsApp to iTunes, you can also use WhatsApp to scan the iTunes to directly restore the backups immediately.

You are allowed to export WhatsApp messages over 40000 at a time at once, which is a great convenience for all of us.
Sound great, right? Please install WooTechy WhatsMover on your computer, and open up this tool first and follow the simple steps to use this tool, you must love it more:
1 Back Up WhatsApp to PC
Step 1 Select Back Up WhatsApp on Devices from the 3 options on the left side. Now plug your Android or iPhone device to the PC with a stable USB.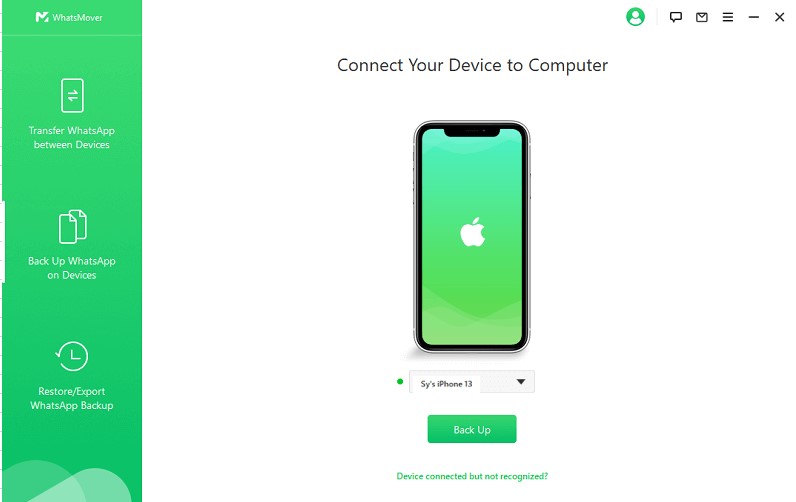 Step 2 Click Back Up icon on the left side, you can initiate the process. Wait for a minute, you can finish the WhatsApp backup to your computer.
2 Import WhatsApp Backup to Your Device
If you delete some import WhatsApp messages suddenly, you can use WhatsMover to restore them back.
Step 1 Launch this tool, select Restore/Export WhatsApp Backup option.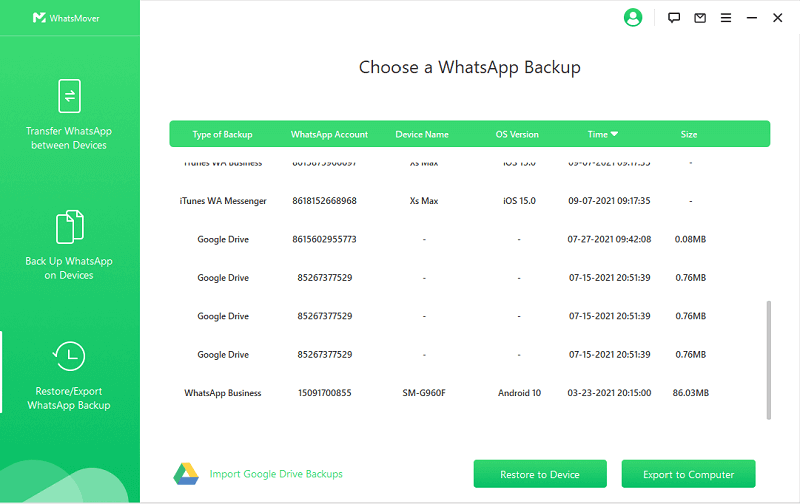 Step 2 Connect your device to the PC via a cable. You can look through a list of WhatsApp backup you created before
Step 3 Click Restore to Device button on the bottom, you can preview the WhatsApp backup in detail, click which kinds of backup you need to restore, and tap Next icon to start the process.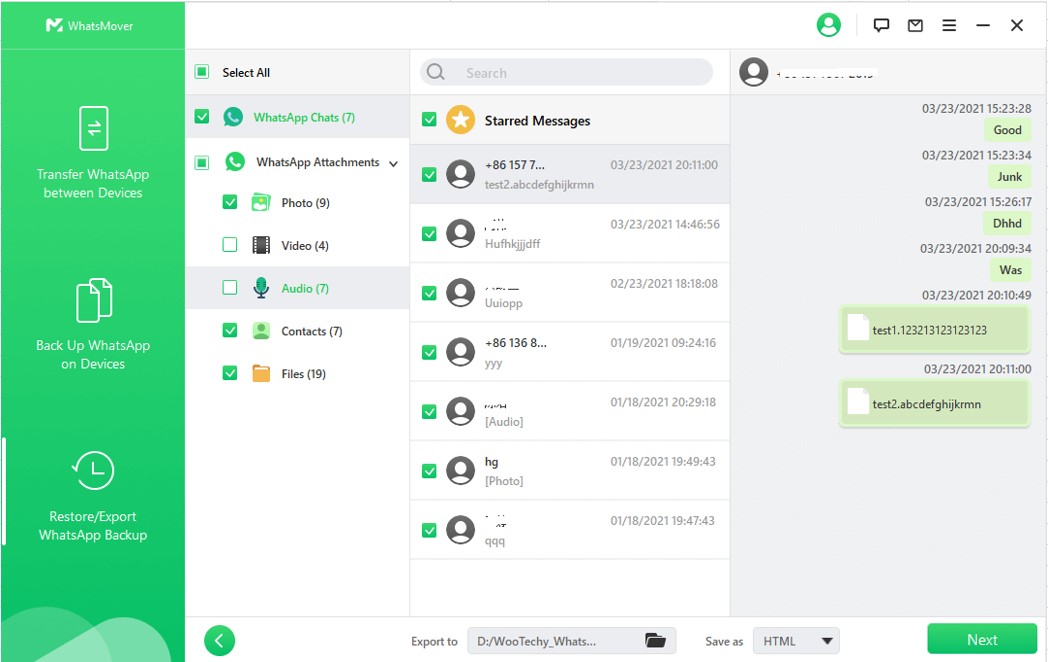 Step 4 Just in a second, you can finish restore the deleted WhatsApp chats back to your device.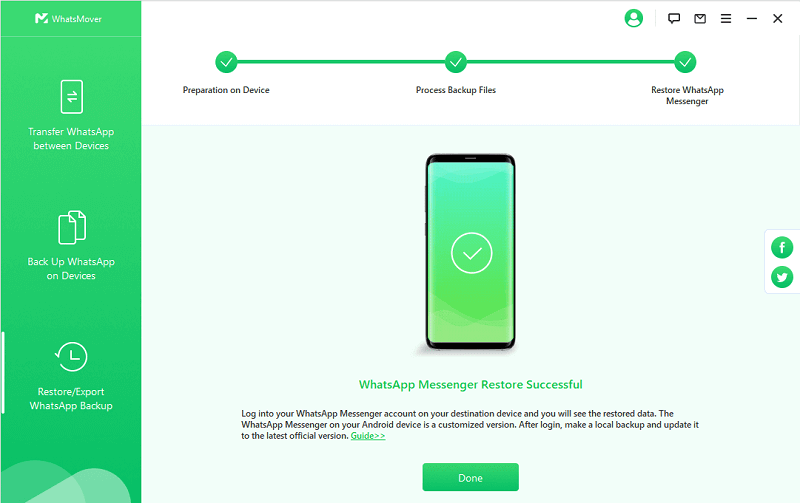 Conclusion
WhatsApp chats must be pretty vital data for anyone, so we should try our best to keep them safe without any data loss. This article has shared with you how to import WhatsApp chats from email, which can be helpful for all the WhatsApp users.
Furthermore, here still highly recommends WooTechy WhatsMover is your best choice to import WhatsApp data directly. Just tap the Download Now button below, you can enjoy this amazing tool.