With the flexible instant messaging app WhatsApp, you can make voice and video calls. WhatsApp also keeps a record of all of your calls, just like the phone app on your smartphone. Keeping a record of your important WhatsApp conversions can help you stay connected with your business circle.
WhatsApp will alert you if you miss a call. Your incoming and outgoing audio, video, or group calls, will also be reported to WhatsApp. In this article, we have mentioned the top 3 best methods for WhatsApp call history export to keep track of your interactions and call history, so keep reading:
Part 1. How to Access WhatsApp Call History on Your Phone
You don't need a computer to get your call history on WhatsApp. Launch WhatsApp on your smartphone and select the "Calls" option from the main user interface. You can locate your logs from when you last cleaned them up to the present. Using this method, you can also view all the calls placed and received on WhatsApp.
Apart from that, on Android devices, there is a folder where WhatsApp call history is saved. Go to your device's file manager app and internal memory. Look for WhatsApp folder and locate the Media folder. There look for your saved WhatsApp calls.
Part 2. How Do You Export Call History
1

Export WhatsApp Call History with WooTechy WhatsMover

To export WhatsApp call history or log, you will need professional WhatsApp export software such as WooTechy WhatsMover. It can back up your WhatsApp call history and then export it with the 100% success rate and the fastest speed.
WhatsMover – The Best WhatsApp Export Software
100.000+
Downloads
With the 100% compatibility, it supports export WhatsApp call history on all iPhones and Android devices like Samsung, Huawei, LG, etc.

It exports all types of WhatsApp data including call history, chat history, videos and other attachments.

It exports WhatsApp call history to different formats such as HTML, PDF, XLS so that you can access and read it easily.

It exports your WhatsApp call history without any limitation.
Follow these steps for WhatsApp call history export with WhatsMover:
Step 1 Download and start WooTechy WhatsMover, then connect your iPhone or Android smartphones to the PC. Choose Back Up WhatsApp on Devices mode first so that you can export data later.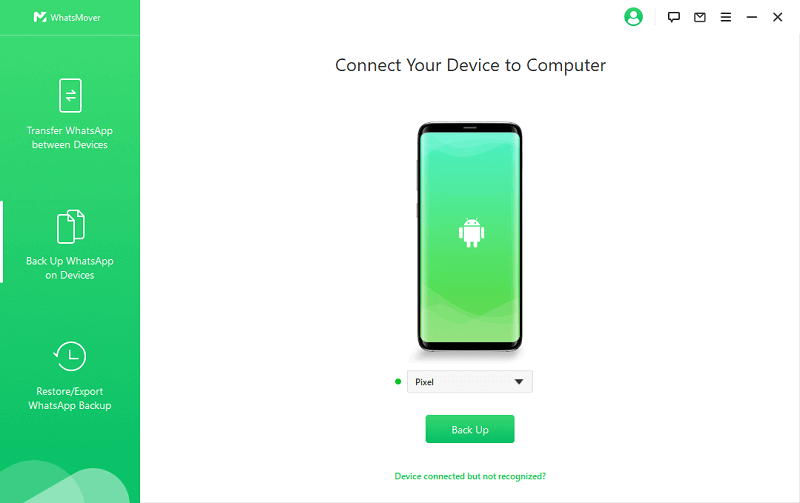 Step 2 Click on Back Up and wait the process is complete. Go back to the software's main screen and you can find your WhatsApp backup there. Choose the backup and click Export to Computer.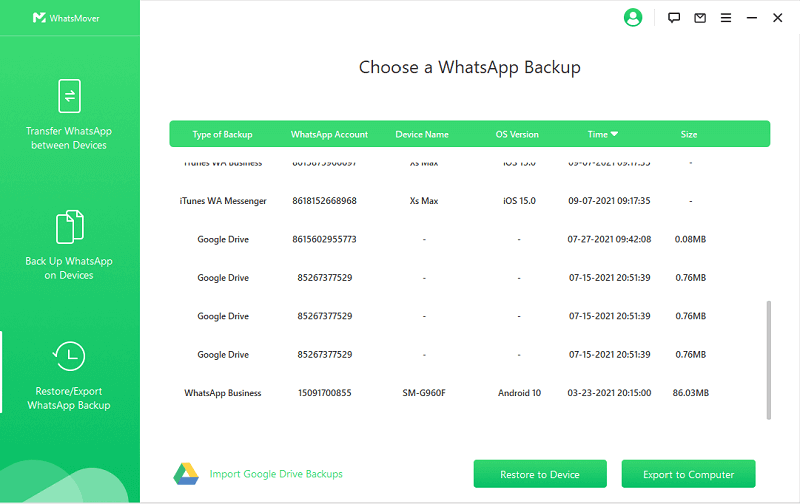 Step 3 WhatsMover will scan the data. After that, you can choose the call history from the WhatsApp Attachments and select the export location and file format. Finally, click the Export button.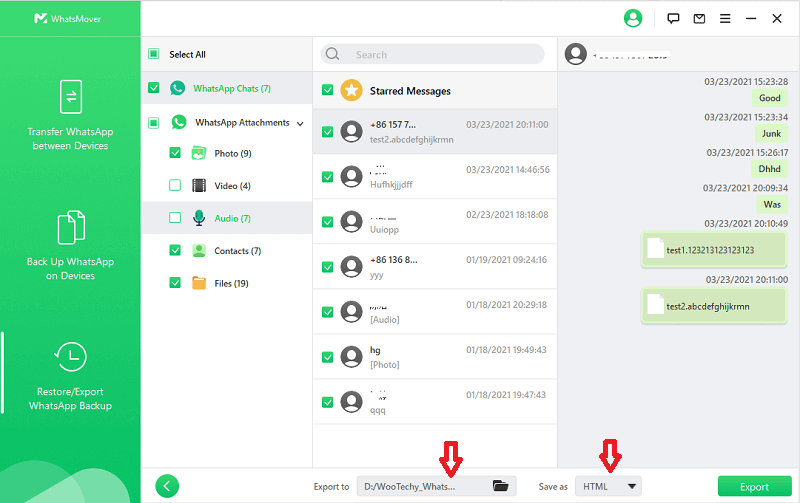 2

Export WhatsApp Call History with Email

To export your call history to PDF, use this alternative method. It also does not require any third-party software other than Microsoft Word. Follow these steps for WhatsApp call log export:

Open WhatsApp and click on the Calls option to export WhatsApp call history on iPhone. Take a screenshot of your call history. Now open the mail and attach this screenshot.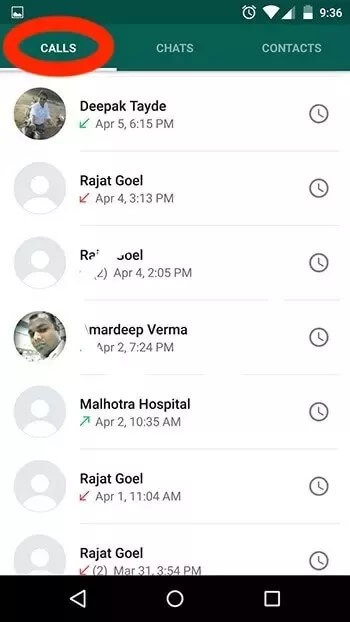 Send this email to yourself by selecting the email option.
Open the email now, and then download the attachment you sent. Download this file and open it. Paste it into Microsoft Word.
If you want it in PDF format, go to File and click on Export. Select the Create PDF option and save the call history in your desired location.
3

Export WhatsApp Call History with WhatsApp Pocket

With a few quick mouse clicks, WhatsApp Pocket enables you to extract, restore, and back up your iPhone's WhatsApp chat history. It has a straightforward user interface, making it simple to access and read your conversation history. Follow these steps to export the WhatsApp call log:

Connect your iPhone using a USB cord to the PC.

On your PC, launch WhatsApp Pocket. Click WhatsApp Call after selecting your iPhone in WhatsApp Pocket to launch the scan.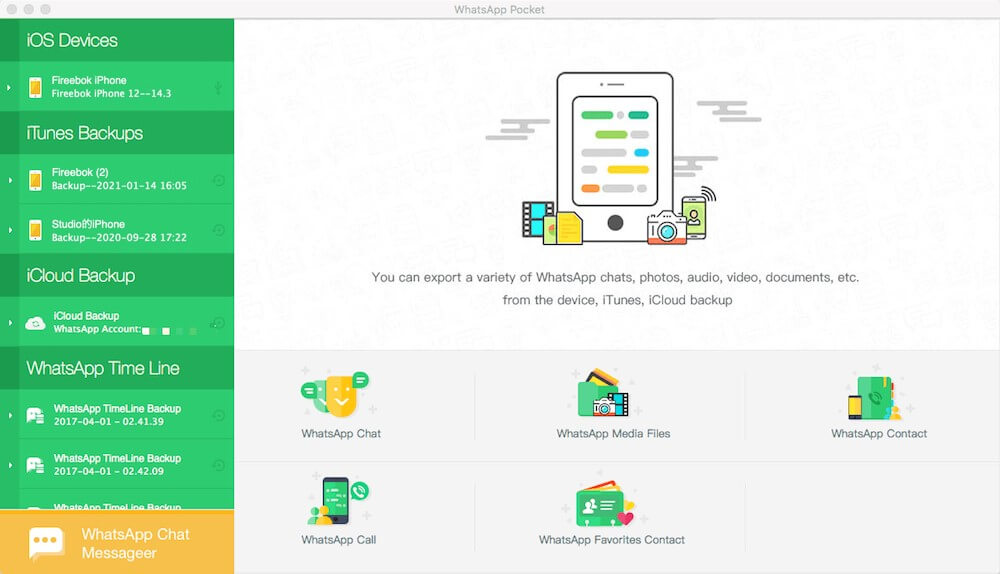 Wait till the scan is finished. Click the WhatsApp Call tab after the scan is completed. There, your whole call history for WhatsApp will be visible. It includes the name of the WhatsApp contact, the WhatsApp call number, the length of the WhatsApp call, the date of the WhatsApp call, and more.
After selecting a saving location, click Export to text. The whole history of your WhatsApp calls was retrieved and exported to the PC. It also allows you to backup and export additional WhatsApp chats, media files, contacts, and more.
Cons
Although the WhatsApp Pocket demo allows you to preview most features, it does not allow you to save anything. Additionally, when you click a button, a giant pop-up advertisement urges you to buy an exclusive license.

Any recovery you perform with this program will be saved on your computer. Messages cannot be exported back to your phone.
Bonus: Export Your WhatsApp Account Information
You can export a report of your WhatsApp account details and settings using the option to request account information. Your messages won't be included in the report. You can export your chat history if you wish to access your communications elsewhere other than the app. Please be aware that WhatsApp Web and Desktop do not support this functionality.
To get account information, go to WhatsApp Settings and click on Account. Press on the Report Request option. Usually, your report will be made available three days after you requested it. You can refer to the Ready by date when you are awaiting your report. A WhatsApp notice reading "Your account detail report is now available" will appear on your phone when the report is available for download.
Click Report Download. Your phone will download a ZIP file, including HTML and JSON files.
Tap Export report after the file has been downloaded. The downloaded report cannot be seen on WhatsApp.
Conclusion
Today, having access to your WhatsApp call history is necessary. We have mentioned the top 3 methods for WhatsApp call history export above. However, we recommend using the WooTechy WhatsMover app to export WhatsApp call history on iPhone and Android because it allows you to back up, transfer and export messages, videos, audio, images, and call history. Moreover, it has a user-friendly interface and allows the users to export their WhatsApp files effortlessly.