Considering the risk of accidental loss of cell phone data, many WhatsApp users will export WhatsApp data, especially export WhatsApp chat to Excel, firstly, as WhatsApp backup, and secondly, you can also view WhatsApp messages anytime and anywhere.
So, do you know how to export WhatsApp chat to Excel? No worries! This guide will show you the 2 easiest ways to export WhatsApp chat to Excel! Just 1 minute and you can export all your WhatsApp chat history! Let's get started!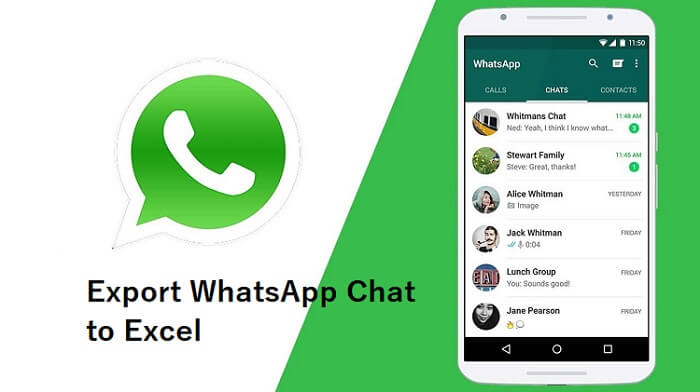 Part 1: How to Export WhatsApp Chat to Excel?
Way 1. Export WhatsApp Chat to Excel with Email
The built-in WhatsApp chat exportation option is via Email. This method is straightforward, albeit a limited size for each exportation. Below are the two stages of exporting WhatsApp messages to Excel.
1

Export WhatsApp Chat to Email

The first stage is to export the chat from your mobile WhatsApp to email. This can be done on either iPhone or Android by following the steps below:

Step 1. Open WhatsApp and select the chat you want to export.

Step 2. Export the chat:

On Android, tap the three vertical dots at the top right corner of the screen and select More > Export Chat.

On iPhone, tap the contact name and select Export Chat from the options.

Step 3. Choose whether to attach media files or not. We recommend not to add media files as they are large and cannot be converted to Excel format.

Step 4. Choose the email app and enter your email address as the recipient email, you can now send the email.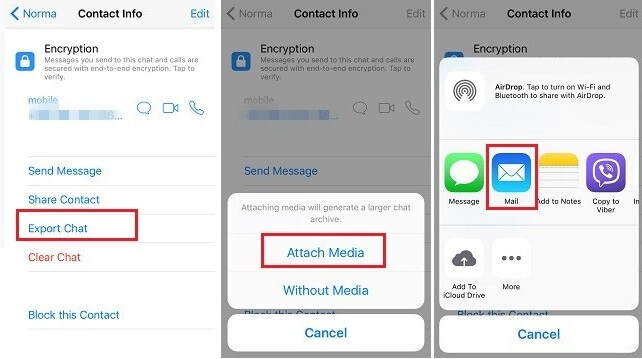 2

Convert the Exported WhatsApp Chat to Excel

Since the chat exported via email is in text file format, you need to complete the process by converting it to an Excel format for smooth reading.

Step 1. Now, you should log in to the mailbox on your computer and download the exported chats file.

Step 2. Launch Microsoft Excel and open a new spreadsheet. Click on the Data tab at the top of the screen and, subsequently, the From Text/CSV option.

Step 3. Find and choose the exported chat in text format and click on Import to get started.
Step 4. From the window displayed, click on the Load button at the bottom of the page and you have your contacts well arranged in the spreadsheet. Now, you can save the file for future access.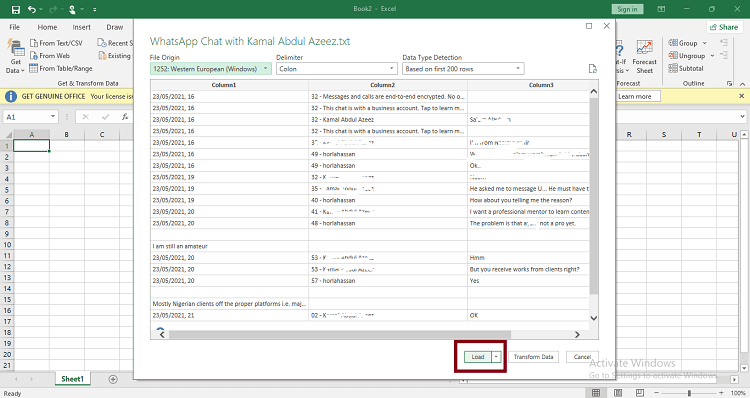 Cons
You can only export a chat at a time with email. This implies that when you need to export more than one chat history to Excel, you will need to repeat the steps and stages above over and over again.

Also, you can export no more than 40000 messages with this method at a time.
Way 2. Export WhatsApp Chat to Excel with WooTechy WhatsMover
As far as WhatsApp management tasks such as easy chat exportation and secure backup are concerned, there are hardly any options available that can match the simplicity and usefulness of the WooTechy WhatsMover. It is a comprehensive WhatsApp management tool that is easy to use and 100% safe.
With WooTechy WhatsMover, you can easily export WhatsApp chat to Excel with the super fast speed. Just think of the troubles you might have been encountering while trying to export WhatsApp messages using email, this software has bypassed all these limitations and it won't invade your WhatsApp data privacy.
WooTechy WhatsMover - Best Tool to Export WhatsApp
5,000,000+
Downloads
Export all types of WhatsApp data, including WhatsApp chat, photos, videos, contacts, emojis without limitation of 40,000 messages

Export to multiple formats, including HTML, Excel, PDF and CSV, so you can easily access and view it on phone or computer

Export all WhatsApp data on iPhone and Android at once in a few simple steps, and you can preview and select them before exporting

Easy to use, no technical knowledge required

Not only export WhatsApp, but also transfer, backup and restore WhatsApp data on iPhone and Android, which is a powerful WhatsApp/WhatsApp Business management tool
How to Export WhatsApp Chat to Excel with WooTechy WhatsMover?
Step 1. Download and install WooTechy WhatsMover on computer. Connect your device to computer with USB cable. Select Back Up WhatsApp on Devices and click Back Up to backup your WhatsApp data.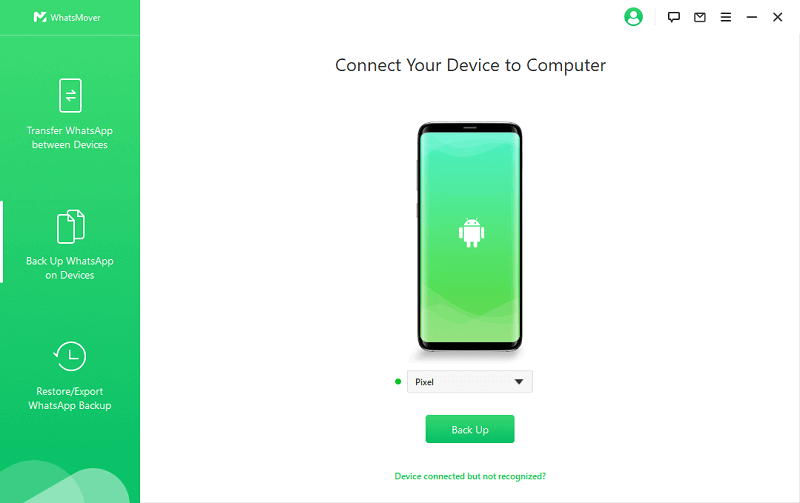 Step 2. Choose the Restore/Export WhatsApp Backup option to switch to the export mode. Select the backup you just created and click Export to Computer.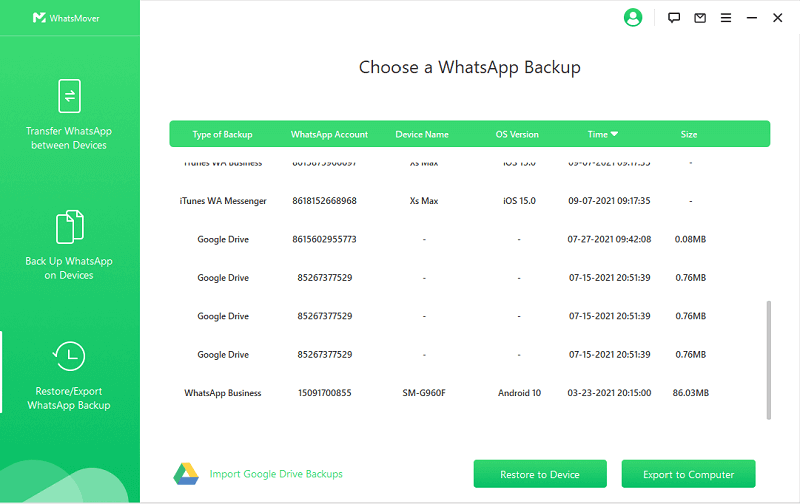 Step 3. Preview and select the WhatsApp chats to export. Choose the export location and save as XLS format, then click Export.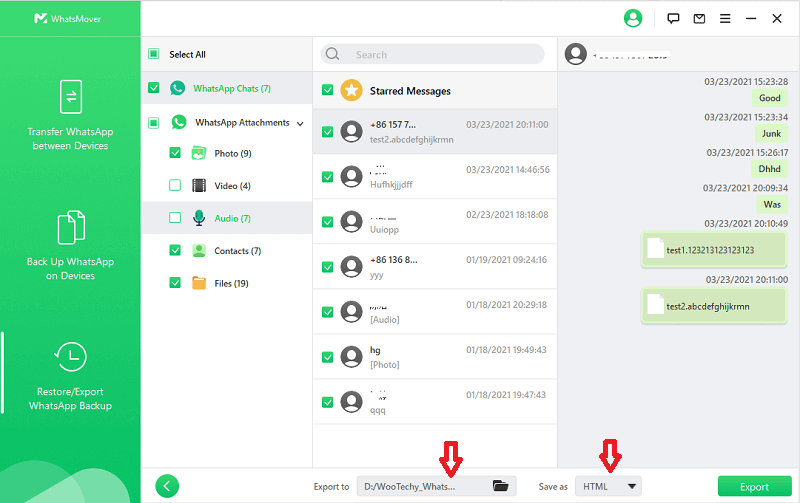 Step 4. Once the export is complete, click Done. Your WhatsApp chats have been exported successfully.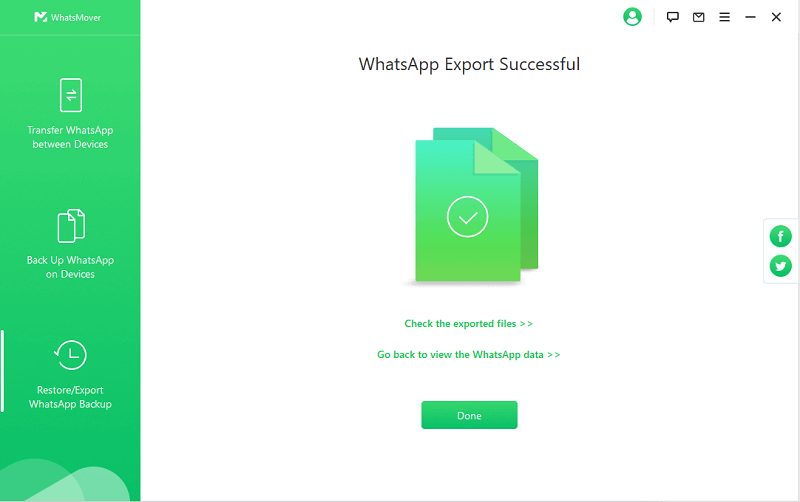 Now you have your WhatsApp chat saved on your computer and you can directly open on Excel without any further adjustments!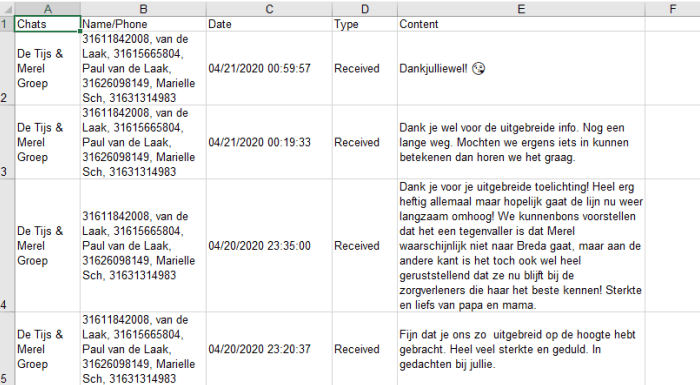 Part 2: FAQs About WhatsApp Export
Q1. Can I Export More Than 40,000 WhatsApp Messages at Once?
It is impossible officially. This is because the email, which is the official in-app exportation option, can only export a maximum of 10000 messages with media files at once and 40000 messages without media files.
However, you can do this with WooTechy WhatsMover. It does not have message limitations and can export your chats irrespective of the quantity with or without media files.
Q2. How to Export Entire WhatsApp Chat As PDF?
One tricky method to do this is by screenshotting the entire chat and converting the images to PDF with third-party apps, but this is not very feasible if you have lengthy conversations to export.
As we have stated above, WooTechy WhatsMover can also export WhatsApp chat to PDF. This process is not complicated, and it is very similar to the steps of exporting WhatsApp chat to Excel explained in Method 2 above. The only difference is that you will select the PDF option in the Save as tab instead of the XLS or CSV option.
Conclusion
Well, these are the 2 best ways to export WhatsApp chat to Excel. Undeniably, if you want to export WhatsApp chats in the easiest and fastest way, then the first recommendation will definitely WooTechy WhatsMover!
It solves the limitations of exporting using email and the difficulties of exporting multiple chats, allowing you to export your WhatsApp messages, videos, pictures, contacts and all other WhatsApp data with ease. Not only that, as a powerful and easy-to-use WhatsApp tool, it can also backup WhatsApp for free, and even transfer WhatsApp directly between iPhone and Android!Try it now!