User Problem
"Currently, my iCloud storage got full and preventing me from backing up my whatsapp conversations... Is there any other way where I can back up my chats without iCloud? THANK YOU!"
If you are a regular WhatsApp user on iPhone, you must also back up the WhatsApp data using iCloud as it is the official way. However, iCloud comes with several disadvantages, for example, Apple provides only 5GB of free storage space, which may be not sufficient to store all your WhatsApp chats and attachments. Therefore, an increasing number of iPhone users are looking for other backup solutions.
In this guide, we'll take you through 3 FREE ways to back up WhatsApp on iPhone without iCloud, so keep reading!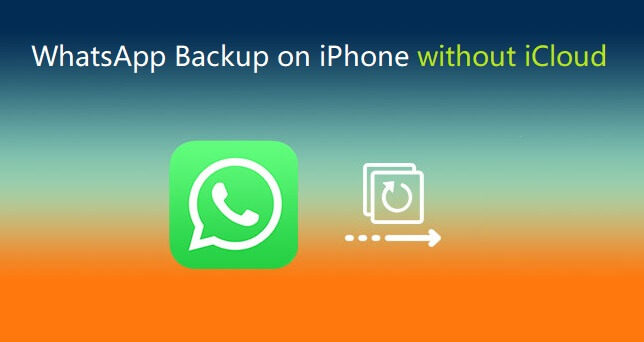 Can You Back Up WhatsApp Without iCloud?
Of course, you can back up WhatsApp on iPhone without iCloud. Because there are several different free alternatives online such as the use of professional WhatsApp backup software, iTunes and the WhatsApp's exporting chat function.
However, you might be also wondering whether you can back up WhatsApp on iPhone to Google Drive. Unfortunately, there is no direct way to back up WhatsApp messages on iPhone to Google Drive.
By default, WhatsApp for iPhone stores the backed-up messages to iCloud while Android stores the backup on Google Drive. The working principles and encryption methods are different for the two systems, therefore they can not access each other's data.
How Do You Back Up Your iPhone Without iCloud?
You can use the alternatives below for WhatsApp backup iPhone without iCloud.
WhatsApp Backup without iCloud Comparison Table
| | | | |
| --- | --- | --- | --- |
| Features | Via WhatsApp Backup Software | Via iTunes | Via Email |
| Back up WhatsApp on both iOS and Android devices | | Works on iDevices only | |
| Overwrite or delete previous backup | | | |
| Both devices need to be on the same WiFi network | | | |
| Import chats to WhatsApp account | | | You can only view them |
| Back up chats in bulk | | | Only back up one chat at a time |
Method 1: Back Up WhatsApp on iPhone with WhatsApp Backup Software
The easiest and the most reliable way to back up WhatsApp on iPhone without iCloud is by using the best WhatsApp Transfer & Backup Tool - WooTechy WhatsMover. Unlike iCloud, this tool has no storage limitations because it creates a copy of your WhatsApp files to a computer. Above all, it's 100% safe and back up your WhatsApp on iPhone for free.
WhatsMover – Free iPhone WhatsApp Backup Tool:
With free and unlimited storage, it backs up your WhatsApp on iPhone without any limitation.

Supports all WhatsApp data backup including photos, videos, contacts, messages, stickers and more.

100% secure, it highly protects your data privacy, and won't overwrite or delete the previous backups.

Supports all iPhone models and iOS versions.

Easy to use, it can also used to further restore your backups, export or transfer WhatsApp.
A Step-by-step Guide to Back Up WhatsApp on iPhone with WhatsMover
Step 1: Connect Your Device
Firstly, download and install WhatsMover on your PC or Mac, then select the Back Up WhatsApp on Device option. Connect your iPhone to the computer via a USB cable and trust the computer connected. Click on the Back Up button to start.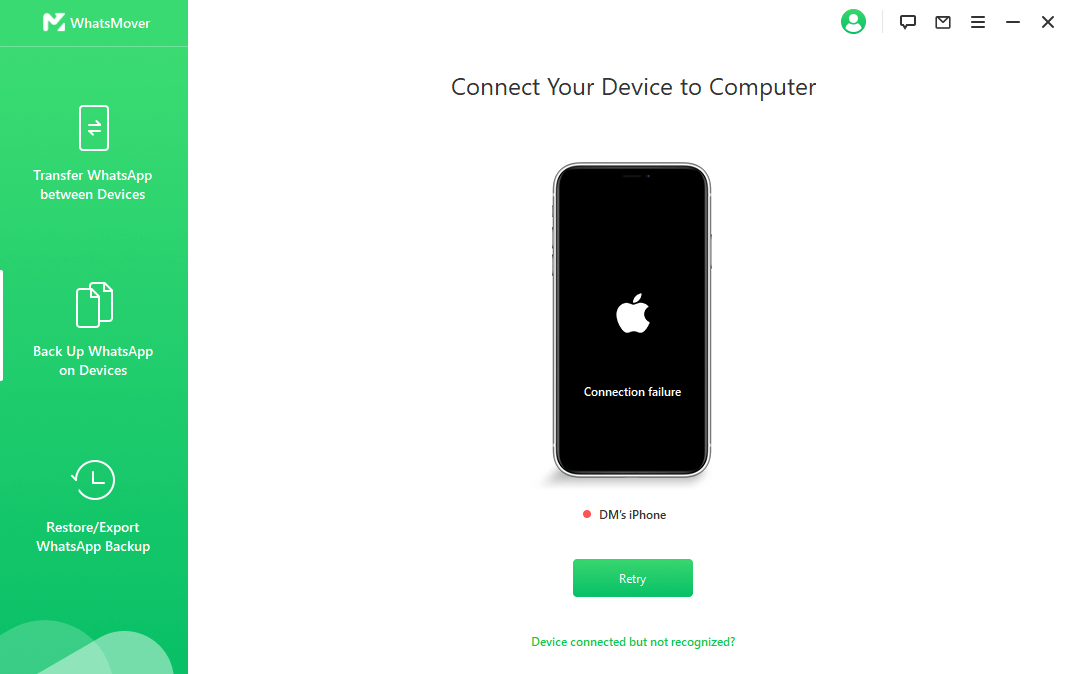 Step 2: Start Backing Up WhatsApp
The application will immediately start creating a backup of WhatsApp content on your iPhone. The overall time depends on the data size, usually it takes less than 30 minutes.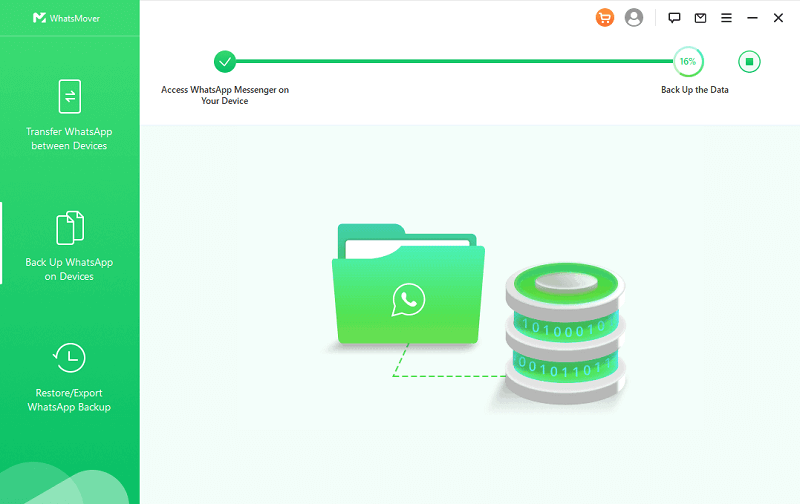 Step 3: Finish the Backup
Once the process is completed, your iPhone's WhatsApp content will be available on the computer for viewing or restoring.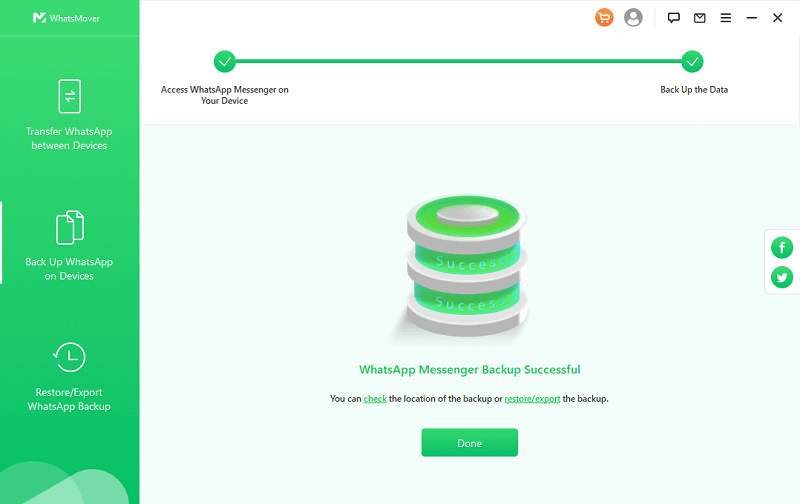 This program supports various output formats hence you can export the backup files to different formats like PDF, HTML, CSV, and XLS to read them.
Method 2: Back Up WhatsApp on iPhone via iTunes
Backing up your WhatsApp messages to iTunes is also an available option. iTunes is a free and easy-to-use music application that you can use to manage your albums and other files like WhatsApp chats easily. First, make sure your computer has an updated version of iTunes, then follow the steps below:
Step 1: Unlock your iPhone and use a USB cable to connect it to your computer, select Trust This Computer if asked to do so.
Step 2: Then launch iTunes and let it detects your device.
Step 3: Once your iPhone is recognized, click on the Device tab and then Summary.
Step 4: In the Backups column, choose This Computer and click on the Back Up Now button to back up WhatsApp on iPhone without iCloud.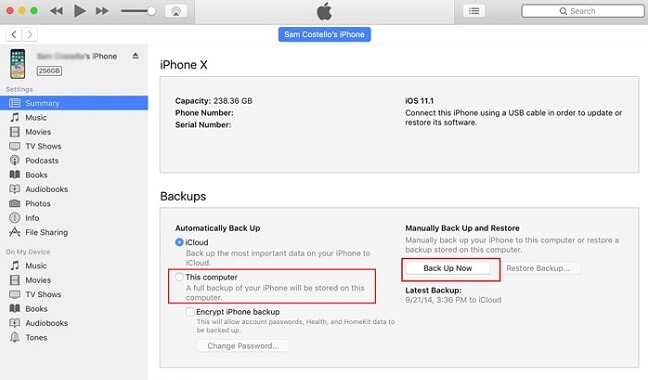 Pros:

This method will not only back up your WhatsApp data but restore the files to your iDevices later.

All your passwords will be backed up in case you have enabled encrypted backup.
Cons:

It does not allow you to only back up WhatsApp data - instead, it will make a backup of entire phone memory, including unwanted files.

You cannot directly access or read the WhatsApp chats from iTunes backup.

Restoring iTunes backup to your iPhone later will require device reset and therefore erase all previous data.

Data loss and overwritting situations may occur at times.
Method 3: Back Up WhatsApp on iPhone via Email
Another way to back up WhatsApp chats on iPhone without iCloud is by using Email. It takes advantage of the WhatsApp export chat function and saves a copy of your WhatsApp conversions on email. This is also a free solution and you can choose to include or exclude attachments in the backup.
Step 1: First, open WhatsApp on your iPhone, then tap and open the particular chat or group chats you want to back up.
Step 2: Go to more options by swiping the conversation icon, then click on the Export Chat option.
Step 3: Here, you may choose to Attach Media or back up Without Media. Most email servers have a limit of 20MB. You should not, therefore, attach larger media files.
Step 4: Then it will attach the selected chat history in the email. Enter your email address and then click on the Send button.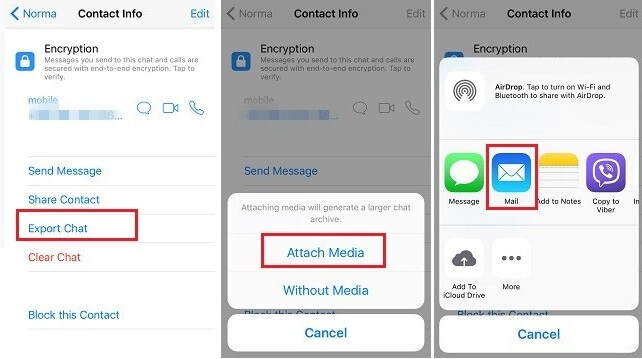 Pros:

Free solution.
Cons:

It can only manage to export one chat at a time, so it takes very long time to back up all of your WhatsApp data.

You can only view the chats without importing them to your WhatsApp account.

You can export no more than 40,000 messages.

You can't restore your WhatsApp data to your device later.
How Can You Restore WhatsApp Messages Without iCloud Backup?
After you back up WhatsApp with the above ways, you may want to restore the backup on iPhone especially when you switch to a new device. Here we will tell you how to do it specifically.
To restore your WhatsApp backup, you can also use the all-in-one software -- WooTechy WhatsMover. Just choose the Restore/Export WhatsApp Backup mode and it will help you to restore it to your device or export it to your computer. Moreover, it is also capable of scan your iTunes backup and further restore it.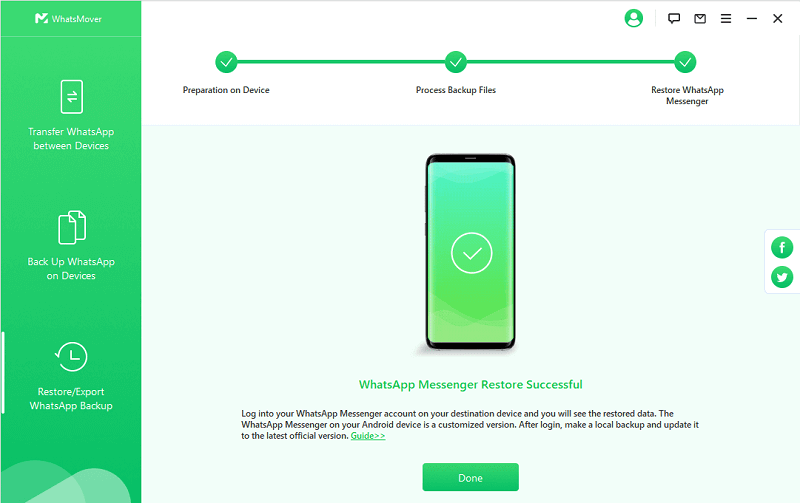 If you prefer to use iTunes to restore your backup, here are the steps. But it should be noted that to restore WhatsApp iTunes backup to your iPhone, the existing data on your device will be erased.
Step 1: Activate the new phone, then log into your iTunes account.
Step 2: Download and install WhatsApp on your new iPhone, then restore the entire backup to the new iPhone.
Step 3: Once the restore is successful, redownload WhatsApp and wait for it to reinstall.
Step 4: Finally, open WhatsApp on the new phone, activate it, and verify your phone number. WhatsApp will be restored and you can now access your WhatsApp chats on your new iPhone.
Final Words
The above methods are all free for WhatsApp backup iPhone without iCloud. Even though backup via Email and iTunes has a couple of cons, WooTechy WhatsMover can give you impeccable results by backing up all WhatsApp/WhatsApp business data simply and without limitation. It also works efficiently to transfer WhatsApp messages to new iPhone without iCloud.