Backing up WhatsApp data to iCloud on iPhone is pretty straightforward. Thanks to iCloud being the default cloud backup platform for iPhone WhatsApp, the process can even be automated. What's better, users can restore WhatsApp backup from iCloud to an iPhone later when needed.
The restoration process was supposed to be as easy, however, surprisingly, a sizable number of users have been complaining that they got an error message saying "Couldn't restore chat history".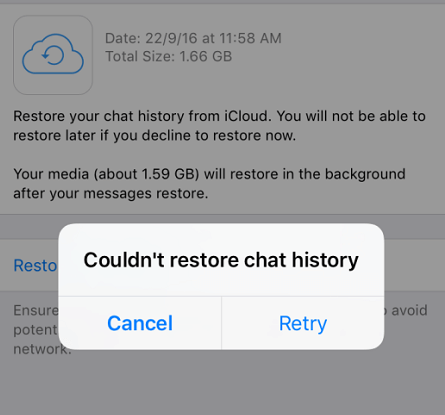 If you are also troubled by this problem, you can now breathe a sigh of relief as this article contains 6 methods to fix WhatsApp restore from iCloud not working, and some extra bites to make sure you never have to deal with it again. Read on to find out more!
Part 1: Why Can't I Restore My WhatsApp Chat History?
The reason for WhatsApp restore from iCloud not working is usually within a close cycle as it is either down to the WhatsApp app itself or iCloud in most cases. Some of them are easily predictable while some can be hard to pinpoint. Below are some of the common ones:
1. Unstable and weak internet connection.
2. Unavailability of backup on iCloud.
3. Insufficient iPhone storage space.
4. Outdated iPhone and/or WhatsApp versions.
5. Using a different Apple ID for WhatsApp backup on iCloud and another for the restoration.
Part 2: Fix WhatsApp Restore from iCloud Not Working
As frustrating as it can be when WhatsApp cannot restore backup, the solution to the problem is not usually far off. It mostly requires just one or two tweaks here and there to get it sorted.
Here's a list of quick and straightforward fixes you can apply.
1. Do Some Basic Checks
Sometimes, carrying out the basic checks on WhatsApp and iCloud is all you need to do to get your WhatsApp backup working again. Some of these basic checks include:
Ensure your internet connection is stable and active.
Make sure you use the same phone number and iCloud account you used for the backup.
Check if your password is correct if the backup is end-to-end encrypted.
Make sure your iOS version is iOS 9 or later if you have backed up the WhatsApp data using iCloud Drive.
Try the restoration process on a different network.
If, after these checks, you still can't restore WhatsApp from iCloud, you can move on to the next fix.
2. Ensure Enough Space on iPhone
To restore WhatsApp backup from iCloud, you need to have at least 2.05 times the space available on your phone than the actual size of the backup. Without an adequate storage space, the restoration process will either get interrupted or you might not be able to restore the data at all.
To check the space available on your iPhone, follow this path: Settings > General > iPhone Storage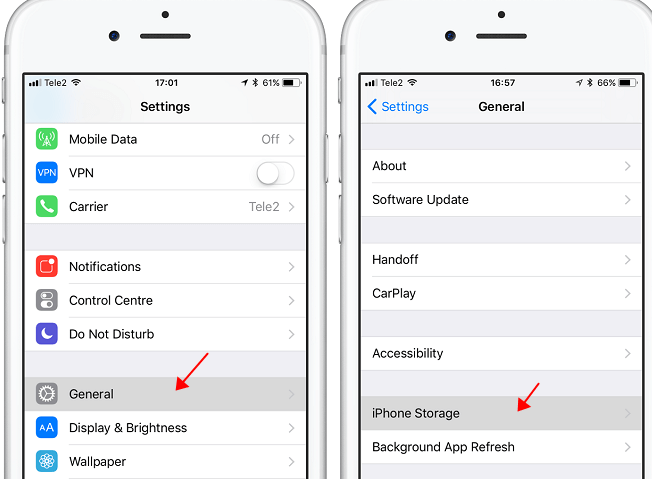 Here, you will see the space available on your device. If the space is not enough for the backup you want to restore, you should delete some apps, media, or other junk files to create space.
3. Turn iCloud Drive Off and Back On
If you have the iCloud Drive turned on, you might need to turn it off and back on to counter WhatsApp restore from iCloud not working. This is just to reset the sync between the iCloud Drive and WhatsApp.
Step 1: Go to Settings and tap the Apple ID (your name) > iCloud.
Step 2: Now, toggle the iCloud Drive on and off and try the restoration process again.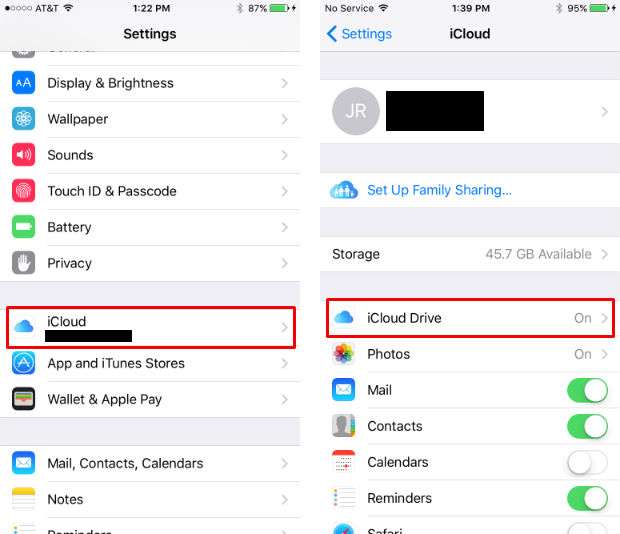 4. Update WhatsApp and iOS Version
Running an updated WhatsApp orr iOS version might lead to compatibility issues which in turn causes WhatsApp restore from iCloud not working. To fix this problem, check if you have updates available for the WhatsApp and iOS versions and update them accordingly.
For iOS updates, follow the path: Settings > General > Software Update
In the software update window, you will be shown all updates available. If you have any, download and install them. After that, you can restart your iPhone and try the restoration process again.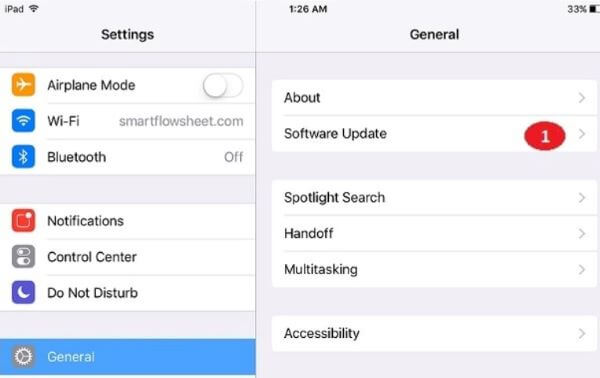 For WhatsApp updates, go to the Apple App Store and search for WhatsApp in the search bar. Now, select the app and tap the Update button if available.
5. Restart iPhone
When you are finding it hard to pinpoint why you can't restore an iCloud backup, it is best to restart your iPhone and go again. This is because restarting your device forces all processes to stop and start the normal process again. This might be needed to return any malfunctioning process to its normal state.
Step 1: Go to your phone settings and sign out of iCloud.
Step 2: Turning off and then turning on your device, you can now sign in to iCloud again and retry the WhatsApp backup restore.
6. Restore WhatsApp from iCloud Backup using Software
The last method on our list of fixes is the use of third-party software, and the one I'm recommending today is iSeeker iOS data recovery tool. It can help extract iPhone data like photos, text messages, WhatsApp data, etc. from iCloud backup in case your iCloud gets stuck or faces other errors.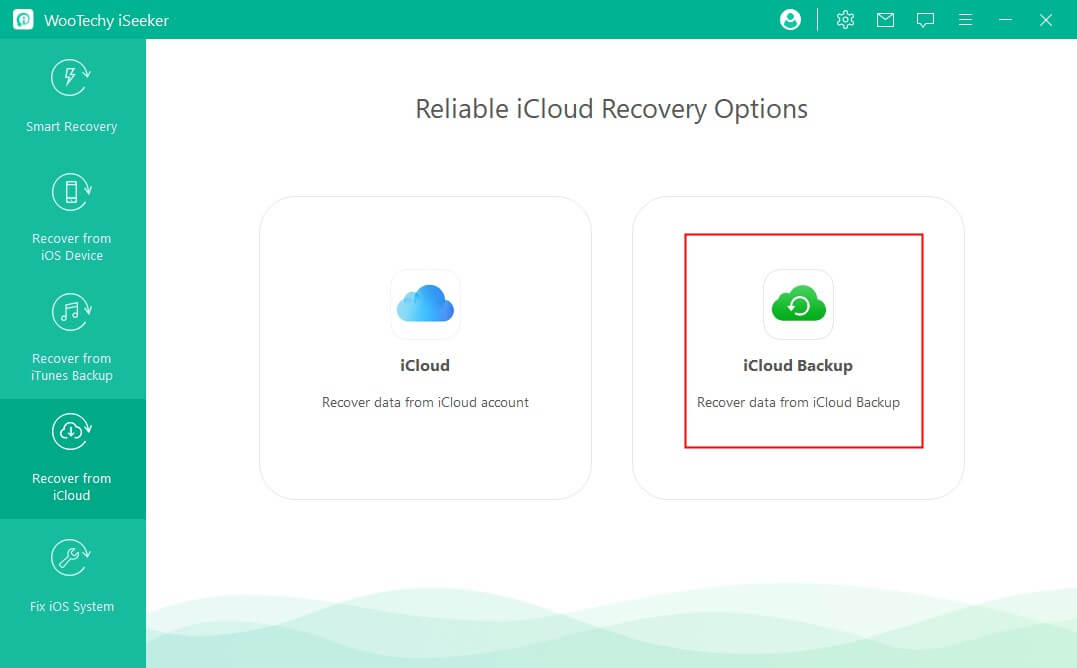 Just download this tool and follow its guide, the steps are relatively easy.
Back Up and Restore WhatsApp on iPhone without iCloud
As you are facing the WhatsApp couldn't restore chat history problem with iCloud backup, added to its other disadvantages like limited storage space of only 5GB and risk of permanent data loss over cloud services,  it's naturally to look for an alternative for iPhone WhatsApp backup, and one of the best is WooTechy WhatsMover.
The WooTechy WhatsMover software is a complete WhatsApp management tool that allows you to back up and restore your WhatsApp iPhone backup without fuss. It backs up WhatsApp without iCloud by saving the data locally on your PC, without storage limitation and also eliminating all the risks and uncertainties of the iCloud.
Furthermore, the backed-up files are safe, secure, and always available to be restored or exported for reading without a hitch.
Step 1: Launch the WhatsMover tool and connect your iPhone to the computer via a USB cable. Click the Back Up WhatsApp on Devices tab on the left plane followed by the Back Up button. This will back up your WhatsApp data on the PC easily.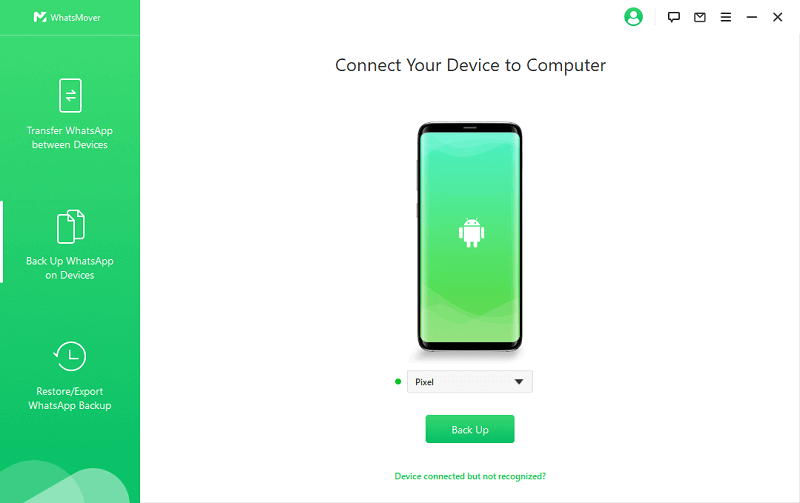 Step 2: Click the Restore/Export WhatsApp Backup tab to switch to the restore mode. Select any backup you want to restore from the list of backups shown and click the Restore to Device button.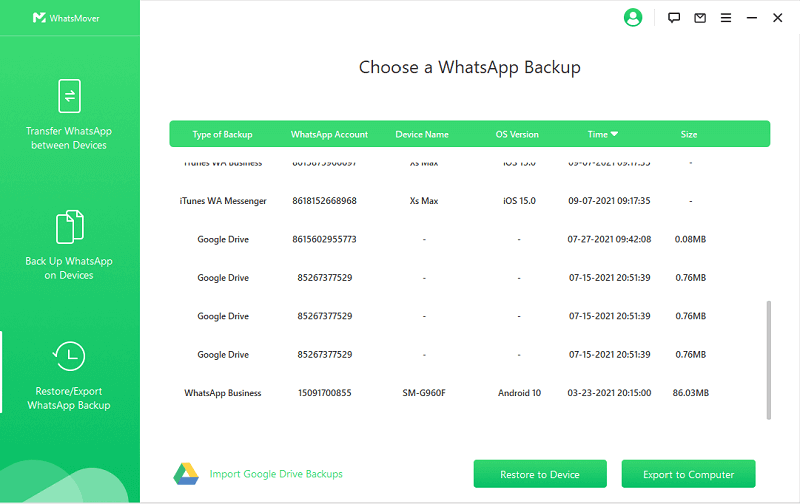 Step 3: Wait for the process to complete. You'll have your WhatsApp backup restored on your iPhone, ready for access.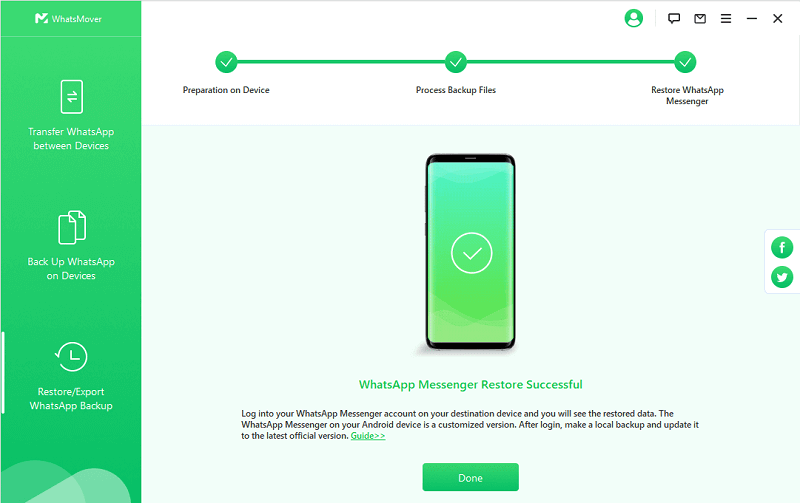 Final Words
We have come to the end of this guide on how to solve the WhatsApp cannot restore from iCloud issue. As promised in this article's introductory paragraph, we have extensively discussed a number of ways to solve this problem.
Also, we recommended the WhatsMover - WhatsApp Transfer software as a reliable and hitch-free alternative for your iPhone WhatsApp backup and restore. This software eliminates all the problems and glitches you encounter when using iCloud. It also gives you total control of your WhatsApp data at all times. It is just everything you need to take your WhatsApp experience to the next level.